Dreamcrasher, With Brady Hammock
by Brady Hammock
Every night millions of us interact with the rich and famous-in our dreams. But why should those celebrity encounters remain off the record? Star columnist Brady Hammock is here to bring you all the dirt about your favorite personalities and how they really act when they think they're safe behind the scrim of your subconscious.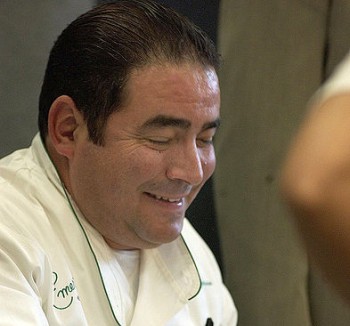 "SNOOTY" EMERIL A ROBE-ROBBER?
Has celebrity chef Emeril Lagasse added some unpleasant ingredients to the down-to-earth recipe that made him a star? Our spy thinks so: In a recent dream Emeril turned out to be "a lot snootier than you'd think." Bam!
So what happened? Well, in said dream, our correspondent lived in the same luxury condo as the überchef from Cajun-land. She couldn't find her favorite bathrobe, and was perplexed to learn from the doorman that it was in Emeril's apartment. ("I've never been to Emeril's apartment!" our source protests.)
But that's where she went, for the robe-and some answers. "I had to wait a really long time," she says, adding: "The apartment was kind of nothing special."
Finally Emeril emerged, surrounded by admirers-seemingly dozens of them. Many were young hipsters, "sort of pierced, if you know what I mean." The ex-sitcom actor didn't even acknowledge our spy, who never got an answer about her missing robe. "He seemed sort of full of himself," she says. "He was nothing like he comes across on TV.
"Then I woke up," she adds.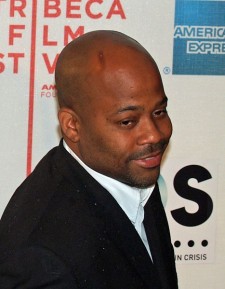 DASH: WHITE AND/OR PART BALDWIN?
A journo pal who insisted on anonymity had a startling encounter with hip-hop mogul Damon Dash in a recent dream.
Startling, because in the dream Dash not only delivered a withering verbal assault on the journo-but he also turned out to be a white guy! "It was really inexplicable," our trusted source reports. "I was just looking at an old issue of The Source, and there was an article about Dash's interest in boxing memorabilia or something, and a big picture of him, and he's black. Just like I always thought he was. Yet in the dream, he was white, with longish dark hair.
"He looked sort of like a cross between Adrien Brody and a Baldwin brother."
The dream scene unfolded at the sparsely attended screening of a movie directed by Dash. Dash confronted and yelled at the discombobulated scribbler about a story that has not even been published.
"I think he was saying that I should have been writing an article about him," says he. "But I don't really remember, exactly."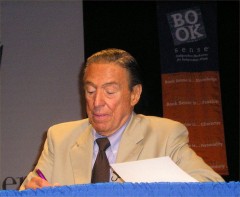 NEWSMAN WALLACE, STILL SMOKIN'
We've all seen the old black and white footage of hard-nosed TV journalist Mike Wallace puffing his way through an interview. But that filthy smoking habit is a thing of the past for the "60 Minutes" star.
Or is it?
Wallace was smoking "like a chimney" in a dream last week, says a knowledgeable source who insisted on anonymity. "It was weird, you definitely don't see prominent anchorman-type guys smoking anymore," this insider says. "That's why I remembered it.
"Actually it's kind of all I remember-I don't know what the context was, I just remember there was Mike Wallace, smoking."
Wallace, journalistic legend via his work on CBS's award-winning news magazine, has battled depression, and written courageously of his struggles.
"He kept sort of turning into Jim Lehrer," the source adds. "Sometimes he was Mike Wallace, and sometimes he was Jim Lehrer. When he was Mike Wallace, he was smoking. That was kind of it."
Sounds like it's worth a "60 Minutes"-style investigation: Where there's smoke-there's fire!
Have you slumbered around with a star? What popular singer surprised you in your dream by becoming your high school algebra teacher? Brady Hammock wants to share your story with the world. Tattle your tale-or as much of it as you can remember-here. Pleasant dreams!