Understudies! Don't Cry For My Dad, Argentina
by Claire Zulkey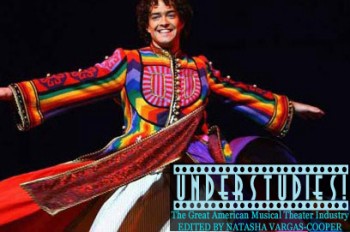 I'll never forget the night my mom quit going to musicals: it felt like the first and only time she abandoned the family because, technically, she did. It was 1993 and as a very special treat, just before Christmas, my mom, dad, brother and I went to see Joseph and the Amazing Technicolor Dreamcoat starring Donny Osmond at the Chicago Theater. We'd have dinner, see the show and then spend the night downtown. Fancy!
I was psyched for Joseph: throughout my childhood my parents bought the soundtracks for us ahead of time so we knew the songs before we actually saw the show. Thus, we could look forward to hearing our favorites and thus extra-enjoy Cats, Les Miserables, Phantom and Chess. One of my favorite hobbies during those days was hiding out in my room and singing along to my favorite musicals (and perhaps choreographing my own dances to them as well) and Joseph was good for this, with lots of big, belty songs like "Joseph's Coat" and a few I could sing very sincerely, like "Close Every Door."
The funny thing is that I don't remember too much about the production of Joseph itself because what happened that night overshadowed everything. I remember the production was big and colorful. I remember hearing my favorite songs. And then I remember my mom ditching us at intermission. There wasn't much explanation: she basically said, "I can't take this: I'm out of here," and left.
This was unprecedented, which is why my dad didn't really have an explanation that night as to why our mother suddenly abandoned us and drove all the way home to Evanston to spend the night by herself while the three of us slept at the Chicago Athletic Association. My parents had sat through a lot of crap in their careers as parents: my brother plunking out "Axel F" on the guitar during a school talent show, my lousy athletic career, Transformers (the animated version) in the theater and so on. It was bizarre to see her up and bail now.
When I ask my mom why she hated Joseph so much, to this day, she still can't articulate it. Her rage overtakes her. I called her for purposes of fact-checking and her exact quote is, "Oh God! I hate that show. It's just like…I don't know…all '60's."
So there you go. For what it's worth, Joseph doesn't go down in history as one of my all-time favorites, not because of what my mom thinks, but because I don't think it's the kind of show people really identify with. What's the song a girl sings to herself in her bedroom with her eyes closed? What's the song that's secretly about your life? What do you dance to? Why should we care about Joseph's story now? Why does it need a narrator? Why is it a musical? And why is it "all '60's" anyway?
After Joseph, mom and brother were done. Musicals were never really their thing: it was all my dad. My dad is totally gay for musicals, and Mom and Jack just went along with it. My dad's the one who had a well-worn mixtape of "Great Girl Songs" (songs sung by Broadway female leads), who subscribed to satellite radio exclusively for the Broadway station, who sung "Don't Cry for Me Argentina" in a falsetto in the kitchen until my mom threatened to divorce him.
Now that we're all old, nobody except me wants to indulge my dad in his musical proclivities, and that works out just fine. Like most dads, mine is incredibly difficult to shop for come birthdays and holidays, so getting just two tickets to a show is a satisfying gift because I'm getting him something he wants and that nobody else will get him.
The first show we saw together was Wicked at the Oriental Theater, in 2007. I'd actually seen the show once before, with Ana Gasteyer in the role of Elphaba: Ana was fantastic, not just because she looked great in the green makeup and because she can really belt, but she's a homegirl as well. We rapturously welcomed back the Northwestern alum. I had read the book before the musical came to be so I was a little skeptical that such a dark story could successfully be turned into a musical but I was pleasantly surprised: I liked most the sarcastic tunes like "Popular," ones that made fun of either its characters or the whole concept of a musical itself.
I didn't love Wicked so much that I adored it again on second viewing. It was fine, but unless you really love a musical, you don't need to see it twice. It felt a little long. Kristy Cates was fine as Elphaba but we were missing that thrill of "Hey it's that lady from SNL!" But I don't regret going to see it twice because as the final note of "Defying Gravity" was still ringing out in the theater before intermission, I looked over at my dad and he was crying. Dropping me off at my apartment building after our date, he teared up again, mostly because he loved getting to see a big musical but also because of the quality time. My dad is a Grade-A softy, which I know will surprise you, given his love of musicals.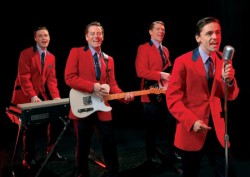 The next show we saw was Jersey Boys at the Bank of America Theater, at my dad's request. The show's producers had done an excellent job on a saturation campaign and my dad had fallen prey, claiming to hear wonderful things about the show's story, not to mention the tunes. Even though it'd be my first time seeing this show, I was less excited than I was for Wicked. I viewed jukebox musicals with suspicion: Movin' Out had been making the rounds and I cringed at the thought of Billy Joel songs, which lacked a certain street cred, getting made into a musical, which is similarly short of a certain amount of coolness. I would like to take this opportunity however to note that I came up with the idea for Movin' Out in college before the musical even came to exist, and I have the journal to prove it, where I noted, whilst bored in Criminology class, that Billy Joel's songs would make a great musical, if only they made musicals out of already-written songs.
Anyway, I wasn't excited for Jersey Boys partially because a musical full of Four Seasons tunes didn't entice me: growing up listening to the oldies station in the car, I came to hate Frankie Valli's voice and regarded it as an irritating curiosity. I also wasn't particularly intrigued by the story of how the band came to be. So it's a guy's musical, eh? How tough can a band be when its lead singer sounds like that?
My dad thought the music and singing in Jersey Boys was great but, in a grand Zulkey tradition, didn't think it lived up to the hype (and didn't think it was as good as Wicked.) But I have to admit, I liked Jersey Boys way more than I thought I would and I'll defend it to this day. I did think that its attempts to be "rough" sometimes felt a little ham-fisted, like its writers thought "We should put a swear word in here!". Additionally, the use of the screen and stage didn't totally seem to mesh, but the story turned out to be interesting enough and I have to admit, I came to appreciate the band's catalogue. I perhaps never grasped just how many hits the band turned out and for how long, nor that the guy behind the songs also wrote "Short Shorts."
I also have to confess here that I totally had a crush on the actor who played said songwriter Bob Gaudio. He was all tall and cute and was a good dancer (Jersey Boys is good if you like seeing white boys dancing in a Motown style, which I do). It's specifically due to Jersey Boys that I like the song "Beggin" by Madcon.
Now my dad and I are in need of some new musicals to check out. The last one we saw was Million Dollar Quartet and after that we've had a hard time finding one we agree on. I wouldn't mind seeing Spring Awakening but my dad isn't too keen on a musical about "teenagers who are discovering the tumult of sexuality." Nobody is super interested in musicals based on movies that they didn't adore so Shrek and Billy Elliott are out. I reserve the right not to see nudity while seated next to my father so no Hair. either (I'm sure my mom would love it, though). I hope some new shows come to Chicago that we can agree on though because I love watching my Dad cry and, to a lesser extent, hearing him sing in a super-high girly voice on the way home.
Claire Zulkey lives in Chicago. You can learn so much more about her here.