Starbucks Will Make America A Great Wine Country
by Nilay Gandhi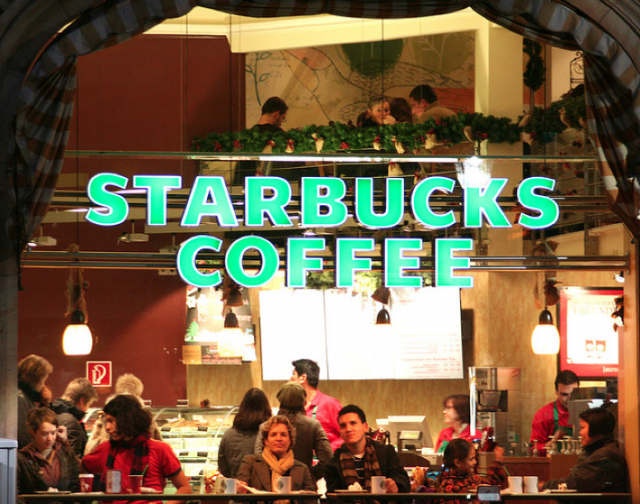 Close to home, in and around Seattle's Capitol Hill neighborhood, is where Starbucks conducts its experiments. It's the home not only of their public test lab, "Olive Way," there's also the matter of those liquor licenses filed in the last year, and of the "Starbucks-inspired" 15th Avenue Coffee and Tea locations. Most media coverage still seems more concerned with the fancy new coffee machines and the slimmer-profile barista counters than the white elephant in the room: now Starbucks sells booze.
You'd never think of this elsewhere in the country, but the megatronic coffee company sells wine and beer, which feels to me about as likely as Ahab himself gently poaching a baby branzino in court bouillon. Is this the humming monolith of corporate America, quietly sticking a free-trade, post-consumer stake right into the heart of the last good thing we had left?
Wine Fidelity
I called Starbucks PR-actually, I called a "Starbucks company spokesperson," who initially thought I was interested in learning more about "wi-fi." No, wine, I said. And five minutes later, we agreed it best if they just got back to me by email.
"We looked at the natural progression of our business and the way we have transitioned over the years and recognized an opportunity to establish a different kind of Starbucks," the shadow said. I think that means "times are tough and we've gotta find a way to make some beans."
I could tell we weren't getting very far. I wanted to know more, and there was only one way I would. I had to get a man-one with a birth certificate and free will-on the ground.
"There are two stores serving wine and beer," he said, "one of which I'm sitting in right now, called 15th Street." [Actually, it's 15th Avenue, Agent 714].
Intrigued, I pressed on. Come on. Sure, there's wine. Everybody's grandfather has a jug of Carlo Rossi in the basement. That doesn't make it a wine bar.
No, that's not how it works, my contact cautioned. "The baristas are knowledgeable and can talk about different styles, such as the chardonnay being less oaky and more crisp in nature," he said. They even have glasses shaped specific to reds and whites, which plenty of decent wine bars don't.
But, wait, it was noon my time. That made it…. Seattle Special Ops, what are you doing in a wine bar at 9 a.m.?
"When we first came here I was a bit dismayed to learn that my new favorite cafe was owned by Starbucks," he said, "but I preferred it to the others because the staff are inclusive and will share their knowledge about coffee."
Oh, right. It's still a coffee shop.
What's in a name? About 18 billion dollars.
By first branching out under a new brand-15th Ave. Coffee and Tea-Starbucks tested the waters without the threat of backlash. Then, not unlike how I ran off to Paris at 18 before crawling back broke to mom and dad, baby's gotta come home.
According to the Seattle Times, future stores will be branded Starbucks. The ungendered PR entity behind the curtain added that the next iteration of Olive Way, Seattle's next store to transition to alcohol, "will be a traditional Starbucks location that will reflect the character of the surrounding neighborhood and help to reduce environmental impacts." I didn't really ask about the environment, but it's nice to know they care.
You can see the dissonance building, even from their language. How could such a powerful, 18+ billion-dollar company often more concerned with sounding right than being right, possibly pull this off? They have enough money to do whatever they want, but why?
Here's where I start to buy the corporate speak. They're doing it because we need it. Because wine bars outside of wine country in America generally fall into two categories: terrible and privileged.
We're not in northern Spain, and while a lot of our bars do an impressive job, we're not the freewheeling, drink-wine-because-it's-there society we could be. You get hackjobs and you get greatness, but there's usually no wine "local" we all head to at 5:30 on a Tuesday.
Starbucks stands to change that. As you went from Folgers to fresh-brewed to macchiato to maybe even a working knowledge of "free trade" and "single origin," we may someday be in position to make everyday wine a larger part of our patois. The sameness Starbucks will bring, much as it did with coffee, can be precisely its source of innovation.
If they succeed, our definition of local will be unifying for American wine. The American Viticultural Areas scattered throughout the Northwest and coast-as well as upstate New York, New Mexico, and the South-could fit more broadly into an understanding of American wine in general instead of the cult status they each have today.
Why I am so sure? Because it will be right on your corner, directly across the street from another one!
Regional, and what that means
When Starbucks CEO Howard Schultz got sent off to Milan and watched a barista pull a fresh shot topped with oily, tooth-staining crema, you could say he had vision. His jowls were wet at least. And whether that was at the prospect of bringing great coffee to the states, or just the potential of making millions of gondolas (Venetian, I know) full of money, it's fair to say that the new vision of Starbucks was a sense of place.
Now they're a giant corporation serving coffee in countries that always preferred tea. But forget, for a second, the whole multi-national, hypercapitalistic thing. Let's just look back to how it really started: a cup of coffee in Italy.
The Pac-Northwest is Schultz' new Milan. So a store influenced, in some ways reborn, on the notion that Oregon and Washington wine is irresistible couldn't be more right.
Yes, I assume there will be cost-cutting. Pressure from The Board someday. There will be P and there will be L.
Still, there's not one damn winemaker in God's country not dying to get on the Starbucks list, which as of last week had four Washington reds and a white each from Washington and Oregon. That's not from among a giant list of mass-market global brands. Save for one Argentinian malbec and some bubbles, that was it.
According to our Special Ops agent, "the baristas select wines using a similar method they do coffee," actually having a voice in the bottles they serve. If that continues, they may be developing a new model for mass wine distribution, one that caters more to the expanses of our taste than the limitations of our wallets.
"As we open these stores, we definitely look to bring in local influences," the Voice of Starbucks told me. I'm gonna hold you to that from behind your curtain, Oz.
Quality. Control.
Have you ever ordered a glass of wine at a regular bar? You may have been better off throwing it over some tomatoes and fresh mozz.
If the coffee is any sign, the quality of whatever wines Starbucks carries will be surgical-grade-sharp, clean and never failing. The new stores brew "drip" coffee one cup at a time. Whatever you think about the taste, there's no questioning the standard.
Consistency is the brand itself. You get that with a knowledgeable staff and a short wine list (something I've been begging for from the country's best restaurants). In business terms, you limit the failure rate, but in real terms, you give every store manager and barista some ownership.
I hand-sold wine for several years myself, and I can tell you that, even today, there's been nearly nothing more gratifying than having someone enjoy a wine I recommend. And customers would tell me there was nothing better than to have someone who really loved what he was doing share his knowledge.
Before I get all teary-eyed, my point is that the mindshare at these new locations will really be the key to their success. And that will ultimately put us in control. Unlike coffee-the fine knowledge of which I appreciate but have very little use for in my daily life-whatever we learn about wine at these locations can become part of our everyday interactions over dinner, at happy hour, and at those cocktail parties that today make most of us so uncomfortable.
The PacNWers are a prideful, and accomplished, folk
This isn't 1970, and there are no "Boys Up North" anymore. The Eyries and Ste. Michelles are a solid 30 vintages in, and since then hundreds of wineries have joined them, planting the entire gamut of pinot noir in Oregon, cabernet sauvignon and syrah in Washington, and everything else. This is a vast, storied, and successful lot.
When I asked one winemaker, he called himself a farmer. I'd argue some are chefs.
If we could task one community to shepherd what will become a highly commodified, common wine retail business, it would be them. Much in the same way Schultz hoped to bring the pride of European coffee to America, he now may have the opportunity to light up the neighbors just outside our own backyards. So long as Starbucks keeps this local mindset, it will stay true to the vision. And I'd argue, if he wants to succeed, he'll have to.
These aren't just winemakers he's dealing with. They're farmers. And farmers have pitchforks.
You already have your favorite wine bar, and you can still go there…
 …the same way you support your mom'n'pop cafe, but buy three venti lattes downtown before you get home. The liquor licenses will be a roadblock, especially in New York City or Chicago. Yet, it's that slow, labored, and steady expansion that will make it easier to call these places home.
Each one, as it pops up near you, has a chance to be one of your favorite "locals," much like it's become for my wine ninja in Seattle. In time, maybe they'll be dull or insipid to the uber-winegeeks. But who wants to hang out with them anyway?
The rest of us? A laid-back place to try some cool wines we might not want to buy full bottles of at Whole Foods.
Date-night? You'll still hit the trendy terroiriste joint outside the village with sparkling mauzac by the jeroboam.
Quiet place to read a book or catch up on some tort reform?
That's exactly the niche where we have the need.
Previously: How To Face Down the Wine List and Win
Nilay Gandhi is the proprietor of the excellent wine blog 750 mL; he even gives personalized wine pairing advice on request.
Photo by re-ality from Flickr.