Pedro Espada: Down For The Count?
by Mark Bergen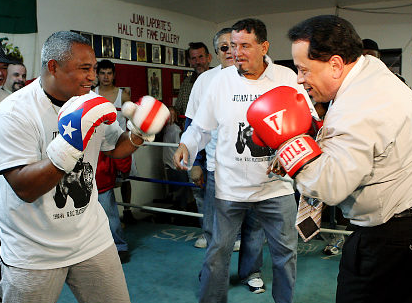 It resonated richly, bouncing off the walls on Bainbridge Avenue: "Mierrrrrrrrrrrrrrrda." Pedro Espada, Jr., his squat frame gone tense, just received word of a massive lawsuit filed against him by Attorney General Andrew Cuomo. It was April 20th. A day later, the FBI came. At least that's how I imagine his response. The endless saga of the Bronx politico's corruption and malfeasance is so farcical, so theatrical, that it easily could be scripted by David Simon. For a moment, it appeared that Espada would evade his ethical conundrums, scot-free, just like another Democratic State Senator, Clay Davis from Maryland. But now the state's Democratic party is trying to purge him from their ranks. It's a weak tea, a belated, symbolic gesture that might just make its target stronger. Pedro's a boxer.
November's election in New York will likely pivot on the state's abundant ethical scandals rather than, say, the gaping absence of a budget. So in anticipation, the Democrats want to drop their most tainted player. Charlie King, the party's executive honcho, signed off on a letter to the Bronx chairman, Jeffrey Dinowitz, urging him to delete the "D" by Espada's name. Apparently, the last straw was Cuomo's suit, which accuses Espada of "looting" $14 million from Soundview HealthCare Network, where he reigns as CEO. The charges-fraud, conspiracy, general chicanery-are heavy. Espada faces 10 years on each count.
This is not the first attempt to shake Espada from the Democratic cloth. But only a year ago, state Democrats were begging Espada to return to their flock. He had detracted to the other aisle with Hiram Monserrate-that paragon of virtue-shocking the new, tenuous Democratic leadership, and effectively stopping government from governing. They came back, eventually. Pedro got his coveted title and built his stockpile of no-nos. Hiram lost his job, but won back his lightly-slashed girlfriend.
With this power grab, it's as if Espada followed Clay Davis when he implored Stringer Bell to grab hold of the faucet. The HUD fawwwsut. The faucet here being the riches of billionaire instigator Tom Golisano. But Espada and Monserrate justified their maneuver under the guise of Latino empowerment. The coup was necessary due to the dearth of elected officials with Spanish surnames. It's a valid point. If you are a believer in representative democracy, you might have to concede that.
Consider Queens. By the last census count, ten years ago, the borough had an "Hispanic" population around 25%. It has certainly grown since, and recent estimates put the number higher. Yet, of the 45 ambassadors the borough sends to City Hall and Albany, only 2 are Latino. Rep. Nydia Velázquez's district dips into a swath of Queens. And the ethically challenged Gregory Meeks holds court in the southeast region. The other Congressfolk from the world's most diverse place are named Joe, Carolyn, Gary, and Tony.
Unsurprisingly, State Sen. Ruben Diaz, Sr. rushed to his comprade's defense. Diaz, one of the audacious Three Amigos, expressed outrage normally reserved for the icky copulation of sodomites:
I am troubled to learn that despite scandals and investigations surrounding several Democratic leaders in the New York State Senate, an effort is underway to oust Senator Pedro Espada, the only Hispanic under investigation, from the Democratic Party.
He also has a point. Our state Senate is awash in scandal, the latest involving two white politicians: Carl Kruger of Brooklyn, and Vincent Leibell of Putnam County. Lest we forget the misadventures of Gov. Paterson, or Charlie Rangel, or Joseph Bruno, or Larry Seabrook and his bagel. And there are the tribulations of the state Independence Party, and its lily white leadership, that once christened Espada with its "Anti-Corruption Award." But Diaz is also pulling a callous, petty trick, using the race card to cover chronic corruption. It does nothing to advance Latinos in politics.
In the fifth (and, yes, least best) season of The Wire, the loquacious Senator Davis is finally summoned to testify for his own indictment. He is meant to fall. But the silver-tongued statesman seduces the jury. He casts himself as a charitable populist facing a heartless machine politics, and he walks away free. The whole incident, Davis declares in that inimitable cadence, is the fault of an overly ambitious, litigious Attorney General. Espada, predictably, blasted Cuomo for the latest affront. Cuomo "has other stooges speaking for him," Espada insisted. "He's pulling the strings on this." In the courtroom, Davis described walking down the street, freely dishing out cash to constituents-a reasonable explanation for misplaced funds. If indicted, Espada might not have the same luxury. He lives out in Mamaroneck.
Dinowitz, the unfortunate sap in this dilemma, has yet to declare if his party will take action. He suggested, as did other Bronx officials, that the voters should oust Espada. For their part, the fourth estate isn't buying the Democrats' gesture one bit. The state's leaders, the Daily News editorialized, "sold out long ago."
Should he be dropped from the party, Espada might run as an independent, small 'i' or big, marshaled on by this new martyrdom. It didn't work for Hiram. If there's any justice in the world, Espada will finally be knocked out in the fall. But the same can't be said for the countless officials that toe or flaunt the ethical line. They will carry on like Clay. And we will sit back and watch the empire crumble.
Mark Bergen is pretty sure there isn't really justice in the world.