Why Is The NBA Draft Our "Two Minutes' Hate"?
by Graydon Gordian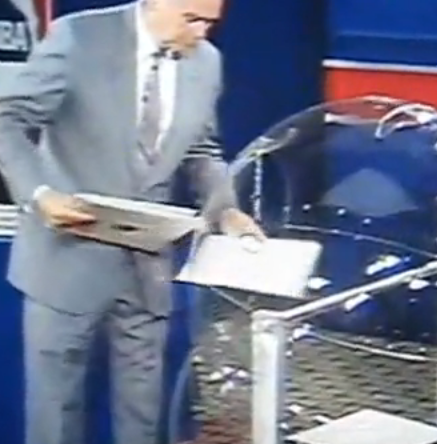 There was no reason for me to be at the NBA Draft. I cover the San Antonio Spurs, which had the 20th and 49th picks in the draft. Any players drafted that late weren't even likely to be there (the Spurs selected James Anderson and Ryan Richards, neither of which were). Any player drafted that late is not likely to have a significant impact on his team (although, in Anderson, the Spurs may have plucked some starting-caliber wheat from amidst the chaff). And any player that did happen to be there was either too well coached or too nervous to say anything of interest. (Every interview I have ever done with a rookie prospect is, at heart, an anxiety-ridden, forward-looking variation on this work of art.)
There was no news for me to break; ESPN televised the event live, and its far better-connected bevy of reporters were excavating every nook and cranny for any previously unpublished detail. There was very little meaningful analysis to be done; It's difficult to follow both collegiate and professional basketball with the same amount of dedication (or at least I find it to be), meaning any "insights" I provided to my readers were basically repackaged versions of whatever I had read on Draft Express.
I had a terrible time. I was bored and annoyed, and left somewhere in the mid-second round, before the Spurs even made their second pick.
Despite all of that, I have to go back next year. And I have one nagging question that must be answered: Who the hell are these people and what are they doing here?
By "these people", I mean the drunken, rabid, listless NBA fans who came early, stayed late, and, while they were there, booed incessantly.
Anybody who has watched the draft has heard the booing, every year, or has at least heard NBA Commissioner David Stern and ESPN's live commentators make reference to it, but I don't really know if you understand its scale and intensity through the TV. I've been watching the draft since I was a child and I certainly didn't.
* * *
I couldn't see Stern walk onto the stage (my seat was tucked behind an ESPN backdrop that blocked my view of the podium), but I heard his arrival. The building erupted with animosity. The boos were deafening. It's the growl I imagine a crowd of French peasants would have made if Louis XVI strolled to close the edge of the Tuileries.
But while I understand the Third Estate's frustrations with the French monarchy, I'm not clear on why these fans hate David Stern so much. Don't get me wrong, I've never been his biggest fan. And pretty much every commissioner in professional sports, whether it be the NHL's Gary Bettman, MLB's Bud Selig or the NFL's Roger Goodell, is a frequent target of derision.
But, when Stern took the stage, the jeering was so instinctive and prolonged that I felt like something deeper than the casual fan's distrust of league front offices was at play.
Oddly enough, ever since the 1985 Draft Lottery, NBA fans outside the Tri-State area are fond of characterizing Stern as a Knickerbocker in management's clothing. It's common for fans of small market teams to believe Stern is always plotting on behalf of New York, Los Angeles and Boston. But why a crowd of mostly Knicks fans would harbor such bitterness towards the man is, at least to me, not immediately obvious.
Then again, it hardly ended with Stern. Boos were still raining down from the auditorium over three and a half hours into the program, when I left. The first four or five picks — highly anticipated players such as Kentucky's John Wall and DeMarcus Cousins, Ohio State's Evan Turner and Georgia Tech's Derrick Favors — received a mixture of cheers and jeers. But whatever little positivity the crowd contained was expended quickly and before long the announcement of each pick was met solely by bile.
For all their outrage, those in attendance — mostly young men who looked to be in their late teens or twenties — were not without a sense of humor. Deputy NBA Commissioner Adam Silver was met with the chant "Sexy Silver," while former Knicks head coach and ABC/ESPN play-by-play analyst Jeff Van Gundy's name became an anthem for the crowd.
At other moments, however, their nastiness passed the point of excusability. In particular, their response to foreign-born players, who they booed even louder and more virulently, was distressing. Fan xenophobia is an increasingly common concern for NBA observers, and the crowd did little to disprove the allegation.
Still, they didn't simply boo foreign players, or league management, rival franchises or misguided selections. They just booed.
What is so wrong with Luke Babbitt or Craig Brackins or Daniel Orton? To me, these guys are just names I vaguely remember from the NCAA tournament in March. To the fans at MSG, they were an enemy, an outlet, an opportunity to take someone who will almost certainly be wealthier and more famous than they are down a peg or two.
At least that could be their motivation. I really don't know. That's why I've got to go back.
Graydon Gordian writes about sports here and still hasn't updated his website.