Six Minutes in Heaven: Rafe Bartholomew, 'Pacific Rims'
by Evan Hilbert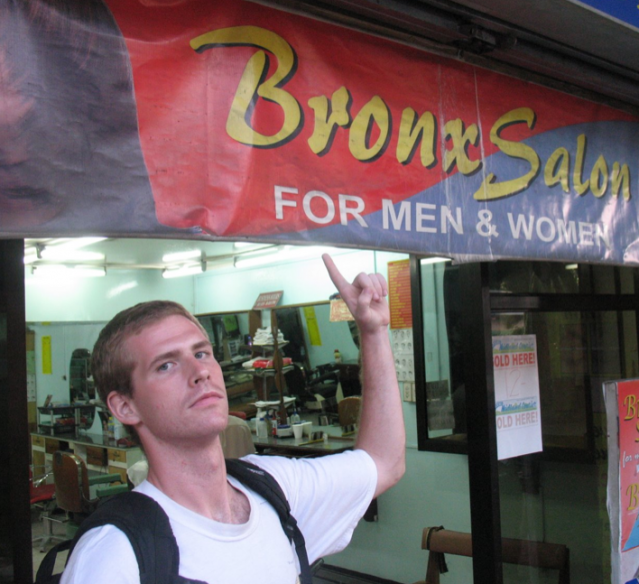 There is now a whole genre of books that chronicle the seasons of specific teams or entire sports. Halberstam set the standard long ago. Feinstein did it with tremendous success. Some people are very good at this. Others, less so. Rafe Bartholomew, as it turns out, has taken the concept — -that of unfettered access to a professional franchise — -and one-upped his predecessors by performing the duty in a foreign country.
In Pacific Rims (out today!), Bartholomew not only follows the Alaska Aces — -a Philippine Basketball Association (PBA) franchise — -for a season, but he also weaves in eclectic stories from a land abroad and a league with many seemingly capricious (and often-times sketchy) rules. The stories, often very funny, cover many topics, including his on-court temper tantrum, in which he drops his pants and leaves the floor after fouling out of a local tournament. Also midgets battling transsexuals in an ethically questionable bout and two appearances on Filipino television.
Bartholomew first went to the Philippines on a Fulbright Scholarship, and he fulfills his duty of expanding international understanding by delving into the culture of Filipino basketball. As he bounces around the country, he sees playgrounds and makeshift courts filled with youngsters and old-timers alike, balling in flip-flops. Though it sounds like a recipe for an ankle or knee explosion, the courts serve as a unifying, tangible force in these communities, even playing a prominent role in local politicking.
Bartholomew does the history on basketball in the Philipines and its stars, like Billy Ray Bates, a dynamic player (and booze-hound) who spent a few tumultuous years in the NBA. Bartholomew describes him as "an inside-out Shakespearean tragic hero. Bates was all fatal flaws with one saving grace — -hoops."
Though a large portion of the book is devoted to the Aces, there is certainly no shortage of, you know, stuff to learn about. Like: Did you know they have Chili's in the Philippines? Weird! Also: The PBA was once the second highest-paying basketball league, behind the NBA! Regardless, Bartholomew expertly balances the light-hearted nature of a book about basketball with a lucid description of everyday Filipino life.
We talked for six minutes.
Basically: Who are you?
I'm a 28 year-old assistant editor at Harper's Magazine — -
So you're not old?
I'm not old, probably by any stretch of the word in the professional sense. I came out of Northwestern journalism school, and within four months I was in the Philippines. I stayed there for three years, so I was sort of off the radar, except for anyone that was interested in the Philippines or caught a couple of the stories I wrote while I was out there. I loved it up there. A lot of who I am has to do with that country, as I spent a lot of time there and it's what I think about in my spare time. I watch streaming PBA in the mornings. I wake up in time to catch the games.
What gave you the idea to write about basketball in the Philippines?
I stumbled into it. I did an independent study at Northwestern about long-form sports writing, and I was writing a paper about how basketball books tended to fall into a few categories. There was the Hoop Dreams, sort of ghetto narrative, with kids striving to make it. A lot of those are great, but there are also some really bad ones. The conclusion was that I wanted to do something about basketball, but different. The Philippines thing came up because I read a chapter in Alexander Wolff's Big Game, Small World. That really inspired me. I knew very little about the country, about basketball there, and it lit a fire under my ass and that led to this.
Did you originally plan to stay three years, or did it just happen that way?
It kind of just happened. The Fulbright only lasted one year, but while I was there I saw the potential to do something bigger and keep building on the research I had already started.
This is your first book, so what do you expect from this? Do you have any expectations, or no idea?
I really have no clue. I am kind of just hopeful that people will like it, which is probably not the best way to look at it, but that's what I'm worried about.
It seems like you could have written so much more — -
I think I could have. That was a joke with some of the sportscasters and writers I would talk to every week to gather stories from them about things they'd seen. They'd be like, "How long is this book gonna be, a thousand pages?" It was hard to choose what got into the book. It's pretty long, for any book — -almost 400 pages! There were tons of things, but one thing I was really interested in was the rivalry between two of the greatest players in Philippine history who were playing in the "golden age" of the '70s and '80s. Robert Jaworski and "Mon" Fernandez, who started as teammates, and they kind of had a schism over styles of play. Their teams broke up, and they went and formed their own teams which became rivals for years. They had their reconciliation in the 1989 all-star game, where Jaworski threw a pass to Fernandez for the game-winning shot. They hugged afterwards and it was the first time they'd touched in about five years.
The differences in their styles and all this says a lot about culture and values and basketball there, but it was too much to get into and so far off base from the narrative, so I couldn't figure out a way to do it.
I want to ask you specifically about a player, Willie Miller, who's the all-star guard for the Aces and has twice been named league MVP. Could you compare him to an NBA player? We have a minute.
Little aspects of his game are sort of like of like several different players. The thing that makes him so hard to compare to anyone is how stocky he is. He's shaped like that video game character Kirby, I don't even know what that was, a cloud, a marshmallow? His calves are as thick as guys' necks and he has an amazingly quick first step and lateral movement, so people can't stay in front of him. I can't think of any NBA player that plays guard like him. It's like Jason Maxiell blowing by people on the perimeter. It's sort of anomalous. I guess… it's sort of like — -
Don't worry about it. You have five seconds. Who's gonna win the Finals?
Celtics.
Rafe Bartholomew blogs here and his book can be purchased on Amazon.
Previously: Will Leitch, How Are Your Sales?
Evan Hilbert really likes books about sports. Do you know any good new or forthcoming books about sports? Tell us, and we will spend six minutes with their writers too!