An 81-Hour Break From Civilization At Sasquatch Music Festival 2010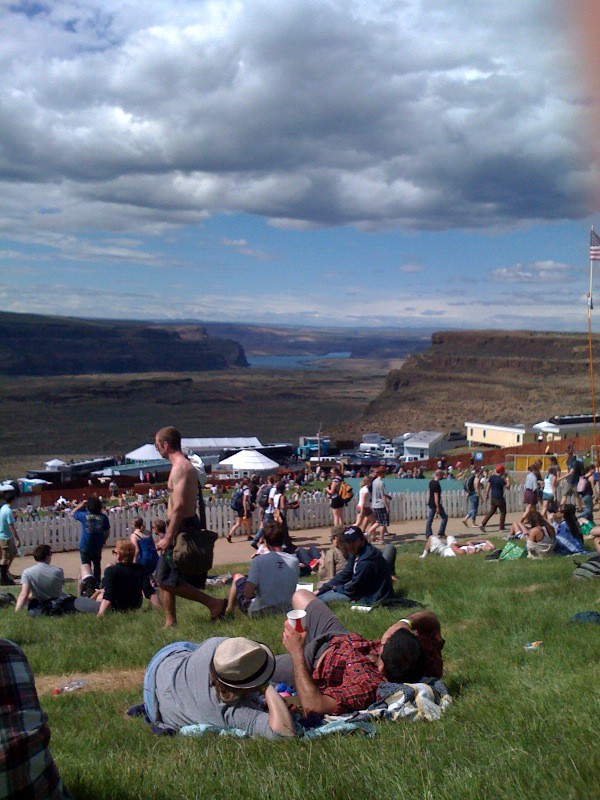 The port-a-potty situation is universally humbling. The brand is Honey Bucket, which is so gross and psychosexually radioactive a name that the excreta deposited and vacuumed out of them gains a strange and terrible power over our imaginations. Retching sounds and maniacal laughter alike drift from the banks of plastic shitboxes scattered throughout the camping area. A mysterious chalk homage to the waste receptacles appears at the venue gate. Legends spread of Honey Buckets where the filth rises above the level of the toilet seat. Pissing in the thick heat of one, I'm suddenly able to hear, from some far-off stage, the distinct and chipper chorus of Avi Buffalo's big hit, "What's In It For?" A song that begins: "I walked in on a plan to dissolve all of your wishes / But I couldn't help your mouth, which I missed by two inches."
* * *
On the second night, during Pavement's co-headliner set, I came to the knowledge that I am a bad photographer. An epiphanic accelerant is the iPhone's dingy camera, which is unfit to document so much as a Scrabble endgame, let alone the Dinotopia-resembling geography of the Columbia River Gorge. But really: I choose the wrong moments to take pictures and cannot summon the social confidence to stand there framing subjects (especially because I've always caught the subjects at the wrong moment), and so I abandon the effort even as the shutter sounds. The blurred shots I'm left with really document me turning away, ashamed.
* * *
Our parking/tent-pitching spot, Camp Bingo, is marked by a flag that reads "Bingo" and a dodgy apparatus assembled from PVC pipes and a tarp (in the end, just by a flag that reads "Bingo").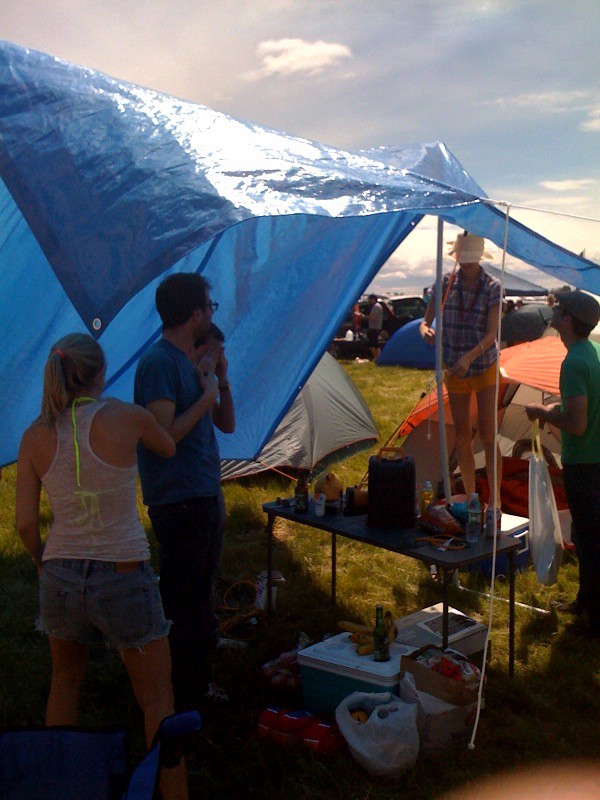 A couple of cars down from Camp Bingo is a cardboard sign advertising "Cookies," with a subtle marijuana leaf drawn beneath it. The business is run by a pair of brothers aiming to recoup their expenses. They come from a family of medicinal pot experts in Hawaii, but these aren't pot cookies. They are hash, and one is more than enough. I buy four.
A friend and I are to share what he refers to as a "one-and-a-half-person tent." It looks tiny. It is tiny. On the inside, each asks the other if he has enough room, and oddly enough, we always do.
The campground parties carry on into the wee hours. In the distance is a CanaDream RV blasting rave beats and neon lights; many recall with a shudder how close Camp Bingo was to this Canuckian landmark last year. At one point, when several self-appointed DJs are competing for their share of real estate, we hear the biggest bluff possible. "Turn off the music," a man yells, "or I will rape you!"
* * *
"Hey. Gonna fall asleep so fast."
"I'm still involuntarily dancing. If you're wondering what that is."
* * *
A friend was constantly receiving updates on the Gulf of Mexico oil spill via cellphone, updates he relayed without mercy to the rest of us. When we asked him to stop searching for updates, he told us that he couldn't help it, his phone automatically beamed him the news. When he informed us that the top kill procedure had failed, we laughed, because how awful was that?
"They've lost all hope," he said, some hours later.
Who?
"I don't know. That's just the headline verbatim."
* * *
Camp Bingo has ties to a few less-famous bands on the bill and as such is able to procure four backstage access wristbands to share. The first groups to go backstage come back with beer and Vitamin Waters and ice cream. They say it's a raging party back there, and that somebody initiated double dutch jump rope, and that Chuck D from Public Enemy tried to jump in and got tangled immediately.
* * *
"This is going to sound corny," says Mountain Goats' John Darnielle, sounding nothing like the acid narrator of his bleak acoustic songs. "But I goddamn love playing music!" He's not the only one in a good mood. A shirtless bro in front of us is overjoyed to realize that a shirt-wearing bro has found his backpack. They clutch each other and spin to the gorgeous climax of "This Year" in a way that trumps choreography, nearly falling on those around them, before the shirtless bro retrieves the all-important contents of his once-missing backpack: a Sprite bottle half-full of brown liquor. Toward the end of his time, Darnielle is still beaming; "I hope I never get sober," he sings.
* * *
Broken Social Scene is my generation's U2, and that's not even a bad thing. They end their tour here, in a blooming and limitless warmth, saturating us with clean, pure, anthemic love.
* * *
Pity the tourist in Manhattan. Whether you live here or not, it's tough to get a big suitcase through a subway turnstile.
* * *
From the wet asphalt of Seattle and the evergreen mountains, through the rain shadow into an arid sweep of brush and irrigated land and elegant wind turbines. Along the edge of the Gorge and its sharp series of ridges, which make up the audience slope of the main amphitheater. The bands playing with geologic narrative at their backs.
* * *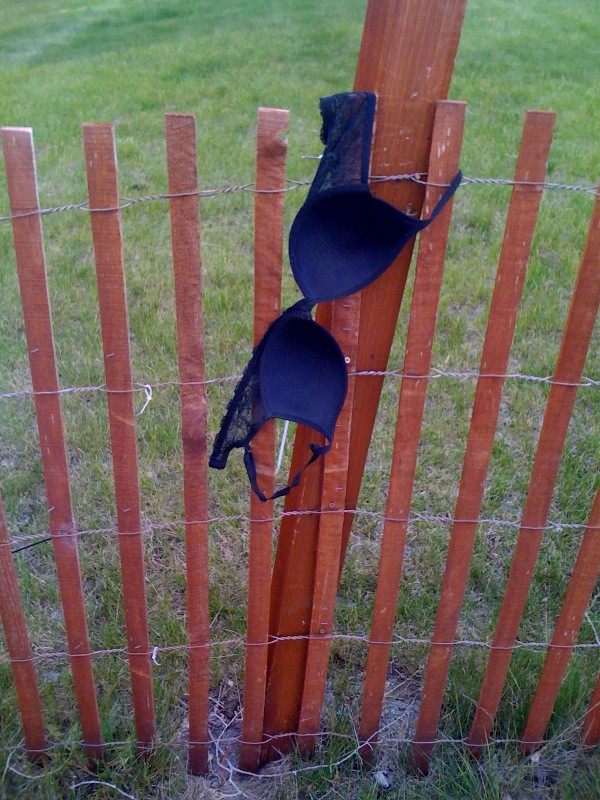 * * *
"This your first time?"
"Yeah."
"They clean them early in the morning, and then everyone sneaks out here."
"To christen them."
"Just wait. On Monday you'll be like, 'Who had a baby in here?'"
"And then you'll feel responsible for it."
"Like you need to be its godfather."
* * *
Camp Bingo is stocked with cans of an ultracheap lager called Simpler Times and, inspired by this phony nostalgia, we end up singing an improvised jingle every time we pop a new one. Back then, we burned outspoken women: Simpler Times. Certain people couldn't vote: Simpler Times. If we wanted a savage's land, we'd just take it: Simpler Times.
* * *
Quasi has an all-lady rhythm section that can cut you in half. Drummer Janet Weiss, who provided thunder for Sleater-Kinney, is stormier than ever. Somewhere in the scalding breakdowns of "Bye Bye Blackbird," a friend wearing a ludicrous sun hat pulls out a small baggie-the kind you'd put drugs in-full of store-bought chocolate wafers. According to a previously established bet, if he can sell these cookies to a stranger for $5, without acknowledging the bet, he will win $50. Instead, the song takes over. He does some weird moves with the baggie, pretends to lick it, then makes strong eye contact with an already alarmed guy dancing nearby with his girlfriend. With that, the baggie is tossed. The alarmed guy, in a spasm of confusion, twists, and the baggie strikes him in the shin. He and his girlfriend look down at it, then take a step back, and their faces say that the weekend is ruined.
* * *
It's staggering how quickly you adapt to living out of cars and tents, to stiff unshowered hair and sunburned lips, to the daily trek from camp to venue. I guess this is my life now. This shift in brain chemistry is most apparent when you re-enter normal society and find yourself unable to read a restaurant menu.
* * *
"Is that guy peeing into a bottle?"
"Kinda."
* * *
As we drive away on Monday night, we listen to "Crystalised," a song by The xx, a band whose set we had reluctantly skipped in order to get front and center for LCD Soundsystem. Its seductive, smoky timbre is a perfect complement to the hypnotic onrush of road and, one can't help sourly speculating, impossible to recreate outside the studio.
* * *
The frontman for Cymbals Eat Guitars is named Joseph D'Agostino, which makes me hope he is heir to the family grocery business and decided to rebel by playing riffy/screamy/dreamy indie rock with a guitar-shredding face of pure Staten Island brohood, a face that stretches to accommodate an unhinged snakelike jaw and long vertical slit of a mouth, a face that you are so happy to see outside of the context of weight lifting and forced alcohol consumption.
* * *
Any attempt to exit a tent hungover looks like childbirth with complications.
* * *
I've seen The National twice before, but here, in front of some 20,000 fans, Matt Berniger is like the tongue-speaking minister of a megachurch, a figure of entrancing physical energy. I doubt they'll play "Mistaken For Strangers"; they open with it. I figure "Mr. November" will be their closer; they follow it with an oceanic rendition of "Terrible Love," a song from High Violet that hadn't clicked until that moment. Berniger ventures further into the pit than anyone else dares that weekend, and hands seek him like they would a messiah. The most I get is a grip on his mic cord.
* * *
My tentmate tells Camp Bingo that he woke up at one point with my naked ass in his face, which, given the strictures of the tent and sleeping bags, is impossible, and must have been a dream. But try telling him that.
* * *
On the drive from Seattle to George, Washington, we see a decorated van. "Sasquatch 2010" is painted on its passenger windows, along with a select list of artists who would play there: MGMT, Neon Indian, Kid Cudi, Miike Snow. In the miasma of loathing and Pacific Northwest mist, I was comforted to know: With enough options, everyone curates their own festival.
* * *
Actually, MGMT's and Neon Indian's set times conflicted, and I like to imagine the people in that van wept and raged and pulled their headbands apart when they found out.
* * *
Late one afternoon, I'm lying down and watching the sky, passively hearing whoever is playing. I'm thinking that you didn't need drugs to appreciate the way the clouds go slow quickly, racing yet drifting, and not moving together in one direction but pulling apart from one another. I'm high on this, I decide. Then I eat a hash cookie.
* * *
"You're getting a good sense of Seattle."
"You mean?"
"The passive aggression."
* * *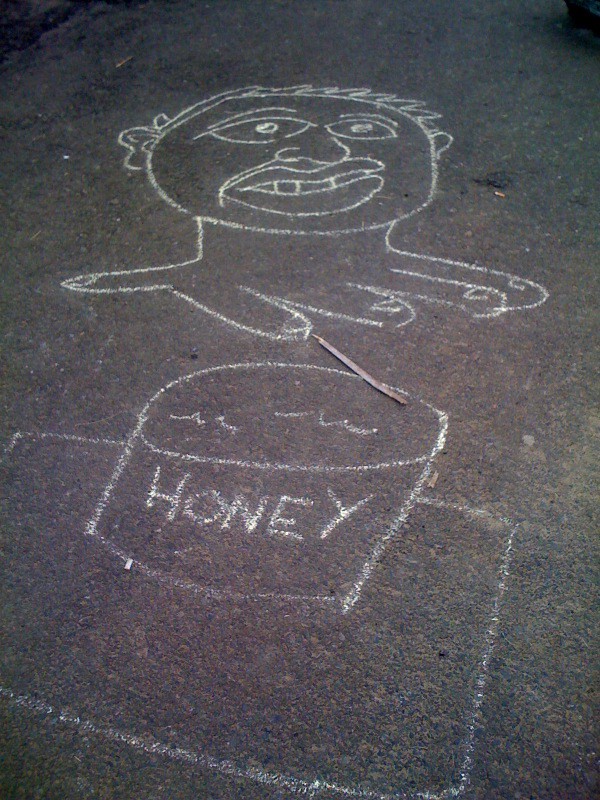 * * *
Acts I was sad to have to miss for whatever stupid reason: Phantogram, Why?, Caribou, tUnE-yArDs, They Might Be Giants, The xx, Girls, Dirty Projectors, Public Enemy (although apparently it was a technical disaster), No Age, Camera Obscura. All of you, please know you have a special place in my ears.
* * *
Early-morning visitors to Camp Bingo: folks on a photo scavenger hunt who were hunting for same-sex kisses and acid trips.
Late-night visitor to Camp Bingo: man who sings a song about his cat (named DooDoo) in exchange for a few belts of warm Old Crow whiskey from a Diet Coke bottle.
* * *
Todd Barry, following an afternoon stint at the comedy tent, informs those gathered at the Bigfoot Stage that the New Pornographers have canceled. He will be filling in with two hours of jokes. The New Pornographers then burst onto the scene and play with muscle and verve, every now and then taking potshots at MGMT, who they maybe feel do not deserve the concurrent slot at the much-higher-capacity amphitheater.
* * *
As a rule I don't aid crowd surfers, but I never forget to step aside and hope that they break their neck in the void I've opened.
* * *
"My new thing, when I want to talk to a girl, is I say, "I met you before.'"
"Every guy does that."
* * *
Japandroids spit some snark-which is galling if you consider they've canceled the past two years-before getting the job done on the Yeti Stage, a tiny afterthought designed for unknown local bands. By the end they've drawn the biggest crowd the little nook has seen all weekend.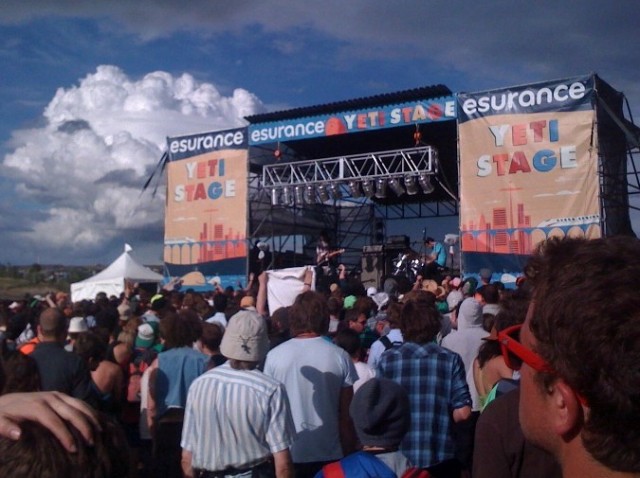 * * *
Just before I leave my Hell's Kitchen apartment to catch the E train to the Air Train to my jetBlue flight to Seattle, I become annoyed at a bar code sticker stuck to the bottom of my left sneaker. When I walk into my friend's house in Seattle and take my sneakers off, not only is the bar code still there, also the right shoe's tread bears a damp pink flower petal.
* * *
"Is he retarded?"
"No, he's suicidally depressed."
* * *
Pavement are like Greek gods: monumental and bitchy. They've flown directly in from the Primavera festival in Spain and are obviously a bit run-down; a pedal malfunction brings "Rattled By The Rush" to a halt early on. "It's fucking pathetic," Stephen Malkmus confides, in the awkward silence. The crowd had sung him "Happy Birthday" not ten minutes before. A spectacular meltdown in the offing, they launch into "Kennel District" and then "Grounded," matching the splendor of the briefly golden canyon as the rain picks up on their fuck-it attitude. They've humanized themselves right before exposing inhuman skill. It almost could have been planned; it brings me close to tears. They stay sassy and sardonic in the cracks of their majestic slacker-rock, more truly themselves than most of us are allowed to be. "I think we're done," Malkmus mutters at the end, over cries for an encore. "No, we've been in this band twenty years and we've never gone over our time."
* * *
Arcade Fire are so universally beloved that the Seattle Rock Orchestra doing Arcade Fire covers at 2:40 p.m. on the Bigfoot Stage is a well-attended affair.
* * *
Why did no one tell me that Canadians are big, meaty, blotchy rednecks? A group asks me to take their picture, and when I'm done I tell them that I managed to get a nearby American flag in the background. At this, a female member of the group pulls up her shirt and reveals a horrifying series of red maple leaves tattooed up her ribcage, with little black lines inked to look like stiff arctic wind. Again and again, the Canadians prove the drunkest, and most physically intimidating, and most mindlessly patriotic of ticketholders.
They are, without question, south of the border.
* * *
At one point I hear that one of the guys from Midlake may have the same sunglasses as me (classic BluBlockers).
* * *
Tegan and Sara are about as comfortable with interstitial banter as I am with the Honey Buckets, yet they cannot get enough of it. I can't decide who should receive the bulk of my doubled adoration.
* * *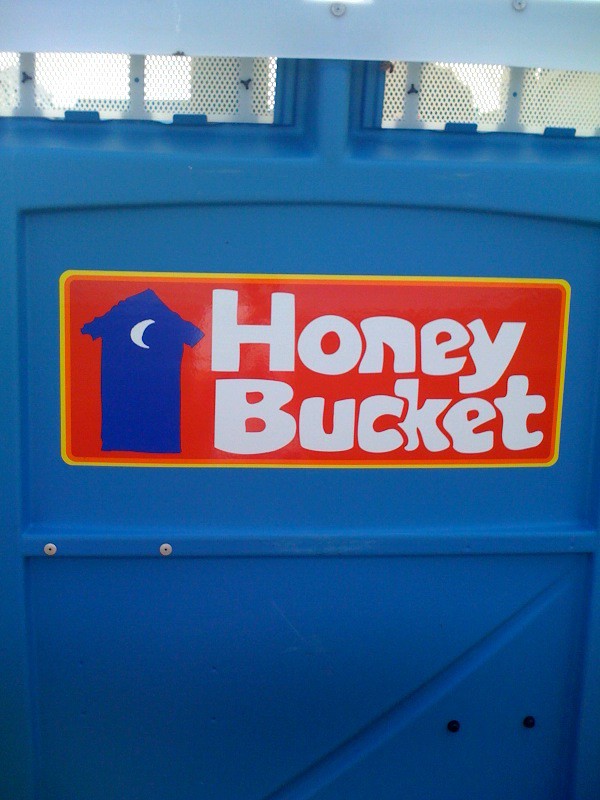 * * *
"He was British I thought."
"That was an Australian."
"He had a British accent. He said "cheers.'"
"Professors say "cheers.'"
"Australians say "cheers,' too."
"Is he gone? We could have asked him."
"Is he… no, he's gone."
* * *
Local Natives are too boring to even talk about. The band, I mean, obviously.
* * *
On the flight from New York to Seattle, I try to read a used copy of Donald Antrim's The Verificationist but am slowed down considerably by several hundred Post-Its™ applied by the book's previous owner, diligent notes written in a feminine hand about sex, sex and sex, all of which I feel compelled to read in full.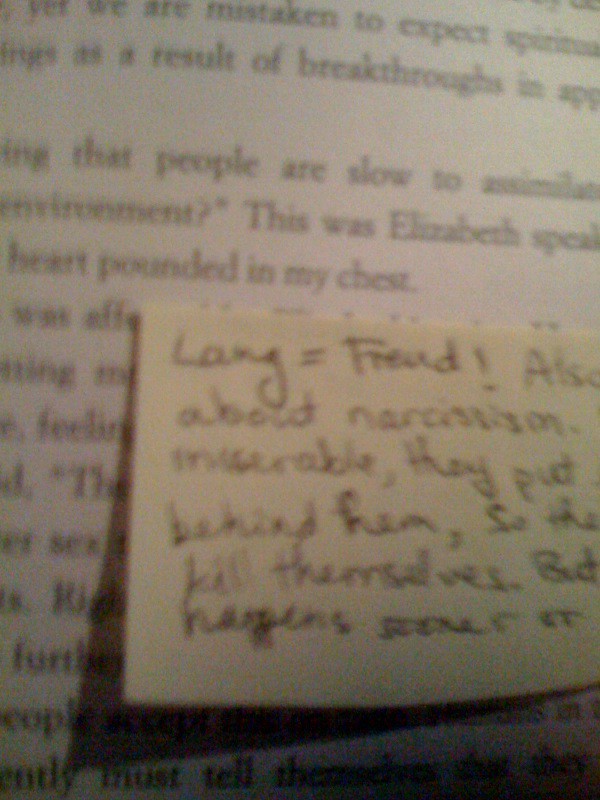 * * *
"I have maybe three years before I start having kids."
* * *
My Morning Jacket close out the first night with fog effects and psychedelic jams less memorable than the weird things Jim James does with a cape.
* * *
"I've gotta go, but I actually can't stick around here, so I'm gonna throw my backstage bracelet to someone. But you have to be cool back there. Don't go up to someone and say "I named my goldfish after you.' Don't say "I have a chess set of you made from my toenails.'"
* * *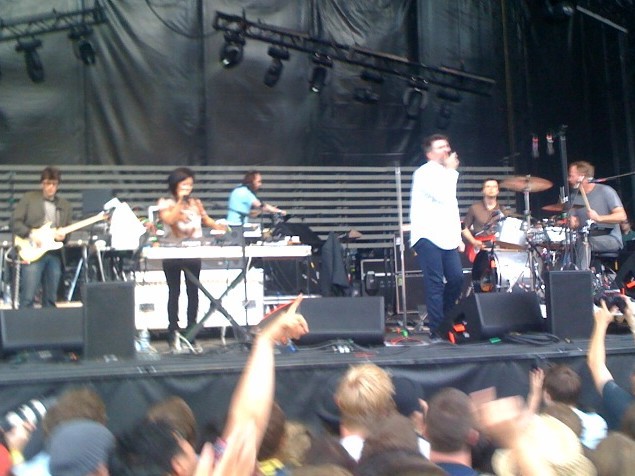 The pit action is fierce for LCD Soundsystem. "We're a band of mostly long songs," James Murphy explains. "We're going to try to play as many as we can." From there on out it's nothing but groove. "Drunk Girls." I snap up my shirt several times just so I can rip it open in ecstasy again. "Us V Them." We enter a Newtonian realm; everyone surges in one direction and is blown back by reactive force. "Daft Punk Is Playing At My House." You can lie nearly horizontal and not fall, we are jammed that tight. "One Touch." We sweat as one nasty, throbbing organism. "Pow Pow." Two guys, one dressed in an arm cast and a top hat made from a cardboard Bud Light case, try to start honest-to-Warped-Tour moshing, and two other guys yank them apart. "All My Friends." We feel the first drops of rain and twinges of cardiac arrest. They have another song ready, we're sure, but there is no time, no space, no relief.
* * *
Complete list of black people spotted: Public Enemy, Kid Cudi, Massive Attack's guest vocalists, Craig Robinson and the guy who gets Craig Robinson another beer when he spills the first one on stage during a wacky keyboard-reliant set at the comedy tent where he makes all the men in attendance sing "I appreciate you" to all the ladies in a Barry White voice.
* * *
As techies arrange the laboratory necessary for Massive Attack's liquid-cool nighttime set, we discuss who should use the VIP bracelets to get backstage. Almost everyone insists they are too fucked up to go down there, and I am too, but I go anyway. The trio I walk down with are hyping up the free beer situation and kickass party that await. When we get there a security guard tells us there's no free beer, the party is over and we can't get stage access. We wander around the deserted private area, seeing scraps of vanished debauchery. I use one of the Honey Buckets. It proves to be just as foul as the ones normals have to use.
* * *
"Oh there you are."
"Hey."
"Did you see me step right in that big mud puddle after carefully avoiding the others?"
"Yep. Your face was like [careful, waspy enunciation]: "Godammit.'"
"Godammit Cheryl, I told you these shorts had shrimp cocktail sauce on them."
"Godammit, I'm not mad, I'm just hostile toward you."
"Godammit."
"Door slam."
* * *
Though I frown upon crowd-surfing, I greatly respect the impulse crowds have to carry these selfish prats to the front, where security can haul them off to points unknown but surely not as fun as the pit. It's as though we're saying, here, here's somebody to get rid of. One girl, realizing that she is being borne toward the outstretched arms of authority, tries to resist, but the riptide will not comply.
Likewise, icings are rampant and cruel. I'm blindsided by a mango ice when I stumble back into camp on the second night. There is a brutal icing just outside the venue entrance, in front of a sign saying "No Alcohol Beyond This Point." A friend entering his tent finds a warm pomegranate ice on his air mattress. In the backstage area, most people have an ice block ready. When Smirnoff supplies run low, phrases like "You just got Cheez-It'd" and "You just got Rockstar Guava Energy Juiced" and "You just got Smucker's Jelly Squeezed" are thrown around, though rarely with any conviction.
* * *
"I'm just stoned enough that Stephen Malkmus makes sense right now."
* * *
The Tallest Man On Earth, a fairly short Swede who sings like Bob Dylan over pretty finger-picked guitar, is the subject of several hundred insta-infatuations. "I'm nervous in front of so many people," he would say, or, "Here's a song about flowers." I feel unafraid of and liberated by the idea of death when he sings the line "And I plan to be forgotten when I'm gone," because you could look out over the ancient land we stood on, its exposed volcanic rock and shapes carved by the Missoula Floods more than a dozen millennia ago, and let yourself fade into the air.
* * *
"Your lantern is really bright."
"It's a beacon."
"I guess you could say that. It's kinda blinding. Fuck."
* * *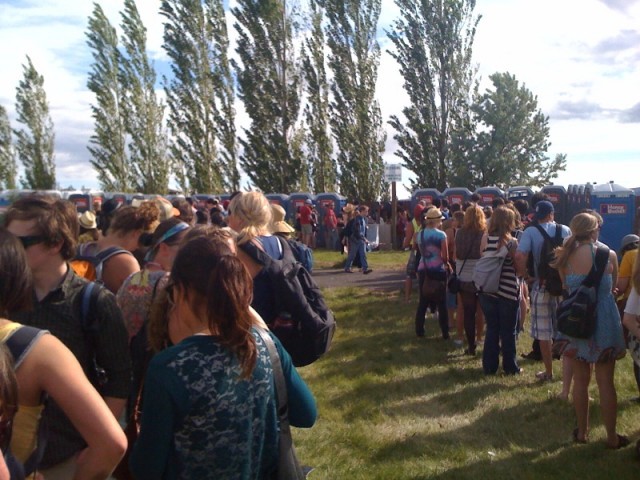 The Dirty Projectors were pretty good, people said.
* * *
"NEED DRADES," read a sign held up by some guy at a midday performance by a band I refuse to name because the name's punctuation annoys me. We assumed this was a plea for drugs, but after some Internet research I now believe he wanted dreadlocks.
* * *
Who in Little Richard's name would want to watch, listen to or tolerate OK Go? I'm told they brought up the subject of viral music videos as soon as they got on stage-and in the past have recreated their videos in a live setting-because, as ever, they'd like you to look past their songs.
* * *
People who run at top speed down a hill packed with sitting, prone and dozing bodies are headed for a life of unplanned pregnancies.
* * *
Phone connection is miserable at best. I get two e-mails about short stories I sent to publications I admire, one acceptance and one gentle rejection. I want to write back to both editors immediately but can't get anything out. When I finally have enough bars to make a call, I get in touch with the significant other, and we excitedly talk about nothing but Pavement, a Band She Got Me Into that we'll be seeing together in Central Park this fall. She wants to know what they played, and how well, what they said and how they acted, and every detail I can conjure delights her more, even though the set was Wowee Zowee-heavy and her favorite album is Brighten The Corners, because "favorite" is a meaningless term when you like a band like she likes Pavement, and we go on naming their best songs until the call is dropped.
* * *
The weekend's best weather is wasted on Band of Horses, who lean into their mini-epics but so utterly lack personality that even the frontman's beard seems fake. The silver lining: the bros who embraced at Mountain Goats turn up once again, still amiably grabbing each other and sharing their smuggled booze.
* * *
Canadian Rednecks would be a good band name.
* * *
"What's the deal with these Cliff Bars."
"What do you mean?"
"Like are they any good for you?"
"Not really, they just package them that way."
"They seem like PowerSauce bars from that episode of The Simpsons."
"[Vigorous nodding while mouth is full of Cliff Bar]"
* * *
On the way to the Honey Buckets late at night, my foot sinks into a cold slush. Panic. It is too dark to know what it is, but it doesn't smell. I pray that someone has dumped ice out of a cooler. The next morning, when I get a good look at the area, it's just an average dirty puddle, and I laugh about how much it had freaked me out. Then a guy brushing his teeth trips and falls face-first into it, toothbrush and everything. Many people see it; none laugh.
* * *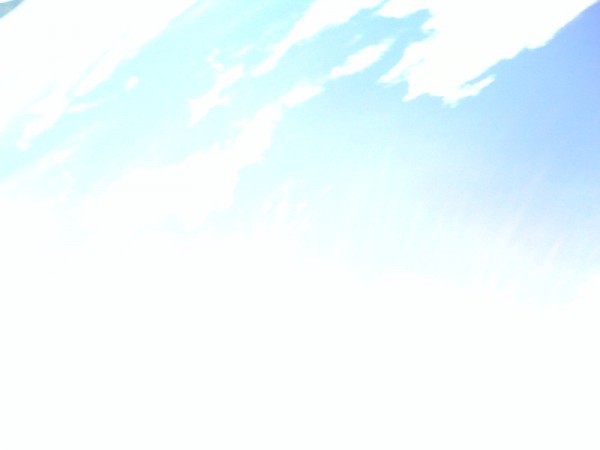 The crowd at the Bigfoot Stage for Nada Surf is the pasty, inbred sort-as opposed to the crowd still at the amphitheater for Vampire Weekend, which is presumably the pasty, overbred sort. Nada Surf's fans clamor for hits from 2001, wanting none of the accomplished covers of Kate Bush and Depeche Mode featured on the new album, If I Had A Hi-Fi. Their sugary-cereal-pop-punk-yet-lullabyish guitar sound is especially well-suited to a giddy take on The Go-Betweens' "Love Goes On." The bassist has blonde dreadlocks, could be a cousin of Mickey Rourke and smokes at least six cigarettes.
* * *
"Tegan And Sara played the best show ever erased from my memory by LCD Soundsystem immediately afterward. Pavement was the best show erased from my memory by hash."
* * *
Patton Oswalt, before a bit about obsolescence of the circus and its stench, ridicules the hippie strains of Edward Sharpe & The Magnetic Zeros seeping into the comedy tent. It transpires that he has no idea who is playing this music, and his evisceration is all the more satisfying for it.
* * *
"My eyes aren't big enough."
* * *
In Seattle, while riding a bus to the train to the airport, the bus driver keeps me from getting off at the wrong stop. The Link Right Rail's announcement system anthropomorphizes the machinery: "Doors to my right," it says.
* * *
With respect to that thing about not needing drugs: you really don't. It's the freedom of doing them in the open, I think, the not needing to impress or deceive anyone, which goes along with not showering, facepaint, unselfconscious dancing, costumes, advanced stages of nudity, etc. You are your body odor and bloodshot eyes. You are just an atom in a stew of atoms spiraling toward entropy, and nothing is so miraculous as recognizing an atom you bumped up against the day before.
* * *
Early-morning visitor to Camp Bingo: dude "giving away" books on Eastern philosophy who leaves $15 richer.
Late-night visitors to Camp Bingo: A few people who interrupt our conversation with an aggressive beatbox/a cappella performance of the rap from Lady Gaga's "Poker Face."
* * *
It is sadly funny that we got backstage when nothing is happening, but then the bracelets get us somewhere better: the pit. It's been slowly filling in the hour leading up to Massive Attack's show, and we slip in at the last minute, about seven rows back. Already I'm weak in the knees from hash. At last the very British trip-hop legends emerge and begin to tickle the base of my spine. Massive Attack make filthy, filthy songs for fucking, and as such have two basic modes: the pre-coital buzz/tease/tingle and the straight-up penetration. The former is equal parts sexy and slimy. The latter is full-body euphoria, and the pit, so violent earlier that day, is transformed into a painless zone of drugged-out absorption. I wouldn't be shocked to find my torso aglow. Mesmerizing guest vocalists are brought out, incoherent political statements and snippets of data flash on screens, the light show dazzles in otherwise total darkness, recreations of "Angel," "Risingson," and, unbelievably, "Teardrop" stun and fill us. The bliss of hyperentertainment consumes our eyes, spends them-and my breath is stolen by the decadence of it all, by the certainty that if someone from the middle ages could stand where I am now, his heart would explode at the spectacle.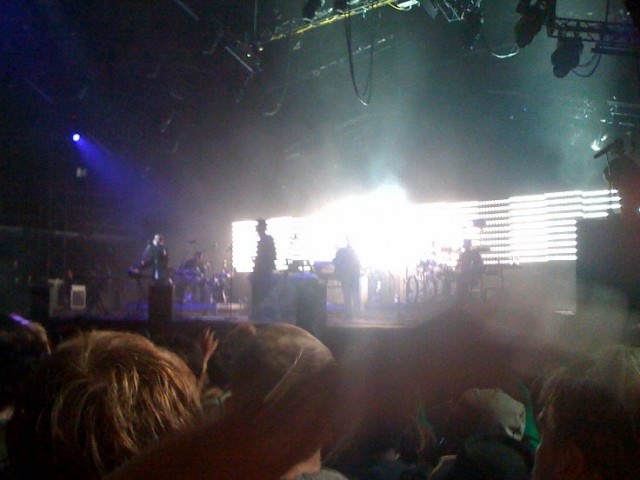 * * *
"We just spent a lot of hours in that place."
* * *
Not long after returning to New York, I was walking to my apartment with my giant impractical headphones on, listening to a playlist of all the stuff I wanted to relive from the weekend. I felt a tap on my shoulder and turned to see a smiling young woman I didn't recognize. I took my headphones off.
"Hey," she said, "my friend and I were talking and we decided you're the love of my life."
"Wow," I said, flabbergasted that this was happening, and that it was happening back here, not out there. "I'm flattered."
She asked what I was listening to. I fumbled for an explanation.
Miles Klee is back now.