by Meghan Keane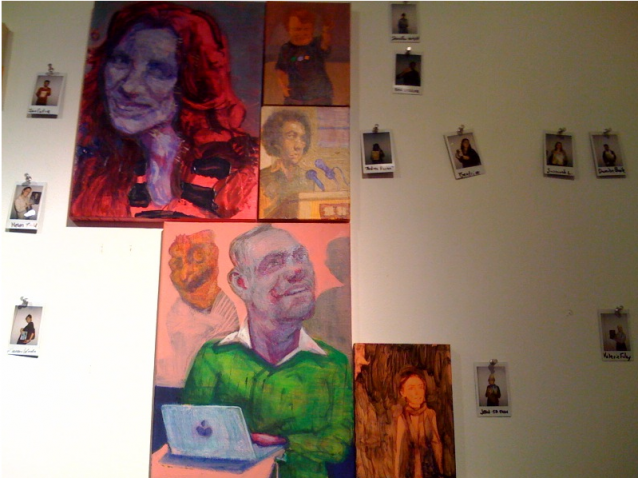 If you're looking for publicity, getting other people to do the work for you is a pretty good trick. In the case of Nic Rad, he simply painted portraits of people who are known for self-promoting. It appears that The New York Academy of Art grad subscribes to an age-old adage: If you rank people, they will care.
For an exhibit called PeopleMatter, closing tomorrow, Nic*Rad, as he styles his name (Mr. Rad?), spent the better part of two years depicting people who are in or related to the media, and matter to varying degrees: Some are recognizable, some wouldn't make it on most people's lists of important media members. Yet it's the paintings of people of somewhat questionable importance that have gotten many people to pay attention to the exhibit, and prevented it from being just some dude with a collection of often odd portraits of famous people.
It turns out that people who are accustomed to promoting themselves on Tumblr, Twitter and anywhere else they can have done as much for the exhibit.
If nothing else, they are guaranteed audience members for a show by an artist no one had heard of before. That's because Nic chose his subjects based on their proclivity to share information online.
According to Nic, "subjects were chosen based on personal Googling, Twittering, hyperlinking, Facebooking, RSS culling and otherwise staggering around the internet and media cyberscape."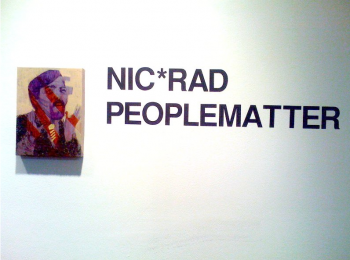 That means that among portraits of people like Salman Rushdie, Clay Shirky and Anderson Cooper will be someone who might be best known for lingering for too long in a Manhattan bar with a small group of people that blog.
Admittance to the project is purposely vague. Freelance writer Matt Shepatin, for instance, met Nic at a bar and gave him some names of people who should be on the list for People Matter. That advice qualified him for a portrait.
Is the art good? That seems besides the point. Rad's exhibit is as much social experiment as art project. Some portraits are more flattering than others. Most lean toward caricature.
The surprising thing is that few people have had negative things to say about him, at least publicly. A project like this is sure to raise the ire of people who either disagree with the ranking or find the whole experiment useless. But maybe admitting to care about it at all is gauche (oops!). Or maybe there will be criticism in the comments here! (Maybe? Ha.)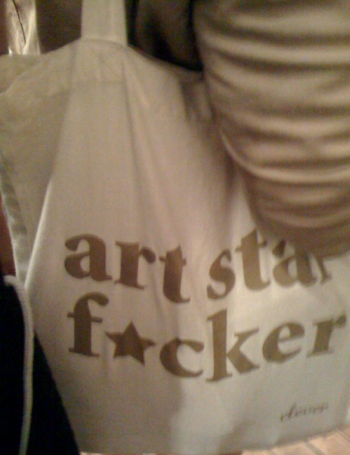 It doesn't hurt his cause that Nic Rad is a very amicable fellow. Derisively calling someone a starfucker loses some of its heft when the person already does that himself.
Regardless, it's an interesting shift, to see that people who shamelessly self-promote are now being maneuvered to promote others. It's a simple modification. Everyone's become their own brand manager on sites like Twitter. And if you can corral people who have large followings online to discuss and share your own work, the audience will grow with seemingly little effort. Even the New York Times has caught on.
The artist's questionable rationale for choosing his subjects is supposed to be part of the show's charm. Nic recently told Guest of a Guest: "I want each painting to be barely interesting enough in its own right, and incredibly interesting relationally."
And while these paintings may not all be attractive, Nic is following in a tradition of artists tying their career to the cart of vain and competitive people. Andy Warhol, for one, funded his livelihood for most of the 1970s by painting socialites and charging them upwards of $25,000 to own stylized versions of their faces.
Being put on a list, no matter how confusing the criteria, brings a sense of accomplishment to many people. It also rankles those who feel that they are deserving to be on such a list.
That's why other people have since worked their way into Nic's project. Originally planning to give away all the art in this series, Nic shifted his model after making the art public, allowing new faces to talk their way into the exhibit.
But because his list had been arbitrarily capped at 99 faces, newbies had to choose a person who their portrait would boot off from the show.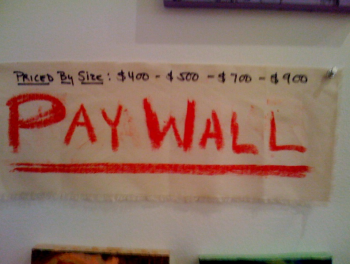 The subjects kicked off the list were sent to a "pay wall," where fans have to pay anywhere between $400 and $900 to own them (sorry, blog owner Lockhart Steele, no free portrait for you!).
It's not clear why people would pay for something that was recently free. But some people did. An owner of Rare Gallery says that the Pope portrait is one that sold.
Rumor has it Nic is not in need of income. At the very least, revenue was definitely not a goal of this project. "I wasn't thinking I'd sell any, so a few is good," he said.
The artist seems more interested in what people take away from the exhibit. He's already contemplating the next iteration, which will involve ranking and documenting a new subset of people.
As for PeopleMatters, the whole thing ends now. Nic's friend Topher Burns told him to throw another party to end it all: "When he told me the philosophy behind all this, I said, 'If you're being honest, you should have a fellatio party.'"
That sounds more dubious than the rest of the project. Topher went on to explain what it would entail: "Mostly people sitting around telling dick jokes."
That's happening tonight at Nic Rad's apartment in Williamsburg. It's called "Oral Relations: Work Hard, Make it Big." According to the invitation:
This evening is perfect for anyone with a vested interest in career advancement, getting the most out of each and every social engagement, and total satisfaction. A short instructional session will proceed drinks and a tasting tray.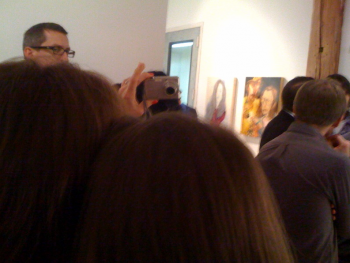 So, you know, if that's your thing, shoot Nic Rad an email.
Considering that I've spent more time thinking about this project than I probably should have, I decided to get Rex Sorgatz's opinion on the matter. In part because I figure he sits in his apartment with his Rear Window-style camera pointed out toward the World Trade Center waiting to be asked such things. Also, he wrote a blurb about the project for Wired, and his portrait is among the group. (Also — I just learned — his is the most recognizable portrait in the project. Take that as you will.)
Rex's take:
The way he's mashing up the economics of the art world with the egos of social media, creating "products" of itself, is… well, it's something. The entire idea that these people need physical artifacts, and that they are attained for free, but not exactly, because it requires a social media exchange ("a request")… well, that's something too!
Also, I was intrigued by how many of the people wanted portraits of themselves. This just seems odd. But also exactly right.
A Nic Rad painting may not have the cache of a personal Warhol on the wall, but the people he painted came out in droves to pick up their faces or those of others on April 29. That's when Nic held a Gift Party for his portraits at Rare. If you know any of the faces in the exhibit, you'd know most of the ones who appeared there. After going to the party, I now own one of Nic's brown paper wrapped paintings. When I started reading more about the exhibit, I noticed my friend John Carney's portrait was available. Something about an unclaimed Nic Rad portrait seems especially sad. I sent Nic an email, and now I have a painting I haven't decided what to do with.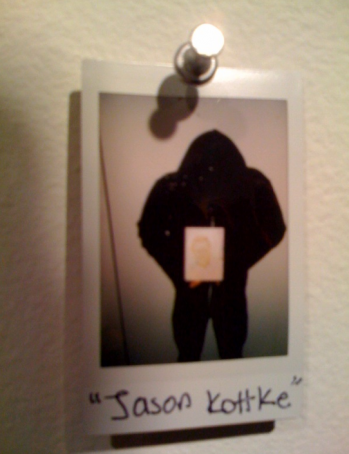 Paintings taken from the wall were replaced by a Polaroid of the recipient holding their new souvenir. Richard Blakeley was taping the whole thing. Dennis Crowley was there to pick up his painting of Rex. He also posed incognito as Jason Kottke to get someone else's portrait. There was a lot of that going on.
But people who had requested to be on the list definitely showed up in high percentages. I asked Damien Basile if he had any feelings about jockeying to get himself into the exhibit. On Twitter, Damien describes himself like this: "Communications strategist. Digital Something. Connector." He seems to have connected with Nic Rad, who explains his placement on the list like this: "Damien Basile rolled in high style and on his way to about ten other things, quickly negotiated his way into the project, and was out the door about as fast."
Did asking to be among the faces painted lessen his stature on the list? I asked. "No," he said.
Damien didn't have time to talk to me. He had important things to do. Like pick up his portrait. That's what most people were there to do. Pick up their portrait. Some jockeyed for a free painting of a famous person. Others took those of their friends. Some realized that if you wandered into other art exhibits in the building, you could score better free wine.
At one point, Matt Shepatin was explaining how to do this when Dennis Crowley interrupted him and pointed to the brown paper package under his arm.
"Whose painting did you get?"
"Mine!" Matt said.
"…Of course you did."
Meghan Keane now has a painting.