10 Reasons Why You Should Give Me One More Chance This Weekend, by Russell Crowe
by Russell Crowe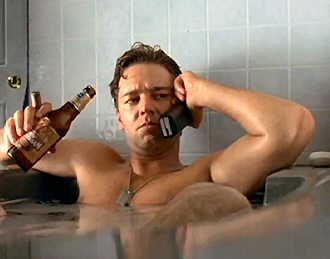 10. Shall we not begin with my exquisite and well-researched 12-century English accent for 'Robin Hood,' a la that f'ing ponce Edward I? It is magnificent and Ian McKellen will be having himself off repeatedly, engrossed in lust and self-hatred, in the theaters, even with his eyes closed, whilst just LISTENING to my squat and vulgar and entirely period-perfect vowels! I'm not dagging you around here!
9. I'm NAE SO CHUNKY any more, so you lasses have less to rest your eyes easily upon in my many naked scenes when I'm bent over using raw sheep fat to lube up my quiver. Ridley Scott, his camera loves my bum, that faggy poofter!
7. Am I the only Academy Award winner to be the target of an al-Qaeda plot? Yes I am. Even her holy artsy-fartsy fanciness Cate Blanchett can't claim that. Hoo, mates, ya shoulda seen that bitch getting in "character," with her deep breathing and her eyes crossing and her speaking in tongues.
6. 'ROMPER STOMPER' MOTHERFUCKERS.
5. Remember 'State of Play' and 'Body of Lies'? Yah, I know, I can't remember which is which either with their meaningless almost-a-pun but not quite a pun titles. Remember when everything was like that? It was right after all movies had a single, oh so evocative word for a title. That was a right boohai time. Well this 'Robin Hood' shite isn't like that shite IN THE SLIGHTEST, so therefore you should go see it. I did a right hard yakka on this one!
4. You know what "Robin Hood" is opening against? Some faggoty Amanda "I'm innocent but my rack is spectacular" Seyfried girl flick and an "urban" (THAT MEANS FOR BLACKS) comedy where Queen Latifah falls for a man, so what else are you going to see?
3. I'd give ya three more reasons right now but they're all BOUND UP IN MY TIGHTS, YA GOT IT?
Russell Crowe is AN ACADEMY-AWARD WINNING ACTOR, SUCKAS.