Tao of Dow: New Accessory Makes iPad a Gazillion Times More Awesome
by Simon Dumenco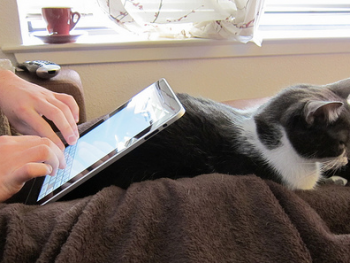 The Awl's Morning Market Report:
• After a down session yesterday morning, Wall Street recovered nicely, giving the Dow Jones Industrial Average another up close by the end of the day. In this morning's session, though, stocks are dipping once again as investors express wariness that today's Sexy Person might not be as awesome as yesterday's Sexy Person, Corinna.
• The Nasdaq is down in morning trading, but consensus among Wall Street analysts is that tech investors will rally this afternoon as word spreads that Veronica Belmont has solved that whole what's-the-best-way-to-prop-the-damn-thing-up problem that has been plaguing the iPad, the magical and revolutionary tablet computer recently introduced by Apple.