Odd Man Rush: The Kid And The Caveman
by copyranter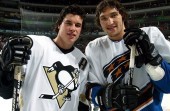 I know, I know. The Awl's tagline is "Be Less Stupid." And lots of American sports fans consider hockey, with its violent yet legal ice dance-fighting and hard-to-watch helter-skelter play, to be the stupidest sport in the world (I say, what about chessboxing?). Additionally, this is a strange time to start a hockey column, what with the NHL season more than half over. But here we are: you, smart readers and me, stupid hockey fan. Let's start by taking a brief look at the game's top two players.
Both first overall draft picks, Pittsburgh Penguins center Sidney Crosby and Washington Capitals winger Alexander Ovechkin came into the league the same year, 2005. They're both offensive stars, but play completely different styles. What makes this an interesting discussion is that the two men seriously don't like each other. And if you want to be a true bloodthirsty NHL fan, you can't like them both; you must pick a favorite. There hasn't been a 1–2 player rivalry like this since, oh, probably the one in the 1950s between Detroit Red Wing Gordie Howe and Montreal Canadien Maurice "The Rocket" Richard.
Crosby, aka "Sid The Kid," is Canadian, and the pretty PR face of the league. His Penguins won the Stanley Cup last spring. He is a playmaker and passer extraordinaire. Here's some video of The Kid in action:
However, to many, he is also known as "The Crybaby." Last year, in an ESPN players' poll (scroll down to the 4th question), Crosby was singled out as the biggest on-ice complainer (to referees) by 52% of the respondents. The second leading whiner vote-getter, Philadelphia Flyer defenseman Chris Pronger, was named by only 8% of his fellow skaters. This reputation was not helped last May when in a playoff game against Washington, Crosby complained to the refs about hats being thrown on the ice after a hat trick (three goals) scored by… Ovechkin. For you non-fans, this hat-tossing is an unassailable age-old (somewhat stupid) hockey tradition.
And yet, Crosby is the smartest, savviest player since The Great One, Wayne Gretzky-who also happened to be a whiny crybaby.
Ovechkin (aka the Unfrozen Caveman) is bigger and stronger than Crosby, and is pure skating power and goal-scoring talent. He can score from anywhere inside the other team's zone, even from his ass. He seeks and initiates contact. He gets off shots-on-goal in a blink, even with defensive players draped all over him. His shooting force/accuracy is marvelous. Here are some highlights of the Russian in action:
He has won the last two Hart Trophies as the league's most valuable player (Crosby won in 2007). He even received the key to the city from Washington mayor Adrian Fenty. Others to get keys from Fenty include Nicolas Sarkozy and the Pope. Ovechkin's Capitals are picked by many experts to win the Stanley Cup this spring.
But what does Alex think of The Kid? Well, the two briefly tussled in a game last February. Crosby gave Ovechkin a little baby check from behind. The Russian responded by ever-so-gently removing Crosby's helmet, a move that infuriated the fuck out of Sidney. Ovechkin then mocked Crosby by making chicken wing motions from the bench. Here's a short video of the international incident, a clip that has attracted 1,773 comments as of this writing.
The two teams met in a nationally televised game on Super Bowl Sunday. Crosby scored two goals to vault visiting Pittsburgh into a 4–1 lead. But Ovechkin, completing a hat trick (down came the headgear again), scored two third period goals to tie the game, then assisted on the overtime game winner. (Video highlights here.)
The NHL is in the middle of a two-week break for the Olympics. But Crosby and Ovechkin could be headed for a wonderful showdown in Vancouver: The Canadians and the Russians are favored to meet in the men's hockey gold medal game.
Have you picked a favorite? You've probably guessed whose camp I'm in.
Copyranter is an ad copywriter who blogs about advertising here. Before selling out, he was a sports reporter for several small newspapers, including a daily where he covered the Philadelphia Flyers. He knows his way around a rink, having majored in hockey in college-which led to his graduating with a 2.8 GPA in Communications and a wicked wrist shot.