Movies I Have Walked Out Of, by Julie Klausner
by Julie Klausner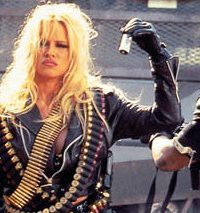 Young Sherlock Holmes
Why: Walked into the wrong movie theater; had intended to see Spies like Us.
Lorenzo's Oil
Why: It's about a child dying!
Tomb Raider
Why: Not as kitschy as Barb Wire.
The English Patient
Why: Not as kitschy as Barb Wire.
Iron Man
Why: Caves, Gwyneth Paltrow, Burger King's product placement in that press conference scene.
Made of Honor
Why: I only saw this because it was playing adjacent to the theater showing Iron Man. After a scene in which Patrick Dempsey bemoans his date's rejection of the cute things he used to do with his last girlfriend, like waiting on long lines for pastries, I decided instead to sit quietly in the lobby of the AMC Lincoln Plaza and wait for my friend to get out of his superhero movie. I didn't even have a book to read. I just sat there!