Iced Out: Ski Cross My Heart!
by Katie Baker

"In the United States," begins something that reads like a high school essay, "the 1960s were a time of revolution, of young people challenging authority and demanding change." It was during that decade, the writer goes on to note, that "social change and freedom of expression led to new and exciting…
…
…
…skiing techniques."
(Cripes, is there anything the Boomers aren't taking credit for?)
That illuminating glimpse into modern history is part of the official Olympics website's description of freestyle skiing, the umbrella category that comprises aerials, moguls and the Games' newest "medal discipline": ski cross.
Ski cross sounds confusingly like cross country skiing but is actually nothing of the sort: the event is most accurately described as being a roller derby on skis. (Some people compare it to short track speedskating, but I don't understand how that is at all helpful.) In contrast to traditional downhill ski racing, ski cross competitors battle not only the clock but each other, competing in groups of four or six on a man-made track covered in jumps, dips, and hairpin turns.
In late 2006, ski cross was greenlighted for inclusion in the 2010 Games by the IOC, while other events like "curling mixed doubles" and "luge team competition" were denied entry. The most controversial neg, though, went to womens' ski jumping. "It's like they're putting us aside and saying no women allowed," said then-15 year old Canadian ski jumper Katie Willis. "I don't think that's right."
By the IOC's current standards, it wasn't: the bylines mandate that any sport added to the Olympics must have a mens' and womens' competition. But ski jumping, having been an Olympic mens' event since 1924, was not subject to the rule. So an international contingent of womens' ski jumpers opted to do what any wronged party would: sue.
It was a spirited attempt. The women sued the Vancouver arm of the Olympics Organizing Committee, VANOC, for gender discrimination in direct violation of Canada's Charter of Rights and Freedoms. B.C. Supreme Court Justice Lauri Ann Fenlon agreed that the women had been victims of discrimination-but by the IOC, a body not subject to the Charter.
In a ruling whose circuitousness would have pleased Joseph Heller, Fenlon found that VANOC did have to abide by the Charter-"an argument that VANOC lawyers [had] vigorously contested"-but that VANOC had a duty to follow IOC decisions, "a situation she confessed was 'somewhat distasteful'." (The ski jumpers' appeal of Fenlon's decision was turned down a few weeks ago.)
Why did the IOC say no in the first place? The most blunt explanation came from committee president Jacques Rogge: "We do not want the medals to be watered down by too little a pool of very good jumpers." Ice cold!
You can argue with that rationale if you'd like-I don't profess to be an expert in the international womens' ski jumping depth chart-but I do know one thing: you've seen one ski jumper in that trademark midair pose, you've kinda seen them all. The sport can be a snoozer, especially on TV.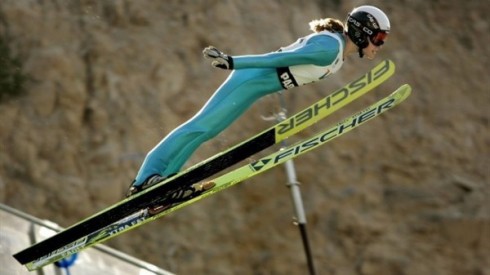 As opposed to, I segue, ski cross! The IOC's decision to include the sport was largely a reaction to the success of snowboard cross (think roller derby but on snowboards) which made an instant splash in its debut in the 2006 Olympics in Torino. "We'd heard that the television guys were asking, when they saw boarder cross, 'Do they do this on skis too?'" said Canadian Freestyle Ski Association CEO Peter Judge. "When you hear that query coming from someone paying billions in revenue, you tend to listen to your customer.''
In the wake of Torino, even stodgy PBS got all, as the kids say, amped:
JEFFREY BROWN: Christine, my son said this new sport of snowboard cross looks like a video game come to life, which you know is a high compliment from a 12-year-old. Tell us more about this sport and its new stars.
CHRISTINE BRENNAN: Well, that's exactly what the International Olympic Committee wants to hear because they're looking for that next generation of viewer, Jeff, to be able to try to get them, latch them into the Olympic Games and have them watch for several generations. … But it's kind of that joy de vive, that freshness of those kids that whiz by you on the slopes when you're skiing as a recreational skier.
JEFFREY BROWN: It looked to me like some of the young women in that snowboard half pipe were listening to their iPods as they were soaring through the air.
CHRISTINE BRENNAN: Well, trying to interview them is really tough because they kind of walk by and, you know, they have got the headsets in and it's hard to know, hey, by the way, could you stop and talk for a few minutes, so they're having a great time. I think visually it's a terrific thing for the games because it's not just the old stuff and you bring in a different breed of athlete, you know, the online skating type people.
Presumably she said inline skating, but the world may never know. At any rate, TV audiences loved the sports' rollicking pace and crashtastic wipeouts, and the footage of American darling Lindsey Jacobellis doing her best impression of a hotdogging wide receiver tripping over himself at the 2-yard line while high-stepping untouched toward the endzone ended up one of the most widely viewed videos on NBC's website.
If you are one of those people who were enthralled by the minutia of superdelegates or who love to dissect the inner workings of the BCS rankings, you will probably be interested in the Goldberg contraption that is the ski cross Olympic qualifying procedure. I am not one of those people. So I'll just presume, based on some strong recent World Cup finishes, that the two men who will be representing the US in ski cross will be Daron Rahlves and Casey Puckett, aged 36 and 37 respectively.
I have much to say about the two men, both of whom are former members of the US Alpine ski racing team who came out of retirement to compete in the new event, but in the interest of time and your Twittention I will summarize each one in 140 characters or less:
Rahlves: Most decorated US downhill and Super G skier ever but no Olympic medals; won the World Jetski Championship in 1993; had a ridonkulous crash.
Puckett: Wrote blog post that included the phrase "pull your pants down so that I can see the urine come out of your penis"; had a ridonkulous crash.
Regardless of who qualifies, it's a well known fact that any Olympic sport worth its weight in gold medals must be accompanied by a scandal. (Creep on creepin' on, figure skating!) And for ski cross, it's the clothes.
"The French and the Austrians were just trying to cut corners," said Puckett in a recent interview when asked about the minor controversy that ensued when those prissy little Euros started icing up the race tracks and wearing tight Lyrca ski-racing suits in lieu of traditional baggier two-piece getups. (The International Ski Federation has since issued guidelines banning one-piece suits and mandating a minimum gap between material and skin, although some worry that its new textile regulations are too vague to be effective.)
It may sound silly, but to a sport seeking to differentiate itself from its stodgy-if-speedy downhill-racing predecessors, the issue is of grave importance. "Skiercross in general is in conflict with itself," declared Seth Wescott, the reigning snowboard cross Olympic gold medalist and apparent Dali Lama. Fellow snowboard crosser Nate Holland had more aesthetics-minded complaints: "When you add speed suits, it looks like crap."
Puckett, for his part, referred back to the ancient history of the sport's early-60s pioneers in making his case.
"The first competitors of ski cross were anti-establishment, big mountain freeriders," he blogged last year. They "wouldn't be caught dead in a race suit."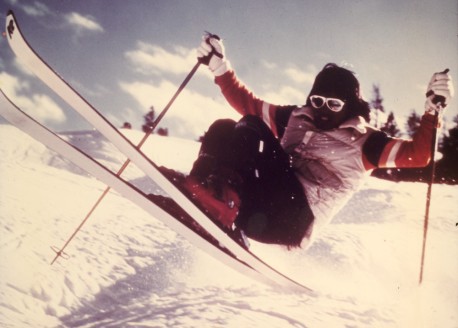 Previously: Hockey Meat, the Disaster of Whistler Blackcomb and Next Year in Vancouver
Katie Baker writes mostly about sports and weddings and so the Winter Olympics just kind of seemed like the next logical step.