Aww, Man: Jay-Z's Not In The Illuminati After All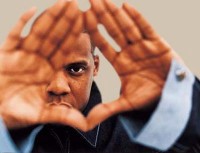 Jay-Z just topped Forbes list of "Hollywood's Top-Earning Couples," pulling in a cool $122 million with wife Beyonce from June 2008 to June 2009. He so totally sold his soul to the devil!
Actually, the vigilant citizens at Rap Radar have collected denials from the principals involved with the video, for Jay's new single "On To the Next One," that got all those crazy Illuminati theories buzzing.
First, the video's director Ron Brown, from an interview with Vibe:
I'm aware of the stir the video has caused and what people are saying. I think when you're dealing in abstract imagery people are going to want to draw lines between things and make sense of it. However, I've always felt that the viewing public was, in general, extremely visually literate. They don't always want or need things to be spelt out for them. One of the great things about music videos are they can be enjoyed purely visually-it doesn't need to mean anything or make any sense. Conspiracy theory is another thing entirely, and seems to me to be about projecting pre-existing beliefs and desperately looking for things that confirm them. There is imagery in this video that is drawn from all over the place. None of it is owned by any one culture or belief system. You can connect anything if you try hard enough, and make it mean anything you want it to.
Next, the song's producer, Swizz Beats, on MTV News:
I don't think about that. I know that's a billion percent not true. The video displays another level of art and creativity from two great minds: the director and Jay-and myself, bringing the collaboration together. It's no satanic ways around me and that's for sure. I'm with Jay-I never see none of that stuff around him unless he's hiding something, which I doubt. C'mon, man. That's silly stuff. That stuff you don't even comment on; we on to the next one.
Lastly, Jay himself, during an interview yesterday with current tour mates Young Jeezy and Trey Songz and Hot 97's Angie Martinez:
I really think it's really silly. For the record, I of course believe in God. I believe in one god. If people must know my religious beliefs, I believe in one god. I don't believe in religions. I don't believe in Christians or Muslims. I think that separates people. I think its one god, I think it's all the same god, and I don't believe in hell. But as far as God, of course I believe in God. Am I a part of some type of sect or cult? That sounds stupid to me. It's like ignorant to even say. And I guess that'll be the last time I address that.
Angie: Are there little secret societies?
Yeah, right here. This is The Mob Squad. Roc Nation is the gang. But, I can't even get in the golf club in Palm Springs. I'm from Marcy Projects. Imagine… Just think about that-
Angie: They wouldn't let you in the club, you're saying?
Of course not. How? People that control the world…
Angie: Do you believe that those sort of organizations exist?
I think there's cliques of friends that control things. I don't know if it's a devil worshiping sect. I think that's a little Tom Hanks. But I believe there's cliques of people that control the world. Y'know, Jeezy's my man that got Atlanta, I go down to Atlanta, I got that thing. He come to Brooklyn, I got that thing. Go down to Virginia, y'know. But that's just natural process. I'm sure Obama has his people that, everything is good.
So there you have it. No secret societies for Jay-Z. Of course, maybe it's just that now that the Freemasons are so much less exclusive, he wouldn't even want the company.