The End of the 00s: The Most American Person of the Decade, by Kaila Hale-Stern
by The End of the 00s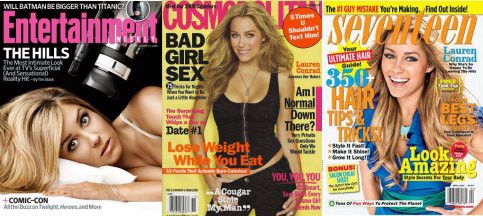 My nominee for Most American Person of the Decade is Lauren Conrad, ex-star of MTV's "The Hills," New York Times best-selling Young Adult author, television personality, celebutante, clothing designer and unswerving embodiment of the American dream.
Lauren Conrad and the phenomenon of MTV's "The Hills" is a topic I've always tried to elucidate for the benefit of crowds before. Conrad's ascension began in 2004 when MTV shot a partial-reality series called "Laguna Beach: The Real Orange County," a riff on the poolside party-fight Orange County of "The O.C."
I say partial-reality because while the show and its eventual spin-offs featured real-life spoiled kids, the wacky/inane/drunken "events" in their lives were often, if not scripted, then at least heavily-facilitated by the presence of producers. The series was awash in the sunny colors of California and the best in crap rock, and it fed our country's obsession with wealth and extravagance. When the "Laguna Beach" girls piled into their Hummer limousine in designer prom dresses, inebriated already, we lapped it up.
Lauren Conrad was on the first season and then returned a few times on the more scandalous second, a vague older-woman figure trying for the affections of her high school friend, Stephen Colletti, the oily-haired hero of the show. Stephen was in turn pining after honey-blond queenbee Kristin "bitch is back" Cavallari, while their friends drank and hooked up with each other. During "Laguna Beach"'s run, Cavallari played the blooming starlet, with modeling contracts, bit movie parts promised and the paparazzi in her wake.
But it was Conrad, that initially unassuming figure, who would emerge triumphant: the classic American underdog. While flirty Cavallari pursued fickle Hollywood, steady Conrad landed a deal for her own series of demi-reality: cameras would follow her move to Los Angeles and enrollment in fashion school.
"The Hills" was first packaged as a sort of college-aged, live-action, pantomime "Sex and the City": Lauren was given an internship at a prestigious fashion magazine, Teen Vogue, and three girlfriends of disparate "personality" to entertain her in a too-expensive apartment in the Hollywood hills. They would also sit around at the best club and restaurant tables, communicating in meaningful stares. Lauren was just like us.
There was the vacant-eyed brunette beauty Audrina Patridge, wispy work buddy Whitney Port (more recently the star of her own lame New York-based spin-off, "The City," which had the chutzpah to introduce the world to socialite Olivia Palermo), and bubbly blond Heidi Montag. All was well in the fakeish world of "The Hills" for a while. The girls danced in lavish be-seen spots, wore fancy clothes, sat in front of computers at "work," and sometimes went to class.
But the double attention of the show's popularity and celebrity magazine industrial complex's growing interest in the protagonists combined to make them famous, fast. Before long all sorts of people were clamoring to be on Conrad's "Hills," eventually leading to the entrance of a person named Spencer Pratt.
This Dickensian figure first appeared as Heidi Montag's suitor (and himself had the chutzpah to introduce the world to henchman best friend Brody Jenner of the Jenner-Kardashians). Then this sequence of events occurred: Montag began dating the conniving, opportunist Pratt, drama, drama, vacant blinks. Pratt may have started a rumor about there being a sex tape of Conrad and her scummy felonious boyfriend of the time. Drama, cat fights, tabloids, money, TV ratings spikes. Almost as though it had been scripted.
"The Hills" stars have laughed all the way to the bank and back. No one more so than Conrad, who was reported to have pocketed $125,000 an episode, or $2.5 million a year. Heidi and Spencer, who have evolved into a bleach-and-silicone tabloid entity called "Speidi," were publicly thanked by John McCain for their support of his presidential campaign last year. Montag is paid something like $100,000 episode and Pratt, $65,000. Even minor characters on "The Hills" make more per episode than you ever will: "Lo" Bosworth takes home $100,000, and Audrina the same, which she stores in the space behind her eyes.
Sure, reality TV had been around for a while before Conrad moved to Los Angeles. We'd had "The Real World" and "Survivor" and all kinds of shows in which people did terrible things to each other in unnatural environments, but it was Conrad and her "Hills" clan that first really tapped into the market Paris Hilton made. In their wake would come ever more Flavors and Rocks of Love, bisexual shots with Tila Tequila, infinite Kardashians. Because Lauren Conrad proved that even fake sex tapes sell, we can have a world where Kim Kardashian is a famous person and Ray Jay is searching for his soulmate once more.
It's almost impossible if you watch cable television these days not to be pulled into a reality series or seven. The networks seem to have realized that they're pretty cheap to make, they sell, and people are sucking them down. It's a lazy sort of viewership: channels like VH1, MTV, Bravo, Lifetime et al re-play their reality offerings so frequently they're inescapable (if you turn on the TV). Before you know it, you care about what's happening on "Tool Academy" and who Real and Chance will choose in their quest for true love. How did we get here? Lauren, of course. Always Lauren.
Surely no one has contributed more to the rise of our reality-soaked culture than Conrad and her cast of characters, having shown how truly bankable inanity can be in America, how spin-off stars can become superstars. And no one has emerged with a better sheen than Conrad herself, who finally, ironically, left the "Hills" in Cavallari's now-desperate hands for the razzle-dazzle world of literature. Conrad's first novel, L.A. Candy, a semi-autobiographical tale of a girl who stars in her own L.A. reality show, became a #1 New York Times bestseller, of course. Of course.
Kaila Hale-Stern lives in a self-selected corner of the internet populated by basement-dwelling anarchists and people who write stories about their favorite fictional characters. Her primary concerns are the duplicities of history, the scourge of pop culture, and not letting Mayor Bloomberg win the battle against cigarettes. She can be read here and reached here.