The End of the 00s: No One Would Have Blamed Her For Changing Her Mind, by Dan Shanoff
by The End of the 00s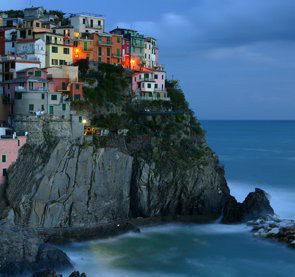 "How cheap is cheap?"
That was my instantaneous, inane response in the single most pivotal moment of my decade.
I was sitting in an internet cafe in Florence, Italy. It was early August 2001. I had been trading emails with a woman with whom I went on a blind date three weeks earlier. We had hit it off, but a few days later, I was jetting off for my first trip to Europe — three weeks of touring by myself.
I liked this woman enough that I was sending her emails from the road. A lot of "wish you were here" — and I sincerely believed it. Not unlike Don and Betty Draper's Italian getaway, Europe was meant to be explored for the first time with someone with whom you had just had a couple of really good dates.
Halfway through the trip, I logged in and had an email from her: "How would you feel if I joined you in Italy?" it read. "I found a cheap flight."
And my first reply:
"How cheap is cheap?"
Oy. No one would have blamed her for changing her mind immediately, based on that response. Instead, she replied "Does it matter?" Recognizing my appalling mistake, I said of course it didn't. A day later, she was on a flight — yes, a cheap one — bound for Italy.
Looking back, we were both so glib about it — her with the offer, me with the acceptance. But we both felt like we had nothing to lose: She had never been to Italy; as she explained it later, if things didn't go well… well, she was still in Italy. I missed her and wanted to share my traveling experience.
Here is what I was struck by at the terminal in that internet cafe: What guts she had. Consider the freak-out potential of so many guys in New York at such an offer. Consider that she still barely knew me — she couldn't be sure how I would take it, let alone whether I was a decent traveling companion.
I accepted her offer not because I necessarily knew her, but because I wanted to know her — to know someone who would do something like that. To make your third date a trip to Italy to meet up for a few days, because you've never been… because it would be fun to be there with someone you've had two fun dates with already… because why not? It wasn't that I said yes — rather, how could I say no?
And so she joined me. Four days traveling in Italy — Venice, Cinque Terre, Milan — with someone you have only been out with on two dates previously is the equivalent of 100 dates in New York. I believe that was the exchange rate at the time.
Because of that, when she left — I still had a week to go on my trip — I knew I would marry her. We had known each other for less than three weeks, but in addition to all of her wonderful qualities — some I could instantly recognize, some I could only discover with time — I wanted to marry the person who asks, after two dates, if they can fly across the world.
Two years later — which felt like twice as long, thanks to the emotionally accelerating effect of the Italy trip — I asked her to marry me. Eight years after that third date in Italy, we have two beautiful children. I can only hope they grow up to be as fearless as their mom was that day.
I spent nearly the entire decade with her and all of my decade's most memorable moments — our wedding, our kids, even the best moments of my career — were made possible because of her.
At the core of why I love her is admiration for how she lives her life as a spouse, mom, lawyer and friend. And underlying all of that admiration is that lingering memory of how I felt at the moment she told me she found a cheap flight to join me in Italy.
How cheap is cheap? Thank God: Cheap enough.
Dan Shanoff is a Brooklyn-based writer and parent — that really narrows it down — and, for lack of a better phrase, "media industry consultant." He spent his decade morphing from MBA student to national sports columnist to dad. He has a site of his own, but also devoted an absurd amount of time over the past six months editing a project dedicated to covering a single college football player.