Payne's Gray, the Color of English Rain and Henry Miller's Paris  
Cultural histories of unusual hues.
.
.
.
.
.
.
.
.
.
.
"Of William Payne but little is recorded," begins an article in the January 1922 issue of Walker's Quarterly. The author, a man with the distinguished name Basil S. Long, goes on to write that the "place and date of his birth and death are forgotten. From the fact that he first exhibited in 1776, it may be deduced that he was probably born about 1755, and he is supposed to have been a native of Devonshire, a country which produced numerous artists of notes in the 18th century." Payne, Long writes, was a civil engineer before be became a watercolorist.
He moved around England some, as evidenced by documents and bills and general scraps of paper trailed. During his most successful period, Payne lived in London, where he taught students how to paint waterfalls, rocky beaches, and mossy forests. He sold his art—enough of it to live, anyway—and he exhibited in a few galleries. He knew a man named William Henry Pyne (or at the very least, Pyne knew of Payne) and although Long describes Pyne as a "gossipy and somewhat inaccurate author," he quotes him just the same.
The method of instruction in the art of drawing landscape compositions had never been reduced so completely to the degenerate notions of this epoch of bad taste as by this ingenious artist," Pyne wrote. "For a long period, in the noble mansions of St. James's Square and Grosvenor Square and York Place and Portland Place, might be seen elegant groups of youthful amateurs manufacturing landscapes, a la Payne.
For a few years there, Payne was an important teacher, but his popularity waned. According to an entry published in the Dictionary of National Biography, his work had "degenerated into mannerism" by the dawn of the 19th century. "He was surpassed by better artists, and forgotten before he died," it concludes.
How can a man forgotten have a biography? Long wrote about him a century after his death. His work is still on display at the Tate in London and there are several at the National Gallery of Art in Washington, DC (although none of them are currently on view). His paintings may be packed away, but Payne was not forgotten. Hell, he even has a color named for him. It's called Payne's gray, and it lives on to this day, in numerous paint boxes and on artists' drafting tables.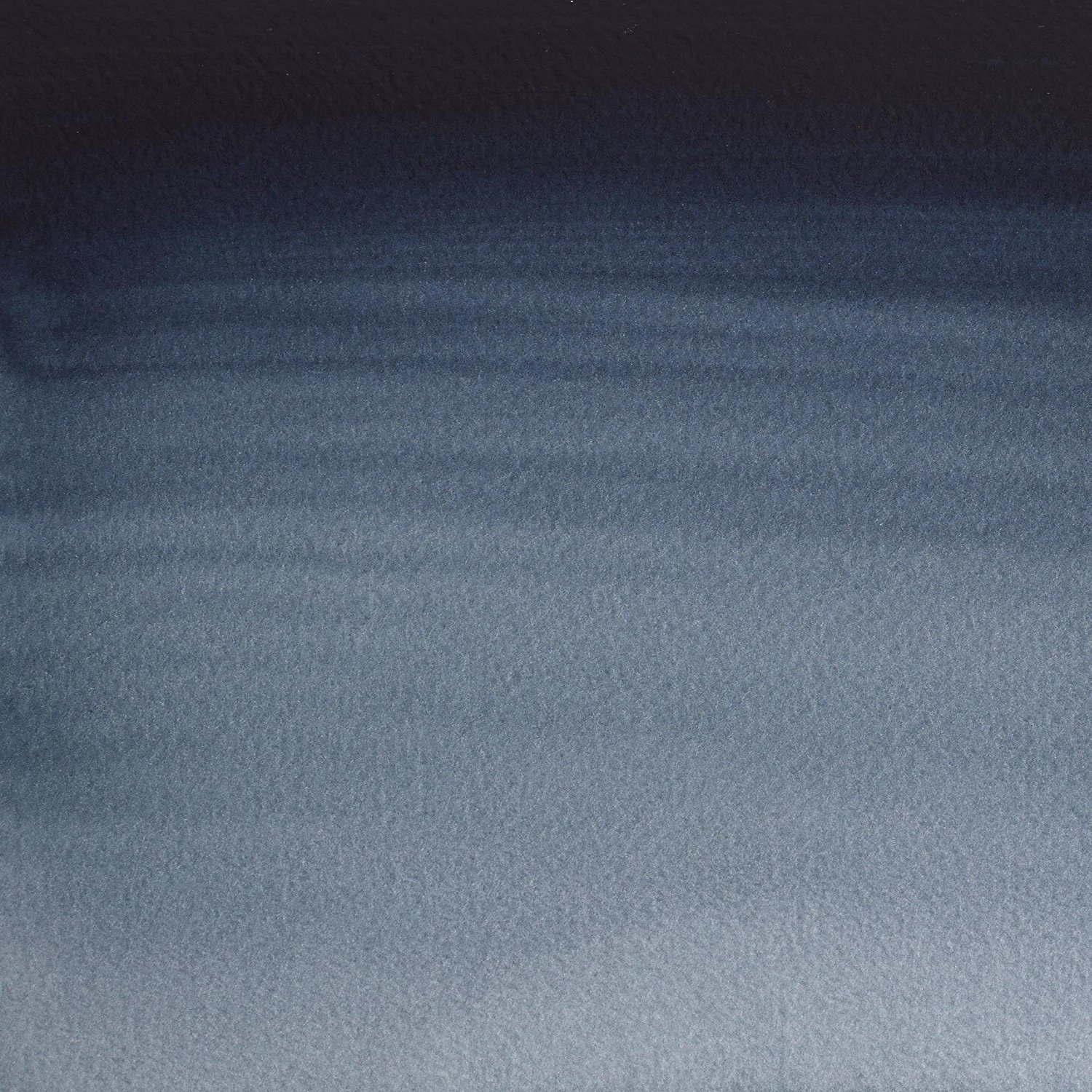 This singular shade of gray wasn't his only contribution to the world of watercolor painting. He also pioneered a way of smudging paint, using bread or cloth, to create a soft watery cast of color across the paper (called "dragging"). He taught students how to use dry brushes to paint precise tree limbs, sticky sharp and fading into striated lines as they blend into the background. And one day (no one knows when), he mixed a really good color, a polluted shade of navy blue that came to define his entire career. Payne made his namesake gray by mixing a good deal of Prussian blue with a smidge of yellow ochre and a dab of crimson lake. The result is a dark color, midnight teal with a trace of brown, so dark that it doesn't read as blue with red or yellow tones, but rather a watered down, smudgy black.
When used in place of a true black, Payne's gray creates lifelike shadows, artfully mimicking the blue stain of a storm cloud, the long aching darkness of an overcast evening. Landscapes washed with Payne's gray look moody and damp, foreboding and quiet. It proved to be quite a useful tool for depicting far-away mountains, made indistinct by the scattering of light in the atmosphere. (Painter John Ivey suggested using Payne's gray for the following items: "Rocks, having color", "Mountains (remote)", "Mountains (nearer)", and "Clouds, cold.") It's amazing that a color which looks so close to black contains none of it at all.
Payne's gray is not often mentioned outside painterly circles. I hadn't heard of it until I began researching colors in earnest. But like glaucous, it's a favorite of poets and musicians. There was German prog rock band named Payne's Gray that released a single album in the early 1990s, and a Kingston, New York-based rock band currently playing under the name Payne's Grey Sky. American poet Gerald Burns once wrote a poem called "A Pavement Shop" that includes the lines: "It was night (French ultramarine, Davy's gray, touch of lampblack). Pale trees (Payne's gray, transparent olive green) by streetlamps, pointed shapes / made way."
Message boards frequented by painters are littered with questions about how to achieve the perfect Payne's gray. French artist Delphine Doreau recently went searching for Payne's gray, and in the process, she created a charming little sketchbook of all the various shades of this almost-blue gray. If you want to see the color in action, you can watch soothing videos of a disembodied hand brushing Payne's gray paint over a piece of paper, slowly diluting the color until it fades to a light slate blue. British painter George Shaw is also a big fan of Payne's gray, as is evident from this painting of an eerily monochromatic forest, which was part of a 2011 show titled simply "Payne's Grey." He even told The Guardian that Payne's gray is "the color of English rain." "Perfect, then, for rendering of an everyday England that still exists out there in the neglected suburban hinterlands where nothing—and everything—happens daily," the author notes.
The strange thing about Payne's gray is that, once you know its name, you start to see it everywhere. Although Payne had a particular way of mixing his gray, it was never quite nailed down—like a chef cooking to taste, he mixed the various shades until it looked right to him. He didn't have a set recipe. As a result, Payne's gray isn't a precisely defined color. Different paint companies offer different versions. Some have more red mixed in (resulting in a mauve-adjacent hue), while others are greener. Yet somehow, unlike Millennial pink (which seems to encompass too many shades of pink to be a distinct color) Payne's gray is a recognizable hue. You know it when you see it, and it is everywhere. It's the background to WeCroak's randomized memento mori text messages. It's the color of jagged wet slate cliffs on the shores of Prout's Neck. It's the color of the industrial carpeting at my husband's school. There are Payne's gray cars on the highway, streaking by in the snow, and Payne's gray books on my bookshelf.
But the most beautiful Payne's gray of all is probably Henry Miller's late winter gray, a gray described but not seen, a color I can only imagine. In March of 1930, Miller wrote to his friend Emil Schnellock, describing a desolate afternoon in Paris. He had spent the day when he stalking the streets, head clouded with malaise and ennui and disgust for the whole human race and their pathetic churches, their futile attempts at immortality. (He later called Paris a "preeminently gray city" where "the range of grays is seemingly infinite; here the very effect of gray is lost.") Here's Miller:
Boulevard Malesherbes. C'est minuit. The asphalt gleams like the black helmets of the mounted police. Indigo sky swept clear now of those fleecy clouds which hang all day over the city. One sees so much more of the clouds now, walking between low buildings, debouching onto huge carrefours. It is winter and the trees do not obscure the sky. One can look between the naked boughs and observe the colors changing from rust and purple to lilac, to Payne's gray and then to deep blue and indigo. Along the Boulevard Malesherbes, long after the crepuscular glow of the evening, the gaunt trees with their black boughs gesticulating, stretch out in infinite series, somber, spectral, their trunks vivid as cigar ash. Where is the Seine? I inquire at intervals. Tout droit, monsieur, tout droit.