Nazi Christmas ornaments, Wain's famous cats, and dog-shaped whistles
Curious objects at auction
Lot 1: O, Tannenbaum
 'Tis the season for tinsel and garlands and swastikas. You don't mind, do you? It's history! Heritage! Don't be a snowflake.
Just in the jolly old St. Nick of time for last-minute holiday shopping, several antique glass SS Christmas tree ornaments are headed to auction in Maryland on December 19. Bid on a singular hand-painted cherry red globe featuring a black swastika brilliantly set against a silver background for about $150-200. If you have more tree to cover and a fatter wallet, a full set of seven silver glass SS-themed balls complete with 10" tree-topper—"obviously intended for those SS members and their families who celebrated the Christian family," according to the auctioneer—is also on offer, at $800-1,000.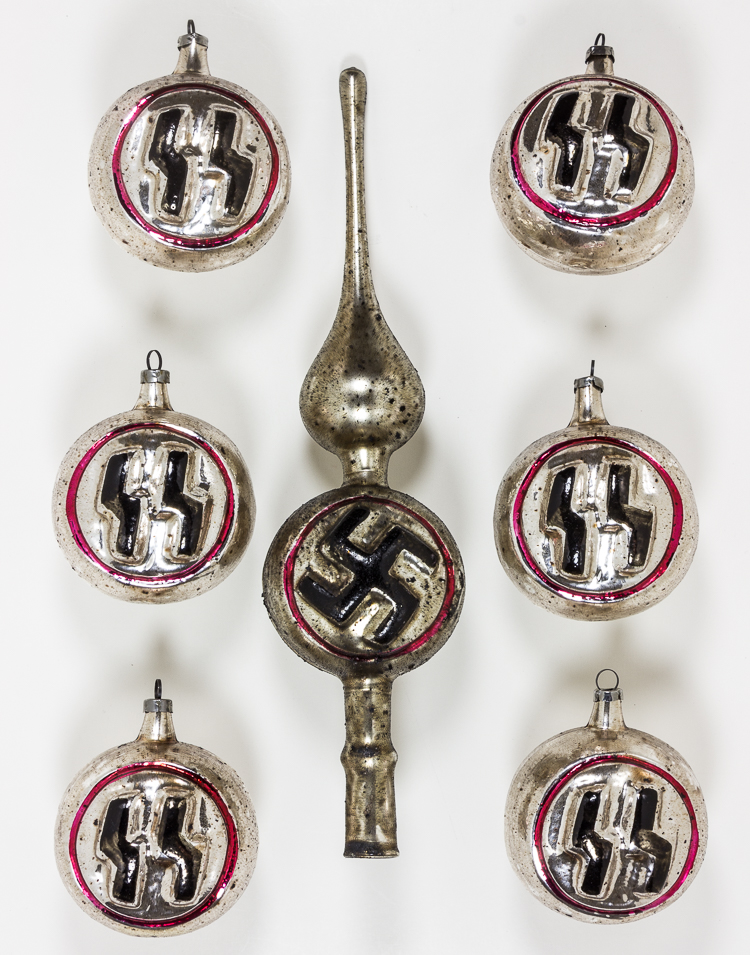 But that's not all. Other tree-trimming trinkets include a Hitler bust ornament (for that uncle in Mississippi, maybe?) and a heart-shaped swastika ornament (for the domestic partner who will commit suicide with you in an underground bunker one day). Fröhliche Weihnachten!

Lot 2: Meow-Meow Pretty Fabric Meow
More awesome than odd, a handful of Louis Wain's anthropomorphic animal artworks will go to auction in Cirencester, England, on December 15. Wain (1860-1939) is a fascinating character—prolific magazine and book illustrator, president of London's National Cat Club, and patient at Bethlem psychiatric hospital (aka Bedlam). He focused on cats, in particular, from comic and satirical depictions, to abstract, psychedelic felines.
The example pictured here is Wain's signed pen and ink drawing of a kitty showing off some new fabric she purr-chased. In pencil, the artist has inscribed at the top: "What do you think of my latest bargain? 5 3/4 a yard!"
This bit of cuteness overload will cost between $4,000-5,000; not as good as kitty's bargain, mayhap, but it's a hell of a conversation starter.
Lot 3: Literal Dog Whistles
Someone somewhere collects dog-head whistles. Here's the proof: a collection of nine nineteenth-century English porcelain whistles in the shape of canine heads going to auction in London on December 15. They derive from the "Astor Collection From Tillypronie, Aberdeenshire," i.e., a Scottish "sporting estate" built by the son of Queen Victoria's doctor, Sir James Clark, and later owned by the Astor family. Many royals and politicians have hunted and gathered there, and if grouse shooting is your bag, this is an auction to watch. Most of the available items are animal-themed; you can scoop up the dog whistles for about $400.
Rebecca Rego Barry is the author of Rare Books Uncovered: True Stories of Fantastic Finds in Unlikely Places.