Caput Mortuum, An Earthy Brown Made of Bodies (or Minerals!)
Cultural histories of unusual hues.
.
.
.
.
.
.
.
.
.
.
In fairytales, human bodies are often repurposed into everyday objects. In Northumbria, a wandering singer harvests the bones of a maiden found drown in a river, creating a magical harp from her ribcage that sings the story of her murder. A similar tale from Germany involves two brothers and truth-telling horn made from a thighbone. In Jack and the Beanstalk, a giant threatens to destroy a trespasser by grinding his bones into flour and baking it into bread. And in Russian mythology, Baba Yaga lives in a house decorated with skulls, which serve as candleholders and chalices. True crime podcasts frequently discuss the various ways in which serial killers have repurposed human bodies to suit their fantasies, from Ed Gein's dead skin masks to Anatoly Moskvin's mummified harem. These stories are scary not just because of the repulsion factor, but also because they remind us of an uncomfortable fact. A body is as much an object as a candle or a loaf of bread or even a beautiful work of art. And some works of art are made, quite literally, from the remains of others.
Caput mortuum, Latin for "dead head," is a dark brown paint that looks violet in some lights, maroon in others. It is earthy and intense, and like many browns, it can run in opposite chromatic directions when diluted. Some versions of caput mortuum paint tend toward the yellow end of the spectrum, while others wash into a light, yet slightly murky lavender. Despite its foreboding name and strange history, it is a rather simple, homey color. The substance reached the height of its popularity in the 18th and 19th centuries. It gets its hue from pulverized, mummified bodies (both human and feline) and its name from alchemy.
For alchemists, the phrase "caput mortuum" referred to the leftover residue at the bottom of a heating flask after the "nobler" elements of a solution had sublimated. These early medieval pseudo-scientists created an easy way to label to their worthless remains—three dots enclosed in a circle, a minimalist approximation of a human skull. Caput mortuum was a metaphor for "how the soul was thought to ascent into the aether after death, leaving the body's material remains behind," writes art historian Christopher Volpe on his blog (in which he goes on to praise Old Holland's lavender-leaning variation of the color).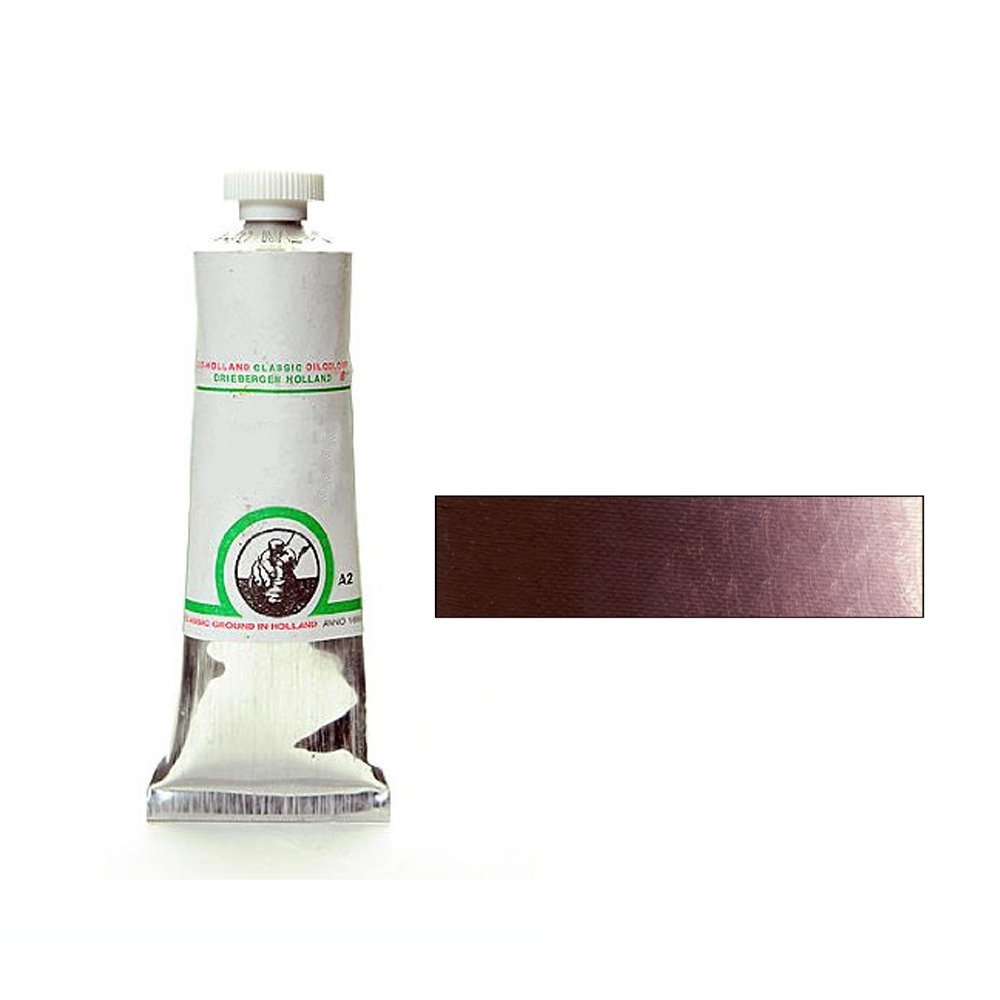 Many people know caput mortuum by its other name, "mummy brown." For centuries, there were just two ways to make caput mortuum paint: the vegan version, which gets its reddish-purple color from iron oxide, and the meat-lovers' option, which was manufactured using ground-up pieces of mummies, plus white pitch and myrrh. While I'm using caput mortuum and mummy brown interchangeably, some make a distinction between caput mortuum (made from a mineral form of iron oxide known as hematite or "blood ore") and the crushed-remains brown. However, many sources, including the Conservation Center and Index, a publication of the the Harvard Art Museums, tend to view caput mortuum as nothing more than a fancier name for mummy brown. European artists working in the 16th, 17th, and 18th centuries viewed the two paints as one and the same, and many of them were supposedly unaware of its grisly ingredients—they just knew that it worked. Although the substance is no longer used in paint making and the color name itself has fallen out of fashion (with leading paint companies trending toward more straight-forward names like "transparent brown oxide" and "transparent earth red"), some modern paint companies still offer dead-body browns, distinguishing between caput mortuum (which has more violet undertones, like Old Holland's oil paint) and mummy brown (which is much yellower in hue). They are both, it should go without saying, synthetic.
Europeans began manufacturing caput mortuum back in the early 16th century. At the time, there was a thriving trade in mummified remains between Egypt and Europe. Some gentlemen were buying mummified parts to display in their curio cabinets, and some were slathering it on their skin as an early anti-aging technique. "Mummy powder (mumia), said to have mystical curative potency, was sold in European apothecaries, to be applied to the skin or mixed into food or drinks," writes R. Leopoldina Torres in Index, who notes that some sources date the first use of human remains in painting back to the early 12th century. (Does it surprise you that people used to eat mummies? It shouldn't. According to one historian, "the question was not 'Should you eat human flesh?' but 'What sort of flesh should you eat?'" Yikes.)
Torres explains that, despite the popularity of medicine made from Egyptian remains, "it wasn't until the 18th century that pigments from mummies came into fashion, with the 'fleshiest parts' of the cadavers allegedly 'providing the finest colors.'" Caput mortuum, when made from mummies, had a nice transparency to it—particularly when it was made using "only the finest muscle." Eugene Delacroix reportedly used it in his 1830 painting Liberty Leading the People and Martin Drölling used it to paint the entirety of Interior of a Kitchen. Caput mortuum was a complex, rich paint that could be layered easily and went on smoothly. Artists found it to be a rather nimble color that could be used to depict a variety of skin tones and capture that pretty yellow tint of late afternoon light. But on the downside, it had a tendency to crack, and it wasn't terribly stable, which meant it might fade to a pale yellow or dirty brown, given enough time. Plus, it was made out of people—the Soylent Green of paints.
Paint companies kept producing caput mortuum into the mid-20
th
century. Usage dropped off around 1900, since many artists found the idea of painting with remains distasteful. But some scholars believe there may have been a more practical (and less humanitarian) reason artists weren't so keen on the color, mainly because of its
"failure to dry readily and its lack of durability."
Science had advanced far enough by this point that there were a number of synthetic pigments on the market, so artists didn't have to rely on paints made of organic material. The last batch, according to an
old issue of Time magazine
, was most likely made in the early 1960s. Geoffrey Roberson-Park, then managing director of "London's venerable C. Roberson color makers" admitted that he had run out of mummies and could make no more caput mortuum. "'We might have a few odd limbs lying around somewhere,' he apologized, 'But not enough to make more paint.'"
Yet the allure of caput mortuum hasn't entirely faded. In September 2017, color consultant Donald Kaufman named "Mummy Brown" the color of the month for his high-end paint line, Donald Kaufman Colors. "Our September color mimics the linen wrapping of the deceased body," reads the online copy. "A classic neutral brown in a medium value suitable for endless decorating opportunities." And in 2016, an artist posting to a message board pledged to recreate caput mortuum because "as great as it would be to own a genuine tube of Mummy Brown, it doesn't seem like a likely thing to happen." He goes on to write, "Due to this likelihood, I am going to be creating my own synthetic version using severely dehydrated beef that I'll pulverize into a pigment." And by God, the young man did it! He used chewy "cowboy style" jerky, myrrh resin oil, a wax stabilizer, and linseed oil. He's even selling it on e-Bay for $65. I suppose it's better than painting with semen but not, really, by all that much.