Classic Films If They Existed in the 'Fast and Furious' Universe
Furiouser and Furiouser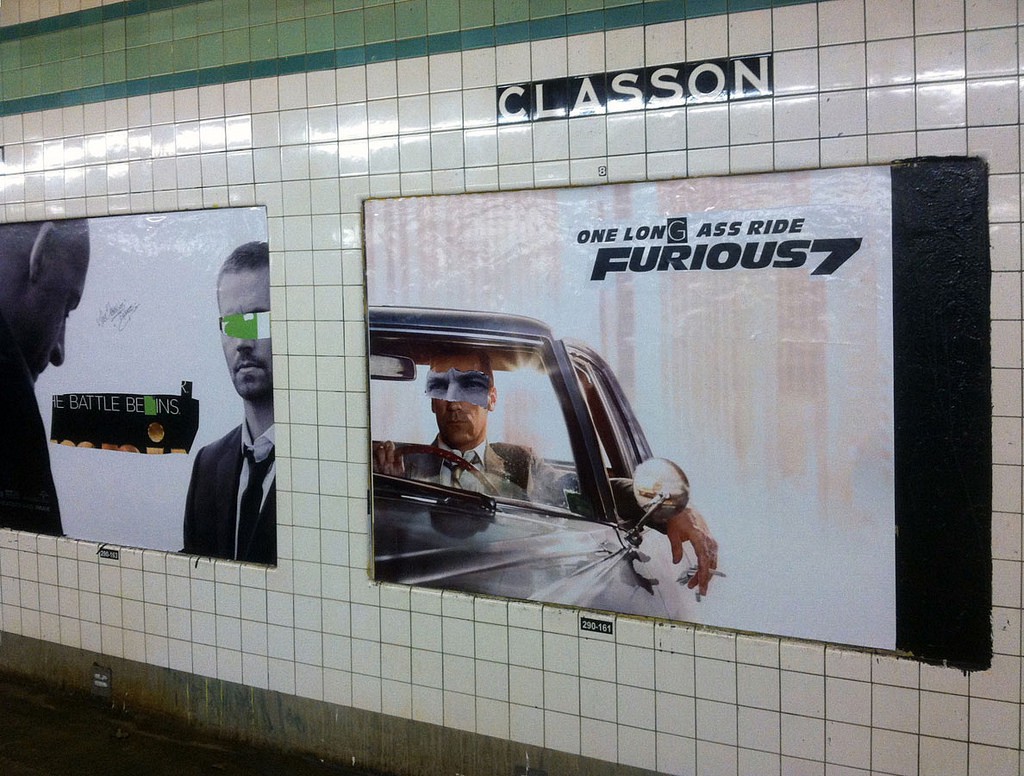 FAST AND FURIOUS AND FINDING NEMO
INT. A DODGE CHARGER RECKLESSLY DRIVING UNDERWATER THROUGH PRECIOUS ENDANGERED CORAL REEF
Dom is wearing a scuba mask.
DOM
(Through bubbles, yelling)
NEMO NEEDS HIS FATHER
LETTY
But didn't he already find —
DOM
YOU NEVER LET DOWN FAMILY
LETTY
I know but I think —
DOM
FAMILY.

THE FAST PIRATES OF THE FURIOUS CARIBBEAN
INT: A PIRATE SHIP MADE ENTIRELY OF CAR PARTS
The crew is well-suited for the pirate lifestyle. Dom appears pleased with the sartorial choices of pirates, as well: cut-off everything. Gisele is practicing her sword skills on the rear end of the ship. Mia, as usual, nurses a child. Hobbs is plugging a hole on the main deck with his entire forearm.
ROMAN
Ha-HA! We really out here!
TEJ
Shut up, Roman.
ROMAN
I'm about to get me some mermaid love!
Several dozen women in bikinis appear on the ship out of nowhere. "Danza Kuduro" plays. The team downs bottle after bottle of refreshing, delicious Corona.
Meanwhile, beneath the waters, an evil submarine lurks.

LA LA LAND
INT. A "JAZZ" CLUB
RYAN GOSLING
(Sitting at piano, smirking)
Here's how I invented jazz —
A Dodge Charger suddenly drives through the brick wall of the club.
DOM
(Gruff, but yelling)
MOONLIGHT WON.

FAST & FURIOUS: THE BOSTON ONE
INT. SOMEWHERE IN BOSTON, IT DOESN'T MATTER.
MATT DAMON
I am nawt a cawp!
BRIAN O'CONNER
(Driving a cop car)
I am also nawt a cawp!
MARK WAHLBERG
Who the f*ck is this guy?
ALEC BALDWIN
Get a load of this freaking guy.
JACK NICHOLSON
Fer chrissakes, are you a cawp or are you nawt a cawp?
BRIAN O'CONNER
(Looks confused)
Uhhh…

CARS: FAST AND FURIOUS FOR KIDS
LIGHTNING MCQUEEN
Let's race!
HOBBS
(Slowly taking in his now-animated surroundings)
I ain't seen this many clown-ass mama's boys since I volunteered in a children's burn unit in Sao Paulo. Now which one of you fluffy little losers wants to dance with the devil tonight?
ELENA
Hobbs, I don't think this is that kind of movie…
HOBBS pulls a flamethrower from his trunk.

12 FURIOUS MEN
INT. JURY ROOM IN A COURTHOUSE IN SOUTH LOS ANGELES
Dom is wearing a business suit with the sleeves ripped off.
TEJ
Do literally any of us know how the legal system works?
BRIAN O'CONNER
I mean, I was a cop back in the —
DOM
LET'S RIDE.
BRIAN
Dom, we haven't decided on a verdict yet, this man's life hangs —
DOM
LET'S RIDE.
LETTY, MIA, and the REST OF THE HOT FEMALE CHARACTERS airlift the team from the roof of the courtyard building.
DOM
(Voiceover from the helicopter)
WHERE I COME FROM, THE ONLY KIND OF JUSTICE IS CAR JUSTICE.

FAST & FURIOUS 2001: A SPACE ODYSSEY
INT. A DODGE CHARGER FLOATING THROUGH SPACE
DOM
(Confused)
What the…

FAST AND FURIOUS: PINOCCHIO GRIFT
INT. GEPPETTO'S WORKSHOP.
TEJ
The codes we need for the job are inside that wooden doll.
ROMAN
Ha ha, now you really playin', man.
MIA
I don't think he is, Roman.
HOBBS
(Yelling)
I'm gonna break that candyass carpenter six ways to Sunday if that's what I gotta do to get them codes.
HOBBS rips the door off Geppetto's workshop and proceeds to break every one of his bones.
HOBBS
(Looking down at stolen Pinocchio doll)
You ain't lying no more, boy.