We're being peeping Фом'd by Russia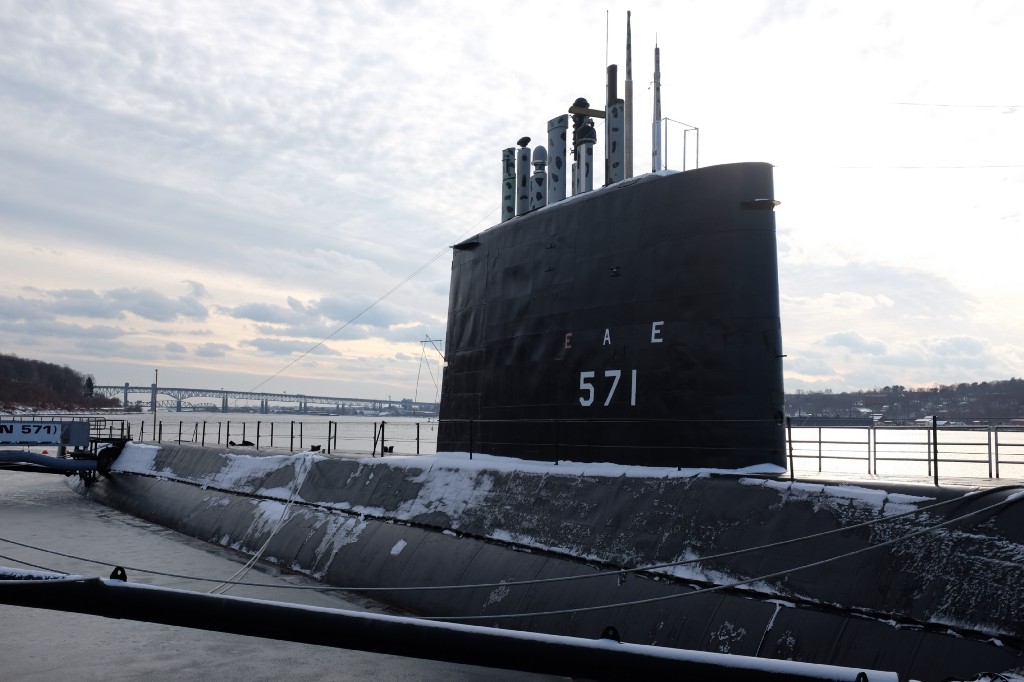 This morning a producer for Fox News' Pentagon and State Department coverage tweeted that a Russian vessel was stopped 30 miles off the coast of Connecticut, loitering:
UPDATE: Russian spy ship now located 30 miles south of Groton, CT home to a US Navy submarine base. Russian ship "loitering," US official
Those proper nouns move the needle an above-average amount for me recognition-wise because my mother grew up in Groton, Connecticut, so I know it's a town that serves the naval base and Coast Guard academy in nearby New London. Her father was one of the engineers who designed the U.S.S. Nautilus (the world's first nuclear-powered submarine) in the '50s, so I know that the buzziest member of the base's fleet is a vessel that's been out of duty and docked in the Thames River as a museum since the early '80s.
My dad actually texted me a pic last week while taking a walk by the Thames, and I thought nothing of it: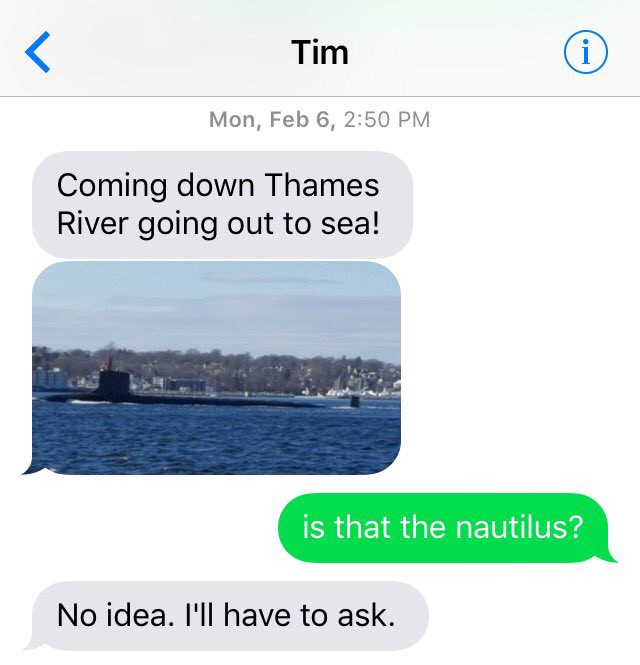 Even days later, when he followed up with an update, I just went, "Huh."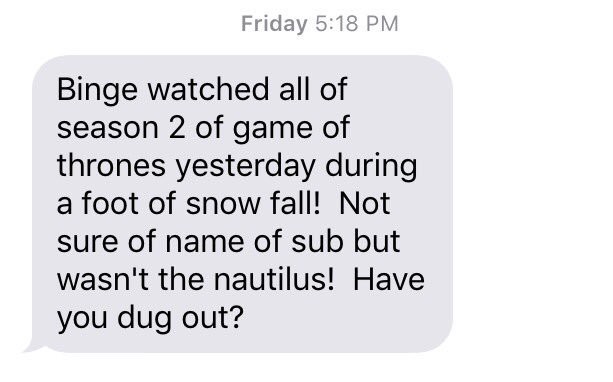 The image of the sub seems spooky now in retrospect. Were we sending out… ships for a reason? Is there… a great deal of military activity still taking place underwater?
Anecdotally, I'd say seeing a sub on the river is rare-ish — not "it never happens" rare, but "once in a blue moon" rare. Usually when I'd spot one I'd think, "Ah, they've gotta make sure everything's still running," like our nation's submarine fleet is an old car at risk of not starting if we keep it parked in the driveway too long. And the way the government budgets for new subs suggests this is a fair assessment—all the wars I've grown up with have involved tanks and night vision footage of house raids, so knowing that the Nautilus once crossed the entire North Pole underwater seemed historical. We're going to Mars, honey. We're going to the desert. We can maintain nice subs, sure, but we won't be innovating with them.
But today I'm worried about what kind of predator seems to be lurking with such startling proximity to my family, so suddenly I'm interested in nuclear submarines.
Here are some ideas:
So the gist is: we're getting spied on. But we're getting spied on by a spy who isn't too worried about hiding, because he kind of wants us to know that he's spying. We're being peeping Tom'd. And if procedural crime dramas have conditioned me to expect anything from a perp who wants you to know he's watching, it's that he's going to get off on everyone making a big stink about how bad he is for ignoring a boundary. Yay!
Before a whirlpool forms and drags me to the bottom of the sea, I'll leave you with one non-terrifying fact. During the time of the Nautilus' launch, America was proud, and Disney's art department designed a patch for the ship's crew to wear on their uniforms. It looked like this: