Amidst of the Rubble of Bedrock City
by Amy McKeever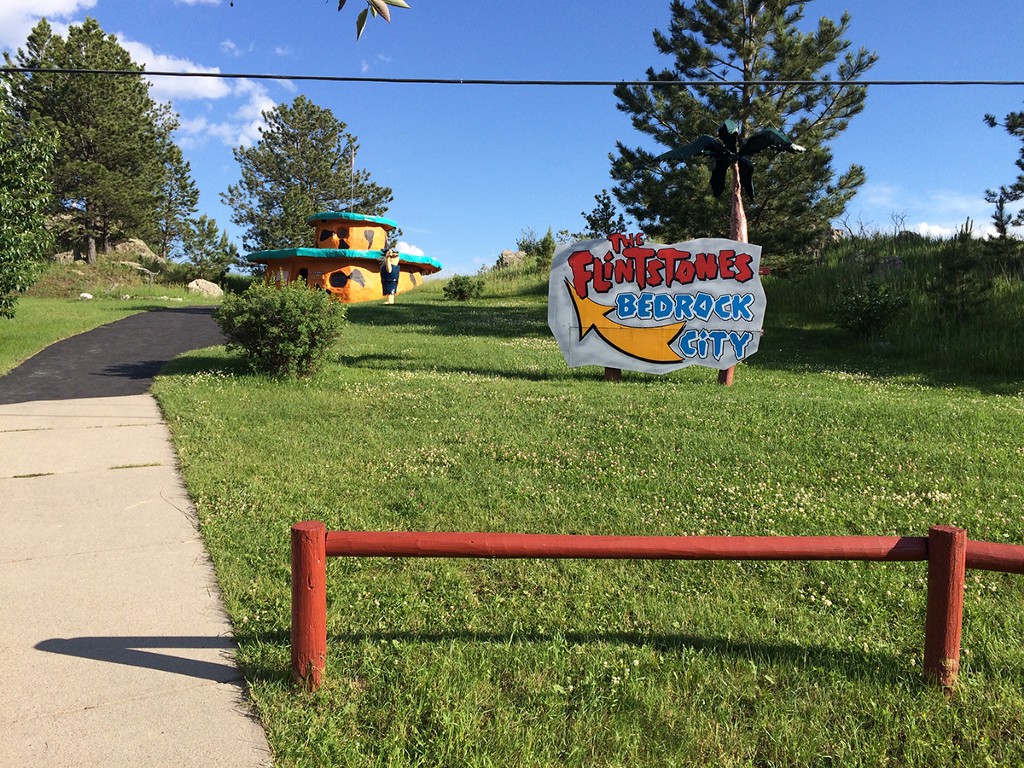 Bedrock City lies on a stretch of Arizona highway just south of the Grand Canyon. The supermarket sells "rhinosaurus" ribs, "hornasaurus" ham, and oysters the size of a pizza. A pelican perches behind the desk of the post office, ready to collect air mail, and a dented metal slide runs down the back of teal brontosaurus towering over the center of the town. It's a kitschy place, which makes sense, since it's just north of where the Historic Route 66 runs through Williams, Arizona. For more than forty years, this theme park and campground has been dedicated to the classic cartoon The Flintstones, but now it's on the brink of becoming just another Stone Age fossil.
The Flintstones were a "modern Stone Age family," forever navigating problems at work and home alongside their friends the Rubbles, a premise that creators Bill Hanna and Joseph Barbera supposedly cribbed from The Honeymooners. When it premiered in 1960, The Flintstones was the first animated sitcom to air on primetime TV. It worked in primetime because it appealed to children — who delighted in the visual gag of using baby mastodons as vacuum cleaners and mammoths for showers — and adults, who could perhaps find some common ground with The Flintstones' bickering couples, Fred's friendship with Barney, and the couples' ventures into parenthood with the arrival of Pebbles Flintstone and Bamm-Bamm Rubble. The Guide to United States Popular Culture notes that The Flintstones finished its first season in the Nielsen Ratings' Top 20, and in 1961, it became the first animated television show to nab an Emmy nomination for outstanding comedy series. (The only other animated show to earn that distinction was Family Guy in 2009.)
Though The Flintstones only aired for six seasons, the Hanna-Barbera cartoon was a cultural touchstone. Itspawned a few different spin-off series, holiday specials, feature films, the Fruity Pebbles and Cocoa Pebbles cereals, the catchphrase "Yabba Dabba Doo," and possibly the most famous children's vitamins of all time. The Flintstones has also inspired Halloween costumes, a Google Doodle, and a completely bonkers $4.2 million California home. And, for a time, The Flintstones even competed with characters like Mickey Mouse by commanding a loose collection of theme parks across North America. The first Bedrock City was founded in the Black Hills of South Dakota; another two popped up for awhile in Canada; and The Flintstones has often had small roles in other theme parks across the nation like the Flintstones Musical Revue at Universal Studios Hollywood and the Hanna-Barbera Land at King's Island in Ohio. Last May, the AV Club wrote that though The Flintstones has not aired in years, "the empire that has spread out around it… has guaranteed it will be eternal."
But what happens when a cultural empire crumbles? These days, you can only catch The Flintstones reruns on Turner Broadcasting's Boomerang channel, which Comcast doesn't even carry. In 2012, a bad script killed Seth McFarlane's plan to reboot the series. Last year was the first time in fourteen years that the Flintstone family has appeared on film, though it was easy to miss since it went direct to DVD. (That said, it was a feature film titled The Flintstones and WWE: Stone Age Smackdown starring an animated John Cena, so you might want to look into it.) In the meantime, Bedrock City theme parks have virtually gone extinct. The Canadian parks went first, both losing their Flintstones franchising licenses in the nineties, while Hanna-Barbera's properties were being buffeted about amid corporate media mergers; the Universal Studios Flintstones Musical Revue was booted by a Nickelodeon live show after a three-year run in the nineties; and the Hanna-Barbera Land at King's Island was replaced with a Nickelodeon Universe in 2005. This past year has been particularly grim: In June, Bedrock City in Arizona announced that it was putting itself up for sale for $2 million. Three months later, the original South Dakota park was sold and went dark. There's still no buyer for the Arizona park, which is further mired in a bewildering legal drama. These days, a line of vitamins is the most potent reminder of The Flintstones' erstwhile cultural dominance: Newsweek writes that even though kids "barely know who Fred and Wilma are" anymore, they can still choose from among eleven kinds of Flintstones vitamins.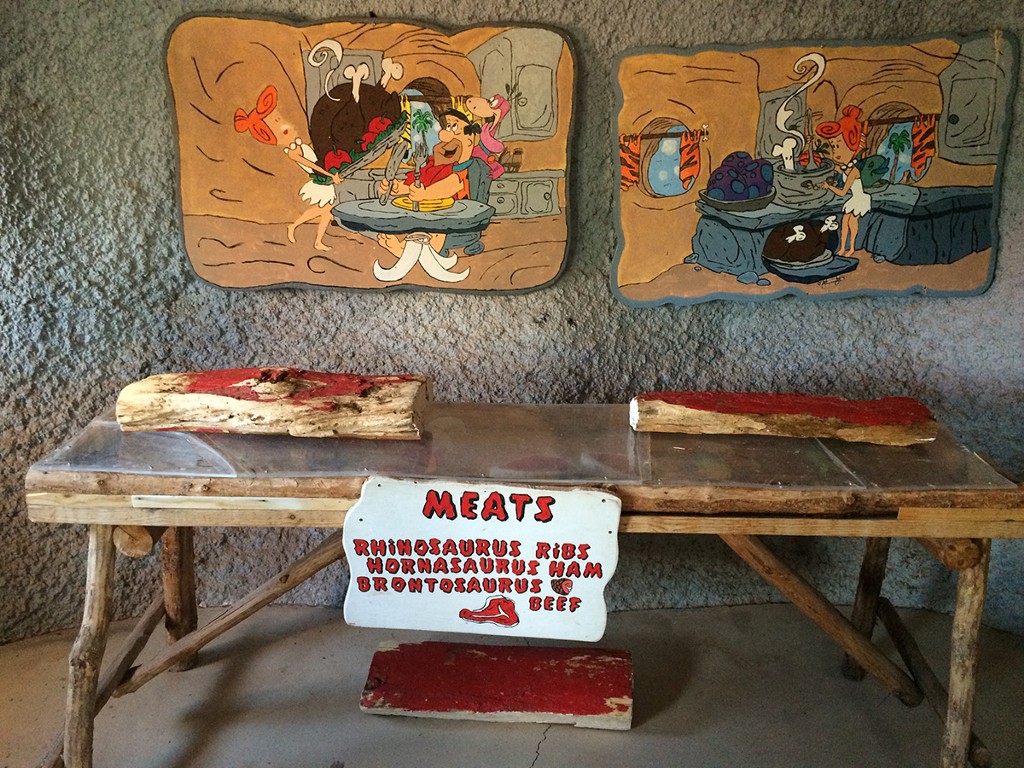 Anyone who has driven through South Dakota knows that the state is a little weird, the trying-too-hard kind, with a corn palace, a pharmacy-turned-tourist-trap-megastore whose billboard ads relentlessly shout at passing highway motorists, and the giant heads of American presidents carved straight into a goddamn mountain. But in America there's always room for one more sideshow.
That's what the six founders of Bedrock City were banking on when they opened the Flintstones park in Custer, South Dakota in 1966. Custer was, and remains, a small town, so each of the founders was related in some way to another: Eddie Speckels, Woody Speckels, Harry Hollmann, Milton Hollmann, Darwin Steckelberg, and Harold Steckelberg. At the time, The Flintstones' ratings were dwindling, but the franchise was still very much in the throes of its cultural moment: Columbia Pictures released the first Flintstones feature film that same year — an animated spy movie, The Man Called Flintstone — and the following year, Taft Broadcasting acquired the previously independent Hanna-Barbera Productions as a subsidiary, prompting NBC to re-run original episodes in Saturday morning cartoon blocks. If you were going to open a theme park based on a beloved cartoon character, Fred Flintstone seemed like a good bet. Joe Speckels, the nephew of one of the founders, and the park's unofficial historian, doesn't know much about how the franchising rights between Hanna-Barbera and Bedrock City's founders were worked out, or how involved Hanna and Barbera were in shaping the park, but the Custer County Chronicle reported that Bill Hanna and a merchandising executive from The Flintstones distributor Screen Gems attended the opening, which saw a crowd of five thousand people.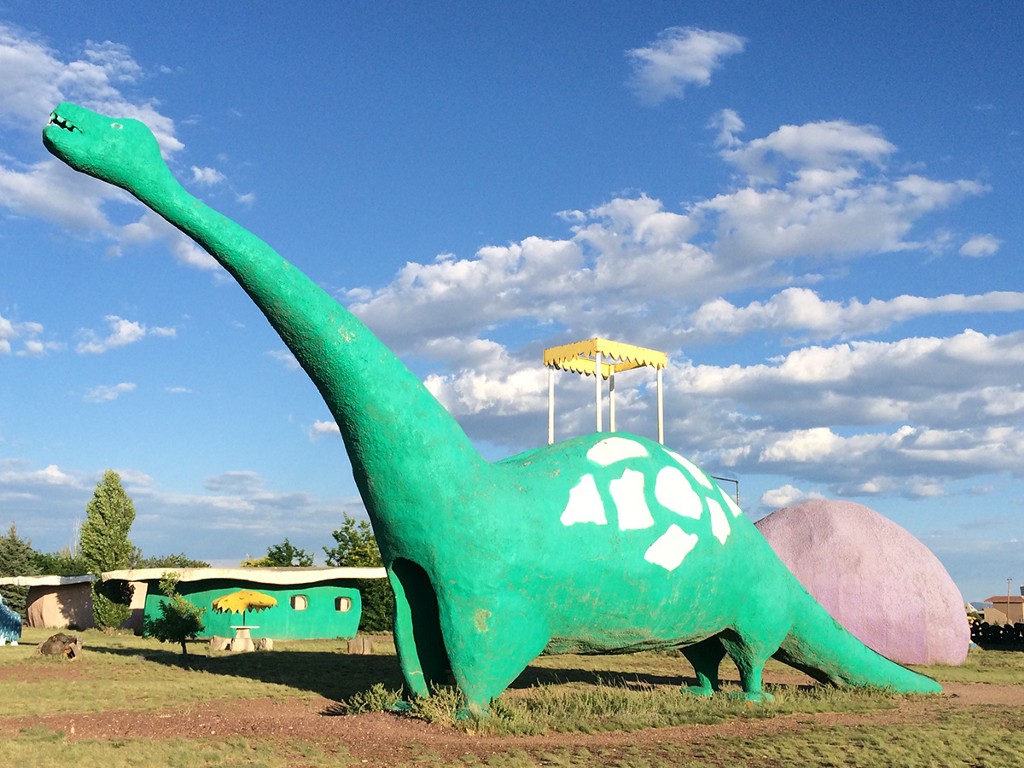 Opened during a golden age for theme parks — Disneyland debuted in 1955, and was followed by Universal Studios' first attraction in 1965, Six Flags parks throughout the sixties and seventies, and, of course, Walt Disney World in 1971 — the sprawling, sixty-two-acre park was a relatively simple affair by modern standards. A winding pathway led through the city, and as you followed it, you could peer into the homes of the Flintstones and the Rubbles, decorated with leopard print throws, concrete furniture painted teal and electric blue, and framed illustrations of the families. All along the park's pathways, crude replicas of the show's main characters — none of them standing with quite the right height or the correct facial features — waved from the grass. A small movie theater showed episodes of The Flintstones while the grinning auto-shop repairman perpetually waited to chisel your wheels. Bedrock City was a theme park whose main attraction was a glimpse into what the Flintstones' hometown would have looked and felt like, if only it were real.
Bedrock City's simplicity was true to the stripped-down nature of The Flintstones itself. In the late fifties, networks had been moving away from expensive-to-produce theatrical-length animations, like Tom and Jerry; MGM shut down its cartoon studio in 1957, leaving production heads Bill Hanna and Joseph Barbera (who had created the iconic cat-and-mouse cartoon) without a studio home. The pair founded Hanna-Barbera Productions that same year, developing shows like Ruff and Reddy and Huckleberry Hound. To reduce costs, they turned to limited animation, a technique that uses fewer drawings and essentially photocopies and reuses moving parts within a scene. "Although a loss of life-like and richly varied detail was inevitable, the savings in time and money were incalculable," pop culture historian Ted Sennett writes in The Art of Hanna-Barbera. "Television animation on a massive scale became possible for the first time with these stripped bare procedures." When The Flintstones premiered on primetime in 1960, it definitively proved the viability of limited animation.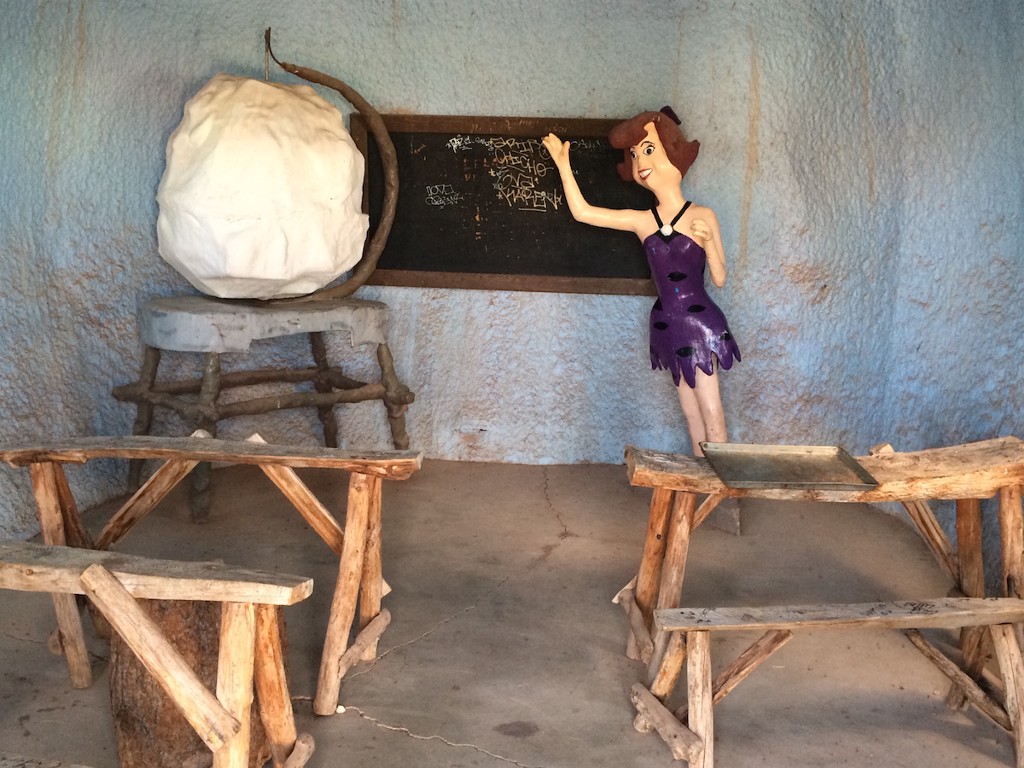 Bedrock City was such a basic theme park that Speckels says nobody actually expected it to be a moneymaker. The real money, the founders figured, was in the campground that they opened next to it. American families road tripping to see Mount Rushmore, the Badlands, the Black Hills, or even just going to Rapid City might see signs for the campground and, intrigued by its novelty, stay the night while shelling out an extra few bucks to walk through the park. "It turned out to be the opposite," Speckels told me. Though he doesn't have the attendance records from the early days, Speckels estimates that Bedrock City was as busy as its natural tourism cycles allowed — the park closed during the freezing Dakota winters — with peak business arriving mid-week throughout the summer as travelers passed through town on their way to or from Texas, Colorado, and Minnesota.
The park was enough of a success that, in 1971, Woody Speckels, Joe's uncle, left South Dakota in search of a new location that would be his own. "He could see the possibilities from the Custer business," Linda Speckels, who, at the age of seventy-four, now operates the park, says of her father-in-law. Woody looked for land near a state park that could draw passers-by in their family wagons — and in a warmer climate, could remain open all year long. He found the perfect spot in a dusty stretch of land in Valle, Arizona, a small highway town on the way to the Grand Canyon, and with his son Francis, opened Bedrock City in June 1972, operating under separate licenses and management from the South Dakota location. Though it was essentially a half-sized replica of the South Dakota park, with the homes of the Flintstones and the Rubbles, small statues of Flintstone characters looking at you from the lawn, and the movie house blaring episodes of The Flintstones in black-and-white, Linda Speckels describes Bedrock City, Arizona, as a major architectural improvement thanks to Francis' construction expertise. It was a good break on the highway, Linda says, but she believes it was also something more. "Everybody's got a Fred in their family," she told me, adding a beat later, "And everybody's got a Wilma."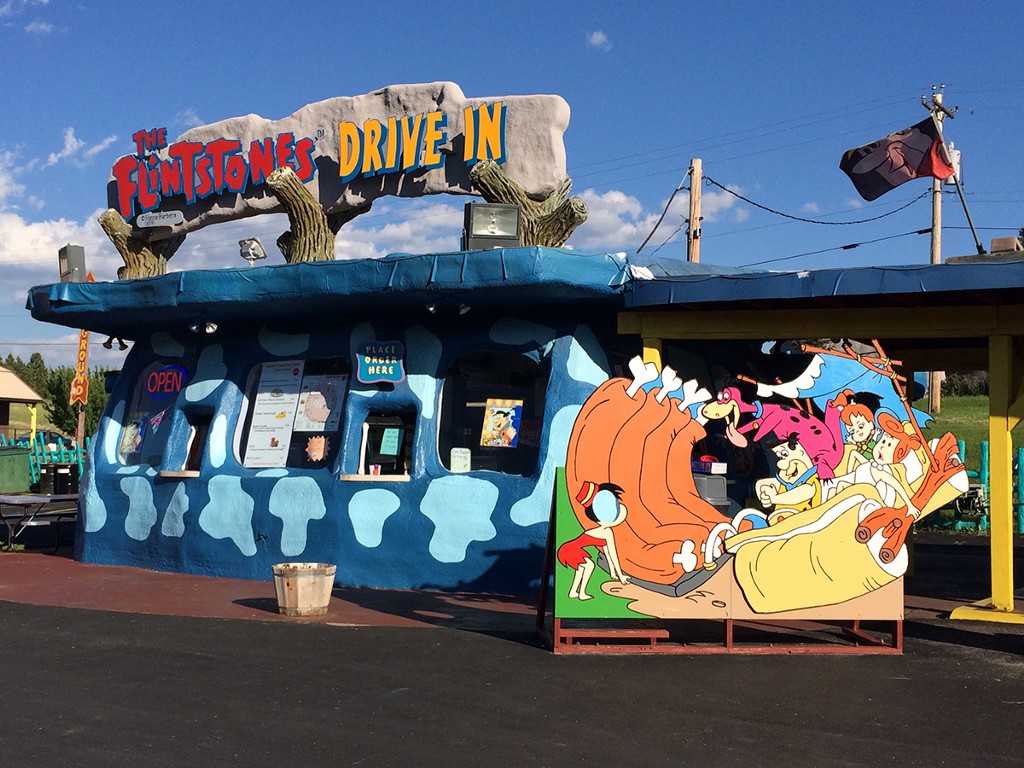 Throughout the seventies, The Flintstones remained a mainstay on the airwaves. Robert Thompson, director of the Bleier Center for Television & Popular Culture at Syracuse University, says that the original episodes ran "perpetually in syndication" both on Saturday mornings and in after-school programming blocks. "Like so many programs, it really makes its way into cultural consciousness with its perpetual re-running," Thompson says. Hanna-Barbera also developed a variety of Flintstones spin-off shows like The Pebbles and Bamm Bamm Show — which William Hanna wrote in his autobiography was an attempt to capture a new generation of adolescents by showcasing "the adventures of these Jurassic juveniles" — The Flintstone Comedy Hour, Fred Flintstone and Friends, and a few other programs. There was a Christmas special in 1977, and a couple of other specials like The Flintstones Meet Rockula and Frankenstone.
But that kind of success didn't last, and after the debut of The Smurfs in 1981, Hanna-Barbera struggled for the rest of the decade. "By the 1980s, Hanna-Barbera had become an assembly line," the Chicago Tribune wrote in 1994. The limited animation technique had come to hinder Hanna-Barbera Productions, still under the wing of Taft Broadcasting, at a time when Disney and other animation studios were on the verge of reviving the genre of full animation with feature films. To be sure, there was still more Flintstones to be had — including a twenty-fifth anniversary special in 1986, a drug-war-hysteria era "just say no" special in 1988, and a handful of new series like The Flintstones Comedy Show and The Flintstone Kids — but they each ran for only two seasons, never achieving the same ratings or acclaim as the original series, and, as the Tribune reported, "Hanna-Barbera's share of the children's television market shriveled to 20 percent by the 1990s."
After years without a hit, Hollywood producer David Kirschner took over Hanna-Barbera Productions in 1989 with the vision of transforming the old animation studio and its stable of characters, from the Smurfs to the Flintstones to the Jetsons to Scooby-Doo, into an entertainment powerhouse that rivalled Walt Disney. Under Kirschner's turnaround plan, Hanna-Barbera would develop a film arm, vigorously pursue syndication opportunities, open up retail stores, and expand theme park operations. Kirschner planned new attractions, like the "The Funtastic World of Hanna-Barbera" at Universal Studios Orlando, and hoped to make the Bedrock City parks competitive again, noting that, after a slow decade, they were in need of serious renovations. Though the original Bedrock City grew and improved throughout the eighties — a small replica of a C.P. Huntington steam train was built to encircle the park, and a new barn hosted a family country music show — it wasn't quite pulling in the same crowds that it once did. Meanwhile, in Arizona, according to an LA Times profile, Bedrock City fell victim to entropic forces shortly after it opened: "No sooner had the family opened the park's doors than the oil embargo brought tourist traffic to a crawl. They had to truck in all their water. And the desert, eager to reclaim its turf, fought back with thistles and tumbleweeds."
Just as Kirschner embarked on his grand revival of Hanna-Barbera, in 1991, the Turner Broadcasting System bought the studio to shore up its launch of the Cartoon Network. Fred Seibert, who had previous success in repackaging old cartoons for Nickelodeon, was brought in to run it. Seibert was determined to reinvigorate the Hanna-Barbera characters that would populate that network, starting with the Flintstones, and he hired a young executive named Tom Barreca to carry out his plan. When Barreca visited Bedrock City and came across the grotesque likenesses of Fred Flintstone and Barney Rubble, he couldn't believe what he was seeing. "Campy is one thing," he says. "It was creepy." Seibert and Barreca briefly considered ending the contracts for both parks to protect the Flintstones' images. "When you license anything to anyone, you want to know I'm going to stand behind my property," he says. "That policing is part of the value you provide." Instead, Hanna-Barbera decided to embrace all of its existing licensees — a strategic move, Barreca says, but also a sentimental one. "We always believed in the little guys," he says.
Turner launched The Cartoon Network in October of 1992, a move the Scripps Howard News Service described as "a direct challenge to Nickelodeon." The Flintstones once again hit primetime in an 8 p.m. slot, and a film starring John Goodman as Fred Flintstone entered the pipeline. "We needed every piece [of the franchise] running at an optimal level before that movie was announced," Barreca says. He sat down with the owners of Bedrock City and told them that they would have to meet Hanna-Barbera's model sheets if they wanted to keep their contracts. "They were surprisingly cooperative," Barreca says, adding that they even seemed to be happy about receiving attention from a studio that had long neglected them. Over the next year or two, Barreca and his team sent the park owners hundreds of pictures of everything that needed to be updated. The upgrades were completed in time for The Flintstones live-action feature film debut in 1994, and the parks thrived once again, awash in a surge of tourism.
As Turner worked to revamp Hanna-Barbera into a mainstay of Cartoon Network, Time Warner, Inc. waited on the sidelines. As the New York Times reported, Time Warner had long considered buying Hanna-Barbera Productions as a way to complement its own library of Warner Bros., but it had waited too long. In September of 1995, though, the timing was right: Time Warner and Turner announced a $7.5 billion merger, bringing Hanna-Barbera's cartoons and a consolidated Looney Tunes library under the umbrella of Warner Brothers studios. By 1997, the Cartoon Network tied with two other channels as the second-highest-rated basic cable network. (Nickelodeon was first.)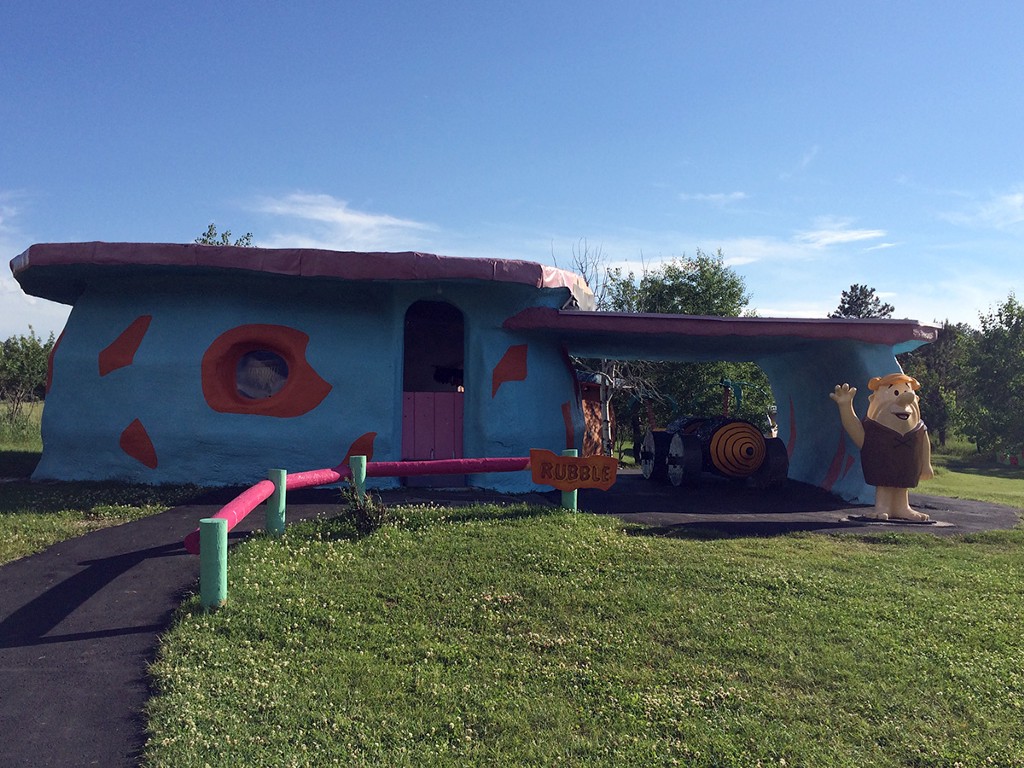 With each new owner came new licensing negotiations, and the Bedrock City parks struggled to keep up with all the changes. Larry Speckels, who served as president of the South Dakota park's shareholders, recalls Warner Bros. auditors telling the park owners to update its images of Fred Flintstone to get him looking closer to the studio's official style guide. "They just wanted to make sure that we kept the place up and honoring the brand," Larry told me. "And they were right." (Ren and Stimpy creator John Kricfalusi disagreed, writing in 2008 that Seibert and Barreca's initial upgrades to the parks from their off-model purity to studio-approved "pseudo-hipness" was theme-park blasphemy.)
The studio-mandated changes were expensive and required the kind of money neither of the parks were making from their admission fees — $5 per adult in Arizona, and $10 in Custer. "I tell you, the vibes that you get out of Hollywood changed over the years," Joe Speckels says. "They would change styles and we weren't consulted on any of these things, of course, because we're the customer." Linda Speckels says now that she and her family didn't do much to upgrade Bedrock City after her husband, Francis, died in 1990 — and they didn't feel they had to change it very much anyway — since, she claims, visitors liked the lack of technology and the five-cent coffee, which made them feel like they stepping back into the heydey of The Flintstones. Locals apparently liked that, too; Bedrock City had become a gathering center for the Valle community, hosting annual fireworks displays and live music throughout the nineties.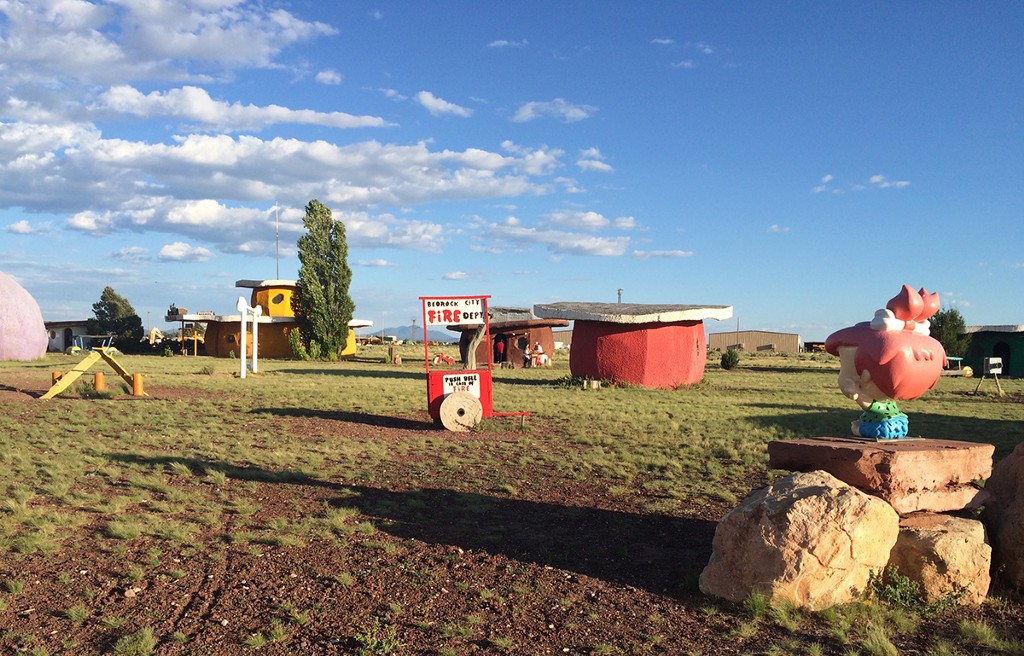 During a visit last summer, both parks were more like ghost cities. In what was supposed to be the high season for both parks, you could have Bedrock City almost to yourself. In South Dakota, a small family explored the fake town, while another took a ride in Fred's car, famously operated by foot. (In this case, it was operated by a small motor.) If you wanted, you could poke your head into the oval openings of a custom cutout board and take pictures pretending to be the freakishly strong Bamm-Bamm, holding a massive stone barbell over his head using only the tip of his index finger. Or you could take a picture next to Fred, waiting glumly outside the dentist's office. Other characters gestured from the grass in perfect stereotype — an eternally exasperated Wilma with hands on her hips, or Barney waving sweetly and dumbly in front of his house. They were near exact model images of the cartoons themselves. Overall, the park was neatly kept, with signs of fraying just visible at the edges: Cut grass lined the black pathway that traces the city, while memorabilia cases in the gift shop were coated in dust. The buildings of Bedrock City seemed freshly painted, while mold grew in the corner of the pool beneath Mount Rockmore — a squat hill whose ridge bears a statue of Fred, Barney, Dino, and Mr. Slate carved into what is probably not actual stone.
In Arizona, the sound of The Flintstones theme song blared across the flat expanse of park from the patchy sound system of the movie theater in which no one was watching old Flintstones episodes. No one waited in line for the brontosaurus slide either. A few handfuls of adults roamed from house to house taking selfies, petting the goat inexplicably penned up near the entrance to the park, or sitting in the small but pleasant garden that Linda planted in the nineties, after her husband had passed. Toward dusk, a few of these travelers pitched their tents in the campground. Local employees hung around drinking nearby, driving around the campground occasionally. The broken-down women's restroom was not a place to linger in the middle of the night, but you could still get a five-cent coffee in the morning.
At the time, Bedrock City in Arizona had recently listed its land for $2 million. By all accounts, sales were actually better at the time than they'd been in recent years. But Linda Speckels had long wanted to retire and it seemed like the right time. National media outlets latched onto the novelty of the story — you, too, could now own Bedrock City! — and reported on it with glee. (And terrible puns. USA Today described it as a "rockin' buy" while Fox News reported that the park was available for a "rock bottom $2 million." Huffington Post went the extra mile by ham-fistedly working a Pebbles reference into its lede.) Speckels told the Associated Press that although the image licensing deal she had with Warner Bros. wouldn't transfer over to new owners in the sale, she was "optimistic" the buyer would be able to work out a deal. The park remained on the market all summer.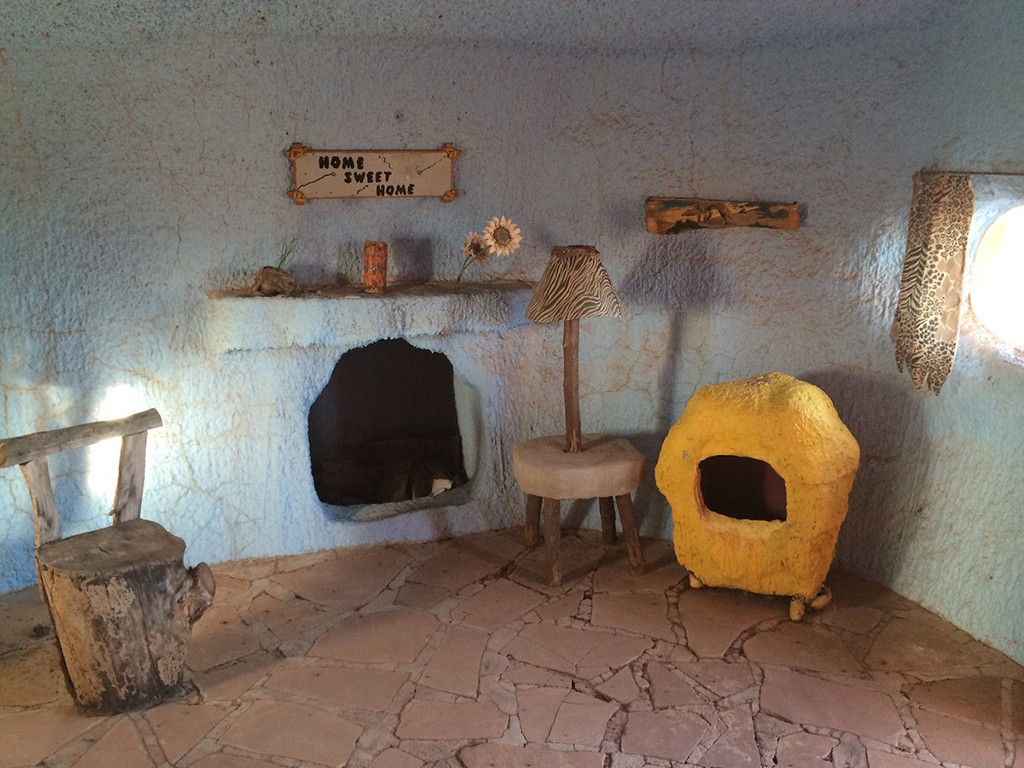 In the middle of Labor Day weekend, the South Dakota Bedrock City announced that it had been sold to a local hospitality group for $1.5 million and would close at the end of the holiday. The sudden shuttering was a surprise to Custer locals, who wanted to visit Bedrock City one last time before the sale. Hundreds of visitors packed into Bedrock City during its final forty-eight hours, cramming their cars into its parking lot and spilling over into the hotel lots across the street. Larry Speckels recalls that around this time he found himself on the phone with an employee in the office of the Secretary of State of South Dakota. "She said to me, 'You can't let them shut that place down. I love that place. My grandkids love that place,'" Larry says. "It became South Dakota's field of dreams." Steve Olson, president of the new owner, Custer Hospitality, promised to try to re-negotiate the licensing deal with Warner Bros — since it hadn't transferred over with the sale of the park — and then refurbish and re-open the following spring.
This past fall, the studio declined to renew Bedrock City's license in South Dakota. Warner Bros. claimed the park wasn't up to their specifications, Olson says. He doesn't deny that it was true, but he argues that Warner Bros. never even sent a representative out to look at Bedrock City. And, he says, they rejected his offer to modernize the park to bring it up to whatever those specifications might be. Warner Bros. also rejected Olson's back-up plans to build a museum on the premises or to donate the character likenesses to another South Dakota attraction, Storybook Island. "Why not let us keep the characters in a museum?" Olson asked. "Why won't they let us at least do that?" What upsets Olson most, he says, is that Warner Bros. wants to wipe what's left of the park out of existence. "They want everything destroyed," he says. Every Bedrock City sign would be trucked to the trash heap; every likeness of Barney smiling dumbly would be reduced to, well, rubble. A Warner Bros. spokesperson declined an interview request, only providing the following statement: "Bedrock City in South Dakota is an homage to the classic fan-favorite and a testament to how beloved The Flintstones property is within pop-culture. Warner Bros. Consumer Products has enjoyed its longtime partnership and we are sad to see it go. Flintstones fans who visited this site will remember it fondly as an immersive experience that delighted fans of all ages and became part of The Flintstones legacy."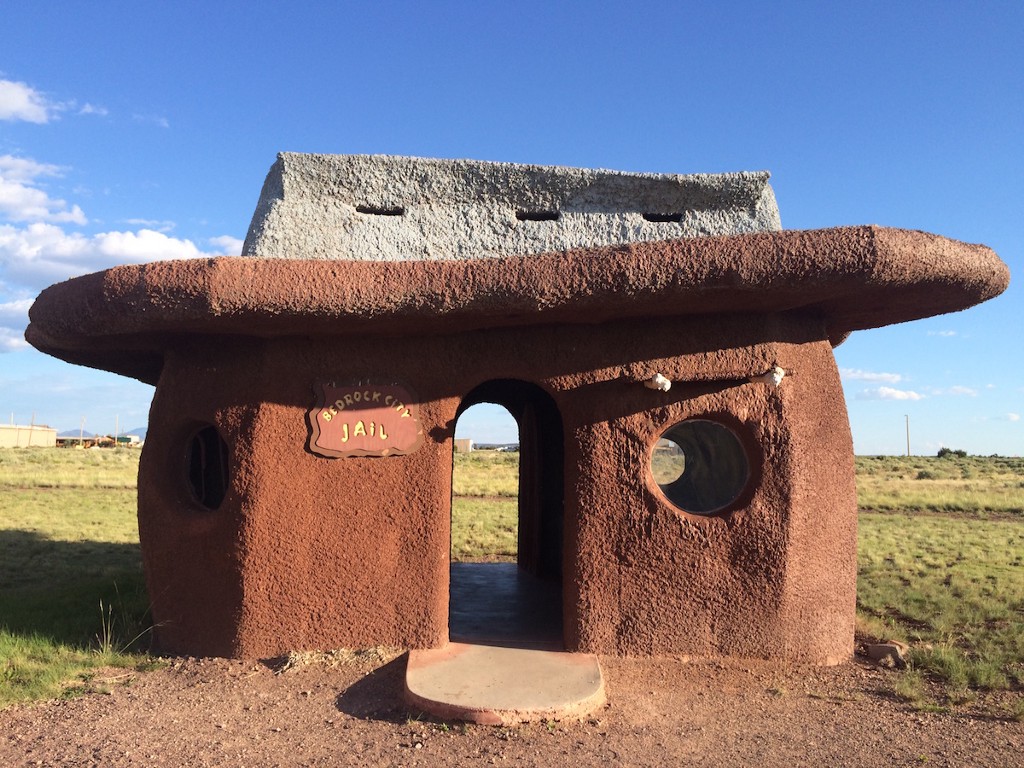 Bedrock City, Arizona, has yet to be sold, and appears to still be open. But a rep for Warner Bros. confirmed to me that it is currently unlicensed. A few months ago, Linda Speckels' grandson, Brandon Dee, launched a crowdfunding campaign to raise $2 million to buy Bedrock City to save it from falling into the hands of developers. "Bedrock City is in need of new life and new direction," Dee wrote on the campaign's GoFundMe page. "I believe it is the family who created and built Bedrock that has the responsibility to continue and improve it." In four months, the campaign has raised $1,415; one donor explained he was giving $50 because he believes Bedrock City is "an important part of our history and of roadside Americana." Dee knows that it's unrealistic to expect to obtain the rights to carry on the Bedrock City name, but he doesn't care much for The Flintstones anyway. For him, saving Bedrock is more about preserving the lineage of a small family business than about resuscitating a modern stone age family. Instead, he might turn the park into some sort of haunted park that screens old zombie movies at night, "something spooky," he says. It's a potentially fitting end for a park that modern visitors describe as creepy, derelict, and sinister.

It's hard to imagine a scenario in which a Bedrock City theme park would thrive again. Beyond the decline of the Flintstones in modern media, we're living in a time when Universal Studios has unveiled a fully immersive Harry Potter world with butter beer, roller coasters, and the Elder Wand for sale in Diagon Alley. Holograms of Harry, Hermione, and Ron plot in the halls of Hogwarts while visitors wait in line for a ride that simulates flying through a castle on broomsticks — which is so realistic, TMZ reports, that it's making people barf. At this point, the Bedrock Cities are basically just great backdrops for selfies — pillars of nostalgia for a time when limited animation and a cement statue of Fred Flintstone was entertainment enough.
Talking with Barreca about the abandoned plans to bring back Hanna-Barbera's characters in the nineties, it's hard not to feel pessimistic about the future of The Flintstones. Barreca talks about his time at Turner as a high water mark for the relationship between the Bedrock Cities and the studio. He's not sure whether there's anyone at Warner Bros. championing The Flintstones or any other classic cartoon characters with quite the same vigor for which Seibert is known. Barreca points out that Looney Tunes, the studio's marquee property, has also faded from the public consciousness in recent years. "If they're not going to do anything with Bugs Bunny, I don't know what they might do with the Flintstones," he says.
Last year, reports surfaced that a new animated Flintstones film was in development under executive producers Will Ferrell and Adam McKay. Warner Bros. declined to comment specifically on the status of the film, but wrote in an email, "The Flintstones is a fan-favorite property everyone has grown up with and Warner Bros. is always exploring new ways to introduce its properties to new generations of fans." Meanwhile, DC Entertainment just announced plans to unveil a new line of comics based on Hanna-Barbera characters (including the Flintstones) in May.
In an industry addicted to reboots, there's no ruling out the idea that Warner Bros. might once again invest in reviving The Flintstones, just as Turner had planned in the early nineties. And, if that succeeds, the same studio whims that have shaped the history of Bedrock City may even lead to a more modern version of the prehistoric parks. Joe Speckels cautions against questioning the lasting power of Fred Flintstone or the theme park his cartoon begat. "It must have been good to have lasted fifty years," he says. "How many things last fifty years?"