The Not-Always-Politics of Black Hair
by Laur M. Jackson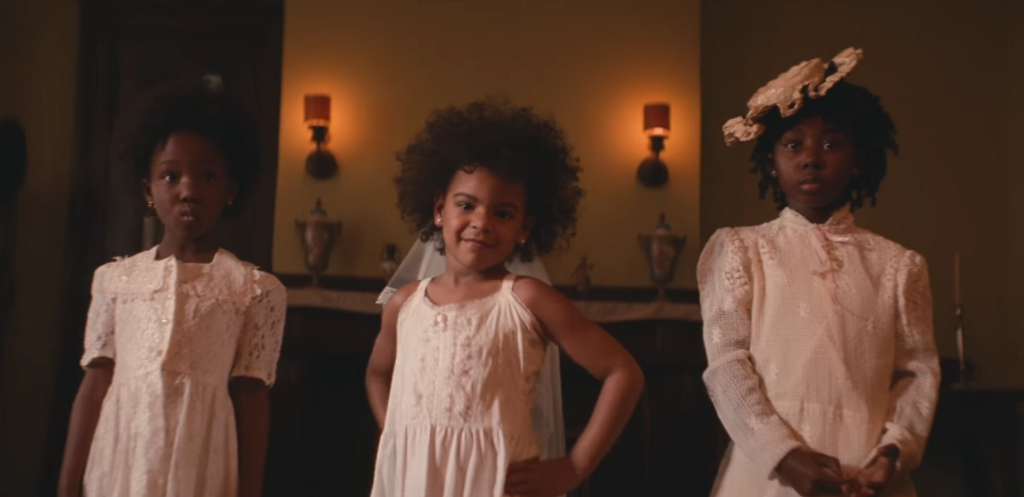 Madame Sisseretta Blandish's near-patented hair-straightening system drew customers from as far as New Jersey to her Harlem salon. But like many of New York's successful set, Blandish was just one bad business cycle away from destitution, and after the New Year, business began to slow — and then it dropped off dramatically, to nothing. Blandish's absent clientele was hardly a mystery to her though; she knew what made her old regulars scurry past her shop with downturned faces: Why pay for a regular follicle pull and burn in a new world where whiteness could be purchased for just fifty dollars?
This logic undergirds the plot of George S. Schuyler's 1931 Black No More, a science-fiction novel where The Negro Problem is all but solved by black physician Junius Crookman's discovery of how to turn black people white. At-once miraculous and banal, Schuyler's transformative science is hardly so elaborate as its contemporary equivalent, Your Face in Mine. Dr. Crookman's procedure merely suppresses melanin in the skin, reduces — slightly — the size of the nose and lips, and permanently de-kinks hair to make patients irreversibly indistinguishable from their natural-born white counterparts. A play on the novel's own name for relaxer creams — "Kink No More" — Black No More signifies not so much a radical insertion into the market as a technological upgrade that commandeers a ready consumer base. Once the best and only option to buy into whiteness, Madame Blandish's hair straightening process — an obvious nod to Madame CJ Walker — is no match for Crookman's color-crossing sanitariums.
Black No More echoes the public sentiments of its author, who declared in an essay called "Negro-Art Hokum" (to which Langston Hughes famously responded) that "the Aframerican is merely a lamp-blacked Anglo-Saxon." Black Americans are just "plain Americans," he asserts, a tinted version of their white peers and thus different by color, not culture. As with any satirist, Schuyler's earnestness is hard to read. It's fair to say he saw region and class as much more cohesive features than skin color, and that anything like a coherent Black culture — music, speech, style — in America is only tenuously held together by a mutual response to racism.
Even if few would agree with Schuyler's even-then controversial statements, we in the contemporary are not quite hostile to the idea of Black American culture as ever obscured by an ongoing relation to the status of subjugation; even our most celebratory and even frivolous modes of expression remain ripe for politics. As Vinson Cunningham wrote last summer, Black artistic production in America has historically been caught within "a tragic conundrum" of aesthetics and politics. For the Black individual, the "tragic conundrum" extends into everyday life. Personal aesthetic choices as simple as the music you listen to, the clothing you wear, and general relation to all things bougie transform into heuristic judgments about political affiliation, intensity, or loyalty. Even if this phenomenon isn't limited to Black life specifically — we are all in some sense judged this way — it takes on a particular antagonism when one's appearance assumes a proscribed relation to a constantly wavering pro-Black standard.
It's a rather pervasive myth about Black culture that frames even on-the-ground creativity as in some way responsive to white supremacy. As a remix of whiteness. But I have to ask, what happens to style and creativity in a rush to politicize?

As with every move Beyoncé makes, the surprise video release of "Formation" and its performance during halftime at the Super Bowl opened the discursive floodgates for stans, naysayers, and ambivalent audiences alike. Amongst topics ranging from police brutality, queer movement and visuality, and fraught racial terminology, one iteration of the conversation about "Formation" was the politics of hair: Some were quick to catalogue in near shot-for-shot detail the diverse spectrum of styles represented; for others, the lyric, "I like my baby hair with baby hair and afros," overlaid footage of Blue's impossibly adorable 'fro, resonated as the powerful affirmative statement on Black hair. Fader's Naomi Zeichner and Judnick Maynard also mentioned Blue's hair as part of the video's "front and center" display of what they call Beyoncé's "kitchen politics," a term that acquires additional vernacular meaning in the context of Blackness and hair. And as "Godmother of Brown Beauty Blogging," Patrice Yursik told Dazed, Beyoncé's hair "is a political statement."
Perhaps less vocal, some did bemoan the sight of Bey — the lone long-hair-don't-care blonde amongst the fro formation — as a saboteur in her own pro-Black message. Professor Yaba Blay, also looking at Blue, wonders about the invitation to contrast one child with two others "significantly darker than her and dressed like old women afraid of the sun." Given New Orleans' particularly troubling history with colorism and preference for those "light skinned, with non-kinky hair," Blay is concerned that Beyoncé is once again instrumentalizing her appearance — along with her daughter's — this time accompanied by a regional, living backdrop that goes soul-deep for so many. Meanwhile, Twitter offered the usual mixed bag of readings in real time, proposing the possible political in/significance of afros, braids, and blonde hair virtually since the video's release. "There's tension between Blackness and Whiteness and the Desire to Be Black and the Desire to Be White," one user tweeted the next morning, already siphoning the multicolored visual display into an antimony between pro-Blackness and white supremacy.
It's a tale arrested in time. Wherever the fabulousness of a Black femme's hair appears, the leap to politics can't be far behind. Even the "politics of black hair" is a trope approaching trite. Of course hair and politics remain relevant discussion partners to the extent that hair can be political, but there's a slippage that concerns me; what either side of the debate have in common is a longing to project a desireable or undesireable politics onto a complex cultural aesthetic. Rawiya Kameir's claim that the success of "Formation" is "casually weaving [a] politic in with the rest of [Beyoncé's] aesthetic" may just be true. But who's holding the thread?
It's no secret that we're well within something of a natural hair renaissance — a Black-made (and I'll assert, Black-only) cultural movement producing flush commercial and economic opportunities for Black ingénues as well as liberating narratives. Unfortunately, the increased visibility of natural hair has in turn provided extra opportunity for what can only be seen as misogynoirist political projections onto the hair of Black femmes. Many, Black and non-Black alike, like to weave political assumptions into our hair unwarranted. Natural hair, or at least the appearance of afro-texture, is unsurprisingly associated with pro-Black progressive thought. Meanwhile weave, wigs, and relaxer become renewed symbols of a slumberous mind tantalized by a European standard and infatuated with white supremacy by proxy. (This division then doubles back to accrue further assumptions in the social. BuzzFeed's Hannah Giorgis closely analyzes the problematic of Black women's hair in film where — as a close mirror to every day experience — proximity to the appearance of respectable hair forms is what determines whether or not we are worthy of love.) It's as if we've resurrected Schuyler's version of nineteen-twenties Harlem, where hair manipulation can only be read as an effort to "appear as much like white folks as possible."
And yet, Black hair is rarely styled with an image of whiteness in mind: be it straight, twisted, braided, red, black, blue, purple, grey, blonde, caramel, curled, curly, poufed, bobbed, bouffant, or pulled up. Nevermind eons of cultural exchange across the diaspora, a consideration of Black hair in America over the past century alone more than complicates the notion that how we style ourselves is in any sense strictly political. Looking fly is a labor not necessarily made legible to activism.
At issue here is the political overdetermination of cultural aesthetic. These sudden leaps, from image to politics, reifies a cultural proximity to whiteness that ultimately shortchanges us as cultural purveyors of our own hair technologies. As if Black culture is forevermore locked with white supremacy in some wholly unimaginative cycle of replication, imitation, and subversion — whereby everything molded onto or sprung from a Black mode of living must somehow be a reflection of living marginalized. But Black hair needn't be political in every situation. "Black hair," culturally understood, is entirely inclusive of the techniques and inventions made in our spaces; that includes wigs, weaves, and all the creative technologies signified in those practices. That also includes the revolutionary developments, from vixen sew-ins to invisible parts, made by the community's hair virtuosos, themselves incredibly diverse: trans, cis, genderfluid, from virtually every corner of a broadly queer constellation.
Which brings us back to Beyoncé, an artist who's no doubt experimented with every evolution of cap, closure, tape, track, thread, glue, lacefront, rodset, iron, and bodywave over her career to showcase the range of styles we know and (mostly) love. There's hardly a need to rehearse the way in which the artist's penchant for blonde in every and any style imaginable poses an easy target for those stuck in a causal understanding of hair and politics. Yet seldom acknowledged is that from 2006's "Green Light" to 2014's "7/11" — "a perm that's been left to long" to "sweatin' out my press" — Bey continually uses Black vernacular to describe her hair in lyric.
While we're all doing theory here, perhaps Bey's hairfile is actually best considered a career long recognition of the already inherent Blackness of a spectrum of Black hair forms. A not apolitical or depolitical, but rather not-always-political display of Black hair diversity. A voluminous blonde wig is formally and culturally black as hell not because of political symbolism, but because of a vastly networked creative tradition worn and invented by Black folks, for Black folks.