The Normcore Glamour of Sweatsuit Divas
by Logan Scherer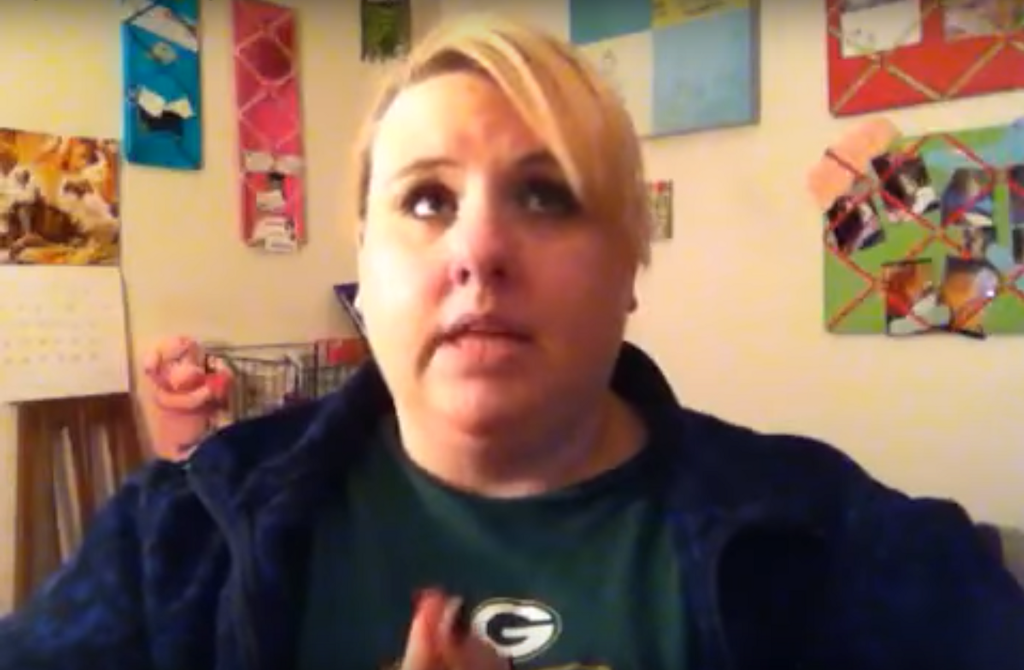 Thirty-one years after Faye Dunaway demanded that no more wire hangers ever be placed in her closet again, Angela Julius demanded her peach bellinis back. During the final week of Bath & Body Works' two-for-twenty candle sale, she called all four Bath & Body Works stores near her home in Neenah, Wisconsin, with the hope of acquiring two rare scents: Winter Candy Apple and Iced Gingerbread. On the final day of the sale, an employee at the Appleton store offered to make the short trip to the off-site location where the two candles were kept. The plan was simple. Angela would trade in the unused, large three-wick peach bellini candles she'd recently bought for the two new ones in the same size. Through heavy traffic — it was a Sunday and the Packers were playing — Angela made her way to Appleton. When she got there, the candles hadn't yet arrived. The cashier went to the back of the store for the manager. Fifteen minutes passed before the manager, Jen, appeared with bad news. "I'm so sorry," she said. "I honestly thought we had your candles at our off-site store, but we only have the small four-ouncers in."
Jen offered to call the other nearby stores (Fond du Lac, Green Bay, Oshkosh), failing to realize that Juilus had already called them every day for the past week. When Julius asked for something — anything: a free item, a gift certificate — as a consolation for what she had just gone through, Jen suggested that Angela reach out to the company headquarters via the 800-number on the original peach bellinis receipt. "When you call, you'll get a live person," Jen said.
"A live person?" Julius asked. "Who do you think I'm talking to right now? Am I talking to you who is not really here? Are you reality? Because I thought you were a live person. Are you not a live person?"
"I'm sorry, ma'am, I can't help you," Jen said.
"I want to leave this store," Julius said. "Give me my candles now."
In the time since the Appleton Incident, Angela Julius has become a cult gay icon. She had her moment in October 2014, when the YouTube video she posted, as Az4angela, recounting the candle drama went viral. Now, almost a year-and-a-half later, most of the people who still follow her are either fellow candle and home-goods aficionados or young gay men, like myself, who have found in this transfixing suburban mother an unlikely diva to worship. "Do you accept az4angela as your lord, savior, and true gay icon?" one tumblr user asked. Another recorded an entire video describing why he believes Az4angela is one of the greatest women ever, putting her alongside Britney Spears and Mariah Carey in his pantheon of special ladies. In 2015's horror-camp comedy Scream Queens, gay TV creator and diva-worshipper Ryan Murphy paid homage to Angela by making one of the show's wanna-be sorostitutes, Jennifer, a candle vlogger. Jennifer eventually gets stabbed to death while making one of her videos, her corpse turned into a life-size candle.
Julius, sitting on her bed in a Packers t-shirt and fleece, as she eviscerates Jen from Appleton, embodies the qualities of all the major divas adored by gay men. She has the rage of Faye Dunaway as Joan Crawford verbally and physically terrorizing her daughter in Mommie Dearest; the kooky charm of Little Edie deconstructing her idiosyncratic style for the camera in Grey Gardens; and the unexpected vulnerability of Whitney Houston breaking down on Being Bobby Brown. Through the camp lens of gay male culture, debasement is a source of pleasure. When Faye loses it, we lose it with laughter. When Whitney's at her lowest, we're at a high. What may seem to others like misogyny is, in reality, self-deprecation. Like Dorothy Zbornak cracking jokes at her own expense, we understand that we are the things we mock. What straight people find so wretched and off-putting about these starlets-turned-monsters — excess emotion, effeminacy, hysteria — are also the things that they hate about gay men.
Angela lacks the one characteristic that unites all these gay icons across generations, the one thing that brings us to Faye, Little Edie, and Whitney to begin with: glamour. How can delight emerge from debasement without a glamorous inception? The hypnotic lure of Grey Gardens doesn't come from the image of these reclusive women living in squalor — it's in their unspoken backstory, the knowledge that these relatives of Jackie Kennedy were once at the top of the New York social scene before they retreated forever into the ruins of their Hamptons estate. Az4angela represents a new kind of gay icon, a suburban diva, de-glamorized from the start. She's a diva who was never a star. In the world of post-millennial gay male diva worship, ordinary subjects can become the object of our camp infatuation. That's because internet culture and reality TV have so thoroughly glamorized the mundane. Glamour is no longer restricted to the glamorous.
Peach bellinis are the new wire hangers and the Mommie Dearests of today are actual mothers: suburban women who freak out on camera not because they've fallen from Hollywood grace but simply because they're having a bad day. Their freakouts happen in strip malls, casual chain restaurants, and, most often, in the comfort of their own homes. We watch Jenelle Evans, of Teen Mom 2, argue away the possibility of having to miss a Ke$ha concert to serve her sixteen-day jail sentence with the same glee that we watch Elizabeth Berkeley push Gina Gershon down a flight of stairs in Showgirls. We press replay on the clip of Marguerite Perrin losing her shit in her living room over the ungodly behavior of her exchange family on Trading Spouses as quickly as we press replay on the clip of Joan Crawford attacking her daughter.
We're not in Hollywood anymore. We're in the Pittsburgh children's dance studio run by Abby Lee Miller of Dance Moms. We're in the kitchen of Patti LaBelle's most vocal, queenly fan as he tries her sweet potato pie for the first time. We're in the backstage of Mohegan Sun as grown women prepare to compete in a beauty pageant on Game of Crowns. We're in the Bath & Body Works in Appleton, Wisconsin. Even those who make the jump from suburbia to the Hollywood C-list remain eternally attached to their suburban roots. The "New York" nickname that Tiffany Pollard adopted as a dating show contestant on Flavor of Love and later used to brand herself in all her reality spinoffs refers not to NYC but to her hometown, Utica.
The great critique of gay male diva worship lies in its power to find and embrace that which is latently queer in mainstream cultural objects. But at a moment when gay life itself is becoming more and more normative, when same-sex marriage is a sanctioned reality, when even Lady Gaga has gone "normal," it's no longer an art to see the queer in straight popular culture. The gay is already staring us in the face. Now, we need to look harder — and elsewhere — for sources of camp pleasure. That's what these suburban divas offer us: a new strategy for queering straight culture. It's why the best response to bigoted clerk Kim Davis is the video that turns her into a gay icon. (The creator of the video is, incidentally, T. Kyle, one of Az4angela's biggest gay fans.) Remixed to Lady Gaga's "Applause," Davis, as she emerges from the courthouse to a screaming crowd, suddenly becomes a glamorized heroine — her stringy hair, glasses, and nondescript clothes taking on surprise beauty in the Kentucky light. As the love object of the people she hates, she is the ultimate suburban diva.
With reports that Elton John is collaborating with Lady Gaga on her next album, it sounds like we'll have a new gay soundtrack in our future. But there's a better, longer, gayer playlist already out there. It has candle reviews, not dance hits; weight-loss vlogs, not torch songs; home product hauls, not empowerment anthems. Angela posts a new video to her YouTube account every single day. On lucky mornings and afternoons, we also get a live Periscope stream while she's commuting to work, sitting in the Walmart parking lot, or walking her shih tzu, Snookie. Each time she turns on the camera, she greets us with the same fresh fierceness and tells us like it is. She's chronicled her Ulta customer service calls, taught us how to make our own Febreze for fifteen cents, and shown us what's in her gym shower caddie. It's all part of the living album we can play now and forever, 1,729 tracks and growing, the masterpiece Gaga will never top: Angela's Greatest Hits.