Eliot Spitzer's Extremely Lucrative Exile
by Brendan O'Connor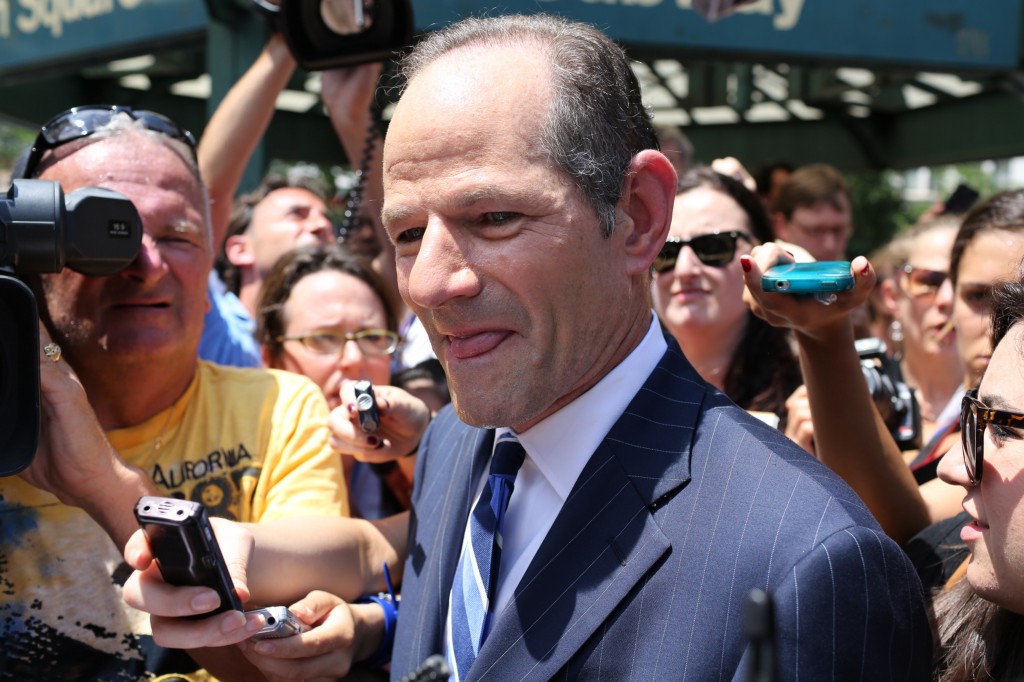 This past weekend, former New York governor Eliot Spitzer, who resigned in 2008 amidst a prostitution scandal, was accused of assaulting a woman he had gone to visit at the Plaza Hotel. Police responded to a 911 call from the woman, Svetlana Travis, on Saturday evening. Spitzer initially turned the officers away at the door to the hotel room. But, after returning and noticing blood and broken glass on the floor, they searched the room and Travis was taken to a nearby hospital, where she told staff that Spitzer had choked her. On Sunday, Travis — who is the author of a widely read essay on Matter about her experience as a sex worker — flew back to her home in Russia. She later apologized in an email for fabricating the accusation, Spitzer's lawyer said. The NYPD's investigation is ongoing — it executed search warrants and is combing through phone and computer records, the New York Times reports — but it does not seem likely that there will be formal charges. "We are at a standstill now, absent a complainant," the NYPD's deputy commissioner of public information, Stephen Davis, said.
On Wednesday, a spokeswoman told the Wall Street Journal that Spitzer "has no intention of ever re-entering public life, and looks forward to continuing to build his family's real estate business." The disgraced governor was not always so excited about the prospect of getting into real estate. Six months after he resigned from office, as it became clear that he was becoming more involved in the family business, Spitzer shrugged when asked how he was doing: "Making money is making money."
In recent years though, Spitzer has embraced luxury development in New York's prime neighborhoods with the same aplomb as he once pursued settlements against corrupt Wall Streeters — like Henry Blodget — in the early aughts, as attorney general. During a failed bid for city Comptroller in the summer for 2013, it emerged that Spitzer's father, Bernard, who was suffering from Parkinson's disease, had transferred control of much of the family's real estate empire to his son. (His comptroller bid was basically self-financed: according to campaign finance records, Spitzer spent nearly $10.7 million on the campaign, only $45 of which came from anyone who wasn't Eliot Spitzer. Scott Stringer, on the other hand, raised just over $3 million from thousands of contributors, and received another $1.8 million in matching public funds.)
According to tax returns that he invited journalists to review, between 2006 and 2012, Spitzer's income as a landlord grew more than eighty percent, from $1.3 million to $2.56 million. Most of the buildings Spitzer has a stake in (with other members of his family) are on Manhattan's East Side: As disclosed in a report he filed with the Conflicts of Interest Board, Spitzer receives income from partial ownership of 985 5th Avenue (a lovely twenty-five-story luxury tower overlooking the Metropolitan Museum of Art in which Spitzer, his now ex-wife and their daughters lived, rent-free, for years), 800 5th Avenue, 220 East 72nd Avenue, 210 Central Park South, and a residence in Columbia County, up the Hudson River. He is also the majority owner (sixty-three percent) of Spitzer-Madison LLC, which holds the lease to the six extremely lucrative boutique retail spaces on the ground floor of the Cumberland House, at the corner of 62nd and Madison Avenue; Spitzer's father acquired the master lease for the retail space in 1990, and transferred it to the LLC in 1999.
Spitzer's first bid for attorney general, in 1994, was a devastating failure — he came in last among the Democrats running for the office. It was also an expensive one: Spitzer took out a $4.3 million bank loan to fund the campaign, using the eight apartments he owned in another of his father's buildings, 200 Central Park South, as collateral. When Spitzer ran for AG again, in 1998, he won, but not before it was revealed that he'd been paying back the bank loan with a loan from his father, which he in turn paid off by selling the apartments back to his dad for $6.1 million in 1999 — the same year that Bernard transferred control of the Cumberland House retail spaces to his progeny.
Still, even as he benefited from the resources and support that the family business afforded him, for most of Spitzer's adult life he poured his prodigious energies into public service (or, at least, public life). After graduating from Princeton's Woodrow Wilson School of Public and International Affairs and Harvard Law, Spitzer clerked for a federal district-court judge, Robert Sweet. Then he became an assistant district attorney in Manhattan, where he helped dissolve the Gambino crime family's control of trucking in the garment industry — establishing a fake sewing shop in Chinatown as a front and eventually bringing an antitrust suit (rather than extortion charges), which resulted in a successful settlement. In the early aughts, his aggressive investigations into fraudulent investment and advisory practices on Wall Street resulted in a number of significant settlements and precipitated similar investigations around the country. He also developed a reputation as a bully, "which encompasses not just professional aggression but also what many regard as a preening rectitude and a tendency toward intellectual arrogance," Nick Paumgarten reported in his presciently titled New Yorker profile, "The Humbling of Eliot Spitzer," published just a few months before the New York Times reported that the governor patronized prostitutes.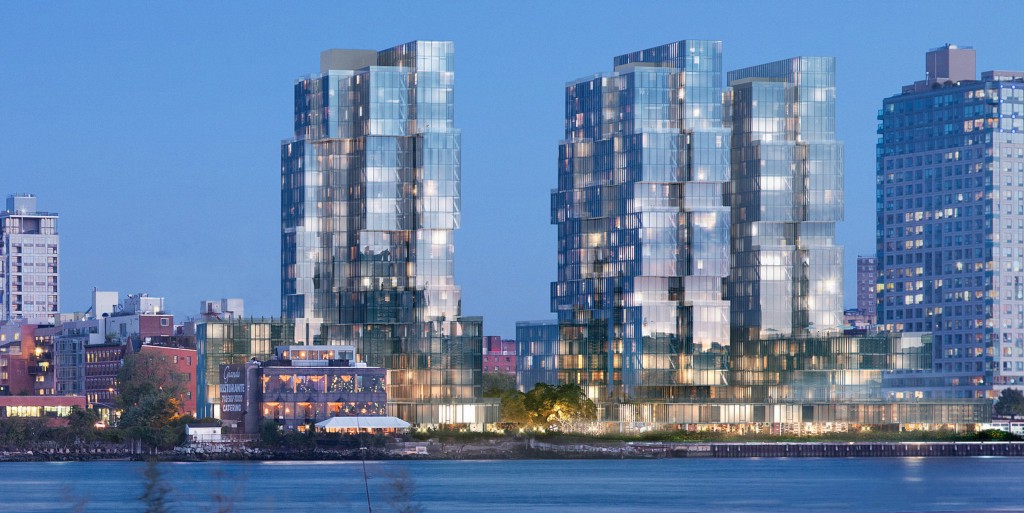 Spitzer's Williamsburg development (via)
Whatever ambivalence Spitzer had expressed about entering the real estate business following his quick resignation from office, the industry was more than happy to have him. In 2013, speaking to Politico New York (then Capital), a prominent real estate investor, Peter Hausburg, who Spitzer had consulted with for advice about potential development locations, dismissed the prostitution scandal entirely. "What our colleagues do makes that stuff look like choir-boy stuff." Hausburg said. "He comes with a great real estate pedigree and he's paid attention to the business, so I wouldn't be surprised to see him emerge among the top tier of real estate names at some point."
In December 2013, Spitzer Enterprises acquired the block-long development site at 511 West 35th Street, in Hudson Yards, from Alloy Development for $88 million — well over the $75 million the site was expected to go for. The following summer, Spitzer filed an application to purchase nearly a hundred and forty thousand square feet in additional development rights from the city, bringing the total buildable area to more than four hundred thousand square feet and building costs to $125.36 per square foot, or $17.33 million, paid to the Hudson Yards District Development Fund. No building permits appear to have been filed since the acquisition, but, according to Department of Finance records, Spitzer Enterprises took out a $17.5 million mortgage on the property last summer. (It looks like he might want to build a luxury mixed-use hotel.)
Bernard Spitzer died a few months later, in November 2014. In his will, the New York Post reported, he ordered that $250 million of his $500 million estate be left to charity. Subsequently, the Real Deal reported, the former governor transferred shares of 30 co-op units at 200 and 210 Central Park South, as well as a substantial stake in 1050 Fifth Avenue, a rental building, into the Bernard and Anne Spitzer Charitable Trust.
Spitzer has reconfigured the family's portfolio further: In April, he sold the crown jewel of his father's empire, the Crown Building — which was once secretly owned by the kleptocratic dictator Ferdinand Marcos, who ruled the Philippines for more than twenty years — for $1.78 billion, apparently the highest price per square foot ever paid for an entire office building. Also last year, Spitzer acquired 420 Kent Avenue, in Williamsburg, for $165 million, just down the street from the $1.5 billion redevelopment of the Domino sugar factory. Spitzer plans to develop his site into a $700 million complex, the Times reported, including three luxury towers that will comprise eight hundred and fifty-six rental units. There will also be two rooftop pools. How the mighty have… risen?
Photo by Timothy Krause