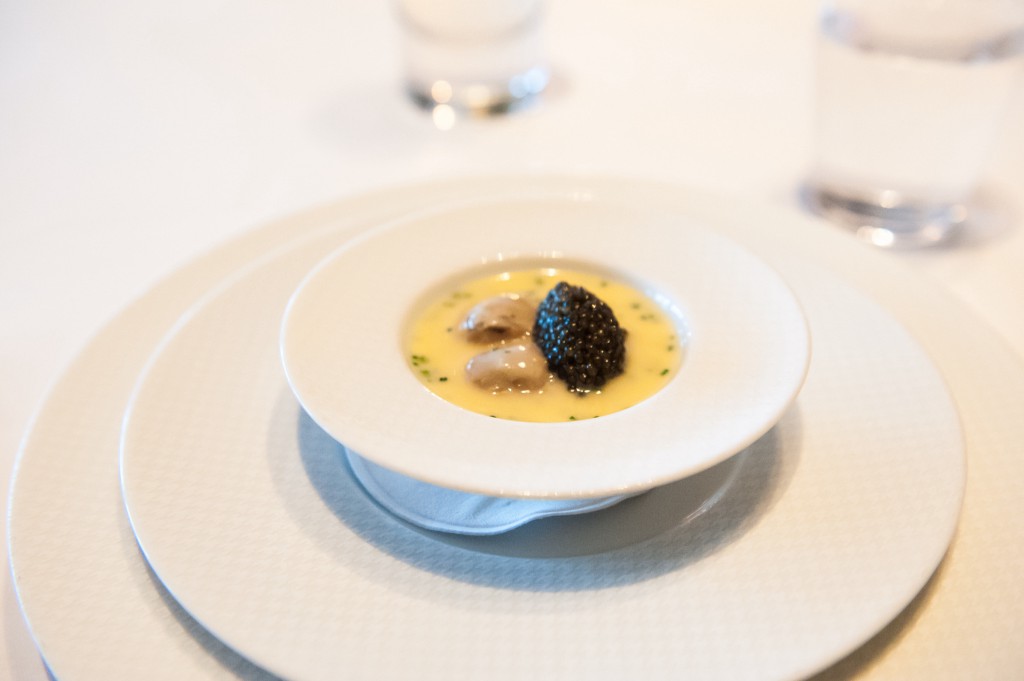 For one of his last meals as the chief restaurant critic of the New York Times, Sam Sifton ate at "the best restaurant in New York City: Per Se, in the Time Warner Center, just up the escalator from the mall, a jewel amid the zirconia." He (re-)awarded it the Times' highest rating, four stars, and was so moved that he savored one dish as one "might have a massage or a sunset." And of course he did: No one would have expected any less for Thomas Keller, long considered one of America's greatest living chefs.
That was five years ago. Earlier this month, Sifton's replacement, Pete Wells, declared that "the perception of Per Se as one of the country's great restaurants, which I shared after visits in the past, appear[s] out of date" and stripped the restaurant of two of its stars. Even though it had been anticipated, it's hard to overstate the magnitude of Wells' review in the restaurant world: It's maybe sort of like if people still cared what music critics said about albums and the most important one of all wrote that, like, Radiohead's new album is not that good and certainly not great but especially not perfect?
Anyways, Wells' takedown was received with rapt and thunderous applause: It became one of this most-read reviews in his more than four years as the Times' chief restaurant critic and sucked the sage-scented air out of almost every other conversation in the dining world, at least for a moment. And why not? People love to watch falling stars, especially when the crash is this spectacular: The greatest restaurant in New York from one of the greatest chefs in the country is in fact a smoldering garbage fire, and has been for a year, or maybe even longer.
With the vague outlines of the-emperor-has-no-toque story, it's perhaps not entirely surprising where the narrative went next: that Wells had somehow struck a blow for the people against a stuffy, elitist, and out-of-touch dining world. The Times' public editor, Margaret Sullivan, noted the "populist schadenfreude," while Jordan Weissmann at Slate explicitly valorized Wells as a "populist hero" for "his fierce emphasis on value and fairness," connecting his Per Se review to earlier takedowns of ludicrously expensive restaurants from similarly elite chefs, Masa Takayama's Kappo Masa and Daniel Boulud's Daniel, as if he were charting Wells' march to the sea. Isaac Chotiner, also at Slate, pushed this line again in an interview a few days later, at one point suggesting to Wells, "You seem to take a certain pleasure in puncturing what you see as elitism or old-fashioned pretension in fine dining." (For the record, Wells likes "old-fashioned things when they're done really well.")
.@pete_wells a populist hero? Well, his second favorite chocolate bar will cost you $14. You decide.
— The Wolf of NASCAR (@CitizenKBA) January 17, 2016
But this is all a relatively strange and ahistorical reading of Wells' reviews, even if he is the most exceptional Times critic — and one of the greatest food writers — in a generation. While a good critic does far more than merely say whether a restaurant is good or bad — there's always Yelp or Foursquare if that's all you want and you have a deep and abiding faith in the taste of your fellow man — considering the value of a restaurant relative to its cost is core to the entire proposition of a food critic as a service journalist, especially at a large daily or weekly paper, where their chief task is to answer the question, "Is this restaurant worth your paycheck?" Wells' review of a restaurant that exists far outside the daily realm of possibility for most New Yorkers is also far from unusual; if anything, such restaurants were more or less the primary domain of the Times' chief critics until the arrival of Ruth Reichl in 1993, when she began "giving SoHo noodle shops 2 and 3 stars," which, according to her predecessor Bryan Miller, "DESTROYED THE SYSTEM."
Nor is it particularly exceptional for Times' critics to lambaste restaurants for the rich or splurge-y over what they deliver for a price, even considering that the audience for Times reviews have expanded far beyond the power lunchers and the lords and ladies of the Upper East Side. The first paragraph of Sam Sifton's carpet bombing of Nello, a longstanding cafeteria for the rich, immediately hones in on the price, nearly six hundred dollars for "diner food." Frank Bruni, Sifton's predecessor, who first awarded Per Se four stars in 2004, was perhaps as price-conscious as Wells or Sifton, if not more so. He napalmed the institution Harry Cipriani, awarding it zero stars, explicitly citing his concern for "the uninitiated New Yorker or innocent tourist who sees the Cipriani name, with its connotations of extravagant banquets and extraordinary privilege, and waltzes through the doors expecting something magnificent in return for a king's ransom," and will pay "$22.95 for asparagus vinaigrette — 12 medium-size spears, neither white, truffle-flecked nor even Parmesan-bedecked — and $34.95 for an appetizer of fried calamari," as well as "$66.95 for a sirloin, $36.95 for lasagna, $18.95 for minestrone." Bruni concluded that the service is "so confused and food so undistinguished it wouldn't pass muster at half the cost." Ditto Michael's. In his review of Kobe Club, "a cynical stab at exploiting the current mania for steakhouses in Manhattan by contriving one with an especially costly conceit and more gimmicks than all of the others combined," he rips the restaurant for, among other things, serving measly portions of pedigreed beef for hundreds of dollars. Bruni also blasted the Russian Tea Room "in the context of dinner entrees that frequently exceed $40, appetizers that infrequently fall below $18 and 30-gram servings of caviar that cost as much as $300." He had no problem destroying chef-deities like Jean-Georges Vongerichten (multiple times!), either. And he even employed a move that Wells was praised for in his review of Daniel — watching how a restaurant treated another table that didn't have a critic sitting at it:
I, in turn, kept watch over other tables and listened hard to acquaintances' reports of their experiences. I am convinced that everyone at Per Se is pampered.
Even further back, in 1998, Ruth Reichl — whose noodle-shop advocacy maybe makes her a much better candidate for a populist critic? — opened her review of Box Tree with a price-oriented salvo:
THE last time The Times looked at the Box Tree it was a pretentious place serving fancy, not very good Continental food for $78 a person, prix fixe. That was six years ago. Since then there has been a lengthy strike, which ended last month in a victory for the workers. You might think that would have improved the restaurant.
No such luck. Today the Box Tree is a pretentious place serving fancy, not very good Continental food for $86 a person, prix fixe. But one thing has changed. The service used to be genial and attentive. Now it is as pretentious as the setting — when it is anything at all.
Who knew there were so many unsung populist heroes in the archives of the New York Times dining section?
The real story of the Per Se review, obviously, is that @pete_wells found a way to untie his legacy from Guy Fieri's.
— Ben Leventhal (@benleventhal) January 12, 2016
But there is something that distinguishes Pete Wells' run as critic, and it's not just his deep awareness that his potential audience is both larger and different than his predecessors — a savvy on full display in his atomic obliteration of Guy Fieri's American Kitchen & Bar or four-star crown for Sushi Nakazawa (whose chef is mildly famous for being the apprentice who cried when he made the egg sushi correctly in Jiro Dreams of Sushi). It would be hard to overstate how profoundly high-end dining has changed since Per Se opened in 2004, during a decade or so that has been largely marked by the democratization of high-end cooking: Or, in a picture, carefully grown and obsessively sourced food, radically composed and meticulously prepared, then dropped onto your cramped table with deeply uncomfortable seats by a cranky, tattooed and taciturn waiter for tens of dollars a head. What might have seemed like sorcery in 2004, "hunt[ing] down superior ingredients — turning to Elysian Fields Farm for lamb, Snake River Farms for Kobe beef — and let[ting] them express themselves as clearly as possible" through "cooking as diligence and even perfectionism" — amount to mere table stakes for any remotely hyped restaurant in gentrified Brooklyn (or Manhattan or any major city) in 2016. What was praise from Bruni in 2004 reads like a recipe for inducing nausea today, in a world where the kind of diner who would save up for a meal at Per Se probably dreams of eating a single scallop off of a bed of smoking moss and juniper branch at Fäviken:
Sybaritic to the core, Per Se is big on truffles, and it is big on foie gras, which it prepares in many ways, depending on the night. I relished it most when it was poached sous vide, in a tightly sealed plastic pouch, with Sauternes and vanilla. The vanilla was a perfect accent, used in perfect proportion.
Leaving aside the dismal execution that Wells experienced, part of Per Se's problem, in other words, is that it is no longer elite enough even in a city host to merely the fifth-greatest restaurant in the world. (Eleven Madison Park, which Pete Wells loved, by the way, is now more inaccessible than ever, with a starting price of $295 a head for dinner.)
This is all perhaps a long overreaction to a handful of reactions to a restaurant review, even a much-discussed one, but for the fact that the high-end dining world is currently in the middle of remarkable downshift on what it means to be a "populist," as chefs like Eleven Madison Park's Daniel Humm are hailed as nigh revolutionary men of the people for developing chains that serve $10-$15 veggie plates and $8 chicken sandwiches, and where Sweetgreen, a salad joint backed by a $100 million in venture capital says, with little pushback, that as part of its mission of "mak[ing] healthy food accessible," it is opening in "food deserts" like Greenwich Village and Columbia University. (And that people who can only afford traditional fast food should really just look at the Big Picture: while a $10 salad is more than a Big Mac, an angioplasty costs a hell of a lot more.")
Then again, against the backdrop of the current moment in dining, with the emergence of Food Culture and the attendant interest of the moneyed in displaying Actually Good Taste fueling the rise of a new breed of expense-account restaurant — one where the food actually kind of matters — exemplified by the Major Food Group empire in New York, it probably does seem remarkable that a chef with an $84 signature chicken dish is willing to make something that costs just $15, even if he's hoping to make untold amounts of money by selling it to a million people. Populist, even?