It's Always Sunny in 'Philadelphia'
by Andrew Thompson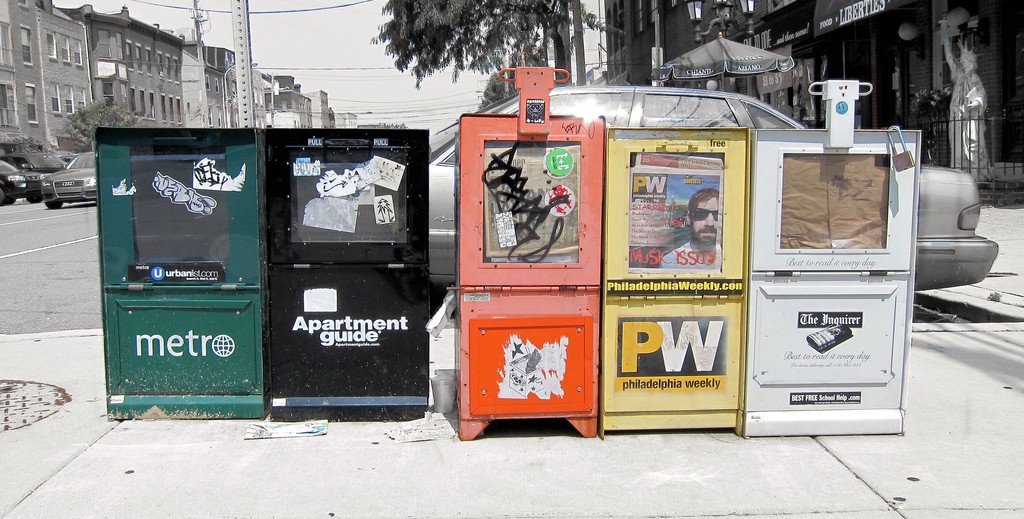 Last week, H.F. Lenfest, the owner of Philadelphia's daily newspapers, the Inquirer and Daily News, donated the parent company of the papers and their website, philly.com, to a local philanthropic foundation. He included $20 million to support their operations. For the past decade, the papers' turmoil has tracked with the dailies of other cities: In 2009, they filed for bankruptcy, and have undergone multiple rounds of layoffs since, most recently in November, when forty-six staff members were let go. This move relieves them of the seemingly unattainable goal of profitability. Lenfest was the last among of a series of owners, all of whom had believed either that the market would change, or that they could somehow change it; his donation seems to mark the end of that belief in Philadelphia.
The transfer of the city's dailies to a nonprofit comes just months after another defeat for local print media. In September, the long-struggling alt-weekly Philadelphia City Paper closed. Over the last decade, somewhat in lockstep with the dailies' degeneration, issues of City Paper had shrunk to a gaunt thirty-or-so pages, while the masthead slowly withered. After years of appearing terminal, everything ended all at once: It was bought by a competitor — the owner of Philadelphia Weekly, a shell publication of events listings — and closed in a single motion. "This was supposed to be a Music issue," a longtime editor began an article in the final issue. A going-away party was thrown at the city's press club, attended by hundreds of former staffers and contributors who, like myself, began their careers at the paper. By the end of the night, most of the orange honor boxes that had occupied small posts on the city streets since the nineteen eighties were collected and thrown into a warehouse.
The last issue of City Paper included a meditation on the state of the alt-weekly, executed as a brilliant conceit: a play starring two anthropomorphic issues of the paper talking over drinks at a local bar, one named CITY PAPER, the other CP. The fictional bar contained people actually interviewed by reporters, who were cast as characters in bar scene. "CITY PAPER notices a woman across the room at a table by herself, reading a novel and sipping chardonnay. It is magazine writer SUSAN ORLEAN." The papers invite Orlean over to the table, and a bit later invite Mike Newall, a writer brought up at City Paper and now a reporter for the Philadelphia Inquirer, who "comes over with a tray of shots."
NEWALL: It hurts, it hurts a lot. There are so many great voices on all these platforms, but are we still getting those 3,000-word take-outs on those platforms? Is there a place where people are letting it rip? A city without a weekly — it's a sad thing.
CP: Well, it's not like there's not going to be an alt-weekly —
CITY PAPER, interrupting: But how the hell did this happen? Was it us? Is it alt-weeklies in general? Everything was so clear in the '90s. Do we even make sense in 2015?
ORLEAN: Each time the technology for delivering information changes, there's a huge change. I think back in the day advertisers were drawn to alt-weeklies because they had a younger demographic, but I'm just not sure younger people read newspapers anymore.
Only one longstanding Philadelphia print publication has experienced a largely upward trajectory in recent years. Over the past three years, Philadelphia, a glossy magazine aimed at an affluent and overwhelmingly white audience in a city that is forty-four percent black and has a poverty rate of more than twenty-five percent, has more than tripled its web traffic from six hundred thousand visitors per month to nearly two-and-a-half million, and increased its digital revenue by fifty percent. Tim Haas, the magazine's director of digital operations, showed me a graph of Facebook engagements-per-week with Philly media: Philly.com received about twenty-six thousand, with phillymag.com close behind, at twenty-one thousand. (The next highest site received about five thousand.) In other words, the print media market, occupied by multiple dailies and weeklies, has been supplanted online by a duopoly played out between the assets of a non-profit and a glossy magazine.
Earlier this summer, I met Tom McGrath, the magazine's editor until his recent promotion to Chief Content and Strategy Officer of its parent company, Metro Corp., in his thirty-sixth floor corner office downtown. "I think daily newspapers have looked at the rise of the internet and understandably seen a threat," he said. "And I think if you're a monthly magazine, you look at the internet and see a lot of opportunity. And in the first roughly hundred years of the magazine, we've had a once-a-month relationship with our audience, and the web now lets us have a daily relationship with our audience. From our standpoint, that's a really good thing." In an ad last May to find an editor to helm its business blog, BizPhilly, its thirteenth and most recent vertical, Philadelphia invited the applicant to join the city's "dominant media brand," a claim that once upon a time would have sounded inflated. (I should note here that I contributed to the magazine's website in 2013.)
"I take my hat off to them," Mike Schaeffer, the editor of Washingtonian, Washington DC's urban glossy, told me. "In a city where the media has really taken an enormous hit, where the big wonderful leading dailies have been in terrible financial straits and have suffered from changing management, I think they've had this — there's been this big empty space in the middle of the conversation and they have really smartly stepped into it."

As a magazine, Philadelphia would be formally recognizable to residents of pretty much any city with a namesake urban glossy, from Los Angeles to St. Louis to Atlanta. Urban glossies came of age in the nineteen sixties and developed a fairly standard template — service packages, gastrophilia, power profiles and generalized urbanity — across the country during a publishing heyday that had yet to introduce general interest magazines focused on a local audience. Some of the similarities within the genre are surely teleological (which city has wealthy residents that don't like eating out?), but the familiar urban glossy model was also developed by regional editors working in concert. "There was a little, almost a fraternity, although it included some women editors, the top city mag editors, and we would sort of trade trade-secrets and such," Richard Babcock, who ran Chicago for eleven years, told me. "You could shamelessly rip off a colleague basically because you weren't direct competitors; they might be on the other side of the country."
Philadelphia has standing to the claim of the country's first urban glossy. In 1908, the Philadelphia Trades Council, a precursor to the Chamber of Commerce, published the first issue of "The Philadelphia Magazine, A Quarterly Business Magazine." After a few pages of ads, the new publication introduced itself: "The purpose of this Magazine is to exploit the business interests of Philadelphia; to set forth the advantages of the City as an industrial, trade and commercial centre. In its pages will appear the announcements of representative manufacturers, wholesalers, and reliable business houses." The introduction was followed by an essay by the mayor's statistician, and small, charming pieces of mercantile propaganda rattling off Philadelphia's output in rugs, millinery, silk, and so on, every issue bellowing the city's industrial dominance. For the next forty years, Philadelphia took stock of the state of trade and manufacturing, railed against the Sherman Antitrust Act, and published the notes of Chamber affairs.
It wasn't until 1947, with the post-war era's increase in leisure time and discretionary income, that Philadelphia began to resemble a modern magazine — prosaic reports on shoe production began to be replaced with featurettes on model homes in Gladwyne, embryonic versions of service pieces appeared on where to vacation on the newly popular airplane, and articles on the miracles of asbestos that could be appreciated by a generally optimistic middle class, developer or otherwise. Pre-war, the Chamber publication was written by executives and city officials; post-war, it was written about them. Pre-war, it was about commodity production; post-war, it was increasingly about consumption. But despite the somewhat sudden change in tone, the magazine didn't lose its focus on business, and a condensed and updated version of the 1908 manifesto was published for a decade under the masthead beginning in the late forties: "Philadelphia Magazine is a business magazine serving 'The Workshop of The World' and is dedicated to the interests of those who manage the many and varied commercial and industrial enterprises in the Greater Philadelphia Area. It is devoted, in cooperation with the Chamber of Commerce, to promoting, for the Area, an over-all development of business, civic and cultural progress."
Over time, the publication became a financial liability to the Chamber, which sold it in 1951 to Municipal Publications, an outfit owned by the newspaper owner Arthur Lipson — and which would become Metro Corp., the magazine's present owner. Arthur functioned as the magazine's publisher until the late fifties, at which point his son, Herb, took over as editor, and then publisher. Herb hired Alan Halpern, the editor-in-chief who steered the magazine until the nineteen eighties, and when Halpern died in 2005, Philadelphia memorialized him by writing, "He made this magazine America's most honored regional publication and, along the way, created the city magazine genre."
I met the eighty-six-year-old Herb Lipson in July in his office at Philadelphia, which doubles as the headquarters of Metro Corp. He wore a brown dogtooth suit, and the combination of his own diminutiveness and his circular, black horn-rimmed glasses inevitably gave him the likeness of the character from the Six Flags commercials. His desk, a gold-fabricked antique upon which sat more antiques next to a south wall lined with framed nineteenth-century hunt scenes, was littered with scraps of paper. I assumed they were drafts of his column, which appears on the first page of every issue of Philadelphia. "It's not always focused on Philly the way it used to be," he said of the column, typically a brand of provocative conservatism that, over the past sixty years, has targeted desegregation, plaintiffs in the Bhopal disaster, and what he deemed excessive coverage of the events in Ferguson. "It's things that bother me. Things like political correctness and hypocrisy. I'm trying to figure what I'm going to do next month."
"Is that what that is?" I asked about a yellow sheet torn from a legal pad.
"No, this is a letter from someone who loves my column. I haven't read it yet."
"Do you want to read it now?"
"'Dear Mr. Lipson, I have been threatening to put pen to paper in observance of your monthly opinion pieces for some time and now is the time' — I haven't read this yet, it could be horrible — 'I look forward to your comments and must admit that I cannot remember disagreeing with any of them.' Gotta be an insane person. 'Maybe it's because of our age' — I think he was born in '34, whoever this is — 'and our upbringing is different than it is today. Values and tradition mean something to us. The beginning of our corrupt culture occurred in the 'sixties and some of those characters ended up in D.C. government.'" And so on.
When he finished, he reached for a manila folder buried under more notes and pulled out a printed copy of a 1968 story in the magazine. "I have here the root cause, I don't know what the date is — 'Pray for Barbara's Baby,'" he said. "It talks about Barbara and her baby and how in those days it was the beginning of the Great Society and they were rewarded financially for having babies, and she was having a baby and all her friends had babies, and she was sixteen or so. And because, I would say most of our problems today are the lack of fathers — I don't want to get into that, but that's what gets me crazy, the hypocrisy and PC shit, that drives me crazy."
When his father bought Philadelphia, in 1951, Herb Lipson had recently graduated from Lafayette College, and he moved to the city to work on the magazine. He was slightly less button-down than his father; ultimately, his magazine would craft the bulk of its contents from the primary colors of power, capital and sex, only two of which sat well with the Chamber. "If we ever did something a Chamber member objected to, the shit would hit the fan," he said. "We'd hear from the Chamber, 'you shouldn't be doing these articles, this that and the other thing.'" Philadelphia semi-officially remained a business publication after Arthur's company took over, subtitled "The Magazine for Executives." In 1960, a reader wrote a letter to the editor asking, "I wonder why you refer to the Magazine as being 'for executives.' Does that limit your readership?" The staffer assigned to respond wrote, "We're in agreement with your objection. Of late, the magazine has been transcending its executive audience and building up additional circulation on the professional and governmental levels. We've kicked around alternative slogans and toyed with substitute words like 'leaders' and 'influentials' but have not come up with any that rang the bell."
Philadelphia still published corporate board photospreads well into the sixties, but its birth as a consumer magazine occurred with "Lurid Locust Street: A shocking report on Philadelphia's sin center," written in October 1961 by Gaeton Fonzi. Alternating between descriptions of Locust Street and The Way It Used To Be, Fonzi wrote in sixties magazine jazz with vignettes of rich downtowners buying champagne for high-class hookers soliciting prospective johns: "A husky redhead who had stepped from the stage after rasping through a series of old standards approached the man. 'Waiting for someone?' she asked. Disillusionment had begun to set in." Afterward, the magazine began to assume a role as a white-collar version of Rolling Stone, chronicling a loosening of morals and rising of counterculture and the civil rights movement with something between fascination and worry. Fonzi became the closest thing the region's leaders and influencers had to Hunter S. Thompson, his stories about politics and the newfangled Playboy clubs sandwiched between articles like "You Can Still Make a Million" and exposés of sly tactics of life insurance salesmen. In 1966, Fonzi wrote "The Marijuana Thing," Philadelphia's version of the then-nationally ubiquitous weed article and the magazine's first acknowledgement of counterculture's existence. He interviewed college students who got high and wrote in the language of a detached, scouting anthropologist letting parents know what their kids were up to.
"We did stuff that was outrageous. Even I was scared to death," Lipson said, mentioning an article about group sex on the Main Line. Like Lipson's knowingly egging columns, it often became difficult to tell if the magazine was being satirical or serious or both at once. Fonzi's epic stories on the Warren Commission and Walter Annenberg were serious; "Ripping Off The Welfare State," a step-by-step guide "for the gainfully unemployed who have managed to shuck the Puritan Ethic and are oblivious to the social stigma of having someone else earn your living for you," was satire pointed in a weird direction. Others were unclear. "A Millionaire's Guide to Christmas Shopping," with its recommendations for where to buy cigars for your banker and which safari your nephew might like, could as soon be read as a jab at the super-rich or a useful buyers' guide, or both.
Over the following decade, Philadelphia got enough attention that by the seventies, issues ran upwards of two hundred pages a month and continued to grow in circulation. "No other advertising medium in this region has a greater concentration of affluent and influential readers," Lipson would later write in a letter to readers, ultimately settling on the "influencer" title. In 1971, propelled by the success of Philadelphia, Lipson purchased another chamber publication in Boston and created Boston magazine, which is also still run by Metro Corp.
Lipson and Halpern spent the seventies publishing screeds against Mayor Frank Rizzo, whose villainy reached comic-book stature, and fretting over increasingly brutal trades unions and the ever-relaxing mores of the day's youth. Meanwhile, the service packages that have since become the cornerstones of most urban glossies began to appear: "The Best and Worst of Philly" was first published in 1974, adopted from Boston, while the first version of the Top Docs feature was introduced in 1977. Within a couple of years, service pieces — "How to Be Single, with 10 Great Pickup Lines"; "The Ten Safest Suburbs"; "20 Great Summer Vacations" — began gracing the cover of nearly every issue.
The seventies ended with the greatest population loss in the city's history: Suburbanization reached a peak; the good jobs finished leaving; crack arrived; and the unwinding began. But the worse it got in Philadelphia — aside from the occasional eruption of racial anxiety, like a piece published that same year, "Is Philadelphia Going Black?," which grimly predicted the growing black population of the city over the coming decade — the better it was in Philadelphia. In 1979, the magazine published one of the first of many packages on home buying, called "The New Philadelphia: Get it While it's Hot!," a prospectus for and about young home buyers moving into West Philly and Center City. "What was a well-kept secret has blossomed into a renaissance,'" it said. A few years later, in 1982, it prophesied "18 Ways You Can Profit From the Coming Boom," reporting that "builders, investors and businessmen are convinced that a vital, new Philadelphia will reposition itself as the primary metropolis of the Middle Atlantic and discard its reputation as just another secondary or tertiary city in the Northeast."

Who were the inhabitants of this new Philadelphia? They were, according to one piece titled "The New Philadelphians," a suited neo-Organization Man with a Burberry scarf draped on one arm and a girlfriend draped on the other, looking down at a geezer in his armchair reading the defunct Bulletin. "Something exciting is happening in Philadelphia," the article began. "Over the last ten — and particularly the last five — years, New Philadelphians have been arriving in record numbers. These talented newcomers are the sort who view the world as a horse race and themselves as leaders of the pack."
By this time, the magazine's audience of upper-crust readers increasingly lived outside of the city and in the suburbs. But the steady suburbanization of the city's white population and the magazine's focus on that demographic created a dissonance between the name Philadelphia and its suburban, expatriated audience. In another 1982 piece, titled "Bury My Heart at the Tacony-Palmyra Bridge" (and subtitled, "You can take the lady out of Philly, but you can't take Philly out of the lady"), Pamela Erbe, a suburban-born writer, recalls her childhood of molting her Philly-region accent — one that is as elusive to transliterate as it is to impersonate — and she reminisces on Philadelphia's essence after her departure from a brief time living here in her twenties. Her essay is one of the clearest expressions of tension between suburbanite-cum-urbanites' desire for deluxe amenities while maintaining a nebulous notion of urban identity I've ever read:
Some people used to say that what was uniquely Philadelphia was its image of itself as a loser. They said the city's character developed out of lousy athletic teams, lousy restaurants and a lack of any culture…Nobody wants to return to the days when the only decent food in town was served at home. The boom in entertainment is nothing but a plus. And it's great to have the Phillies, Eagles and Sixers recognized as good teams…But neither do I want Philly to become so homogenized that it's nothing more than New York South or Washington North, and 'Philadelphia Style' is just recycled Soho Chic or Georgetown Panache. When I miss Philadelphia, I, like every other expatriate I've ever talked to, miss those things that make Philly Philly.
Erbe's essay is something of a rough prototype of every identity story the magazine would go on to publish over the next thirty years: To affluent and aspirational whites, Philadelphia was the accent, it was the Mummers (a local Mardi Gras-on-New-Year's parade), the Italians (for their food), the "Stores with Funny Names," Connie Mack Stadium (now demolished). "Most of the stories [today] are the stories we created years ago," Ron Javers, who was editor at that time, told me. He was referring specifically to the service pieces, but Philadelphia began to reiterate not just restaurant guides, and not just stories about singles, children, developer profiles and true crime, but a particular narrative of the city, one of young pioneers rediscovering the allure of urban charm. Throughout the eighties, alongside features on careers and the social scene, the magazine published a monthly one-page featurette called "The Real Philadelphia," the words backgrounded by a silhouette of the then-dwarfed skyline. The Real Philadelphia was the city of Erbe's memories, nostalgic for the present — corner stores, the Ben Franklin Bridge, Rittenhouse Square, and other miscellanies from the mise en scene of urban life.
Over the next two decades, the Philly explosion continued in the pages of the magazine. "Philadelphia's High Renaissance is upon us, a flowering seeded in but far surpassing the proto-renaissaince of the '70s," a food package said in January 2000. There were booms in tech, the magazine telling readers how to "GET RICH QUICK!" There was talk of "prices gone wild" in the housing market and "teens gone wild" in the suburbs. The New Philadelphians brought capital to a new kind of skyline: "Those moving into apartments are the first generation of outsiders lured by reporters of renaissance." The magazine profiled the developers of the high-rises as the New Philadelphians began scouting Fishtown as the "Philly 'hood that promises to be the next Northern Liberties" and the restaurateur Stephen Starr built cafeteria after luxe cafeteria to feed them all.
If one had read nothing but Philadelphia, they would be forgiven for not knowing that somewhere in all this — after the bond market crashed and the rate of incarceration grew so wildly that local prisons overflowed and the plan to GET RICH QUICK burst with the rest of the first internet bubble — that the prices gone wild in the housing market beckoned the global financial system to a state of near collapse, causing a diffuse local mayhem and whisking away the lives of large numbers of Philadelphians.

In 1975, Lipson started a weekly paper called the new paper, the magazine's answer to the idea of an alt-weekly. It lasted only a few issues before it folded; in 1991, Javers recalled its brief life, writing, "I've always thought the problem with the new paper was that it was ahead of its time. It was designed to attract Center City yuppies. Trouble was, there were no yuppies in 1975, only a few handfuls of urban pioneers slowly seeking to regentrify (hate that word!) city neighborhoods that had fallen on hard times."
Philadelphia's sprawling web operation is something of a delayed fulfillment of the new paper's attempts to create a media space specifically for these so-called urban pioneers of New Philadelphia — essentially the magazine minus the suburban coverage and on a non-monthly timeframe. Between the beginning of the "High Renaissance" in 2000 and when the magazine's internet and social media strategy launched in earnest in 2013, Center City and "up-and-coming" neighborhoods from river to river were filled with the contemporary equivalent of the yuppie, the Young Person in an Ethically Produced Hoodie, providing the long-awaited audience for thirteen different verticals. Each one reads like a streaming extract of standard Philadelphia topics, distilled on their own blogs, and all of it written in the crisp, irresistible language of the internet — the dialect of "here's why" and "X Things To Know About Subject" and so on. "What we've done is try to do a real mix on Facebook," Haas, Philadelphia's director of digital operations, told me. "We're like half news there and half service from the other channels. Certain things, like a lot of in depth and political type reporting and that sort of stuff, doesn't travel very well." What does work, though, "is a lot of identity stuff, like what we call Philadelphia identity."
Haas pointed to a few pieces, including "The 25 Most Beautiful Philly Streets" (a list of streets); a piece about the imminent renovation of the Gallery, a lower income mall in Center City that other writers on the website had been clamoring to close for some time ("One hailed as a cornerstone of a Philadelphia renaissance…" the dek began); and a piece about a cookie factory in the Northeast closing, taking with it the smell of sweet gingersnaps. "What we try to figure out is, How do we make this snappy and worth clicking on but also giving it enough context," Haas said. "Ithink the overall strategy is trying to put out the stuff that draws the community together, and by that I mean, through this identity stuff."
The specter of Erbe's essay floats throughout the site–in a piece about how far Rocky would have actually run had his iconic last scene been transposed onto an actual map of the city; in a humor piece about using different Philadelphia landmarks, like the sports stadium, to house the papal pilgrims. In 2014, "Why the Philadelphia Accent Is So Fascinating" looked at recent national press about the Philadelphia accent and a Penn study of its gradual disappearance. "The findings, which only apply to white Philadelphians 'with deep ties to the city,' are interesting: The change in accent is happening among Philadelphians regardless of background or education level, language change is primarily driven by women, and the Philadelphia accent — once the 'northern-most southern city' — is shifting to be more like Northern U.S. cities."
"Yes, Philly, we're starting to sound more like New York and Boston," it read, Erbe's fear of the city's homogenization finally realized. "I know. It's enough to make you want to get off the pavement and run screaming through the shtreets."

The question that loomed for more than a decade over Philadelphia media was perhaps definitively answered when Lenfest handed his dailies over to nonprofit and City Paper died. That the dailies are now a non-profit is perhaps a technicality after having operated like one for some time. They will continue to struggle while trying to cover the city, the alt-weeklies will rest in peace, and Philadelphia will chronicle the city less as a place than as an idea. "Who reads Philadelphia Magazine, and why?" an editor wrote in 2000. He offered a profile: "Power players, suburban moms and dads, hip Old City types, opera buffs, Flyers fans, fashion victims, Philadelphians in exile (a surprising chunk of our subscriber base), and anyone else who cares about our city and region. This magazine is for you. And about you."
In my interview with McGrath, I had asked him if he felt Philadelphia had new obligations with its newfound prevalence in our daily stream of local information. "We've always as a publication tried to be relevant to what's happening in the city and what's happening in our readers' lives, and that mandate remains exactly the same. Does it mean that now that we're covering things daily that we're going to cover, I don't know, a neighborhood meeting, well, anywhere?" he said. "I think the DNA of the brand is unlikely to change."
Photo by Pat Belanger