Why Be a Renter When You Could Be a Sharelord?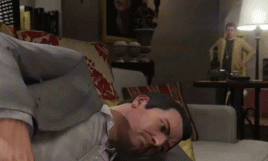 Given mounting to opposition to Airbnb from various, disparate parties, one might reasonably ask how the company will fulfill its grander ambitions of making it so that "every person in every country can stay with someone on Airbnb," and in the process, push forward a "broader evolution in capitalism," in which one's property and time become assets from which value can be unlocked by app middlemen, allowing you to maintain your ever-tenuous class position.
While the Home Share Lobby works on transforming government policy so that it is more favorable to Airbnb, the company is taking a more straightforward route with an opposition group motivated more directly by self-interest: landlords, who currently don't get a cut of the revenue their tenants receive for renting out the apartments that they own. According to Bloomberg, Airbnb is "reaching out to some of the largest U.S. apartment owners with the aim of working out a deal in which tenants can rent out their units through the website — and have their landlord's blessing."
Any agreement would probably include some kind of revenue sharing, giving landlords a cut of income the tenants earn from renting out their apartments, said Rick Haughey, vice president of industry technology initiatives at the National Multifamily Housing Council. Negotiations would need to reassure owners that they'd have a say over what happens at their properties.
… Partnerships between Airbnb and landlords initially would be limited to markets where the legality of short-term rentals isn't in question, the person with knowledge of the discussions said. That would rule out New York City for now but possibly include cities that have passed home-sharing regulations, such as Philadelphia; Nashville, Tennessee; and San Jose, California, according to the person.
This is only logical: If we arrive at the point where everyone is Airbnbing their apartment — or least thinking about it — the only possible result is that landlords begin baking that assumed income into the rent as a more complete assessment of their apartments' value. If Airbnb signs deals with landlords, it would formalize such an arrangement and remove the lingering ambiguity that many hosts face about the legitimacy of their enterprise — and, in some cases, the risk that they might lose the very home they're trying to keep.
But going a little further, one might ask: What does a slightly more efficient Airbnb look like? Who or what, given sufficient time or policy or technology, is less necessary than other components? For Uber, which efficiently allocates things in need of transit into empty car seats, drivers are openly a stopgap until driverless cars are ready sometime in the next fifteen years. Airbnb, viewed abstractly, efficiently distributes travelers into empty, extant rooms or homes, extracting value from underutilized space. Strictly speaking, the permanent tenants of those homes are not necessary, only the space. In the case of apartments it would seem more efficient for Airbnb to deal directly with a property owner than to sublet the space from a tenant. But removing tenants from the chain, however efficient, contradicts with not just the entire thrust of Airbnb's current PR campaign for home-sharing — that it provides an economic lifeline to the middle and working class — but the policy goals that it is working toward, which would enshrine the right to share the home in which you live, whether you own or merely rent it.
Priorities shift though. Right now, at least rhetorically, much of Uber's advocacy is around jobs and drivers, who leverage their time and vehicles to transport its users. (Uber even provides loans so that people can buy cars to become Uber drives!) But it's clear, even today, that it will abandon them as soon as it is able to. In fact, it's hard to overstate just how radically driverless cars will transform Uber: Currently, not a little of its value is predicated on how much of its infrastructure it doesn't directly employ or own — meaning that it is very efficient — but a driverless world seems to all but require that Uber own or directly control its entire fleet.
Airbnb is slightly more opaque about its future, but there are probably hints in CEO Brian Chesky's recent obsession with the hospitality industry, detailed in a Fast Company profile last year that also discussed the company's hire of boutique hotelier Chip Conley:
"Our business isn't [renting] the house," Chesky says. "Our business is the entire trip." His idea is to create a portfolio of new services that make the Airbnb experience more consistent from stay to stay, and that can generate lots and lots of additional revenue. One starting point: a cleaning service that will offer fresh sheets and towels to Airbnb proprietors. … Chesky's first directive to Conley was to create a set of hospitality standards that could make the Airbnb guest experience more reliable. The aim was to figure out which baseline comforts Airbnb ought to offer guests, while embracing the unique, local, and often unpredictable charms its hosts provide on their own. In November, Conley rolled out nine such standards for hosts to follow. Some, like pledging that a listing is accurate, are general to the point of blather. But others specifically address cleanliness and appropriate ways to interact with guests.
Standardized hospitality and consistency, which would make Airbnb more hotel-like, seems to preclude the individuation of millions of regular, middle-class people sharing their homes, and points toward the ideal host being something between a landlord and a hotelier — or even toward Airbnb more directly controlling properties, even if much of its current value, like Uber, is tied up in the idea that it doesn't actually own property. Then again, part of the pitch behind WeWork — the terrifically conventional real-estate company disguised as a startup which leases property, adds amenities like beer kegs, then sublets it to tech workers at a premium — has been that it is "asset-light," meaning it owns no property, and yet it is now in the process of developing one. Which is all just a way saying it wouldn't be so surprising if, in the next couple of years, Airbnb opens something like a "model hotel," not unlike Amazon's physical bookstore.
More broadly though, there's a lot of property out there that could be developed into a fluid-use space, and whose value could be more thoroughly extracted if its usage and occupancy were allocated and distributed through a platform. Right now, cities largely make those decisions through permits and other regulatory frameworks; a loosening of that regime would, at least in the short or even medium term, make those properties more valuable by allowing platforms to take over that role. This is exactly what Airbnb is arguing about private homes after all: That cities — or even landlords — should not have the right to prevent the people who live there from doing whatever they want with it, like subletting it whenever they're out of town for a weekend. Now extend that argument to every building in every desirable location, their utilization maximized through a platform: Wow, they all seem so much more valuable now.
Who knows though? It's hard to predict what happens if we throw, like, traditional notions of the government enforcing property rights out the window and grant that to a large, ascendant middleman, because that's precisely when things get weird. But one suspects there's probably never been a better time to own a little piece of property in the heart of a very cool city.