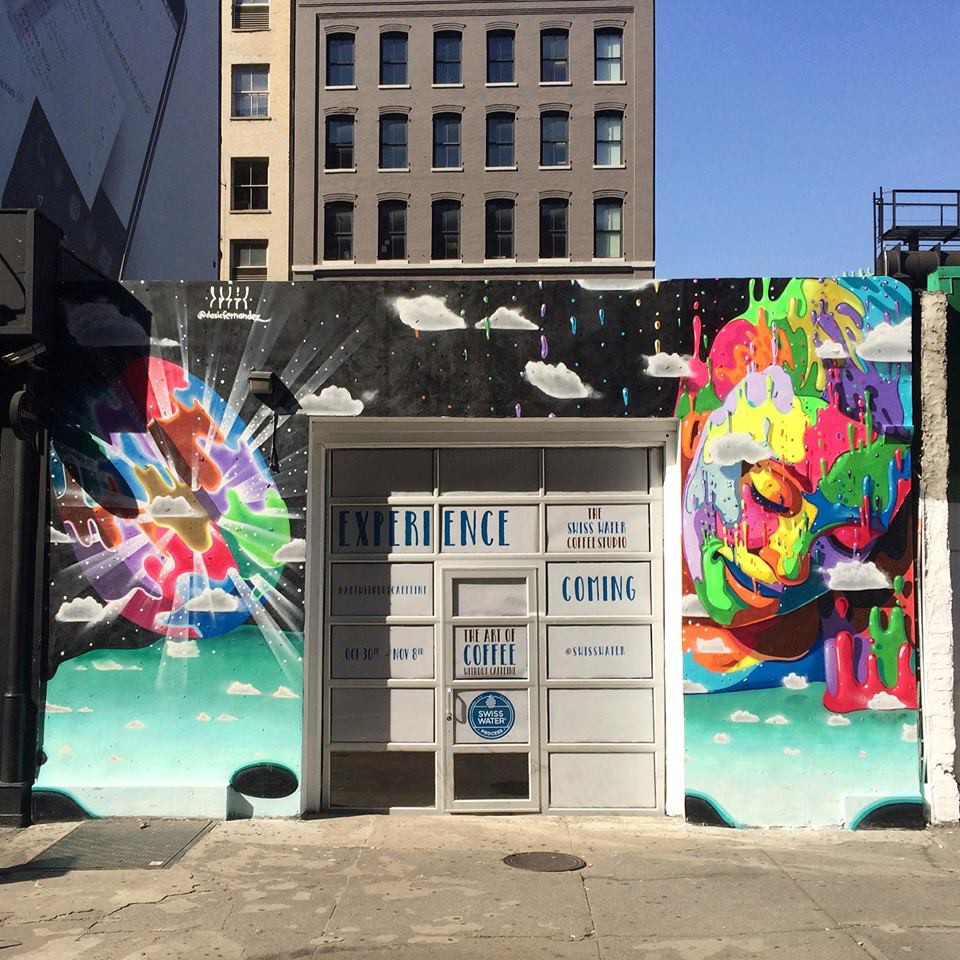 The isolated environments of islands often result in strange ecological outcomes. In the Galápagos, it produced giant tortoises; on the Indonesian island of Flores, a race of hobbits evolved; and on the island of Manhattan, human intervention and redevelopment has virtually wiped out the once-common gas station. But ecological niches are a funny thing, and decaying remains often prove to be fertile ground for new life: From the corpse of one gas station in SoHo, at 300 Lafayette Avenue, a tiny pop-up coffee shop has emerged.
But this Branded Cafe Experience is not like other Branded Cafe Experiences, because it is not advertising a product that you can buy, like Cafe Bustelo, a "bold blend…roasted and ground from the finest coffees in the world" with "no fancy equipment needed." No, the Swiss Water® Coffee Studio, where you are "invited to experience the Art of Coffee Without Caffeine," is attempting to turn a decades-old industrial decaffeination process into a Brand. It is a pure Branding exercise because the caffeine-averse consumer cannot Swiss Water® decaffeinate their coffee, they can only look for the Swiss Water® Brand on bags of already roasted coffee. The essence of this Brand is that this decaffeination process is superior to others because it doesn't use chemicals and is organic — coffee beans are soaked in old coffee water repeatedly to get the caffeine out while maintaining a semblance of the coffee's original flavor — and if a fancy coffee roaster offers decaf, it has almost certainly gone through the Swiss Water® process.
The Swiss Water® process is in fact, "the world's only branded decaffeination process," according to the Ten Peaks Coffee Company, the Canadian company which owns "all of the interests of the Swiss Water Decaffeinated Coffee Company Inc." and is traded on the Toronto Stock Exchange. Since the Swiss Water® Coffee Studio opened on Friday, Ten Peaks' stock has dropped ever so slightly, but there's still a whole week left to experience its Brand, and the outlook for the company and its Brand is quite strong:
We have been successful in establishing our brand as a leading chemical free processor of green decaffeinated coffee. We actively support our brand through targeted regional media, print, public relations and event marketing, and via in-store communications. As a result, consumers and participants in the coffee trade are increasingly aware of the chemical free SWISS WATER® Process and the value it delivers through superior quality and taste. We believe there is significant potential to continue to broaden consumer awareness of the benefits of the SWISS WATER® Process.
But the Swiss Water® Coffee Studio is merely a beautiful cocoon for the Brand that will one day emerge at 300 Lafayette, an eighty-thousand-square-foot "FLAGSHIP RETAIL AND BOUTIQUE OFFICE DEVELOPMENT AT THE PRIMARY GATEWAY TO SOHO," whose "DESIGN IS INSPIRED BY PRINCIPLES OF 'BIOPHILIA,' MEANING PEOPLE FEEL GOOD WHEN THEY ARE CONNECTED TO NATURE" which will make it an "ICONIC BUILDING [that] REPRESENTS AN EXTRAORDINARY OPPORTUNITY FOR A WORLD CLASS INTERNATIONAL BRAND."
The Brand Circle of Life is never broken.
Photo by Swiss Water Coffee Studio