by Alice Bolin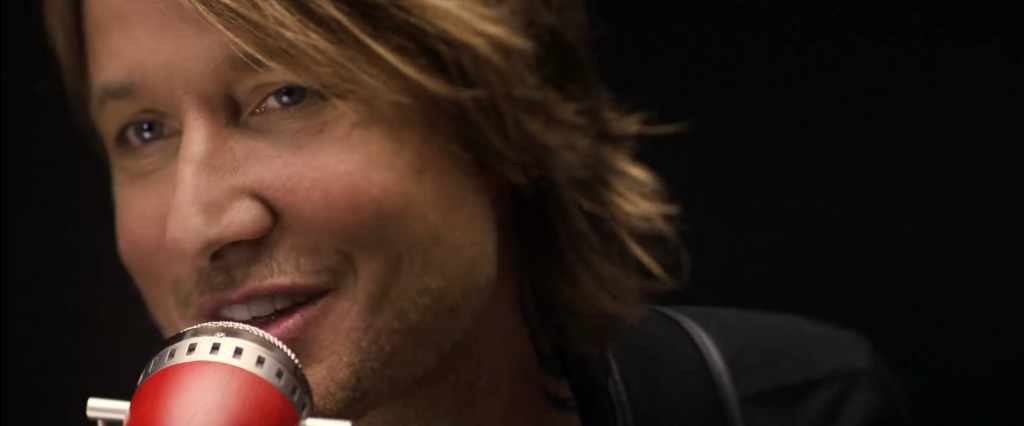 At the CMA Awards on Wednesday, John Mellencamp sang his classic "Pink Houses," joined by the Australian singer Keith Urban, who politely shredded the guitar (in a women's blazer and a wifebeater) and helped Mellencamp to question if that ain't America. This was the most meta performance of the night, and "Most Meta Performance at the CMA Awards" may be a niche honor, but Urban has certainly never won it before.
They were partly sending up Urban's "John Cougar, John Deere, John 3:16," country radio's best and dumbest no. 1 hit this summer. The song's lyrics are a brocade of American kitsch, including John Wayne, Superman, rock and roll, Gibson guitars, Marilyn Monroe, and "American Pie." The title so elegantly and obviously brings together the three most conspicuous influences on contemporary American country radio — dad rock, the American farmer, and Jesus — that the natural reaction to it is to giggle.But there's something beautiful about using ideas that are so lazy — about not being satisfied with one cliché, but hungering for them all.
Recently, I talked to a friend who listens to country radio too, and I tried to bring up "John Cougar, John Deere, John 3:16." "I don't listen to Keith Urban," she said.
"Even if he just comes on the radio?"
"I turn the radio off."
Urban trades mostly in the schlocky, over-produced stadium rock that makes modern country radio hopelessly boring. More women have infiltrated the country charts after a three-year dry streak in which no solo female had a number one single, but most contemporary country is still made by hard-to-distinguish white guys like Urban in denim button-ups, exploring uncontroversial subjects ("small town living is nice"; "cancer is bad"; "it's great to relax on the weekend with Brand Name Alcohol™") that aren't hard to be sincere about. The number-one single on the Hot Country Songs chart for nearly the entire month of October was Luke Bryan's fourteenth number one hit, "Strip It Down," a trite, lugubrious love song where Bryan longs to make love "like it used to be/When it was an old back road with an old school beat/Cowboy boots by your little bare feet."
"John Cougar, John Deere, John 3:16" was written by three Nashville songwriting fixtures, Shane McAnally, Josh Osborne, and Ross Copperman, who have written twenty top ten singles between them, and for whom it was probably an easy retread of subjects they've covered many times before. But pairing the song with an Australian singer made both "John Cougar, John Deere, John 3:16" and Urban more interesting. The song's aggressive pastiche of nostalgic American music feels more self-conscious and bizarre — more, in fact, Australian. Australia's entertainment exports, including Kylie Minogue, Hugh Jackman, and Olivia Newton-John, often exude a presence that is energetic, corny, colorful, and weird.
This same Minogue-ian flamboyance lends "John Cougar, John Deere, John 3:16" the quality of a song from a musical — it is self-consciously comic while still seeming sincere. The song isn't a parody, but it is a broad attempt at a genre that ends up a little more polished than its model. The lyrics at times are too winking, like when Urban sings, "I'm Mark Twain on the Mississippi / I'm Hemingway with a shot of whiskey / I'm a TV dinner on a tray trying to figure out the Wheel of Fortune." When I hear the song, I picture Courtney Act — the beautiful, crazy-eyed drag queen from season six of RuPaul's Drag Race, who insisted many times that she was "a household name in Australia" — belting it out in star-spangled chiffon.
Or I hear it in Lana Del Rey's NyQuil croon, as she sways, eyes closed, under the stage lights. Some lines from "John Cougar, John Deere, John 3:16" sound straight out of the Lana Del Rey songbook, especially Urban's invocation of "Marilyn Monroe and the Garden of Eden." (Del Rey once traced her lineage by singing, "Elvis is my Daddy, Marilyn's my mother, Jesus is my bestest friend.") Icons of American pop culture are everything to Del Rey's self-constructed persona, which is a mid-century throwback either to the girl on the back of James Dean's motorcycle or the girl in a corner of a beatnik coffee shop. She enacts an American identity where the imperative is to "be young, be dope, be proud." Or as the forty-seven-year-old Urban puts it, "Never grow up, never grow old."
Every performance is a fantasy: Del Rey acts like she's in one of those sixties songs about the Homecoming Queen who dies in a car crash, while male country singers' names sound like they're drag kings or male strippers: Brantley Gilbert, Easton Corbin, Dierks Bentley, Chase Rice, Cole Swindell. (Though, of course, Urban's name should by rights be Keith Rural.) They're all living an American gender dream. Country's king of macho patriotism is still Toby Keith, who famously sang in 2001, "We'll put a boot in your ass / It's the American way," making him our popular representation of the early-aughts warmongering butthead. He has trademarked a type of American masculinity that exposes it for the campy farce that it really is. Even his look — the cheap, truckstop cowboy hat and all those bracelets — is cartoonish.
That's why I've come to like Toby Keith, or at least feel some pathos towards him. His songs, even at their most sad-faced and somber, are country burlesques more comical than "John Cougar, John Deere, John 3:16." In "American Soldier," he sings, "I'm an American soldier, an American… When liberty's in jeopardy I will always do what's right / I'm out here on the front lines, so sleep in peace tonight." His "America" songs have the subtlety of a patriotic baton routine in a child's beauty pageant, and there are so many of them: "American Ride," "Made in America," "Courtesy of the Red, White, and Blue (The Angry American)," "The Taliban Song." If you look at it sideways, the jingoism dissolves into charming theatrics: If Toby Keith is anything, he's flamboyant. But what do you do when your persona becomes a product, and your drag — the blonde mullet, the frat boy jewelry, the spray tan — becomes all you are?
You lean in, and exploit your brand ever more shamelessly; self-parody is a career hack if there ever was one. There are twinkling indications that country radio's first interesting moment in years is upon us — the genre's most innovative artists are actually doing country rap pretty successfully. If one is going to cling to conservative, white guy ways, they should learn from Toby Keith about exaggeration and exuberance, about the sweet spot between laughing with and laughing at. Urban used to be mostly notable for being the country star who is least distinguishable from his Madame Tussauds wax figurine, but with "John Cougar, John Deere, John 3:16," he realizes all of Keith's kind of country potential. He can babble in the song about being "just another rebel in the great wide open on the boulevard of broken dreams" and still come to a full revival tent conversion in the song's bridge, urging listeners that "there's only one way home." Every performance is a fantasy. And ain't that America.