Some WeWorkers Are More We Than Others
by Brendan O'Connor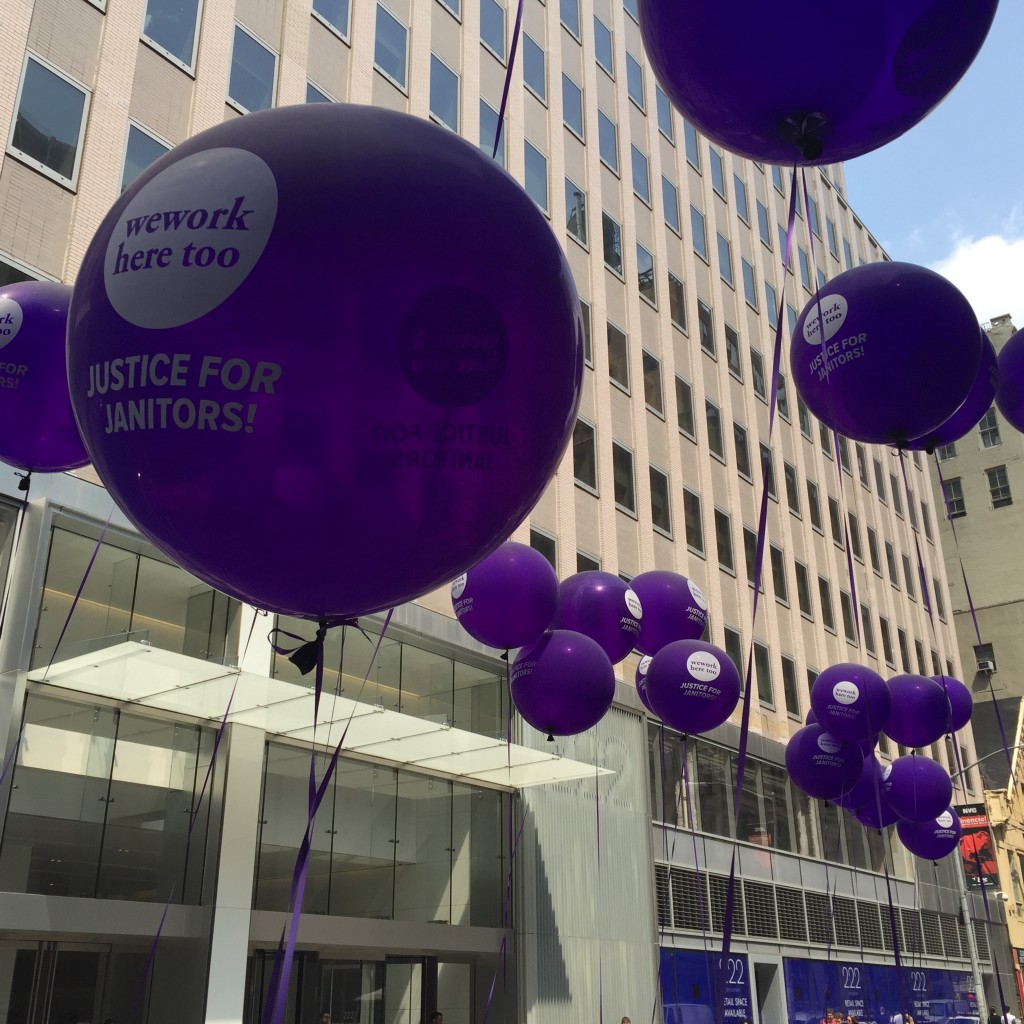 In late August, nearly one hundred office cleaners at WeWork locations throughout Manhattan lost their jobs after they began protesting unfair working conditions. The office cleaners were not employed directly by WeWork, a multi-national co-working startup valued at ten billion dollars; rather, they were employees of a cleaning contractor called Commercial Building Management. Such arrangements insulate employers like WeWork from having to negotiate with unionized labor, and makes organizing such workplaces difficult. The CBM cleaners at WeWork's offices in New York were making eleven dollars an hour or less, without benefits; according to SEIU-32BJ, the service workers' union, the prevailing wage for unionized office cleaners in New York is twenty-three dollars an hour, with full benefits.
The cleaners — some of whom had worked in the WeWork offices for three years or more — went public with their union organizing effort on June 18th. A week later, CBM told WeWork that it would be terminating its contract with the company in New York City, effective August 23rd. (CBM is still WeWork's cleaning contractor in Boston and Washington, D.C.) At the beginning of August, WeWork announced that it was creating "approximately" one hundred new positions in the New York "community team," referred to as Community Service Associates (CSAs) and Community Service Leads (CSLs), in anticipation of the CBM cleaners' impending absence. Starting wages begin at fifteen dollars per hour for CSAs and eighteen dollars per hour for CSLs. All CSAs and CSLs are to receive healthcare benefits, a 401(k) plan, and equity in the company, "consistent with WeWork's vision that every employee should have an ownership interest in WeWork."
More than one hundred twenty cleaners were employed by CBM at WeWork's New York locations. "We will be interviewing all CBM employees and we expect that a number of the current CBM employees will meet the qualifications for these positions and begin exciting careers with WeWork," WeWork's press release announcing the new jobs said. When CBM's contract ended on August 23rd, the cleaners lost their jobs; the next day, 32BJ filed a complaint with the National Labor Relations Board against WeWork, charging that the company had refused to rehire "approximately 100 janitorial employees because of their support for the Union."
(In a statement disputing the union's account of the summer's events, WeWork claimed, "For months we have been studying how to bring in-house various functions." And not a moment too soon: The National Labor Relations Board, which enforces the National Labor Relations Act, ruled last week to broaden the definition of "joint employer," rendering employers who use contract workers more accountable for their labor practices. There was much weeping and gnashing of teeth in the management-friendly press.)
August 23rd was also the last day of WeWork's Summer Camp, a weekend in New York's Adirondack mountains that doubles as both a company retreat for WeWork employees and a getaway for WeWork members. A New York Times piece on last year's Summer Camp reported that the trip offered WeWorkers and their guests a respite from the same old Hamptons grind:
"I'm sick of just going to the Hamptons, with the same people doing the same things," said Margot Vitale, 23, a merchandising assistant at Saks Fifth Avenue. She attended Summer Camp with her friend and University of Southern California sorority sister Olivia White, 23, who runs a bedding company called 41 Winks out of WeWork's SoHo West offices. "I'm planning on meeting my husband here," Ms. Vitale said with a laugh.
Adrian Winn, 31, was wearing tattoos on his face and body and holding Super Soakers filled with vodka and a brown Afro wig he wore on and off during Camp. "I'm getting into as much trouble as humanly possible," said Mr. Winn, who was a co-founder of a company called Aura Social Technologies and works out of the WeWork offices on Fulton Street. "I spend my weekends in Montauk trying to get pretty girls to download my app."
According to Instagram — I think my invitation must have gotten lost in the mail — this year, a woman wrote haiku extempore on subjects of the passerby's choosing; there were tents in which to sleep and picnic tables at which to eat; and T.J. Miller from hit HBO comedy series Silicon Valley performed a set, as did The Weeknd. One attendee told me that he spoke to a WeWork employee who had attended Summer Camp the year prior and had so much fun that he decided to get a job at WeWork. "It was kind of like a fake music festival," this WeWork member said. Given the ongoing labor dispute, though, he felt some ambivalence: "The whole thing rubs me the wrong way."
This week, BuzzFeed reported that WeWork has so far only rehired fifteen cleaners formerly employed by CBM. The other positions have been filled with new workers; twenty five spots remain, for which candidates are still being interviewed. "I'm a big believer in what unions have done for this country," WeWork President and Chief Operating Officer Artie Minson told BuzzFeed's labor reporter Cora Lewis. "Some of my former family members were in unions." Earlier this summer, a WeWork executive allegedly threatened to fire any cleaner who attempted to unionize, and Lewis reported that none of the six rehires she had spoken to supported unionization. A union just wouldn't be right for WeWork (hmm), Minson said: "Independent voices among our employees go against everything we stand for as a company." Next year, those who are hired as CSAs and CSLs will be invited to Summer Camp.
He's not the only one: Nearly five hundred WeWork tenants have signed a petition being offered by the fired CBM workers who haven't been hired back by WeWork. "If the hiring of these new positions changes the demographics and composition of the workers, essentially what WeWork has done is made its labor practices more digestible by saying, 'These people are just like you, they speak the same language as you, and they receive stock benefits just like you.' It's a very nice package that allows a lot of people to quickly dismiss the ethical questions raised by the recent events: The immediate loss of around a hundred people's low-wage positions," one WeWork tenant wrote to me in an email. "It's classic 'there's nothing to see here.' It's almost dystopian."
In August, WeWork expanded into Brooklyn, opening up its first location in a made-up neighborhood called "Dumbo Heights," brought to you by Jared Kushner. WeWork is also going to be the anchor tenant at a six-hundred, seventy-five-thousand square-foot space in the Brooklyn Navy Yard. "On every floor of the building there will be two kegs," the company's mysteriously charismatic co-founder Adam Neumann said on Bloomberg's "Market Makers" while discussing the importance of networking over food and alcohol. "An interesting thing about our members is you will never see them abusing that," he added. WeWork is developing the Navy Yard building in partnership with two major players in the national real estate elite. "The $380 million project," Bloomberg Businessweek reported last month, "will be the first in Brooklyn for both Boston Properties, the largest U.S. office real estate investment trust, and Rudin, a family-owned company that's marking its 110th year in business." As it happens, Mort Zuckerman, the chairman and co-founder of Boston Properties, is personally invested in WeWork, and the company is developing its first "WeLive" residential apartments in New York at 110 Wall Street, which is owned by Rudin.
WeWork has been slow to release details about the WeLive project, initially developed at a WeWork-owned property outside Washington, D.C. As I understand it, WeWork wants to create an environment that anticipates and provides for anything and everything its tenants — and maybe, eventually its workers? — could possibly need: You sleep there, you eat there, and you work there. And soon, perhaps, you can play there, too: I'm told that WeWork is developing something called "WeWork Club" at its 85 Broad Street location in what was once Goldman Sachs' office lounge. WeWork, WeClub, WeSleep — and then we do it all again tomorrow.