Happy National Duck Out For A Drink Day 2015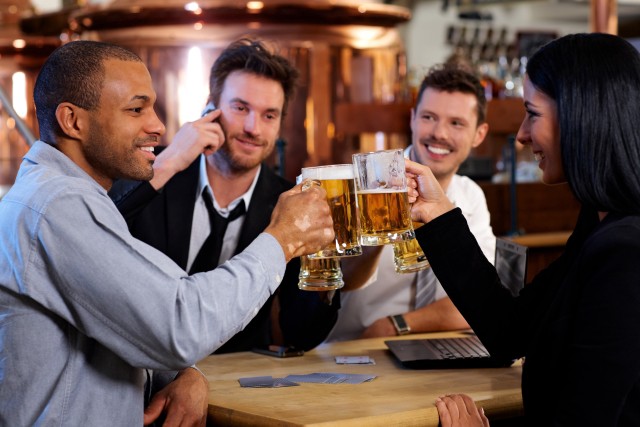 WHEREAS work is long, boring and especially difficult to take during the summer months when you could be outside, particularly when you consider how awful winter has been lately and will be for the rest of our lives and you're starting to realize summer is almost over, and
WHEREAS contemporary human existence is a mostly unrelenting series of trials and tribulations of varying degrees of unpleasantness, none of which means anything in the end, the only reasonable temporary solution that has yet been discovered for being alcohol, and
WHEREAS life is largely designed and directed by forces beyond your control and your lack of real agency may be the most frustrating thing about work, and
WHEREAS a national day of celebration in which colleagues sneak away from the office to nearby bar to have a few quick drinks to both alleviate their pain and briefly exercise some sort of power over their own time has been shown over the years to be one of the few bright spots in a calendar otherwise filled with soul-crushing ennui,
NOW, THEREFORE, I, Alex Balk, creator of a holiday designed to allow everyone to blow off just a few minutes of goddamned steam with a couple of shots or beers or maybe even a craft cocktail if that's the kind of thing you're into and you don't mind dropping $17 on something that a $5 slug will have the same effect as, do hereby proclaim Tuesday, August 25th, as National Duck Out For A Drink Day throughout the United States of America,
URGING AND DIRECTING all within its borders to take a few moments at some point during the day to run out alone or with colleagues and enjoy the temporary relief alcohol has to offer, remembering especially that if you go to the bar during work, it's like they're paying you to drink.
DECLARED AND AFFIXED BY ME HERE ON THE INTERNET, LIKE AND SHARE ON FACEBOOK AND INSTAGRAM AND TWITTER OR WHATEVER IF YOU FEEL LIKE IT (SOCIAL IS PRETTY IMPORTANT THESE DAYS), IF YOU'RE SOMEONE WHO DOESN'T OR CAN'T DRINK I GUESS JUST SNEAK OUT AND HAVE A SODA TO STAY WITH THE SPIRIT OF THINGS, REMEMBER TO BRING MINTS SO YOU DON'T GET FIRED WHEN YOU GET BACK, THANKS FOR ENJOYING THIS HOLIDAY EVERYONE, IF YOU DO DRINK DON'T DRIVE, ETC. Enjoy.