by Brendan O'Connor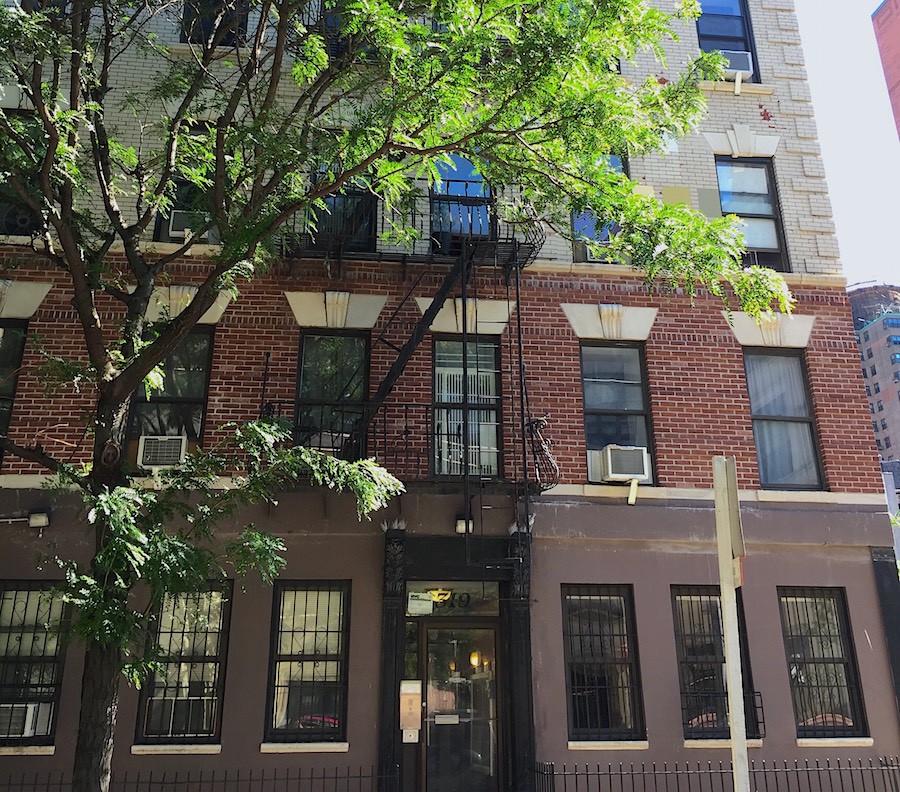 319 East 105th Street #1B
• $3,650
• Three bedroom / Two bathroom
• 1,300 square feet
• 6 train at 103rd Street
For the past nine years, Sharon Frazier, an artist and occupational therapist who lives in a rent-regulated apartment on the Upper East Side, has owned and rented out a condo in Spanish Harlem. Her current tenants are moving at the end of this month, and she's been looking for a new group of three to replace them. A couple of weeks ago, she was waiting for two sets of prospective renters to send her their financials. "They're really geeky guys. They're in their thirties. First or second jobs. They're new into the job market. Both really geeky. Geeky guys love my apartment. Maybe they just love the flavor of the Latin neighborhood. I just love these types: Bankers, young lawyers, financial guys. These guys were CPAs, financial analysts," Frazier told me. "They were both bidding on the apartment. I was just going to say whoever gives me the most stable financials gets the apartment." Both groups, however, ended up in Brooklyn. Frazier attributes this to a recent news article that reported that Williamsburg is the best place to get laid in New York City using Tinder. "They texted me back, like, We're really sorry Sharon, but we did this because it's better for our lifestyle," she said, shaking her head. "And they work in Midtown."
According to city records, Frazier bought the condo on 105th Street for almost five hundred and fifty thousand dollars in 2006. ("I realized the changes going on in Spanish Harlem early on.") Two years ago, she considered selling and almost immediately received an offer of nine hundred thousand dollars. On her bank's advice, she turned it down, given that an entrance to the (not entirely theoretical) Second Avenue subway line is planned to open just around the corner. "This is my banker telling me this: If you can at all hang on, and you don't have to sell, keep it, and you'll get one point five," she said. "I don't know if that's true." But she held onto it anyway.
As she tells it, Frazier has had quite a few adventures in her life. He father was in the army, and her family moved from Japan to Puerto Rico when she was four years old. When she was seventeen, they moved to New Orleans. ("Nawlins," she said with a drawl.) She moved to New York when she was twenty-six, for a job as an exhibit designer. "Didn't know a soul," Frazier said. "Lived at the Barbizon Hotel for women on 63rd. That's now an Equinox." She continued, "Then I met my ex-husband — I was married for fourteen years. We started a company, and now that's number two in New York. It's Brand X Editions. Very, very proud of it. They are the premier printing company for high-end artists. Like, Fortune 500 artists. Like Chuck Close. They're the sole printer of Chuck Close. They print Robert Rauschenberg, they print Helen Frankenthaler. I don't know if you know art, but these are — Helen's dead now, but she's like the most famous woman abstract expressionist."
An artist herself, Frazier worked out of a studio in Spanish Harlem, on 106th Street, for a long time before she was ever a landlord. "I was one of the first blondes to ever be up there. I met the Spanish mafia — a little short guy who told me, You're going to be protected," Frazier said, putting on a gruff voice and an accent. "He managed, like four city blocks. I forgot his name. The people I talk to know his name, and I always forget. A little short guy with a big scar. And he was Puerto Rican. And he was like, Okay. You're gonna be okay. And whenever you need car service, you go to — I guess he had like, a franchise or something, with the car service guys, he got a cut or something, I'm sure — you go out your building, you tell them during the day, you're going to be leaving at eleven o'clock, they'll be in front of your building at eleven o'clock. And they were. It was the beginning of Uber, in a way! At eleven o'clock, they knew that I worked there every day, and they would be out in front of my building and they would blink — it was really weird! — they would blink their lights on and off, and there would be a car there. Now, I'd pay for it, but he made sure — I only had to walk from my door to the cab."
Her studio was part of Taller Boricua ("Puerto Rican workshop"), a nonprofit arts organization founded in 1970 to preserve the cultural institutions of Spanish Harlem. "I was the honorary rubia. The honorary blonde. But since I had lived Puerto Rico, my Spanish was almost better than a lot of theirs. They're New York Puerto Ricans, so they speak slang," Frazier said. "Taller Boricua homesteaded — we, meaning the Taller Boricua group — we re-did this building that was just so dilapidated, so we were some of the pioneers up there."
"Spanish Harlem has grown and changed so much since then. The basketball courts used to be a huge drug kingpin dealing area. I couldn't even walk by there. Really West Side Story stuff. Rubia! Rubia! That means blonde. La rubia!"
Around the same time that she bought the condo, Frazier sold her shares of the studio building back to Taller Boricua, on the assumption that she wouldn't be able to maintain all three spaces: her studio; her condo; and her rental. "Now, I am an artist without a big studio," Frazier said with regret. "I was very spoiled." While she's currently looking for tenants to move into the condo this summer, in a year or two she may decide to move in herself. For now, though, she's focused on upgrading the space, as she does every time people move out.
The original plan was to move into the condo with her mother. It is a ground-floor duplex; her mother would have gotten the bottom floor, which has its own entrance. However, her mother died, and that plan was derailed. Frazier misses her mother, who was a realtor, and whose advice would be helpful in certain situations. "I have these questions! I don't really have to renovate a bathroom, but should I just put a shower in, or make the bathroom bigger? Do you really need a tub? Everybody seems to take showers these days," she said. "But some people like a tub to soak in."
Still, Frazier doesn't mind doing it all herself; in fact, she's proud of her successes in so many different realms, and especially as a woman. "You have to be so many things. You have to be empathetic to your tenants, and attentive. You have to not get defensive, you have to always listen. You have to go to Home Depot with your contractors and wear a hard hat, and work with your contractors to make sure that they're doing the right job, the right quality," she told me. "I learned a whole way of being soft and hard at the same time. You treat every contractor and every vendor with the utmost respect, but if they don't do a good job for you, you replace them. They think as a woman you don't know, or you're not paying attention. A lot of people don't. Maybe it has nothing to do with being a woman, but I find it to be a little hard."
"It'd be nice to have a partner to help me talk to the contractors. But I don't! So as a single woman, you have a whole 'nother job — it's like, I'm running a company over here, but I have a whole other job over here, that's a very intensive job, and then when I do start the projects of upgrading my property, usually in the summer, it takes over my whole life for a little while. Forget dating. You just have to say, I'll have to fit you in between the contractor and the plumber. They're like, What??"
Currently, Frazier says she's showing the apartment three times a day. "On occasion, I get a Latino, but, unfortunately, not often," she told me. None of her tenants have been people from the neighborhood. "Always people moving here. First jobs. Young professionals. They love the Spanish neighborhood, they love the ethnicity of the neighborhood," she said. "I think that the braver, or the more open people who are not afraid of an ethnic neighborhood, fall in love with it up there. I've known guys that have left my apartment and just gotten a one-bedroom right there with their girlfriend or whatever. They just like the neighborhood enough to stay." Frazier sipped her coffee and furrowed her brow. "If I had a lot more money, I'd buy some more New York real estate, in Spanish Harlem. I should have done it years and years ago."