Amazon Reviews of the Confederate Flag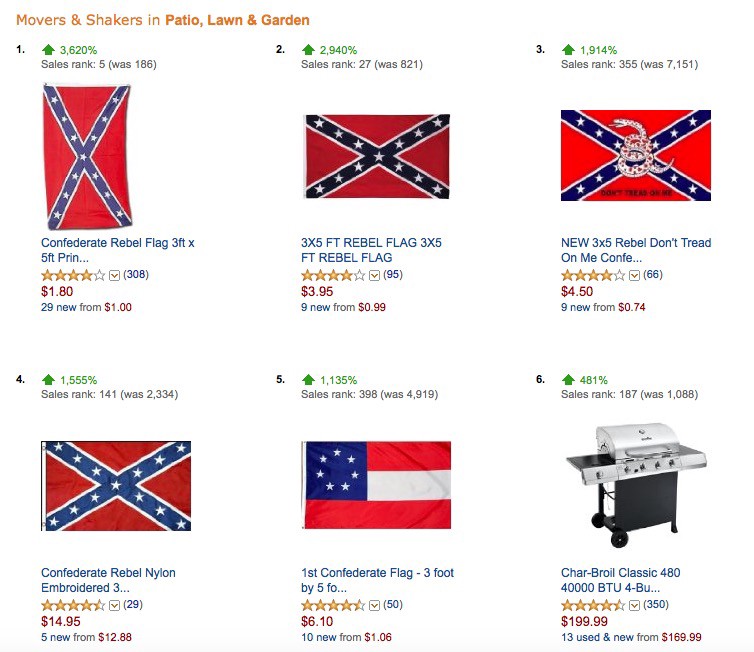 Before Amazon announced that it would be pulling confederate flag merchandise, five of the six top "Movers & Shakers" in Amazon's "Patio, Lawn & Garden" section were variations of the Confederate flag. In sixth place was a grill; behind that, two citronella candles, then, finally, a $5.80 Gadsden flag.
The most popular flags' sales were up 3,620 percent, 2,940 percent, and 1,914 percent. Here, for a glimpse into the buyers' motivations, are selected reviews of 3X5 FT REBEL FLAG 3X5 FT REBEL FLAG, which sells for $3.95.
I bought this flag for my son; for some reason, he is currently into this kind of 'decor'…thinks he is a redneck 😉 Not a racist, a redneck…he wants me to specify this 🙂 It was delivered fast, and was a better product than I expected for the money.
Bought it for my boyfriend for his birthday. He loved it. And still has it hanging in his room. Nothing wrong with it!
love the south it aint never coming down i love the south and this flag is perfect i love it ima buy another
Very durable and nice design. I wish they sold american flags. I put this flag on a flagpole on my truck and unlike the dozens of flags before it, this one doesnt fall apart when i drive 80 mph
Had to tilt it when hanging it up horizontally…nobody will notice except for me. I guess that's what $6 will get ya
The flag arrived on time, look just like the one on line. My son wanted it for Christmas to put on his golf cart. Order it, you will
be pleased.
This flag is cheap and crappy. It's almost tissue paper….
Do NOT buy this flag with any expectations of actually flying it more than 10 minutes.
we buy a few rebel flags before every summer because we fly them in our truck beds, due to the wind they get ripped up pretty fast so for a few bucks these are well worth it and they shipped pretty quickly!
great flag, risky to have in a dorm room but all in all provides great comedic effect
I Really think that the south should have won the war, if they had then that stupid colored pansy wouldn,t be our pesident
Very vibrant colors, nice symmetry on the flag. Save your confederate money, cause the south gonn rise again. Deo Vindice.
Trapezoidal not rectangular, I bought it to prove that the confederate flag doesn't represent slavery. It is one of the last flags that represent freedom. The south had a right to succeed from the union and the us didn't allow it. The north wasn't fighting to end slavery as much as it was trying to keep the south. My family is from the north side of the u.s., there are no slave owners, and if anything my Irish background was probably enslaved. Racism sucks don't buy into it and don't call people out for no reason racist. I have been called racist, it's not true. The true racism is the guy calling it.
i just got it yesterday and its amazing the packedgeing was small but its a big flag i have it on my wall
This was just as described. It is actually a great buy for the price of this flag. It is thin material, so it works well for an indoor decoration. We bought it to decorate my daughters bedroom. I think it would tear easily if flown outdoors though.
You get what you pay for. The flag is made of thin material. This flag is NOT made to be flown behind a truck, but it is good to hang on on a wall.
Beautiful showmanship of southern pride. Put it on the wall in front of the door as soon as you walk in. Looks great and everyone loves it!
I was just trying to find a large flag for my son and didn't expect for the price that this would be high quality, but it ended up a half way decent flag, the material isn't rather thick, but for the price it turned out fairly well and the kid is happy.
Perfect! It looks awesome on my dorm wall. Would definitely recommend it to a friend.
I love to fly this flag as ancestors before me have. Its sad though that so many people feel it means racism even though it does not. Would recommend this to any rebel here.
And, finally:
My husband loves his flags.