by Brendan O'Connor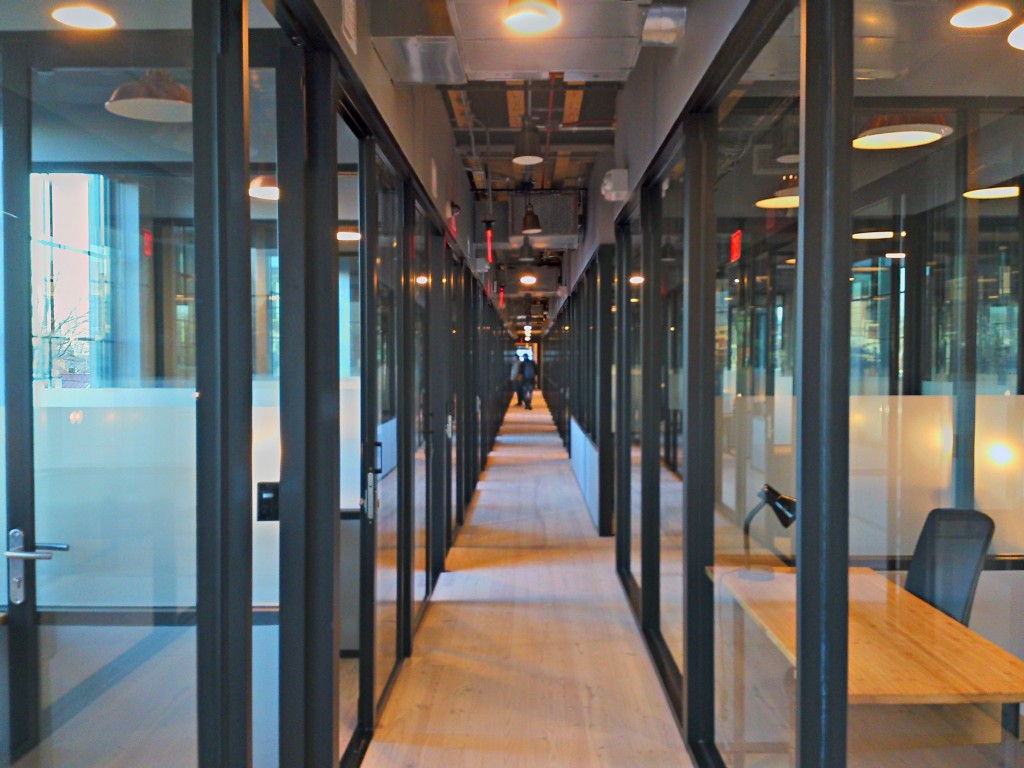 In December, the Wall Street Journal reported that coworking startup WeWork had leased around 1.6 million square feet of office space in New York. This made it the fastest-growing company by footprint in New York since 2010. In the months since then, WeWork has added nearly another half-million square feet.
"We take large spaces and cut them up into smaller spaces," WeWork co-founder and CEO Adam Neumann said in a TechCrunch Disrupt Q&A from earlier this week. The business is much more complicated than that, of course: It offers free beer at all of its spaces; there are couches, where people from all walks of life (who are members of WeWork) can talk to each other; and there's an app, a kind-of social network for members. In December, the four-year old WeWork closed a $355 million funding round at a $5 billion valuation.
"It's almost like you're a real estate company wrapped in this tech sheen," Bloomberg Television's Betty Liu pointed out in an interview with Neumann and early WeWork investor Mort Zuckerman, of Boston Properties, in February. "There is no real estate company that can become worth five billion dollars in four years," Neumann demurred. In other interviews, Neumann emphasizes the WeWork app as much as the WeWork space itself. "We don't have tenants, we have members. It's a month-to-month licensing agreement, we're not actually looking for long-term commitment," he said.
Whether WeWork is looking for a long-term commitment from its members or not remains to be seen, but they have certainly made one — several, actually — to landlords in the city. (WeWork did not respond to requests for an interview.)
According to a survey of recently signed leases in Downtown Manhattan by a NYC commercial brokerage firm, in February, WeWork signed a new, sixteen-year lease at 85 Broad Street, in the Financial District, for 233,174 square feet across six floors. WeWork is paying approximately $5.1 million per year for the lower three floors, at $44 per square foot, and approximately $5.7 million per year for the upper three floors, at $49 per square foot; cumulatively, WeWork is paying somewhere around $11 million per year in rent for the next five years. (It goes up after that.) Average rent in the area was $56.94 per square foot at the end of March, according to market analysis by CBRE, so market rate for this amount of space would be closer to $13 million. In other words, WeWork is getting a pretty good deal. (It is also getting the first fourteen months for free.)
A couple of months later, in April, WeWork signed a nineteen-year lease for the entire fourth through seventeenth floors — 180,000 square feet — of 1460 Broadway in Midtown. The same day, WeWork signed a fifteen-year lease for 140,169 square feet — all nine floors — at 315 West 36th Street in Midtown West.
The more conventional real estate world admires WeWork's rapid rise, but scoffs at its pretensions to being something other than it is. "It's not original in concept: they're executive suites. They've built on everyone else's successes, and taken it a step further," Jeff Nissani, a commercial broker at Marcus & Millichap, told me. Asked what their impact on the market has been, Nissani deemphasized WeWorks effect on rent rates. "Their impact is that it's very difficult for other executive suites to compete. Because they've capitalized so well, they can offer a much higher-end build-out." And, in turn, they can charge more for the space they provide: According to WeWork's website, tenants at the space on Broad Street will pay from $750 per month for a one-person private office to $3,900 per month for a six-person private office.
So far in New York, WeWork has fifteen locations in Manhattan and one "coming soon" in DUMBO. (In November, Forbes confirmed reports that WeWork would be the anchor tenant of a $300 million redevelopment in the Brooklyn Navy Yard, of which Boston Properties is a co-owner; it will have some 200,000 square feet of space there.) The Brooklyn market is ripe for the taking: "The demand for small office spaces is the highest it's ever been in the history of the borough," Christopher Havens, vice president of aptsandlofts.com's commercial division, told me. "When tenants call me looking for office space for one or two people, I say the chances are infinitesimal that they're going to find something. People just don't build offices that small. There are a lot of illegal subdivisions along the L train, east of the highway. But I tell clients, 'Go to a coworking space.'"
"The demand for small office spaces in Brooklyn is not physically satisfiable — not without new construction," Havens continued. "[WeWork] won't 'have an impact.' They're fulfilling a need — a desperate need. There's no space."

Neumann, who serves as the company's public face, grew up on a kibbutz. "A kibbutz is a failed social experiment that happened in Israel," he says in a video from a Q&A at this year's TechCrunch Disrupt. The major flaw with the kibbutz Neumann grew up on, he says, is that everyone made the same amount of money. WeWork, he says, is a "capitalist kibbutz." "One the one hand: community. On the other, still, you eat what you kill."
The community that WeWork imagines itself providing is one from and through which capital flows, but it is also one in which people help each other out of the goodness of their hearts. "When Hurricane Sandy hit, our members were helping each other, some people had power and some people didn't," Neumann says. "That was the first time I saw our community really alive." (Sharing economy start-ups in New York City love talking about Hurricane Sandy.)
"The world is changing. You have a generation that cherishes intention and meaning, a lot of times above material goods," Neumann says. "We like to believe that anybody in the world who understands the sharing economy, who defines success not just as financial but also as feeling good, treating other people well, and just being grateful understands that by leveraging the sharing economy he or she can get space, cars, bikes, hotels — not only at a discounted rate, but through leveraging the sharing economy through a much more social experiences." He continues, "Anybody who gets that is part of 'the We Generation.' It's not limited by age."
It is a convenient idea, this "We Generation." It refers to a category of people united across all boundaries — space time, race, class, gender — by the illusory notion that we are all working and living for each other, and that somehow this notion is inherently compatible with the demands of investors, the market, and capitalism. The logical conclusion of WeWork's vision is to expand into the residential market — to break down the boundaries between residential and commercial. This is already happening: landlord and developer Vornado Realty Trust is redeveloping a building for WeWork in Washington, D.C.'s Crystal City neighborhood that will include both residential and office space. "Landlords briefed by WeWork on the concept liken it to a dorm for Millennials in their 20s," the Wall Street Journal reported. WeWork wants to control the space in which every significant aspect of a certain kind of person's — the We Generation's — life takes place.
One employee, who requested anonymity because talking to the press about WeLive is expressly forbidden by the company — "a higher up who did so was half-jokingly publicly shamed at the corporate summit" — told me, "They see themselves as Uber for space." This person added, "They want to destroy the work-life barrier." Imagine: You are a WeWork member, a graphic designer, maybe, or a serial entrepreneur. You have friends and colleagues and clients — what's the difference, really — all over the country, or maybe even the world, and you can travel between WeWork's residential office spaces to see them all for a few days, weeks, or months at a time, without ever leaving the comfort of your coworking home. Wherever you go, there We are. Living. Working. Weing.
In the Bloomberg Television interview, Zuckerman made it clear that he doesn't think WeWork getting into residential is the best idea. Neumann is "the master of this new kind of office space," Zuckerman said. "I would concentrate on that." Then, he added, "When he has grey hair, then tell him to move into residential." Neumann just smiled in response.
Internally, while there is some skepticism that the WeLive project is possible, there's also the whole-hearted belief that if anyone can do it, Neumann can. "If you're ever stumped for conversation you can just talk about how great Adam is," the employee said. "Yesterday, people put wigs on for his birthday, to wish him a happy birthday."
Photo by Payton Chung
Correction: This piece previously stated some of WeWork's yearly rates as monthly. We regret the error.