by Brendan O'Connor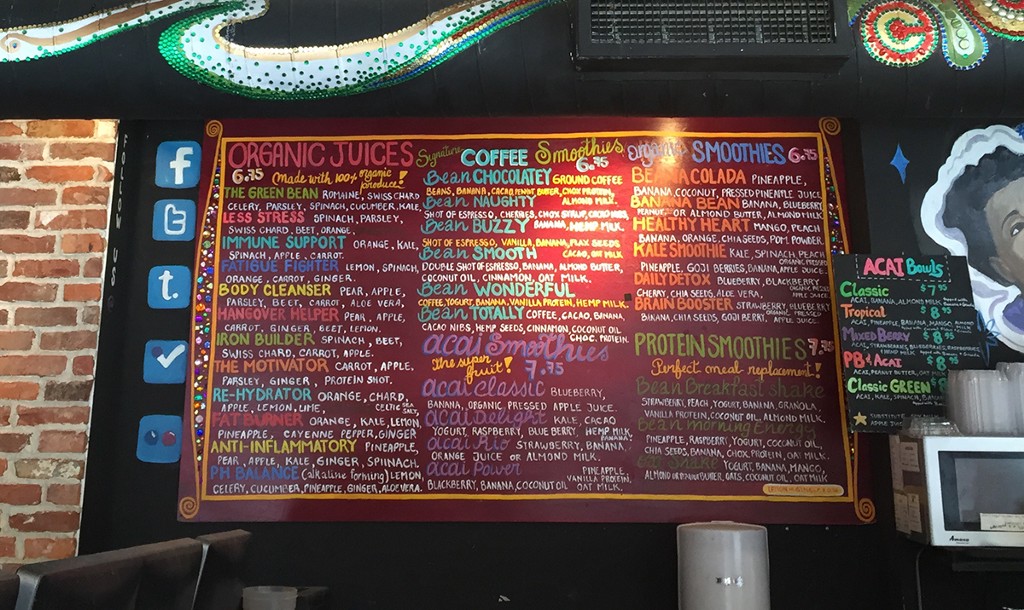 On the south side of East 9th Street, a couple of storefronts down from the corner of First Avenue, is a small juice bar called Bequ — stylized "beQu," for "Beyond Quality." Taras Strachnyi and his brother Peter opened it at the beginning of last year. Strachnyi has been in the juice business, he told me, for nearly fifteen years, learning his trade as a teenager and in his early twenties at the long-standing East Village juice emporium Liquiteria. Strachnyi's family moved to the East Village from Ukraine when he was nine years old, and he grew up going to the Ninth Street Bakery that closed in 2013 after eighty-seven years in business, whose space Bequ now occupies. (According to the Village Voice, the landlord raised the rent by 38 percent.) "I've been coming to the bakery since I was a kid," Strachnyi told me. "This location means more to me than just some juice bar."
Bequ, Strachnyi said, sources all of its juices' ingredients locally, makes them in micro-batches, and doesn't pasteurize them. When a location of the East Village coffee colossus The Bean started selling juice across the street from Bequ a few months ago, Strachnyi took it as a personal affront. "We were building out for seven months, and then they just happen to put in a juice press?" Strachnyi asked. Then, in the winter, The Bean dropped its juice prices and put a sign out advertising that they had done so — a sign facing Bequ's storefront. "It was cold, and I had to come in every day and see that sign," Strachnyi griped. "As a consumer, even if you don't care about Bequ, or The Bean, wouldn't that piss you off?"
"We were a little late to the juice game," Bean co-owner Ike Escava admitted to me, but he denied that The Bean's foray into juicing had anything to do with a juice bar opening across the street. "I don't think it was in response to Bequ," he said, but "it'll be a part of what we do going forward." And, because juice season is in the spring and summer, "it was a bad time to introduce that product." Since the weather started warming up again, The Bean has raised its prices. Bequ's prices are still low — five dollars for a fourteen-ounce juice, compared to The Bean's nearly seven dollars — and though Strachnyi plans to raise them in the next couple of years, they'll still be lower than their competitors'. Strachnyi believes he is building a better brand around around a better product. "We specialize in what we do, and they just…" he paused. "Do what they do."
@KELLYWEILL if I were a betting woman I'd put my money on the shop that also sells lattes
— Kelly Weill (@KELLYWEILL) March 27, 2015
Juice is a frenetically popular cultural artifact in New York City right now, but fancy juices have been around the city for a while — Juice Generation founder Eric Helms opened his first store, in Hell's Kitchen, in 1999. Even earlier in the nineties, fitness gurus like Jack LaLanne and Jay Kordich extolled the virtues of juice. But in the wake of the frozen yogurt boom and its subsequent bust, juice has grown far beyond its fringe, fanatically healthy beginnings, with juice bar sales doubling to nearly a billion-and-a-half billion dollars nationally between 2003 and 2013.
This would seem to have been motivated, largely, by shifting cultural norms governing what the average consumer wants to put in his or her body: cold-pressed juice, unlike frozen yogurt, is explicitly understood to be a healthy option — and not just healthy, but organic, non-GMO, gluten-free, environmentally friendly (presumably?), and so on. Frozen yogurt had hints of this, being an ostensibly healthier alternative to ice cream — or cupcakes! — but it's still dessert (and a highly chemical one, at that). Business people have capitalized on this appeal: In 2012, tea-maker Hain Celestial acquired the juice company Blueprint, which popularized juice cleanses, in a deal valued at around twenty-six million dollars, and Juice Press raised seven million dollars in venture capital; in 2013, Starbucks opened up a seventy-million-dollar juice factory to quadruple production of Evolution Fresh Juice, which it had acquired in 2011 for thirty million dollars, and private equity firm Weld North invested tens of millions of dollars in Organic Avenue for a seventy percent share of the company. Earlier this year, a mysterious juice start-up called Juicero — founded by Doug Evans, former CEO of Organic Avenue — was reportedly working to raise a hundred and twenty million dollars. (This is all to say nothing of the Californian juice tsunami which has flooded LA, and to a lesser extent, San Francisco.) There is, it would seem, a lot of money in juice.
"Money chases ideas, and this is the new idea," commercial broker Conrad Bradford of Miron Properties told me. When "venture capital money comes into a business, the entrepreneurs don't have an idea that's fully cooked — but no one has to prove these models actually work." Bradford continued: Venture capitalists "invest in ten things, maybe two or three will be good investments. They know that. But the money is there for people who know how to access it — you go to the right school, or your father knows the right people. This is the machine. This is the way we innovate."
With venture capital comes an expectation of rapid expansion. Juice Press has opened twenty-six locations in five years, including one on East 10th Street between 1st and 2nd Avenues — just a block away from Bequ. "There's no one out there who's expanding as fast as I am," Marcus Antebi, the chief executive of Juice Press, who apparently calls himself a juice "assassin," told the Commercial Observer in January of last year. "If we stop at twenty stores, then we aren't successful." (Juice Press also has locations outside of the city, on the Hamptons and in Connecticut.) In 2013, after seventeen years in business with a single location, Liquiteria opened two new stores. Last year, it raised 4.8 million dollars, opened two more locations in New York, and this year it opened a store in Boston. Juice Generation, meanwhile, which remains independently owned, has fifteen locations right now and expects to add three more by the end of the year.
Even in Los Angeles — the healthiest city in the world — there is anxiety about the juice craze spilling over from more affluent neighborhood; a juice bar opening in Highland Park in February was seen as a signifier of gentrification: "Not only is The Juice the kind of juice bar built for pre-yoga carrot-ginger cleanses and post-hike apple-kale rejuvenations but it's also the kind of place that's selling $9 juices in a neighborhood filled with Mexican-owned fruterías that have been selling $4 jugos for years," LA Weekly reported.
"Landlords are greedy," Bradford told me — and, he said, they have every right to be, as they are "sitting ducks" for taxes — but they also have a tendency to back themselves into a corner. "They're forced to charge what they're asking because they've borrowed money against the projected value of a building — not just retail, but all the space in a building," he said. When a landlord anticipates raising his rents by a certain amount of money when renewing his leases, and borrows money from a bank — based on that future, hypothetical revenue — he cannot afford to be negotiated down when renewing a tenant's lease, or signing a lease with a new tenant. If he does, he will default on his loan. As far as landlords are concerned, a building's value is determined solely by the cash-flow it generates. As such, they "are driven to try to get more on every occasion." One solution to this problem, Conrad said, is to attract "multiple-location operators."
When a tenant operates multiple locations — that is, a chain — and when the expense of operating each of those locations is not the same, one highly profitable location can offset the cost of another. In this way, retail tenants with more than one store are attractive to landlords because (theoretically) they are more stable businesses that are less dependent on the success of a single location. In some New York neighborhoods, retailers will open up shop in places where they know they will not be profitable — because the rent is just too high — simply to be seen in the same physical space as other brands with which they are in competition or with which they want to be associated. (The distinction is not always clear.) These storefronts are, effectively, advertisements: they have a role to play in the business, but they do not directly increase profits; if anything, they impede them. Meanwhile, these kinds of ventures ensure that a neighborhood's rents — both commercial and residential — remain as high as possible. Chobani, for example, a mediocre yogurt company (Greek, not frozen) signed a three-hundred-and-seventy-five-thousand-dollar annual lease in 2012 for a storefront on Spring Street, in Soho, where rents are over a thousand dollars per square foot. Chobani is a national brand, with a recorded revenue of a billion dollars in 2014: It can afford to have a fancy store in Soho, even if it doesn't sell enough yogurt from its fancy store in Soho to "make rent" on yogurt sales at its fancy store in Soho. That is all beside the point, and its landlord knows it.
But! As it turns out, investor-backed juice bars may not be the safest bet, for a landlord. An investor at Jamba Juice began pressuring the company last year to pull out of the unprofitable New York market, either by selling off company-owned stores to franchise owners or by closing them altogether, a process which appears to have begun: In February, Jamba Juice closed two locations, in the West Village and Soho. Earlier this year, Organic Avenue announced that it would lay off thirty-eight people from its commissary kitchen in Long Island City. One Juice Press in the East Village, which was originally closed for "renovations" in March, has shuttered permanently. "It's gone too far," Bequ's Strachnyi told me. "In another year or so, it's going to collapse."
Strachnyi's strategy is to take the process of expansion very slow. "Once you have all that overhead, you have to start mass-producing," Strachnyi told me, referring to the rapid expansion of Juice Press, Organic Avenue, and Juice Generation, and what he perceives to be an attendant decline in their product's quality. "It's going to Tropicana Valley. You're paying eight dollars for no nutritional value, beyond what they add," he said.
The Bean signed a twelve-year lease for the 1st Avenue location in 2012; Bequ signed a five-year lease with an option to renew for another five years after that. Bequ is likely paying a fraction of the rent of The Bean — which is on the corner of an avenue. "You can compete with a titan if your numbers are right," Bradford said. But The Bean — not exactly a titan, but a larger business, certainly, than Bequ — can afford to lower its prices, if it feels like it, because its business model is not based on just one store, and because each of their stores are in prime locations. "They can absorb the numbers," Bradford said.
Still, both Strachnyi and Escava expressed the same feeling about their landlords — that the only thing you can do to try to make sure you don't get priced out is pay your rent on time and hope for the best. "There's not a lot you can do," Escava said. "There's no hometown discount."