The Property Manager Who Knows Every Tenant
by Brendan O'Connor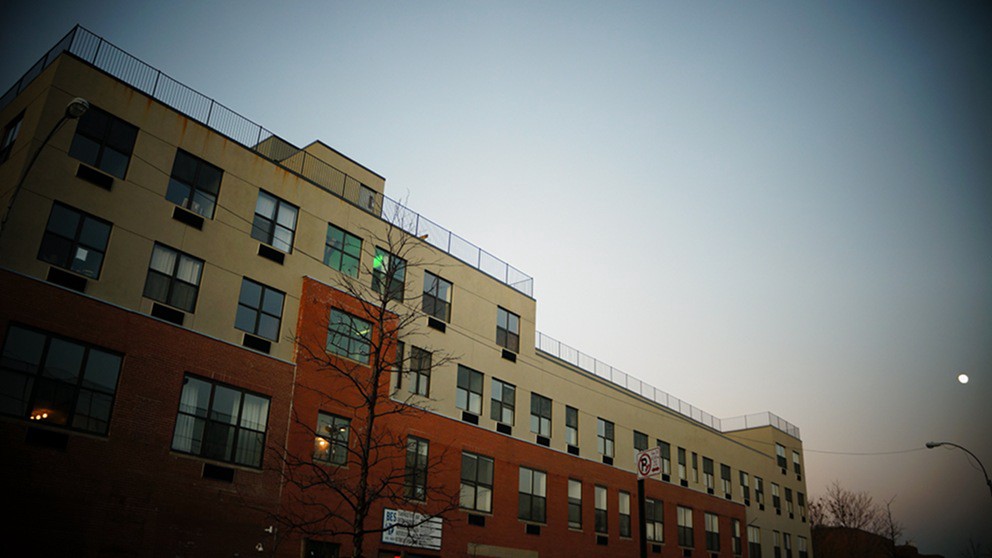 Welcome to Surreal Estate, a new column in which we will explore listings from the tumultuous New York City real estate market.
41 Kosciuszko Street, #320
• $1850/month
• Studio
• Nearest subway: G train at Bedford-Nostrand Avenues
Nathan Rosenberg, a property manager in Bed-Stuy, knows everyone in his buildings. On Tuesday, when I went to visit a studio apartment at 41 Kosciuszko Street — the Craigslist post described the location as Bed-Stuy/East Williamsburg — he addressed all of the tenants we ran into by name, flirting with a mother and her infant child, asking how a struggling musician's band was doing, and confirming with someone that a leak had been fixed. Rosenberg manages three buildings in the immediate area, and another on Jefferson Street that used to be a stable house. "Everything in the building is shoe horses," Rosenberg said. "The chandeliers are shoe horses."
Now a ninety-eight-unit residential behemoth, 41 Kosciuszko Street — or, as it is currently being styled, The Aviary — used to be a linen factory. Best-Metropolitan Towel & Linen Supply Co., Inc. sold the building to Kosciusko Rehab LLC for $9.7 million in 2008, according to Department of Finance records. Nearly a year later, Kosciusko Rehab passed the deed to New Kosciusko, another LLC located at the same address. In 2012, New Kosciusko passed the deed to Kosciusko Plaza. "It's a rehab. We only do rehabs," Rosenberg told me.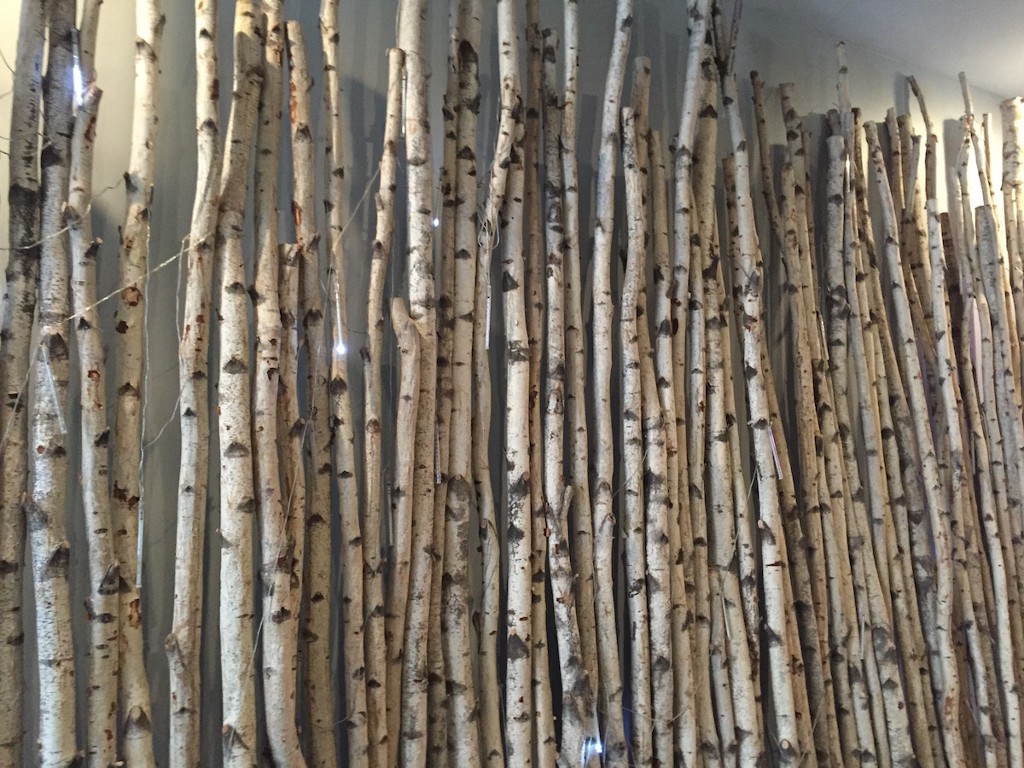 Before being rehabilitated, the building was an eyesore and a blight upon the neighborhood, Rosenberg said. "Drugs. Prostitution. It was bad." The developers did their part to integrate the new, rehabilitated building with the old neighborhood, however: Construction took place during Hurricane Sandy, and a tree on the block that fell has been chopped up into hundreds, or maybe thousands, of circular discs that are glued to the walls of the hallway. Now, the old linen factory has a bike room, a gym, a yoga studio, and a movie theater. When Rosenberg opened the door to the theater, I started laughing. "You don't wanna do a write-up," he said. "You wanna move here!"
The studio apartment that is available for rent is the smallest unit in the building. Usually, Rosenberg told me, vacancies in the building are filled by current residents' friends — units aren't available for long enough to even get listed. In this case, the tenant had moved out with only two days notice. Still, Rosenberg expects the apartment to be rented quickly. He pointed out the apartment's exposed brick wall: "It's original. People love original."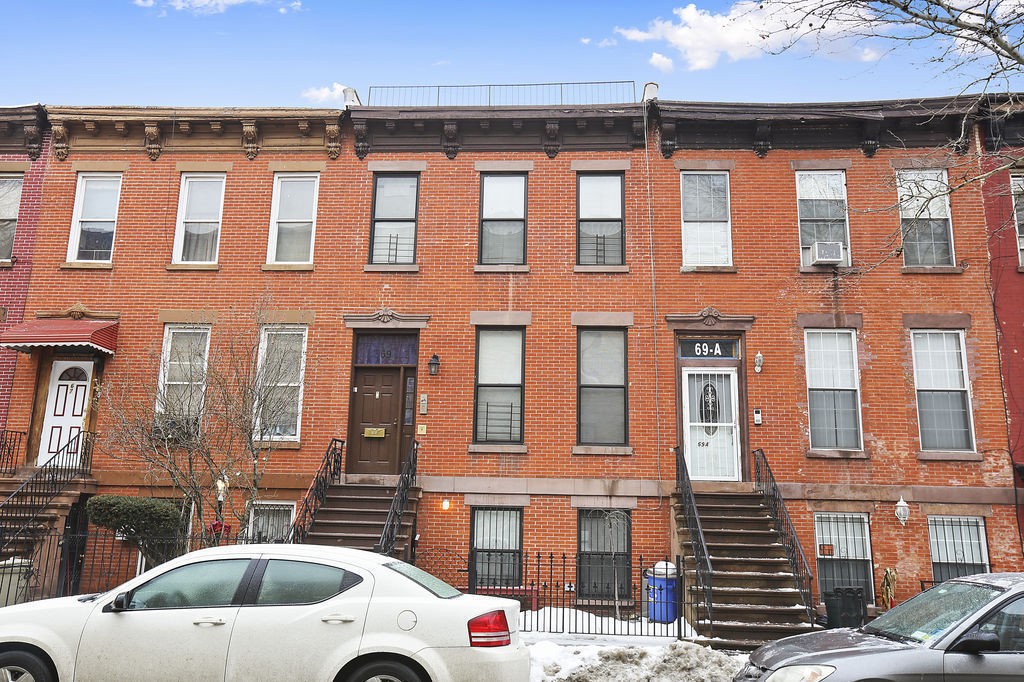 69 Patchen Avenue
• $1,250,000
• Taxes: $2,348 (annual)
• Multi-family townhouse
• Nearest subway: J/Z trains at Gates Avenue
An initial idea for this column was that I would go to open houses and just hang out and eavesdrop, which, it turns out, is something that I actually haven't done yet. So, I decided to do that this week, on Wednesday. Unfortunately, it was raining and cold on Wednesday, and I was the only person who showed up to the open houses. 69 Patchen Avenue is a two-unit townhouse on the market for $1.25 million; the townhouse was last sold in 2004 for three hundred and sixty thousand dollars. "Amazing opportunity for investor and/or end-user," the Corcoran listing reads, encouraging buyers to consider renting out the upstairs unit, a 646-square-foot one-bedroom that "can easily earn $1800 monthly." Deenie Simpson, the Corcoran broker hosting the open house, had laid out beef, chicken, and vegetable empanadas in the downstairs kitchen. "It's been slow," she said. "A little bit slower than I'd like. But we only need one!"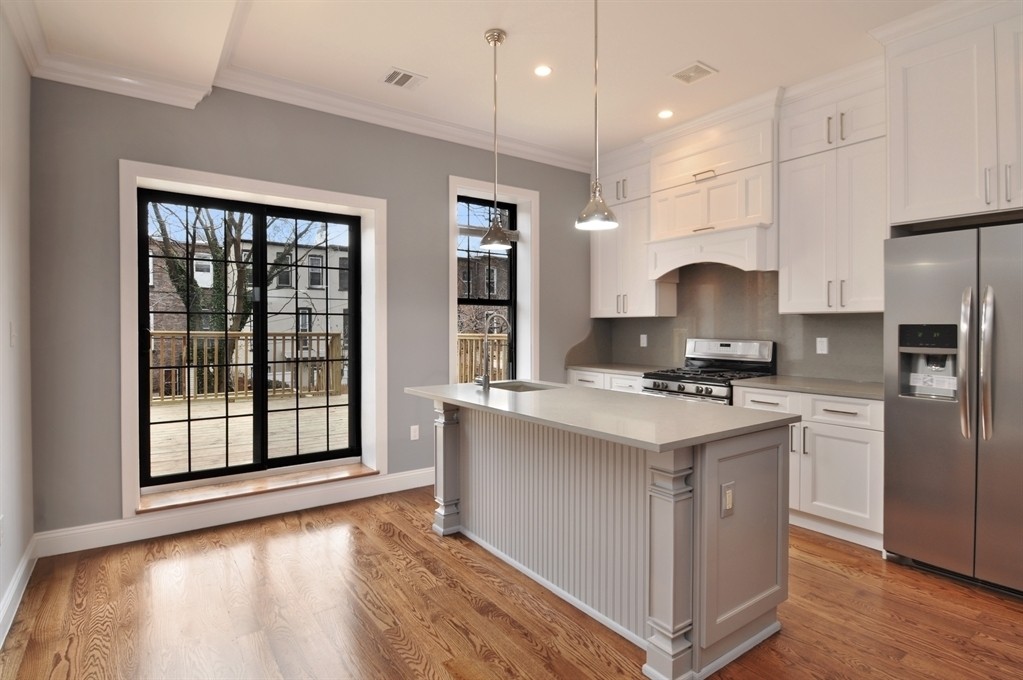 634 Hancock Street
• $1,395,000
• Taxes:$1,290 (annual)
• Multi-family townhouse
• Nearest subway: A/C trains at Utica Avenue
A two-unit townhouse just off Malcolm X Boulevard, 634 Hancock Street last sold in June for six hundred and fifty-five thousand dollars. In the months since, it's undergone a gut renovation, and was listed by Corcoran this year at just under $1.3 million. "No other neighbourhood in New York can match [Bed-Stuy's] concentration of historic brownstones," Morgan Munsey, an agent with Halstead Property, recently told the Financial Times. "It's particularly appealing to many Europeans and out-of-town buyers." It didn't take long to find an interested buyer. A building inspection was even done, Corcoran broker Daniel Cohen told me, but the seller killed the deal because he thought the house had been undervalued. Two weeks ago — after twenty-seven days on the market — Corcoran raised the price by a hundred thousand dollars.