The Not-Trump of the Lower East Side
by Brendan O'Connor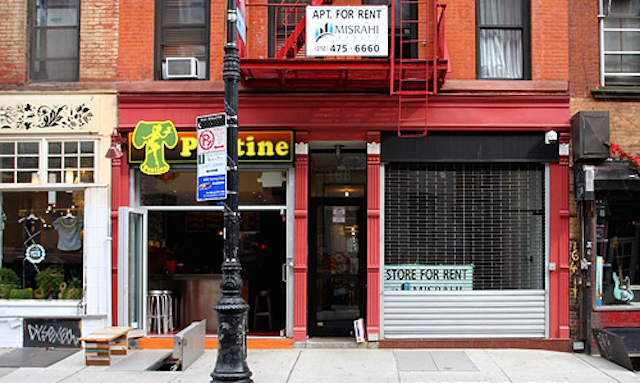 Welcome to Surreal Estate, a column in which we explore listings and stories from the tumultuous New York City real estate market.
146 Orchard, 5B
• $2,495/month
• Studio
• ? square feet
• Nearest subway: JMZ/F at Essex Street/Delancey Street
"The idea of this neighborhood is basically bars, restaurants, and art galleries," Joe Safdie, an agent with Misrahi Realty, told me as we strolled through the Lower East Side on Wednesday afternoon. We were supposed to visit three apartments that he had listed, but one had rented the day before and one was already under contract. (He generally recommends that clients look at ten to twelve apartments over the course of two, maybe three days.) "Inventory moves pretty quickly."
According to Streeteasy, the studio at 146 Orchard last rented in 2012 for $2,295 a month — an increase of two hundred dollars in two years. It's a simple apartment — basically just a rectangle, with two big windows looking out the back of the building. I asked Safdie the square footage, but he demurred. "When it comes to rentals, I don't like to quote square footage, because square footage can be very deceiving," he said. "When it comes to buying, then it matters, because you're actually paying for every square foot. When it comes to rentals, I always tell my clients, don't ever focus on numbers with square footage, focus on what you need to put in, what you would like to fit in. Can you fit your bed, can you fit your couch, can you fit your TV?"
The studio looks out upon the back of 139 Ludlow Street, an old funeral home on the other side of the block that Bowery Boogie reports was denied landmark status by the Landmarks Preservation Committee last year — it is now being renovated by the Soho House into a new location for more members.
A new restaurant is due to open on the ground floor of 146 Orchard — construction has been going for at least a year, Safdie told me."Restaurants are the only businesses that can survive in this neighborhood. Retail can't survive as much. People don't come here to shop. People come here for the bars and the restaurants, hospitality," Safdie said. But even restaurants have a hard time of it: The new restaurant, opened in collaboration with The Food Network's Aaron Sanchez, was supposed to have opened late last fall. An earlier tenant in the space, APL, had closed after five months, opening in May 2011 and closing in October. APL became The Orchard House, which closed for electrical repairs in 2013 and never opened again.
"Why is Manhattan so valuable?" Safdie asked, before answering his own question. "Because Manhattan is surrounded by water. Because it's surrounded by water, basically, everything pushes out — starts from the middle, and pushes out. Once you hit the water, there's nowhere to go, so everything bounces back in. People say, okay, I'm paying the same for out here, might as well pay more for the middle. That's basically what drives price in a given area."
"Same thing has happened with Williamsburg, pushed up against the water," he added. "It's very similarly priced to the city."
Misrahi Realty has been an influential force in both rental and commercial real estate on the Lower East Side for years. In a 2007 profile of Misrahi Realty progenitor Sion Misrahi — a long-time Lower East side business-owner — the New York Times wrote, "His neighborhood holdings are limited to eight tenement buildings, most of which he bought for less than $1 million (and could sell for eight times that). He is not a Donald Trump of the Lower East Side. But, arguably, his vision and relationships with landlords had more to do with the area's evolution than anyone else."
But things have changed, as is their wont, in New York and everywhere else. "We represent seventy buildings in this area," Safdie told me. "We represent this area, pretty much."

160 Orchard Street, 2F
• $2,595/month
• One bedroom, one bathroom
• ? square feet
• Nearest subway: JMZ/F at Essex Street/Delancey Street
Next, we walked to a one-bedroom down the street, at 160 Orchard. The apartment's current tenant was home watching television, and the apartment — already narrow — was full of boxes, although he hadn't packed up his DJ station yet. He and his fiance are moving to Los Angeles — she got a job — but he hopes they'll be able to move back at some point.
"I love the area. The area is pretty awesome," he said. "I mean, I hate Hair of the Dog." (A bar.) "I hate that bar. It's all bro-y and stuff. But, they just opened like, a cider bar right below us. And that place is only open until 2, they only serve cider, no hard liquor, it's very low key."
Safdie told me that Misrahi put the cider bar people in that space, although he did not elaborate. Recently, though, the firm had tried to help pizza-ruiners Artichoke Basille's expand to the Lower East Side. "We were going to move them into one of our spaces, but they couldn't get a liquor license," Safdie said. "The board basically said, we don't want to oversaturate the place, and a place like Artichoke is always packed."
Community Board 3 has been restricting the number of liquor licenses granted to certain areas on the Lower East Side. (The conflict between Misrahi and CB3 is long-standing. "What Sion and those people should realize is they've let greed run rampant," community board chairman David McWater told the Times in 2007.) Safdie is skeptical. "I think sometimes they might be a little bit overboard?" he pondered. "I think they're right at times," he said, "but sometimes they flex their muscles just to flex their muscles."
Safdie's tenant at 160 Orchard is optimistic about the future of the neighborhood. "It comes in waves," he said. "I feel like the East Village was like that a couple years ago, it was too bro-y and stuff, and now it's not as bad. And I feel like Lower East Side is going through that phase right now. Hopefully it will go away."

168 Ludlow, 1R
• $2,395/month/month
• Studio
• ? square feet
• Nearest subway: F train at 2nd Avenue
As we walked to the afternoon's third and final apartment, we passed the sports bar in question, Hair of the Dog. "This is the bar he was talking about," Safdie said. "It's a sports bar, so it has a complicated relationship with the neighborhood. Whoever really loves sports, loves this place. Who ever is not really a sports person, doesn't like it as much. They can be pretty rowdy. It attracts the sports-type crowd. It can be loud."
Born and raised in Flatbush — where he still lives — to an Italian mother and a Brazilian father, Safdie has been working on the Lower East Side for about a year and a half. "I spend ninety-nine point nine percent of my time here," he said. "I'm debating right now whether I want to sleep where I work." Safdie used to work in jewelry, he told me — three years ago, when he was twenty, he was basically running his own company, but he wasn't happy. "I couldn't relate — selling earrings or necklaces, I couldn't relate. I don't know when they're using it, or relate to a lady and say you can wear this at this event or whatever. This is something that I can relate to."
Eventually, Safdie said, he'd like to own some of his own buildings, and be a landlord. "I've seen buildings here where I know if I took it over I could increase the rent-roll by three hundred thousand a year, whether its new lightbulbs or new tile or whatever," he said. "You can justify charging more for rent, and people would be happy to pay, versus now people are paying less rent, but complaining." He elaborated, "So the reason that New York City landlords generally have a bad reputation is because they kind of, they're charging so much money for such little space, most people from all around the world think oh my god that's an audacity, to charge that much for that much space."
The apartment, a studio, is narrow, with high ceilings. Also, it has a backyard — concrete, and small, but a backyard nonetheless.
"I certainly think the neighborhood still has the allure," Safdie said. "I work with clients from all over the world, people that come in from Europe, Asia, China, students, successful people — people that are making a million dollars a year, but want to live on the Lower East Side." The people who are still drawn to the LES, though, do share something, he said. "I'm finding the commonality is young people — young professionals, called yuppies. You've heard of yuppies?" (I have.) "A neighborhood is as popular as the number of people that hang out there, the amount of stuff that's there," Safdie said. "It's good to maintain history, but it's also good to bring up the popularity of a neighborhood. Everybody usually really likes it, as long as it stays neighborhood-y."
Photo of 168 Ludlow via Streeteasy
Have you noticed a real estate listing that you would like to have investigated? Send cool tips, fun listings, and hot gossip to brendan@theawl.com.