by Abe Sauer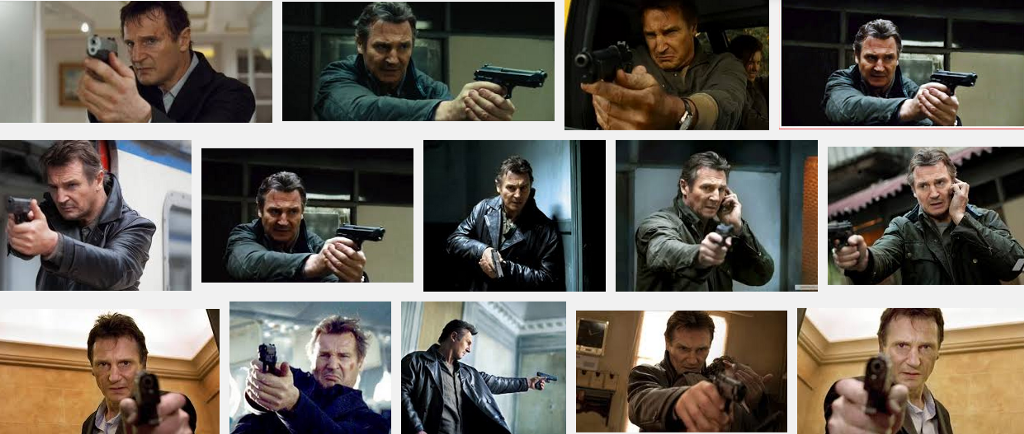 "I hate handguns. Handguns are used to shoot people and as long as they are around people will shoot each other. That's a simple fact." Those are not the words of Liam Neeson, the bankable action star whose recent anti-gun comments resulted in firearm maker PARA USA declaring that it "will no longer provide firearms for use in films starring Liam Neeson" and calling on its "friends in the firearms industry to do the same." Those are the words of James Bond himself.
But don't expect a boycott of the upcoming Bond film Spectre by handgun maker Walther. Over the years the gun's name has become as synonymous with James Bond as Aston Martin; the first Bond film ever (Dr. No) includes a scene mentioning Walther by name, as does the latest (Skyfall).
PARA USA's boycott stunt is a hit with pro-Second-Amendment media and activists. But a stunt is all it is: gun makers have enjoyed a long and cooperative relationship with Hollywood. And as gun ownership develops more fully into a recognizable lifestyle, gunmakers are increasingly leveraging the entertainment industry in their marketing materials. Underneath it all is a decades-old, mutually beneficial relationship between an industry that reviles pro-gun-control left-coast entertainers and a Hollywood whose protesting claims of "authenticity" fall apart under even slight scrutiny.

"When you make a film about a Federal Air Marshal… you know who the best supporting actors will be, right? In this case, the P226 Elite Stainless and the P229R!" bragged Sig Sauer about its feature in Non-Stop, another Liam Neeson ass-kicking box office hit.
A month later Sig Sauer held its first ever Oscars-like "Sig Sauer in the Cinema" awards on Facebook. Categories included Best Picture, Best and Worst Performance and Best Actor (both "pistol" and "rifle.")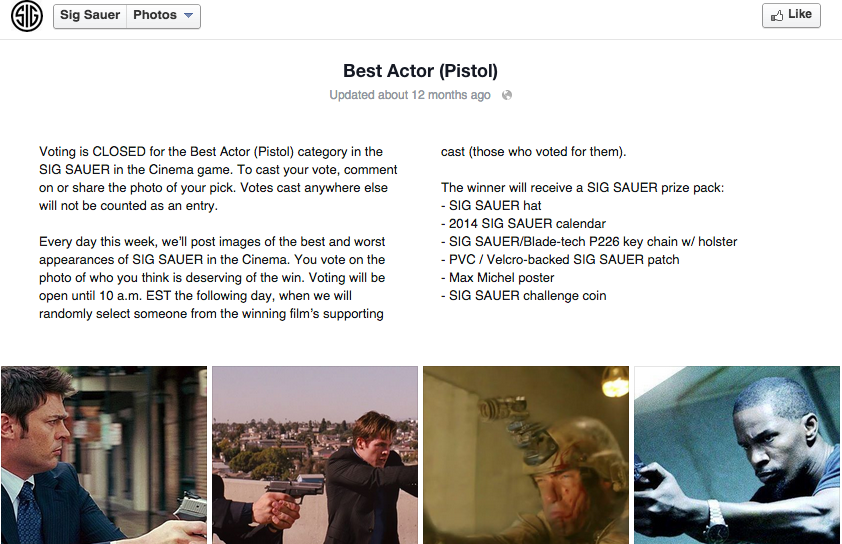 The winner? The P226R and (the late) Paul Walker.
[The movie] might well have been called G.I. Glock. Channing Tatum's 'Duke,' D.J. Cotrona's 'Flint' and Adrianne Palicki's 'Lady Jaye' are all armed with Glock 21s in .45 ACP. And wrestling-star-turned-actor Dwayne 'the Rock' Johnson's character 'Roadblock,' with his pair of tricked-out GLOCK 21s, takes movie Glocks to the next level.
So reads an excerpt from the 2014 issue of "Glock Autopistols," a glossy annual about Glocks and only Glocks (that nonetheless carries a newsstand price of $5.99). "Lights, Camera, Glock" is the title of 2014's annual feature reviewing previous year's Hollywood Glock product placements. "The Superstar Glock" was the title of the 2013 issue's Hollywood rundown. In 2012, it was "Box Office Glocks."
Glock is not alone. Barrett, the maker of a massive .50 caliber sniper rifle available for civilian purchase, points out its film roles on its Facebook page. Switzerland-based Kriss's reminds audiences its futuristic submachine gun is in Colin Farrell's hands in the Total Recall reboot. Chippa Firearms is happy to tell us about its move into young adult with its cameo in Divergent. (The gun also appeared in The Maze Runner.) Beretta's Twitter team wants us to know that Walking Dead teenager Carl "knows what he's doing with his 92FS." But if zombies aren't your bag, Beretta is good in other genres as well, such as on Battlestar Galactica. Or how about Heckler & Koch, which highlights Skyfall as an example of "when great movies and great guns come together." Salient Arms International used Facebook to celebrate its star turn in 2014 films Transformers: Age of Extinction and John Wick. (Wick star Keanu Reeves has been diplomatic about guns, not making any grand statements, but nonetheless conceding he thinks carrying one is "not the wisest thing.")
Gun makers have known the marketing power of movies for decades. In a 1993 Baltimore Sun interview, Beretta's CEO Robert Bonaventure cited the sales success his company experienced after its pistol appeared prominently in both Lethal Weapon (1987) and Die Hard (1988). About that same time, Smith & Wesson hired a product placement agency to help it regain the foothold in film it lost after Dirty Harry's shine faded. Smith & Wesson had seen its .44 Magnum Model 29 go from unknown to sold-out after appearing in Clint Eastwood's hands in 1972's Magnum Force. (Yes, the "Do you feel lucky" one.) Smith & Wesson's Hollywood efforts paid off as it landed plum roles on Miami Vice, including as Sonny Crocket's handgun of choice.
Bruce Willis immediately made Glock famous in 1990's Die Hard 2 when he said the gun "doesn't show up on airport metal detectors" and "costs more than you make in a month." While the latter of those two statements may have been true, the former established a myth that persists to this day. Years later Glock reportedly paid for a role in Fugitive sequel US Marshals. In that movie Tommy Lee Jones calls Robert Downey Jr.'s gun a "sissy pistol," instructing him to "'get yourself a Glock." Downey later hoists his new handgun and says to Jones: "Yeah, Glock .40, just like yours." It's no accident that the face of Glock is R. Lee Ermy, a decorated former Marine who's best known for his roles as a hardass in Full Metal Jacket, On Deadly Ground and Se7en.
Making it even easier for gunmakers to take advantage of Hollywood advertising is the Internet Movie Firearm Database, a wiki launched in 2007 that obsessively catalogs every gun in thousands of action films, TV shows and video games. Imfdb.com has grown to over 1.5 million visitors a month and sells ads against that traffic. (Those ads are primarily for firearms.) Other sites similarly catalog guns in popular entertainment. Cheaper Than Dirt, the eBay of firearms, includes an informative look at guns from The Walking Dead, including the Colt Python. The Python has enjoyed a significant price spike thanks to it being the gun of choice of Dead hero Frank Grimes.
"Authenticity" is Hollywood's general defense when it comes to a charge of advertising for gun makers. This is a weak excuse.
In a 2004 Greenpeace Quarterly profile (German), a Heckler & Koch spokesman admitted the gunmaker "cooperated closely with Hollywood outfitters" to place H&K pistols in stars' hands. The flack added that H&K's guns were selected not because of some situational authenticity but because of the visual pop of the gun's mündungsfeuerdämpfer, or "flash suppressor."
Any film that has ever used a Desert Eagle — maybe most prominent of which are Snatch, the Matrix trilogy or any Arnold Schwarzenegger film — also makes the "authenticity" claim questionable. Where is the authenticity when a $2,000, .50 caliber handheld cannon is regularly wielded by street thugs and covert assassins alike?
Even less defensible as artistic license: Last year, Beretta pistols appeared in the hands of Navy Seals in Lone Survivor, the blockbuster based on the true story of the deadly Red Wings mission in Afghanistan. Despite the fact that the source material for the film, the book of the same name, mentioned Sig Sauer pistols, the film used Berettas. Product placement firm Brand-in Entertainment even bragged on its website about the "successful integration." Representatives at Brand-in refused to answer questions about the project.
On record, those who supply guns to Hollywood say there is no direct marketing. But Beretta's Lone Survivor example — rumored to have involved a cash payment in upwards of a quarter million dollars — suggests otherwise. Guns generally make it onscreen though a loose system of prop armorors. It's this route that gunmaker Kriss used to land huge roles for its Vector pistol in Resident Evil: Retribution, the Total Recall reboot, Person of Interest and The Avengers. When asked if Kriss had intentionally placed its Vector in three of 2012's biggest films, Kriss' director of sales and business development told me that the "short answer" is "yes and no."

The American Entertainment Armorors Association, formed by a handful of the nation's most important suppliers of guns to film productions, lobbies legislators on numerous laws that could impact those suppliers' abilities to procure and transport banned guns. To fund itself, the AEAA offers opportunities such as the $5,000-per-year Gold Sponsorship which includes, in addition to a nifty newsletter, "access to all the AEAA associate members contacts." One sponsor? Smith & Wesson.
The NRA, whose most famous president was a silver screen icon, will also not be supporting any boycott of Hollywood.
The NRA's National Firearms Museum curated collection "Hollywood Guns" includes both Lethal Weapon and Die Hard Berettas as well as Magnum Force's Smith & Wesson. Opened in 2002 as "Real Guns of Reel Heroes," it has been the museum's most popular exhibit ever. And it travels; Dirty Harry's Smith & Wesson was on exhibit compliments of the NRA at the gun industry's just completed Las Vegas SHOT Show.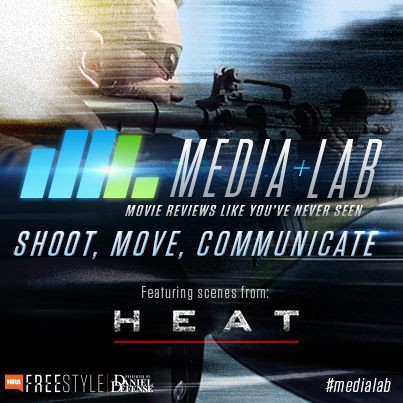 One of the shows on the NRA's new digital entertainment network, NRA Freestyle, centered on Hollywood films. Media + Lab features former Navy Seal and host, Dom Raso, who recreates action scenes from famous shootout-heavy films like Heat, the Bourne trilogy and Rambo. The show is underwritten by Daniel Defense, maker of all manner of AR-15 "assault rifle" style firearms.
NRA's TV channel is not the only example of the exploding guntertainment lifestyle niche. The "bi-monthly firearms lifestyle magazine" RECOIL is about guns but also trucks, ATVs, knives, watches, survival gear, tactical beards, "babes (with guns)" and other gun guy stuff. Hollywood movies are a common topic. Far from its fringe survivalist rag ancestors, the magazine is more like an Esquire for Navy SEALs and, more importantly, SEAL wannabes. RECOIL is printed on glossy stock and has a circulation of 220,000, three quarters of which is in the desirable 25 to 54 male demographic

"There's just too many fucking guns out there," said Neeson. He's by no means alone in his beliefs. Sylvester Stallone, producer and star of The Expendables, is a vocal supporter of the Brady Center to Prevent Gun Violence and is on the record saying of the Second Amendment, "We don't need it."
Yet did Kimber, the maker of the special edition Expendables pistols, boycott his trilogy? No, it called its publicist for a magazine feature about the role. Guns & Ammo published a "movie guns" video series around The Expendables. As a helpful purchasing guide, MTV put together "'The Expendables' Arsenal: A Weapon-By-Weapon Guide."
In the wake of the Newtown massacre, Jamie Foxx starred in a Mayors Against Illegal Guns ad. Sig Sauer made Foxx one of its 2014 nominees for Best Actor (pistol).
In 2000, Mark Wahlberg said to an MTV Movie Award audience, "I believe Charlton Heston is America's best villain because he loves guns so much." More recently, he said of guns, "I'd like to see if we could take them all away. It would be a beautiful thing." Those comments were made long before Wahlberg put in a turn as hero Navy SEAL Marcus Luttrell. Did Beretta care about those comments before it worked to change history and put its handgun in his hands for the aforementioned Lone Survivor? Of course not.
On the flip side there's Harvey Weinstein. After Newtown, the producer vowed to make an anti-NRA film that will make the organization "wish they weren't alive." Weinstein is also the producer of Pulp Fiction and Reservoir Dogs, Smith & Wessons from both of which can be found in the NRA museum's collection.
Hollywood stars are not going to stop advertising guns. Gunmakers are not going to stop using Hollywood for advertising. PARA USA's outburst was a promotional stunt more about drawing attention to itself than anything else and let's not pretend anything else because we love our Hollywood with guns. Last year, Kickstarter campaign "The Filmography of Guns" launched with a goal of $6,500; it raised $45,905.