An Episode Guide for the Birth of a Neighborhood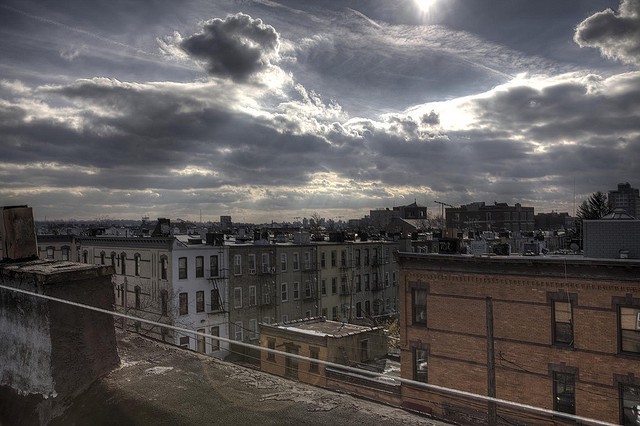 "Pilot"
MARCH, 1985: Ridgewood has traditionally been a closely knit ethnic community, where houses are passed down from generation to generation, where European languages can be heard in the streets and where, in the summer, neighbors sit on their front stoops and chat.
But the recent designation of parts of this blue-collar neighborhood in Queens as a Federal historic district is prompting changes. Tenants are buying their own homes and young professionals are moving into the community.
"The ethnicity of the neighborhood appeals to us," said Mrs. Burnett, a 25-year- old social worker. "With Germans, Italians and Yugoslavians living and working in the area, even the shops and restaurants have an Old World charm."

"A Danger Lurks"
AUGUST, 1994: Bushwick stands nearby as a constant reminder of what could happen when a neighborhood lets its guard down.
A small but sturdy community on the southwest edge of Queens, across the street from Brooklyn, Ridgewood watched in fear as Bushwick set itself aflame in the 1960's and 70's, culminating in the July 1977 blackout that produced a night of smoke and looting. "Ridgewood has only five years left to go" was the popular phrase 25, 20 and 15 years ago among doomsaying residents, convinced that Bushwick's blight would spread.

"A Change Begins"
OCTOBER, 2003: Not long ago, Ridgewood, Queens, was the city's quintessential German neighborhood, where residents would flock on weekends to the nearby Metropolitan Oval for soccer matches between teams with German names, follow up the game with sauerbraten, dumplings and beer, and end the day with polkas at a German social club.
But in this season of Oktoberfests, it is all the more obvious that Ridgewood is losing its Germans and the city is watching another of its signature enclaves turn into something more cosmopolitan.
At the Alster Gift Shop, the neighborhood's last outpost of German wares, the shelves are as sparsely stocked as the customers are few. Metropolitan Oval, in Maspeth, where teams with names like Blau-Weiss Gotschee played dust-filled soccer behind a screen of row houses, is now owned by a foundation that serves a cross-section of ethnic groups.

"A Promise Gleaming"
APRIL, 2006: In this small working-class enclave abutting Bushwick, Brooklyn, barely 20 minutes from Manhattan by subway, street after street is lined with neat row houses, some of them with elegant bow fronts or warm yellow-brick facades edged with crisp white trim. The sidewalks are wide and clean, but if it were up to Paul Kerzner, president of the Ridgewood Property Owners and Civic Association, it would be even more spotless.
Prices in Ridgewood are going up, but not as quickly as in other neighborhoods like hipster Williamsburg or increasingly yuppified Greenpoint, both nearby in Brooklyn. Ridgewood is a bargain by contrast, with some homeowners buying two-family units and using them for one family alone.
"We are getting a lot of people from Williamsburg and Greenpoint, selling there for $1 million, then buying in Ridgewood for $550,000," Mr. Crifasi said. "Other people are coming to Williamsburg, then realizing that if they go three or four stops further east on the subway, they can pay half the price, or at least 30 percent less."
Parking availability could be improved; the daily ritual of finding a parking space can be a nightmare. The assortment of retail stores is certainly vast, but a few more upscale spots are on the wish lists of some residents. "A Starbucks would help," Mr. Kerzner said.

"A Boundary Questions"
NOVEMBER, 2007: There has seemed to be a bit of confusion whether or not the evicted loft tenants ("hipsters" to some) of 17–17 Troutman actually lived in Bushwick (Brooklyn) or Ridgewood (Queens).
A press release apparently went out saying they were Bushwick residents, while the answer is: technically the building lies in Ridgewood.
In the same way that Bushwick was once rebranded East Williamsburg by real estate agents, perhaps now Ridgewood is now (East) Bushwick. Would that make it East East Williamsburg?

"A Frontier Remolded"
MAY, 2008: KERMIT WESTERGAARD grew up on the Upper East Side, far from hammers and paintbrushes. Yet early on, he was seized by the idea of renovating a historic house for himself. Last year, he got the chance when he and his wife, Azadeh, bought a 1908 row house in Ridgewood, Queens, for $592,000, and turned it into their comfortable fantasy of a simple upstate farmhouse.
Ridgewood, which is rapidly being populated by Polish émigrés priced out of Greenpoint, along with many Latinos and Asians, has the look of brownstone Brooklyn."I think there must be 20 different nationalities on this block alone," Mr. Westergaard said, "and we socialize all summer on the porches."
"When we opened an upstairs closet to find it full of vintage children's books, we knew it was a sign," Mrs. Westergaard said.

"A Beacon Deployed"
JANUARY, 2012: WHEN it comes to areas awash in well-kept old buildings, Ridgewood, in west-central Queens, might not come to mind as quickly as, say, Brooklyn Heights. But maybe it should.
Currently, the area is attracting a different type of artists priced out of Williamsburg in search of cheaper lofts, which they have discovered along Ridgewood's gritty edges.
Since 2003, Roman Popescu, a developer, has lived in a 2,500-square-foot loft at a former train-engine shop, near the border with Bushwick, Brooklyn. His parents, who are from Romania, ran a knitting mill in the building, which cost $250,000 in 1994. Mr. Popescu convinced them it had greater potential for artists, so they converted it.
"Williamsburg became as crowded as Union Square, and artists need great big spaces," said Mr. Popescu, who now has all 13 spaces leased to artists or artisans, some of whom also live on site. He is seeking a zoning change to allow nonartists to reside there, too.

"A Signal Received"
MARCH, 2012: THE race to anoint the latest neighborhood for New Yorkers eager to pursue careers in the arts is never-ending.
Greenwich Village, for much of the 20th century the heart of American Bohemia, was shoved aside by one after another newcomer, first the East Village, then SoHo and the Lower East Side, and most recently the Brooklyn quartet of Williamsburg, Greenpoint, Bedford-Stuyvesant and Bushwick. These days, a new destination seems to be proclaimed every few weeks, as artists rush about pell-mell in search of fresh terrain to colonize.
Matthew J. Mahler is one of the growing number of newcomers you see these days on the streets of Ridgewood, Queens. Mr. Mahler, 30, has a master's degree in fine arts from Queens College and is a painter. With Jonathan Terranova, a childhood friend from Long Island, he runs the Small Black Door, a basement gallery on Palmetto Street.
Mr. Mahler has many artist friends who have moved to the neighborhood in the past few years, paying from $1,200 to $1,600 for two-bedroom spaces like his own. Despite the lure of neighboring Bushwick, he expects their numbers to increase. "Bushwick has a lot of wind in its sail," he said, "and people who live here end up hanging out in Bushwick a lot. Ridgewood is still a hidden gem. It's not the hippest neighborhood. But it's getting there."

"A Land Despoiled"
AUGUST, 2013: It was only a matter of time, after Bushwick was given a featured role in the HBO show "Girls," that the young creative types who established this gritty Brooklyn neighborhood as an artists' enclave began to be priced out.
Now, with such mainstream endeavors looming and prices on the rise, artists, 20-somethings and young families are taking the L train for the short hop to neighboring and more economical Ridgewood, Queens.
Alex Amini, a 24-year-old bass player, is paying just $600 a month to share a large three-bedroom duplex in a renovated Ridgewood row house with four other people. "It's the biggest apartment I've ever had," he said, "and it's the cheapest."

"A Frontier Christened"
JUNE, 2014: To the trophy-hunting diner, the more difficult a restaurant is to find, the more alluring it is. Consider, then, the checklist for Houdini Kitchen Laboratory: No sign. Unmarked entrance at the back of a former brewery. (Better yet, through a fence to the back "yard," a.k.a. loading dock.) On a bleak block of industrial buildings with graffiti palimpsests and rusted drips from what pass for windows.
Of course, there are now artist studios upstairs, and a free tattoo party may be in swing down the street. But to a first-time visitor, clutching a MetroCard, the scene is desolate. You are 10 stops out of Manhattan on the L line, in the borderland where Bushwick, Brooklyn, blurs into Ridgewood, Queens. (Welcome to Quooklyn.)

"A Paradise Found (Season Finale)"
NOVEMBER, 2014: "When I first moved there, I never saw people that were my age," said Caitlin White, 26, an editor at MTV News who moved to Ridgewood last year from Red Hook, Brooklyn. Since then, she has noticed a demographic shift. "Creative people love to be the ones that explore new territory," she said.
Ridgewood is in the chrysalis stage of an outer-borough transformation that shrieks "Brooklyn." Except it's not in that overhyped borough.
"Most people were like, 'Queens? You've got to be kidding,'" said Brian Taylor, who is opening Onderdonk & Sons, a beer and burger joint on Onderdonk Avenue this month. He is an owner of the Pencil Factory, a popular bar that opened 14 years ago in Greenpoint, and now feels priced out of that neighborhood. "People are saying 'Ridgewood, that's the hottest place ever.'"
Photo by Tom Lin