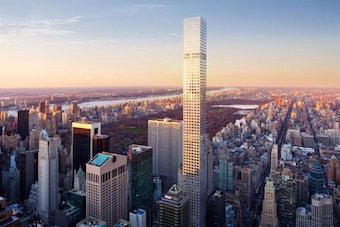 There are certain inexorable laws of nature that every building in New York City must abide by. For instance, the taller your building — and the higher your personal residence within it, well:
We've already seen the layouts for some of the lower full-floor apartments in superscraper 432 Park Avenue, but this unit, which takes up the entire 92nd floor, is the highest apartment in the building to be listed so far. It follows logically that it also has the highest price — $79.5 million. (The 87th-floor penthouse was listed for $74.5 million last month, but the listing was removed for unknown reason four days ago.) Unit no. 92 has all the customary 432 Park amenities, such as oak flooring and cabinetry, marble baths, and a wood-burning fireplace, but the really enticing part — besides the height — is the sheer number of rooms contained within its gargantuan floorplan. The 8,255-square-foot full floor contains six beds and seven-and-two-half baths in total, as well as a dining room and library.
The law that the material condition of a residence is almost directly correlated to the height of a building does not apply solely to the condos primarily built to contain the wealth of rich foreigners in this marvelous age of residential megatowers — no, not at all, although it can manifest itself in different ways:
And a building's height can be an indicator of its condition
, the comptroller's office said. In most housing types, a taller building suggests relatively few problems. But in public housing, the reverse has proved true: The highest percentage of deficient units (40.5 percent) was found in buildings over 20 stories.
Some laws are indeed universal.