An Investigation into the Weirdest Ronald Reagan Photo You've Probably Never Seen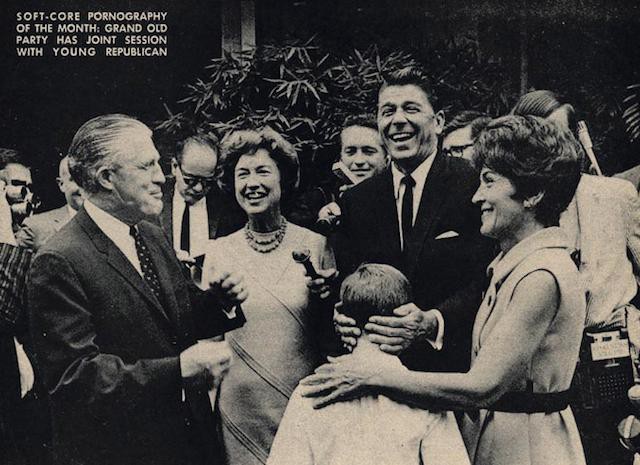 I read and re-read many books in my adolescence. The Wanderers, for the sex; The White Hotel, also for the sex; and To Kill A Mockingbird, for the lyricism. Well-thumbed, too, was an anthology of essays, reported stories, interviews and cartoons from The Realist, a funny, scathing counter-culture magazine founded in 1958, by Paul Krassner. I didn't understand a lot of it; the "impolite" interview with Dick Gregory; the parody of William Manchester's biography on the John F. Kennedy assassination, in which LBJ has his way with Kennedy's corpse; the famously dirty Disney cartoon — but I knew, even in my ignorance, that it was funny.
Among the book's treasures was a rather crude photo, published in Issue No. 76, August 1967, of Ronald Reagan — flanked on his right by George and Lenore Romney, on his left by his wife, Nancy — smiling like a jack o' lantern. Standing in front of Mr. Reagan is a little boy. Due to the angle of shot, the former appears to be receiving a blowjob from the latter.
The caption: "SOFT-CORE PORNOGRAPHY OF THE MONTH: GRAND OLD PARTY HAS JOINT SESSION WITH YOUNG REPUBLICAN."
For reason divorced from politics — I had no idea who Reagan was, other than that my parents had not voted for him — this struck adolescent me as pretty funny. And now, two decades later, it still does. But I'm also intrigued by it; I like trifling historical mysteries, and this obscure, bizarre photo of a famous man — this image utterly devoid of context — fits the bill.
Who shot it? Where? What were the circumstances of the occasion? And who is the boy?
1.
I talked to Krassner first. I'd been looking for an excuse to interview him; how many people do you know that rode the bus with the Merry Pranksters, edited Lenny Bruce, and claims to have coined the term soft-core pornography?
"It was a natural," he said. "It was like a gift." Even after nearly five decades, Krassner was evidently tickled by the photo. It had appeared elsewhere, he said, either in a magazine or newspaper. He couldn't narrow it down. Nor had he gotten permission to print it from the photographer, whose name he didn't know. But he was certain it was the real McCoy: "It's not Photoshopped," he said. (That would have been miraculous, since Photoshop was not created by the Knoll brothers until the late eighties.)
Toward the end of our chat, we wondered who that poor kid might be. I said it would be ideal if he turned out to be Mitt Romney. "Oh, that's just wishful thinking," said Krassner, who noted that Romney would've been far too old — around twenty — in 1967. But, he said, "it would be symbolic."
2.
Next, I emailed Rick Perlstein, whose latest book, Invisible Bridge, is about the ascent of Reagan. Perlstein is a voracious consumer of information, so I figured if anyone would be familiar with the photo, he'd be a good bet.
"Hah!" he replied. "I've never seen it."
3.
Surely, though, Lou Cannon would have. He was the Washington Post's White House correspondent during the Reagan years and has written several books about the man.
I called him. He was pretty busy, he said, but agreed to look at the photo.
"It's not pornographic, is it?" he said.
I assured him it was not. He never replied to my email. We may have different definitions of pornography.
4.
Continuing my Reagan biographer stations of the cross, I called Craig Shirley, author of two Reagan books.
He, too, was unfamiliar with the photo. But, in an email, he theorized about the circumstances. "Reagan had nothing against Romney but Romney could not stand Reagan," he wrote, "so it had to be some sort of formal meeting."
In 1967, Romney and Reagan were considered top prospects for the Republican nomination. They both hoped to take advantage of Richard Nixon, who was believed to be a poor candidate. Shirley guessed it was either an event for the Republican Governors Association, which Reagan chaired from 1968 to 1969, or the National Governors Association. He suggested I contact Thomas Reed, who worked on Reagan's 1966 campaign for governor (and was, years later, Secretary of the Air Force under Presidents Ford and Carter), and Peter Hannaford, who joined Reagan's staff as an administrative aide in the early seventies.
5.
Alas, Secretary Reed couldn't identify anyone else in the photo. But he had an idea about the men in the background — one over Romney's left shoulder, another over Reagan's right. "I strongly suspect they are all newsies," he wrote. This makes sense; you can see various reporter equipment, and a camera on the viewer's left.
George Skelton, a long-time Los Angeles Times staffer who covered Reagan, agrees. "A guy in the background may have been a Sacramento AP reporter, long since retired," he emailed.
As for Reagan's former aide Peter Hannaford: "I don't think I can be of much help," he apologized. However:
…The boy is likely to be young Ron (Ronald Prescott Reagan) who would have been 7 at that time.
If the year was 1967, then Ron Reagan, Jr. would have been nine.
Neither Shirley nor Reed found it terribly likely that young Reagan would've attended a Governors Conference event. "I don't think it is Skipper," wrote Shirley. Skipper was Ron Jr.'s nickname. "His hair was usually cut shorter and plus this hair looks lighter than Skipper's was. Also, from the back, Skipper bears a very striking resemblance to his father and I see no Reagan here in this photo."
"The boy does not look like Ron Jr, and Nancy NEVER would have taken Ron Jr. to a political event with 'outsiders,'" wrote Reed.
6.
At the very least, I thought we could figure out with some degree of certainty where the Romneys and the Reagans crossed paths. Given the mutual dislike, I took it for granted that a Governors Conference was the most likely setting. Edwin Meese, who joined Reagan's staff in 1967 and eventually became the United States Attorney General, is in this is camp, too. "I am not sure about the photo, since I don't remember being there when it was taken, but my guess it was at a governors' conference, since both of the men were governors together during that year," Meese emailed. He was unsure of the date.
Reed, more certain than Meese, said the photo was taken at the end of June 1967, possibly at Yellowstone or Jackson Hole. Maybe so: Steve Branch, the Audiovisual Archivist of the Reagan Presidential Library, told me the Reagans and Romneys were at a Western Governors Conference in Yellowstone on June 27th of 1967.
7.
It was a three-day conference. Governor Reagan was a hot ticket; Governor Romney was not. Here's the New York Times published on that day:
"If the Republican party comes beating at my door, I wouldn't say 'get lost fellows,' but that isn't going to happen," Governor Reagan said in an interview with Idaho newspapermen before leaving for Sacramento to deal with budget and tax problems in the Legislature.
The other Governors here for the Western Governors Conference spend much of their time answering questions about Mr. Reagan. Gov. Tom McCall, a Republican moderate from Oregon, called the Californian "the hottest piece of political property the Republican party has going….."
There is little show of strength for Gov. George Romney of Michigan, the leading moderate candidate.
Among the topics under discussion at the conference: the water problems faced by the western states. This was an issue, Reagan told his colleagues, that ought to be handled by the states, not the federal government.
8.
Early in my investigation, I'd contacted Steve Branch, the Reagan Library archivist, and sent him the photo. "Interesting caption!" he replied.
I looked with no luck of finding this photo in our collection. I could not even locate any of George Romney. However, I am almost 99 percent sure that is Ron Reagan as a child in front of Governor Reagan.
Branch also disputed Reed's contention that the Reagans wouldn't have taken their son to 'outsider' event. He said there were plenty of photos to the contrary. To be certain, I called Ron Prescott "Skipper" Reagan. Even if he didn't recall the event, perhaps he'd recognize his own haircut? I left a message at his home and received no reply.
9.
The only mystery left, then, is the identity of the man or woman who snapped this marvelous photo. I don't expect to solve it. Sadly, no one has claimed credit. And there's not much to go on. A review of contemporaneous press coverage doesn't yield any other photos of the occasion. Reverse image searching reveals nothing. And, while I'd happily call every photographer who attended the Governors Conference, a guest list doesn't seem to exist.
With any luck, our mystery shutterbug will step forward.

An update: It appears we were all wrong! Awl reader/supersleuth Doc has found footage of the event, which purports to be at the Reagan home in Pacific Palisades, Los Angeles, on September 25, 1967. I sent the footage to Steve Branch, who replied that the footage was taken at the same time as the photo and:
That is definitely the Reagan House in Pacific Palisades, CA. Great find on the video! The only people I can ID are of course Ron Reagan (the child), Press secretary Lyn Nofziger (bald man) who is behind Reagan as he is walking out of the house and Arthur Van Court (Reagan's security) who is behind (to our left) when Reagan is speaking at the end.
Elon Green is a freelance writer.