by Tyler Gillespie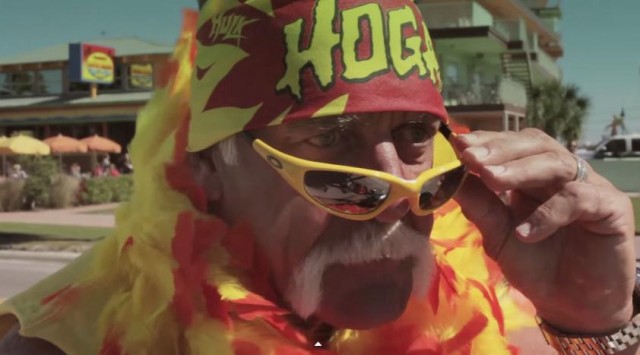 On Father's Day in Tampa, Florida, a toned woman in a thong bikini backflipped off the party boat "Sea Cowboy" as club music blasted out of Hogan's Beach, a twenty-thousand-square-foot restaurant and bar. Connected to the Best Western Bay Harbor Hotel, Hogan's Beach is a hotspot, at least according to the radio ads for the venue. Owned by Terry Gene Bollea, it is perhaps the final resting place of the spirit of his Hulk Hogan persona. "I get to come in here and act like I own the place and run it 24 hours a day," he told a Florida newspaper. "I'm just posing."
While Hogan may not have many daily responsibilities in his namesake venue, the Hulkster was set to host the day's "shitshow" stop of international DJ Cedric Gervais's "Summertime Sadness" tour. The event also promised an opening DJ set by Hogan's son, Nick, who was sentenced to eight months in jail in 2008 for a reckless driving charge that left his passenger with brain damage.
My friend Emily and I walked in to Hogan's Beach through the Shining-esque hallway that connected it to the Best Western. It was lined with glass cases filled with "Hulkamania" memorabilia: lunchboxes, figurines, keychains, stickers and Pogs. Mounted in the corner, a TV played a loop of old wrestling footage. For no discernible reason, the video's announcer kept repeating "America." A statue of Hogan stood near the hostess station; its clenched mouth and wide-eyes gave it the look of a blow-up doll.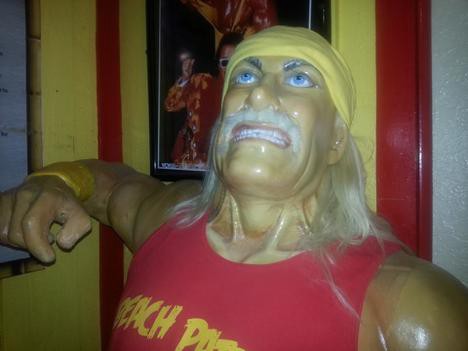 The hostess seated my friend Emily and I in a corner booth. A couple took a selfie close to a gold championship belt behind the main bar; there were no boas, a signature piece of Hogan apparel circa 1996. Posters celebrating Hogan in various stages of undress/career were framed against walls painted in Hogan's signature yellow-spandex: one of him next to Andre the Giant, another chest-to-chest with Dwayne "The Rock" Johnson, and a black-and-white photo of Sylvester Stallone, because Hogan appeared in Rocky III. My favorite, though, looked very "We are the World" and shows him standing with Muhammad Ali, Cyndi Lauper, and Liberace.
I knew what to order without looking at the menu. Yelp reviewers almost universally trashed the fish tacos, one of the most popular menu items. "Do yourself a favor and don't order them," wrote one user. "Worst fish tacos ever." Other food items include a buffalo chicken sandwich, Cobb salad, and the All-American Burger. Nothing named after wrestling moves — no "Leg Drop Soup" or "The People's Chicken Wings." The price of the food seemed average, but the cocktails — Rum Runners and Mojitos, served in plastic cups — seemed too expensive. The Yelpers were right: The fish tacos were bland, even though they were coated in a "zesty" sauce.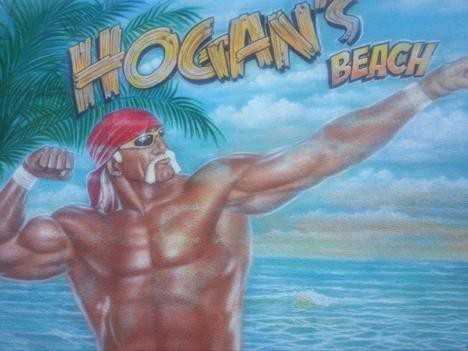 Outside, two sand pit volleyball courts — nets conspicuously missing — constitute the main area. Emily and I made our way through groups of people clustered around two long bars while we waited for Nick Hogan to begin his DJ set. People smoked from hookahs made out of Grey Goose vodka bottles, which are only sold on Sundays. No one used the pool table. The "Beach" in the restaurant's name comes from a barely-there-strip of sand. I couldn't figure out how to get to it. The website also promises a mechanical shark, which I also couldn't find.
The crowd could've been from a casting call for MTV's True Life: I look like a buff Macklemore. They wore disparate shades of neon, American flag bathing suits, and low-cut tank tops that said things like "sky's out, thighs out." A stranger named Gia approached Emily for a cigarette. "These skinny bitches gotta go," she said. "They all need to eat a hamburger." Gia was the first person other than our server to acknowledge our presence. She moved to Florida to live with her girlfriend, whom she mentioned often. "I'm glad I found the other gay people here," she told us. I wasn't sure why she assumed this. "Maybe she thought we were gay because of how conservative we dressed," Emily said. (I wore an actual, fully there t-shirt and shorts.) In an effort to move away from Gia, Emily and I sat at a wood table that looked like it came from someone's backyard. Within a few minutes, a security guard told us to move. "Reserved." So too, apparently, were the quasi-upscale looking cabanas. Banned from sitting, we stood at the crowd's edge as Nick made his way to the stage.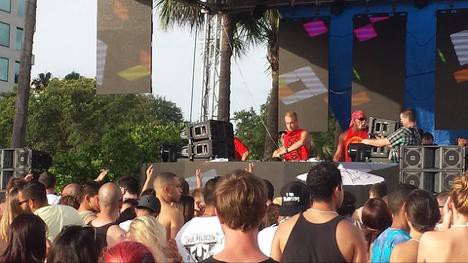 "Raise your hands if you're a father and got a kid at home," Nick Hogan yelled to the crowd a little while after he came on. "Thank you for coming out. I see you." Nick pointed to the crowd a lot. He looked older than his twenty-four years. I thought I spotted his sister Brooke trying to follow the beat, but I couldn't tell if it was actually her or Hogan's new wife.
I was transfixed by the maybe-Brooke's bleached-blond ponytail until Nick spoke again. "I love you dad," he said, turning to high-five his father, providing my first glimpse of Hulk. He flexed, pumped his fist and air guitared. His tan is even darker in person. Hogan addressed the adoring crowd, and I waited for him to say something awesome. "Here's the deal for all the brothers," said the man who created a nation of middle-American brothers. "There's a lot of fine talent out here, but you outnumber them. My man Cedric Gervais is bringing the rest of the talent from the 305."
Yes, talent.
As Hogan spoke, the crowd erupted. On his VH1 reality show Hogan Knows Best we saw the "Terry" side of Hulk. He cried and stuff. His fans — three million likes on Facebook — want this. The character, nothing else. He flexed and pointed some more for their pleasure. Nick finished his set to polite applause. "You are the best dad I could ever wish for," he said before leaving the stage. "I love you. Happy Father's Day." The crowd seemed to agree with him about his dad.
Hulk then introduced Gervais as "his boy." The masses crawled out from wherever they hid during Nick's set. A sea tattooed arms pumped their fists. A woman stood up on a stool and nearly fell off; she must have reserved that seat. A few songs into Gervais's set it started to rain. Before the lightning, the Grammy-winning DJ got to play his remix of Lana Del Rey's "Summertime Sadness." Hogan stayed on stage the whole time.
Tyler Gillespie is the palest Floridian you will ever meet.