The Uber Diaries
by Will Butler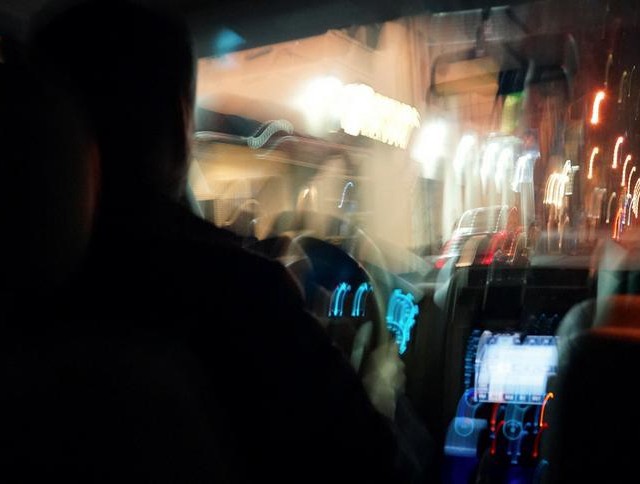 I'm not supposed to drive or bike anymore, so when I discovered rideshare services like Uber and Lyft, my life became much easier. I usually try to talk to my drivers. Here are a few of their stories.
Abram. Wednesday night.
Just before nine o'clock on Wednesday evening is the most stressful time of the week. Easy to feel un-buoyed. Abram had been smoking in his car. That, or he just hopped into the driver's seat, mid-cigarette, as soon as he got my call. He was maybe sixty-five, seventy tops. Mostly bald, with thick glasses and shadowy eyes. His English was not great; he spoke with a heavy slavic accent. He inserts your name at the end of almost every sentence, you see. I asked him where he was from. Sacramento.
"Everyone say, it beautiful — very very beautiful picture — on email." Abram was talking about the picture of a giant cheeseburger that arrived in the inbox of every Uber user in his area this morning. He had been driving with the app for 14 months, and was asked to be one of seven drivers running the burger promotion. He had spent all afternoon delivering burgers instead of people, and thoroughly enjoyed it. He didn't even like burgers. He'd tried a burger, maybe once or twice. But he liked the connection with people.
I was trying to talk about burgers and he interrupted me. "Will, I'm sorry for my question: Are you blind?" he asked. I started to ramble. I realized I was lecturing. He let me talk for a minute. Then he said, "We all have some problem."
When Abram wakes up every morning, he holds his breath. On some days his wife recognizes him; on others, she turns over in bed and sees a stranger. She has Alzheimer's and is schizophrenic. On the mornings that she recognizes him, he stays home and spends the day with her. On the mornings when she opens her eyes and says "who are you?" he gets out of bed as fast as he can. "Shari, I'm going right now," he says to her, trying to reassure her as he leaves, "don't worry. Don't get up."
00:08:23
$9.27
✭✭✭✭✭

Kevin. Noon Friday.
Getting into the front seat of the Rav4, I found myself in presence of a highly positive white male. He was tall, with little hair. He had a broad and unhampered smile. I didn't want to stare at him from so close, but I couldn't help but notice how big his forearms were. Kevin had been a butcher at a fancy hotel in San Francisco for several years before striking out on his own. He was starting a company out of a shared kitchen, and he was excited because he was getting his equipment inspected next week. The business?
"Smoked salmon!"
I looked at him again, and pocketed a lox reference. "The money I make from Lyft, it's going to the smoker." And he didn't want to stop there. Kevin had big dreams of smoked meats. "Kielbasa, Pastrami, all of that." Once you got Kevin started on smoked meats, he was in the zone. I didn't tell him a word about myself.
He got the idea from when he had to do business with the Tides Wharf Fish Market, an outpost for fresh fish jutting out on the windswept, craggy cliffs of Bodega Bay. There, he bought salmon from a guy named Tony. Sometimes Tony would do business, sometimes he wouldn't. That's when Kevin started thinking about salmon. Before I shut the door he said, "You're the coolest passenger I've ever had!" I asked him what his business was called.
"Bay Beans," I'm pretty sure he said. When I got home I looked it up.
From Wikipedia: "The species of Canavalia endemic to the Hawaiian Islands were named ʻāwikiwiki by the Native Hawaiians. The name translates to "the very quick one" and comes from the Hawaiian word for "fast" that has also been appropriated into the name "Wikipedia"… The bay bean (Canavalia rosea) is supposedly mildly psychoactive when smoked, and is used in tobacco substitutes."
✭✭✭✭✭
00:04:00
$5.00

Eddie. Saturday evening.
Eddie grew up in Manila, where if you know your place, you stay safe. Venture too far, not so much. Eddie was happy to live in West Berkeley. He knew that a safe neighborhood was a relative thing. You could tell he missed the beaches, underground rivers and island caves of the Philippines, but city life in Manila could be rough. How would he describe it? "A lot of funerals, man."
"Did you hear about Uber?" I said vaguely.
"The valuation?" he knew what I was talking about.
"Yeah."
"Seventeen billion," he shook his head, pausing to mull it over. "It's just people, and cell phones, and computers, and the office. Seventeen billion dollars? Crazy. And any time it can like, just disappear."
Eddie had picked up a friend and me just the day before, but we were on our way to a party and we had mostly ignored him, sitting there in the backseat talking about booze, women and baseball. He had a placid demeanor and a rental just two blocks from my own. He'd moved to the States at the deepest trough of the Great Recession in 2008, gotten a green card in less than a year and was well on his way to citizenship. His wife worked at a big international accounting firm which rakes in more than $25 billion per year in revenue — one of the "Big Four" in worldwide professional services. She had moved to California a couple years before him and, after a vacation together one summer, got pregnant. Now, with two kids, it's time to buy a home, but they can't. They're always getting outbid by the new influx of Bay Area residents who are now, more and more, buying real estate in cash.
"You see 'House For Sale,' less than a month, then it gets sold. Cash. Thirty, fifty percent on top of the asking price."
As a child, Eddie came home from school one day to find the house next door disrupted. It had been stormed by rebels — anti-political and yet politically motivated, as many are in the Philippines — who had come for his neighbor, a vice mayor of the city. "He was killed in his own house, inside the house," Eddie said. The key suspect was the mayor.
In California, the geographical prohibitions weren't about politics or violence — they were about money. That's why Eddie was talking about moving out to one of the East Bay bedroom communities like San Ramon, as long as it was safe. "We always consider the neighborhood, man."
✭✭✭✭✭
00:11:42
$12.24
Stan. Monday morning.
Within a few minutes Stan was talking about floating. It's what happens when you go raw for twenty days, he said. Nothing cooked, nothing processed, just plants.
"You feel excellent… Your aura; your whole spiritual makeup changes. You know, kinda like you're floating. Anybody will tell you that they feel different… You start having these crazy dreams… They're intensified like crazy."
"Why is that?" my girlfriend asked. She's pretty healthy, and skeptical.
"Because your spiritual aura's cleansed. You're more connected. Universally you're more connected."
Stan has practiced herbalism for more than sixteen years. For a time he was under the mentorship of the famous herbalist Djehuty Ma'at-Ra. Born in South Central Los Angeles as Earnest Cooper Jr., and once known as Jaber Abdul Akbar, Djehuty Ma'at-Ra rose to quasi-celebrity status as a self-taught, Afrocentric health guru. Through family connections, Stan was introduced. Growing up in Vallejo, Stan saw how a culture could succumb to the food industry, to processed garbage marketed at bargain prices to low-income people, and he could relate to Djehuty's passion for escaping this unhealthy cycle. Hence the herbs, the rejection of many drugs, the raw food cleanses.
"Your life changes, just, in every way. You see life differently. Your whole perspective. You're calmer. Stuff you may have tripped off of, you don't trip off of no more. Stuff that may have pissed you off, don't piss you off no more. Or, I should say, it has a lesser effect."
Stan recalled when his wife's father was dying of cancer in the hospital. The staff kept trying to give him soda to drink. Stan was dismayed. In the end, he told me, his father-in-law died from an infection associated with the treatment. Stan knew we needed modern medicine for emergencies, but for convalescent and palliative care, he was disabused.
We'd had another friend whose mother, upon consulting a naturalist doctor for weight loss and breathing problems, was told she was simply ridding her body of toxins and not to worry. It turned out to be lung cancer. Recurrent cancer also took my girlfriend's mother around the same time. I didn't think about how restrained she had been in the car until later.
✭✭✭✭✭
00:16:39
$20.87

Geoff. Monday night.
He drove a Lexus. The seats: dark leather. It hummed peacefully, went silent at each stop sign. Geoff said he did two things to make money and stay occupied (Uber, I guess, was a third thing). First he was a day-trader. He woke up early with the market: buy, sell, cash out. He was, second, a web developer. But he wasn't just spicing up your cousin's husband's WordPress theme. He scraped. He "did" SEO. He trawled; he was a fisher-of-content.
His inspiration: In August 2005 a 21-year-old British college student named Alex Tew set out to become a millionaire. All it took was one website, called milliondollarhomepage.com. It was a simple, large web billboard advertisement — 1000×1000 pixels — where he sold square pixelage for one dollar per; the effect was a surprisingly enchanting corporate collage. By January 2006, he had sold 850,000 pixels. News media blitzed. Tew sold the last 1000 pixels at a ten-day eBay auction for $38,100. Success.
Geoff and his roommate at the time bought a Million Dollar Homepage script in hopes of running a similar campaign. They didn't know how to get eyes on the site, so they started mining content from other sites. The example he gave me was that, today, the words Justin and Bieber were very popular on the internet. So he might purchase a domain like justinbieberdyehishair.com and set up shop. For this, he said, Google pays handsomely. AdWords rewards relevance.
He also has bots swimming the seas of data, racking up keywords. Back in the MySpace days he made bots that automatically friended people en masse, then posted bulletins to push traffic. THE CRAZIEST PIC YOU'LL EVER SEE: IS THIS YOU??, and the like. Now he has squadrons of Twitter bots, and programs that vacuum info from news sites, forums, and other social media. With all this info, he said, he can figure out what people want to click before they even know they will soon click it.
I asked him about his motivations, and he was frank. "My old roommate and I were really bored… We were thinking like, how can we start a business? If we do a restaurant, it's gonna be like, pretty hard, because we'd have to hire people, we'd have to cook really good food. So like, what would be easier? Let's just do a website, and see if we can start making money from it."
…
"Did I go too far?"
I was supposed to be navigating. We were far past my house. I told him and he made a sweeping u-turn in the headlights of another car in the intersection at San Pablo Avenue and Ashby Avenue. I tried to tell him where to turn but was having a hard time being descriptive.
He'd started driving Uber just last week. He'd bought the Lexus but didn't know what to do with it; he said he barely touched it after moving to a new, more walkable neighborhood in downtown Berkeley. But on Friday, when news hit that investors as massive as Fidelity, BlackRock, and Google had all piled on for another $1.2bn, sending Uber's valuation skyward, he decided it was time to take a look. "I was like, Uber is worth eighteen billion? What is this all about?" He liked it enough that he joined Lyft, too. He ran both apps simultaneously, taking fares from whichever one buzzed first; whichever one paid better, on any given day.
"It's actually really fun. It's like playing a video game. But real life."
✭✭✭✭
00:06:48
$9.34
Names and identifying details have been changed. Will Butler is a writer living in Berkeley. Photo by Lynn Friedman.