How to Be a Black Country Star
by Casey N. Cep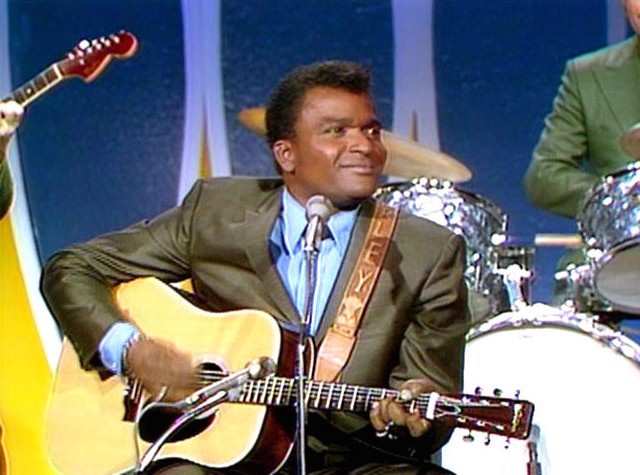 The Statler Brothers were a gospel band most famous for the years they spent as Johnny Cash's backup singers and opening act. In 1979, they released a song called "How to Be a Country Star." "There's questions," it began, "we're always hearing everywhere we go: like how do I cut a record or get on a country show?"
Their comical answer was a rambling list of what today we'd call shout outs: "learn to sing like Waylon or pick like Jerry Reed," "put a cry in your voice like Haggard," and "get a hip band like Willie." On and on the song goes, naming more names than a teacher on the first day of school. Near the end of the role call, they suggest: "Get a gimmick like Charley Pride got and you'll be a country star."
Charley Pride's "gimmick," as everyone knew by 1979, is that he is black. No one knew that in 1966, when Pride's first single was distributed to country stations without publicity photographs. His agent feared that if disc jockeys knew Pride's race they wouldn't play his music. A reasonable fear in a genre that only last year seemed to suggest that the song "Accidental Racist" might constitute a meaningful conversation about race.
Somehow, by 1967, only a year after his first single, Pride was performing at the Grand Ole Opry. In 1971, he was named both Entertainer of the Year and Male Vocalist of the Year by the Country Music Association: a rare honor reported by the Associated Press under the headline "Pickin' A Guitar Instead of Cotton Pays Off For Singer Charley Pride."
That year, Pride had released his most popular song. In two minutes and only 137 words, "Kiss an Angel Good Mornin'" topped the charts and brought Pride's baritone voice into some of the most intimate spaces in America: automobiles and living rooms, wherever radios were tuned to country stations.
The song is a little like a hymn. Not because it has any gospel themes — it's quite clearly about what Pride calls "a woman and a man in love" — but because it's most beautiful if you already believe. I've always thought that love was itself a rehearsal of faith, in the way that there are things in which you only find meaning — a few things in which you only find joy, if you're already in love. If you're not already in love, then a song like this seems saccharine, even a little silly, the way that a hymn can sometimes seem to those outside the church.
The song opens with Pride smiling like a jack-o-lantern, so enthusiastically that friends ask him why. "And every time they ask me why, I just smile and say: 'You've got to kiss an angel good mornin.'" There you have it. No consternation; no complications. Just an angel to call your own, and all you have to do is kiss her and "let her know you think about her when you're gone." Just "kiss an angel good mornin' and love her like a devil when you get back home." No confusion; no conflict. There you have it.
The song is an autostereogram that only those already in love can see. "People may try to guess the secret of happiness," Pride sings, "but some of them never learn it's a simple thing." Pride would record thirty-five other number-one songs, but it was "Kiss An Angel Good Mornin'" that made his career, which is itself a kind of puzzle.
Like the actual black cowboys of the American West, black performers in country radio are largely forgotten. When Darius Rucker, of Hootie and the Blowfish fame, took his song "Don't Think I Don't Think About It" to the top of the country charts in 2008, many were shocked to learn Charley Pride had gotten there first, in 1971, and that Pride had been there as recently as 1983. Just as when Pride first performed at the Grand Ole Opry in 1967, many were shocked to learn DeFord Bailey had beaten him there, playing his harmonica on that stage from 1927 until 1941.
Having made a career in country music, Pride seemed more troubled by the barriers between musical genres. In 1977, he told a reporter, "A whole bunch of the 20 million blacks in America are out there waiting to enjoy Charley Pride." That was after a black radio station in Chicago had invited him into the studio, interviewed him, and then played one of his records, only to announce that they would not play his music again.
"It seems like if you're a country singer, they feel they've got to make you suffer for it, because you started out as a country singer," Pride explained. He protested the "separatism practices" of radio stations, even as the reporter could not help but mention how "an ex-baseball player from Mississippi entering country music just as race riots rocked Detroit and Newark" was "understandably silent on the subject of race." Born to a sharecropper in Sledge, Mississippi, Pride played in the Negro American League and served in the Army before moving to Nashville.
He had grown up listening to country music, and that's where he got his break, even though he insisted his music wasn't only country. Listen to "Kiss An Angel Good Mornin'" and you'll understand why: the beat and the baritone are clearly country, but there's something else, just a little kernel of corn just waiting to pop in the lyrics. The song's been covered by Conway Twitty and Alan Jackson, but you could easily imagine Rod Stewart or Barry Manilow kissing that same angel.
Casey N. Cep is a writer from the Eastern Shore of Maryland.