Dov Hates Dust: When the CEO Comes to Town
by Corinna Kirsch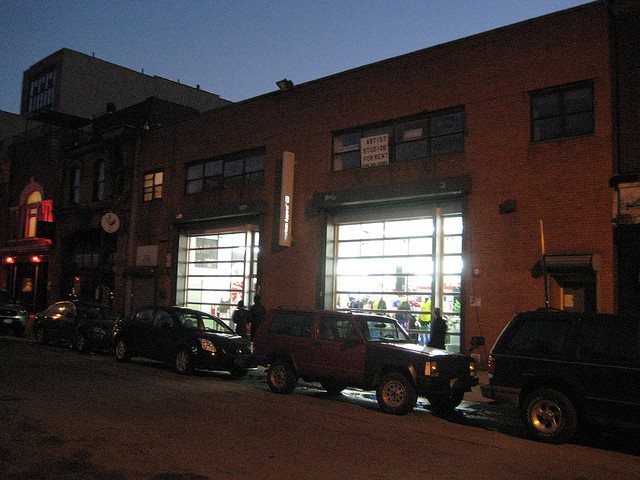 I used to work at American Apparel, the one in Williamsburg. Internally, it's called NY5. Every so often a mid-morning, brunch-faring couple would ask how business was going.
Business was bad. So bad that I'm almost wondering why American Apparel continues to exist. According to the Los Angeles Times, it's lost nearly $270 million over the last four years; in the process, it's accumulated more than $200 million in debt.
But I'd shrug, and mention one of our two-for-one sales. We always had two-for-one sales. Eventually they became three-for-two sales, but it's less sing-songy; as you can imagine, it didn't catch on.
When I started working in Williamsburg in 2011, the condo rush was peaking as the rich swooped in to buy rooms at developments like The Edge — a glass-and-steel tower with a "plunge pool," chef's kitchens, and a nineties-and-neon-pink-tinged marketing campaign — just a few blocks away. The East River ferry service had recently launched, too. Nobody I worked with took the ferry — or lived nearby, for that matter. The only ferry regulars I knew were French exchange students living off their short-term visas and pleasant exchange rates.
Dov Charney and American Apparel tried to find financial salvation here, but the type of customers they needed, the young and sort-of broke who used to shop at American Apparel, had already left the neighborhood. Yet, during the two years I worked there, talk about expansion was always in the air. In 2012, NY5's fitting rooms were torn out to make room for more clothing racks. The store used to look like a boutique, but no matter; maybe putting more leggings out would juice revenues. Then, in 2013, NY5 became a flagship store. That just meant that we started renting out the back part of the building to expand the store, hoping to attract more customers. I was told that rent had increased to $40,000 a month. It's around this time that, from what I'd heard, Dov Charney started haunting the stores.
We were never told exactly when Dov Charney and his corporate crew would drop by unannounced, but they would. "Dov hates dust," my manager told me at least once in preparation for increasingly frequent corporate audits. To combat the grime, we swiffered the racks throughout the day, all the while telling our customers that they had the best asses in Brooklyn. Multi-tasking was key when trying to make sure visitors weren't stealing our disco pants; weren't doing coke in our fitting rooms; and weren't drunkenly breaking any of our mannequins. We had to meet hourly goals or someone would get "written up" or shifts would be cut. (Eventually, the focus on individual sales girls as a tool to increase revenue took all sorts of unusual turns: At one point, employees had to try to sell AA-brand nail polish to local salons, which didn't go over very well, if only because some of the polishes went on thick as pudding.) I was paid eight dollars an hour — and I have a Master's degree.
The night I met Dov, I was about to head home. It was Saturday night at 10 p.m., but then a lumberjack-type of guy walked in with two young women. He started taking cell phone pics of the dust he scraped off the clothing racks.
One of the girls with tattoos got written up; you're not allowed to be visibly inked if you're at American Apparel. You're also not allowed to wear anything that's not AA when at work. This includes not just clothes, but also socks, shoes, nail polish, and jewelry. Makeup must be "minimal." Only then are you "on brand." As a punishment for our dust, tattoos, and whatever else, we had to stay open an hour later; other employees from corporate stayed after Dom left, to make sure that our store looked perfect by American Apparel standards.
I never talked to him. He never looked at me, and maybe I felt slighted. Shortly afterward, I started having nightmares about Dov. In one hazy dream, we made out in the basement, in back stock, surrounded only by the plastic Tupperware-type containers where we kept all the clothes. It was a lonely world, just the two of us in a sci-fi-bomb-shelter situation, me and this desperate man whose dreams produced not just American-made T-shirts and V-necks and knee-high socks, but part of the very cultural shift that had made the neighborhood inhospitable to his store and the people who might have once shopped in it.
A few weeks later, I got a copyediting job and quit. I stopped going to Williamsburg, really, and haven't been back to NY5 since.
Corinna Kirsch is a senior editor at Art F City.
Photo by Josh Kramer