A Visit to the Less Famous But Definitely Bigger World's Largest Ball of Twine
by Claire Suddath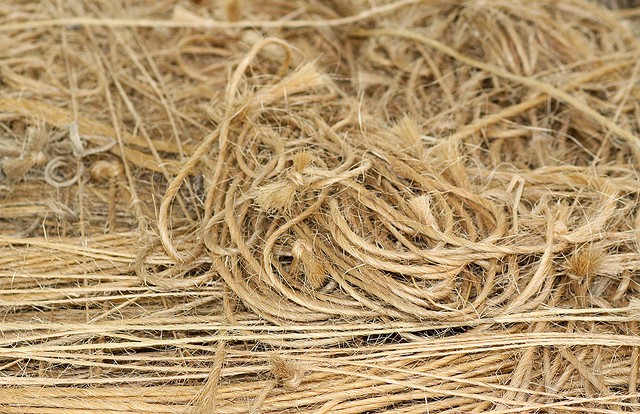 The World's Largest Ball of Twine might just be the most famous example of a certain kind of American roadside kitsch, although I can't figure out why. It's not part of the funky, burned-out cars and wigwam motels along Route 66. It's not in National Lampoon's Vacation, which is where most of my road trip knowledge comes from. Was it in those Guinness Book of World Records paperbacks I used to read as a kid, next to an entry about the man with the world's longest fingernails or the world's fattest identical twins? I don't know.
Two summers ago, my boyfriend Josh and I borrowed a Jeep from an overly trusting friend of his father and drove out west. From New York City, we traveled nine thousand miles across twenty-five states for a trip that would include my first attempt at camping, his first visit to California, and the invention of a new game best described as, "Turn on the country radio station and try to guess which societal woe will be lamented next." (Alcoholism. Always pick alcoholism.)
On the third day of the road trip, about two hundred thirty miles into Kansas, we hit a small town called Cawker City, which claims to be home to about four hundred people; I suspect they were rounding up. Cawker City is home to the ball, which was started in 1953 by a man named Frank Stoeber. There's a competing World's Largest Ball of Twine in Minnesota that weighs 17,400 pounds, but it's kept in a glass display case and no longer grows. Cawker City lets travelers wind twine around the ball, and as of 2013, it weighed 19,873 pounds.
Cawker City was named after E. H. Cawker, partly because he helped found the town in 1870, but mostly because he won a poker bet that gave him the right to name it whatever he wanted. For a while, the town did pretty well: It became a stop on the Missouri Pacific train line, and by the start of the twentieth century, it had grown to about twelve hundred residents, mostly farmers. They raised animals and grew corn and traveled into town to shop at the two-block line of storefronts that ran down the main road, which is called Wisconsin Street. In 1904, the New York Times ran an article about how Cawker City had more happily married couples than any other town its size in America. "Husbands and wives are actually in love with each other," the Times marveled. The reason? "Absence of saloons." The rest of the century then passed by, relatively uneventfully: The town built a park with federal work relief funds during the Depression, then turned it into a makeshift PoW camp for German soldiers during World War II. It had a non-twine tourist attraction: a bubbling saltwater spring — a sacred site for the Great Plains tribes — but the Army Corps of Engineers built a dam that flooded it in 1968.
On what was obviously a very boring day in 1953 — probably because there were no saloons — Frank Stoeber gathered scraps of twine that he'd used to tie up old hay bales and rolled them into a ball. Then he gathered some more. His neighbors heard what he was up to and started bringing their leftover twine. Soon it became a thing that people did: bringing twine to Mr. Stoeber, who'd tie the strands together and add them to the growing ball that he kept inside his barn. He did this for eight years, until the ball was eleven-feet wide. Then he rolled it into town and donated it to people of Cawker City, who took one look at it and thought, "Okay, we can work with this." They built a little display patio for the twine, with white support beams and a red roof to keep the ball dry when it rained. The twine still rests there, on that patio in the middle of downtown.
There weren't any people on the streets when Josh and I arrived. No restaurants open for lunch, nowhere to get a cup of coffee, still no saloons. Rusted cars sat on cinder blocks in the middle of overgrown yards that led up to houses, each one with a sagging roof and at least one broken window. Most of Cawker City's family farms have either been bought out or gone bankrupt, and the young people have all moved away to places where they can get better jobs in air-conditioned buildings. Josh comes from a place that's a little like this: Linton, Indiana, where the local shops are losing the battle against the nearby Wal-Mart. But Cawker City isn't big enough for a Wal-Mart.
We parked the car in an empty parking lot beside the twine and ran up to see the ball.
"Huh," I said. "That's an awful lot of twine."
"Huh," Josh agreed.
No one ever tells you this, but the World's Largest Ball of Twine isn't really a ball. It used to be, but now it's so big that when people add to it, they have to wrap their strands around the middle. Over the years it's become much wider than it is tall, making it technically The World's Largest Lump of Twine.
We hung around the twine for a while, reading the unexpectedly crabby informational signs ("If the ball is wet, it's raining…if the ball is white, it's snowing"). We took pictures and tried to see how far around it our arms could stretch when we hugged it. At one point, Josh leaned in and sniffed it. "It smells like my grandpa's barn," he said, and then went on this long, Proustian tangent about climbing hay bales in Indiana barns during his childhood. I sniffed the twine too, remembered that I grew up in a landscaped subdivision with streets named things like Jennifer Court, and concluded it smelled musty.
We wanted to get some twine and add to the lump, but we couldn't find anywhere to buy it — or anything at all. On Wisconsin Street, the downtown storefronts were either boarded up, falling down or both. I looked inside one store and saw overturned desks, open cans of paint, broken two-by-fours and crumpled newspaper pages. Outside, the words "Cawker City Ledger" were still etched on the windows. Something else was in the window too — a copy of Van Gogh's "Starry Night," with a swirl of twine in the sky instead of a star. A few doors down we found Mona Lisa, smiling with twine. There were a dozen of these sun-bleached reproductions, all along Cawker City's defunct downtown, each one with twine hiding somewhere in the picture: Warhol's soup can, with a twine-themed Campbell's logo. One of Degas' ballerinas, pliéing next to twine. And "American Gothic" — although in that one, the ball of twine didn't look entirely out of place.
Sometimes, another car would drive up to the ball of twine. Josh and I watched as people climbed out, took a few pictures and then drove away. They never saw the paintings. Or the one window display that hadn't yet been taken down. Someone had dressed four female mannequins as burly frontiersmen, then arranged them as if they were playing poker — a very progressive, gender-neutral reenactment of how the town got its name. On the sidewalk in front of them was a looping, curling yellow line of paint: a twine ball unraveling down the city street. It was the strangest display of economically depressed whimsy I'd ever seen.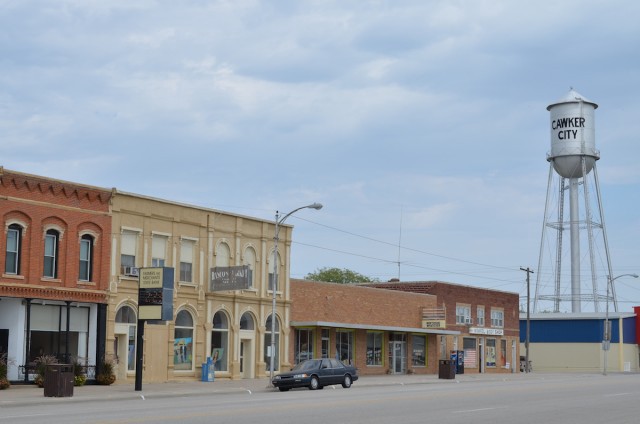 We eventually found the Ball of Twine gift shop, but it had a "Gone to the Lake" sign hanging in the window, along with a note to try Lottie at the Almost Done Inn just a few blocks up the street. The inn turned out to be someone's house, with the second-story rooms rented out to traveling twine enthusiasts. "Units equipped with or without kitchens!" a sign out front boasted. The women who greeted us wasn't Lottie. She was her daughter — or maybe daughter-in-law, I'm not sure. Lottie was in the hospital she told us, something about her hip. "But she's on the mend," the woman kept saying, "I really think she's on the mend." The woman was barefoot and smoking. Behind her, a sheltie dog wouldn't stop barking.
Lottie's daughter-or-not-daughter showed us to a small bookshelf full of postcards, coffee mugs, and all sorts of souvenirs that Lottie had made by hand. Josh bought a replica ball of twine that for some reason had been glued to a rock. I picked out a clay toothpick holder.
"But you don't even use toothpicks," he pointed out.
"I bet if I lived in Cawker City, I would," I said.
We asked for some twine too, but Not Lottie said there wasn't any more for us to wind. So a toothpick holder and twine-on-a-rock were all we got. We paid twelve dollars, then walked back to the car. We weren't more than an hour into our drive when Josh's replica twine fell off its rock.
Claire Suddath is a staff writer for Bloomberg Businessweek.She lives in Brooklyn and actually prefers string.
Top photo by Adam Schweigert; other photos by author.