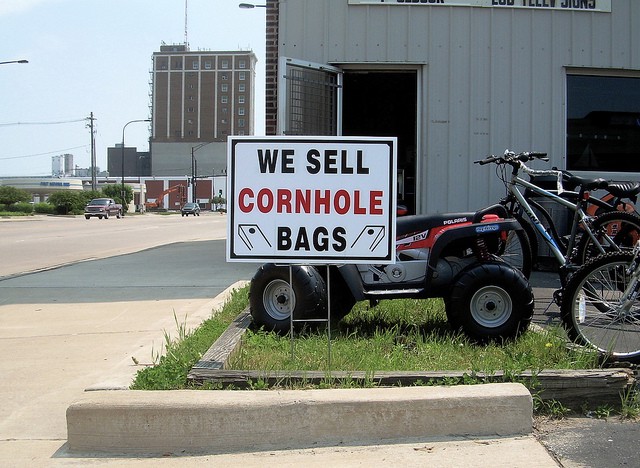 According to a government dataset analyzed by Planet Money, "Real Personal Income for States and Metropolitan Areas, 2008–2012," U.S. currency goes further in Danville, Illinois, than in at least three hundred and fifty-five other American cities. Thirty thousand dollars there is more like thirty-five thousand dollars.
Here are some other facts about Danville, Illinois, in case you are considering moving there because ten dollars barely covers cost of a Chipotle steak burrito in New York City these days, and that's not even with guac:
— It has thirty-three thousand or so residents, and "offers small town charm and big city amenities." (Emphasis not added.)
— The mayor is Scott Eisenhaueur. His voice is his trademark. He is also the liquor commissioner. Vermillion Liquors, a local liquor store, seems like a bustling, well-stocked place.
— Abraham Lincoln slept there for a while. So did Dick Van Dyke. And Joshua Ferris.
— There is another Danville, in Pennsylvania, but it doesn't seem as nice, since its population has fallen by nearly half over the last century, to around forty-seven hundred people. Also, it's in the middle of Pennsylvania. It is uncertain which town has more Dans in it per capita.
— The crime situation is a little sketch — slightly above the national average for both violent and property crime. There have been some burglaries recently.
— Where should you live in Danville? The most expensive home for sale, according to Zillow, is a seven-thousand-square-foot brick charmer with seven bedrooms and five-and-a-half baths, granite counters, Brazilian cherry wood floors, motorized dock for a boat (it is on a lake) and geothermal heat, for just over five hundred thousand dollars. There are multitudes of houses for less than one hundred thousand dollars, like this four-bed, three-bath number built in 1930, which has "character in a nice neighborhood."
— There is a litter patrol meeting later today to keep things nice and clean.
— Rawhide Meat Company is a local old fashioned MEAT shop that sells fresh quality MEAT and items that go with MEAT, so you will not be wanting for MEAT. (It has the rare perfect Yelp review.)
— Speaking of Yelp reviews, Gross' Burgers don't sound too gross to Yelpers, while the Custard Cup may be "the best place in town for a good cold treat."
— There are definitely some events.
— It doesn't have a Chipotle, but there is one thirty miles away, and a steak burrito costs $6.65.
It's ready for you.
Photo by Ross Griff