New York Politicians Nervously Try Weed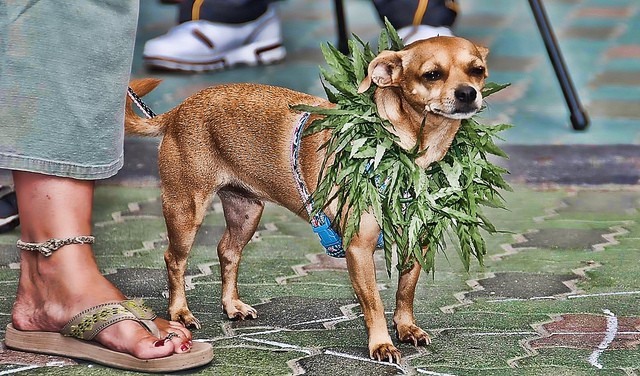 In January, Governor Cuomo proposed a legal weed baby step. The plan was to limit dispensing to a small group of hospitals: Marijuana would be legal for medicinal use but difficult to acquire, available for severe conditions and only at the discretion of a "board of doctors." The boldest thing about this legislation was that it contained the word "marijuana" (legally: "MARIHUANA"); activists worried it was so cumbersome that nobody would bother to take advantage of it. Above all it was presented as safe: for patients, for The Children, and for politicians who might be interested in supporting it. But apparently not safe enough!
To get the bill through the Senate, sponsors made a few changes. Now they think it might have a chance of getting passed:
On Friday, Bolstered by growing public acceptance and hints of support from Gov. Cuomo, proponents of pot as medicine believe newly re-drafted legislation will be approved in Albany this spring — making New York the 22nd state to legalize medical marijuana.
"We're closer to this than we have ever been before," said Gabriel Sayegh of the Drug Policy Alliance.
But this re-draft was significant. Maybe fatally so! The original proposal gave doctors discretion about what constituted a "SEVERE DEBILITATING OR LIFE-THREATENING CONDITION"; now, there is a strict list:
CANCER POSITIVE STATUS FOR HUMAN IMMUNODEFICIENCY VIRUS OR ACQUIRED IMMUNE DEFICIENCY SYNDROME, AMYOTROPHIC LATERAL SCLEROSIS, ALZHEIMER'S DISEASE, MUSCULAR DYSTROPHY, TRAUMATIC BRAIN INJURY AND POST-CONCUSSION SYNDROME, DYSTONIA, PSORIASIS, PARKINSON'S DISEASE, MULTIPLE SCLEROSIS, DAMAGE TO THE NERVOUS TISSUE OF THE SPINAL CORD WITH
OBJECTIVE NEUROLOGICAL INDICATION OF INTRACTABLE SPASTICITY, EPILEPSY, CACHEXIA, WASTING SYNDROME, CROHN'S DISEASE, POST-TRAUMATIC STRESS DISORDER, NEUROPATHY, RHEUMATOID ARTHRITIS, LUPUS, AND DIABETES
No colitis or glaucoma! Certainly nothing like migraines or anxiety or even chronic pain. The entire bill, as written now, seems to position medical marijuana less as an option than as a prescription of last resort — a little green panic button hidden behind a locked panel of swirly hand-blown glass. The section of the bill in which it justifies itself is borderline apologetic: "Although for many patients other drugs may be more effective than marihuana, the Institute of Medicine noted that 'there will likely always be a subpopulation of patients who do not respond well to other medications,' Medical marihuana must be available to those patients." To get to the Governor's desk, the stricter Senate bill would have to be reconciled with the looser Assembly version, and this is a case where caution will likely prevail.
So this openly reluctant concession to public opinion, history, etc — should it pass — would affect a small group of people, some of whom are in great pain, and plant a small political flag. Or maybe not even that! Capital checked with some of the institutions that would theoretically cooperate with this program:
[R]epresentatives for several of the institutions in question, including Roswell Park Cancer Center, Montefiore Medical Center and New York City's Health and Hospitals Corporation, told Capital they had not had any recent discussions with the state about how to move the program forward.
It's all very feet-draggy and 1990s; it's significantly more restrictive than California's Prop 215, which passed nearly 20 years ago and which, judging by opinion polling, would easily pass as a ballot measure in a theoretical New Yorkifornia.
Cuomo was openly against medical marijuana until about a year ago, even as he was agitating to reduce criminal arrests for possession of small quantities. So maybe he needs just a little bit more time, or an even tighter set of rules. Marijuana only on Tuesdays. Legal marijuana for the dead!