I Write These Stupid Words: Weezer's Normcore Revolution
by Craig Jenkins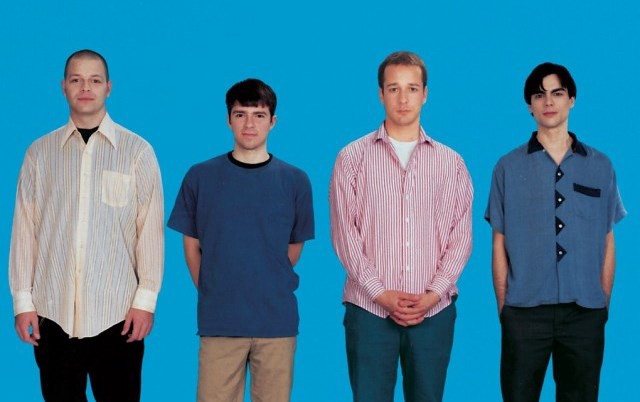 In the wake of Nirvana, major labels handed out deals to anybody with a moody disposition and a guitar. Everyone from the lesser known friends of successful bands (the Melvins, the Meat Puppets) to weird rock institutions (Ween, the Butthole Surfers, the Flaming Lips) suddenly became objects of major label lust.
It was around that time that Connecticut-raised singer-guitarist Rivers Cuomo, who had moved to Los Angeles in search of stardom, pieced together a ragtag band of transplants to bring his songs to life. The band, called Weezer, landed at DGC Records, the same Geffen subsidiary that Kurt Cobain and Courtney Love's bands called home. With the help of legendary Cars producer Ric Ocasek, tapped after Cuomo was talked out of producing himself, the band selected ten of the sharpest songs that it had road tested over the last year and laid down a self-titled debut. Weezer , affectionately referred to by fans as The Blue Album for its plaintive blue cover, surfaced on May 10th, 1994, filled with pithy power pop nuggets that infused nineties alt-rock attitude with a dash of seventies glam panache and early rock formalism.
By the end of its first week, it had moved only 90 copies. "You can open Billboard magazine, and our name isn't even in there," Rivers told Denver's Westword weeks after release. Geffen graciously greenlit a video for The Blue Album's lead single, "Undone (The Sweater Song)." Disinterested in pigeonholing themselves into one-hit wonderdom with a video that cheesily dramatized the song's anthemic refrain, "If you want to destroy my sweater," the band chose the only treatment that didn't: crack videographer Spike Jonze's suggestion of "a blue stage, a steadicam, and a pack of wild dogs." The clip for "Undone" took off at MTV, and Jonze and Weezer's follow-up vid for "Buddy Holly," a pitch-perfect spoof of the seventies sitcom Happy Days interwoven with actual show footage, shot the group from buzz bin curiosity to national ubiquity. By year's end, Weezer's stone-cold flop had turned platinum.
The Blue Album turned nineties slacker ennui in on itself, deftly leveraging humor and subversive emotional depth rather than beelining straight for bleeding heart sentimentality. Its singles required a little unwrapping; you could settle for shouting the Blue singles' catchy choruses back at the radio until it dawned on you what they were really about, or you dispensed with the surface absurdity to grapple with the pathos underneath. "Say It Ain't So" seemed to laze about in disaffected meandering until the middle eight arrives, scratching at Rivers' fear that his stepfather's drinking would lure him away from the family the way his biological father's did. "Undone" centered around around the goofy bit about pulling a frayed sweater apart, but it's actually an account of a breakdown, which resonated both with listeners who related to its frailty and the larger pool of kids who mistook it for an empty-headed singalong. (Cuomo: "It was a very sad song about depression, and people heard it on the radio and thought it was hysterical.")
While the album's singles hooked by stashing profundity inside wry humor, the deep cuts could be outright heartsick. "No One Else" stacks up untenable dream-girl characteristics ("I want a girl who laughs for no one else"); "The World Has Turned and Left Me Here" emotes when those unrealistic expectations extinguish a real romance; and "In the Garage" and "Only in Dreams" both reminisce about a lonesome adolescence. The former seeks solace in '70s geek ephemera — X-Men action figures, Dungeons & Dragons paraphernalia — while the latter forsakes the waking world for a sleeping one, where an unrequited crush actually reciprocates. Blue wore the pains of winsome boyhood pridefully; it was as if Cuomo, mop-topped and bespectacled, had maneuvered out of the weird years of his youth and left a breadcrumb trail behind for the rest of us.
Weezer's ascent could be attributed as much to songwriting as to sound architecture. Ric Ocasek fashioned the twin tendrils of Rivers' guitar and Matt Sharp's fuzzed out bass into a wall of sound too hooky to be menacing, but a few degrees too tart to be mistaken for genteel. The Blue Album's default setting was a methodical, unfussy riffing that made great company for the three- and four-chord wonders populating rock radio in 1994. It was deadly effective, chugging alongside drummer Pat Wilson's economic playing on mid-tempo tracks like "Holiday" and "In the Garage," but the band lost no intensity slowing to a crawl for the album's compelling closer "Only in Dreams," or punching up for the punky "Surf Wax America."
Rivers' writing could be restless, too, and many of Blue's finest moments double as its most compositionally adventurous. "Undone" is a slow-burning build from the quietude of the verses through the cracked mania of its coda that crashes into a din of strummed piano strings in its closing moments. "Surf Wax America" thrashes through two choruses before collapsing unexpectedly into a bridge of barbershop vocals and racing home; "Holiday" plots a similar course. "Only in Dreams" spends four minutes establishing a plodding rhythm before bringing both song and album to a stunning conclusion on a blissed out crescendo that smashes everything to bits.
In typical self-effacing fashion, Rivers would downplay his talents and Weezer's unlikely providence in an aborted 1995 Rolling Stone interview that was catalogued in his 2011 memoir, The Pinkerton Diaries. "My primary objective is to write stupid ass pop music," he quipped. "If you want to dig a little deeper, there's usually something there, but there's certainly no obligation to do so." But the net effect of The Blue Album's success was injecting the scene's unflinching austerity with a much needed measure of levity. It was a fitting alternative for the serious boys' club of the era, the Corgans, Vedders, Duritzes and Kowalczyks who dominated early nineties rock radio with blistering dispatches from a psychiatrist's couch.
Cuomo's peers were merchants of a deeply earnest, disaffected cool. They sang about pressing issues; they took up noble causes. They posited their rock stardom as a commentary on the stupidity of rock stardom. But Weezer shook things up even more, lionizing normalcy. The Blue Album sought inspiration in the mundane, winking pride in looking like a square, and meaning in Kiss records. It reveled in all the big, dumb feelings boys are raised to bottle up. The undateable dream girl isn't just on his mind, she's in the chemical makeup of the air; the ex-girlfriend didn't leave, the whole world did. Blue's pursuit of tension-releasing loud-quiet dynamics won it an audience in its own time, but Cuomo's defiant lack of cool and threadbare directness allowed it to outlive much of the rest of what 1994 had to offer. Two decades later, the emo kids still build their kingdoms of broken hearted melodrama around Rivers' blueprint.
Like its baby faced mastermind, The Blue Album shows few signs of age twenty years on. Its truths are all our truths, and allegiances pledged in awkward youth endure.
Craig Jenkins a New York-based troublemaker who's written for Pitchfork, Spin and Complex.